Hudson has released Puzzloop [App Store], a circular puzzle game for the iPhone through the iTunes App Store.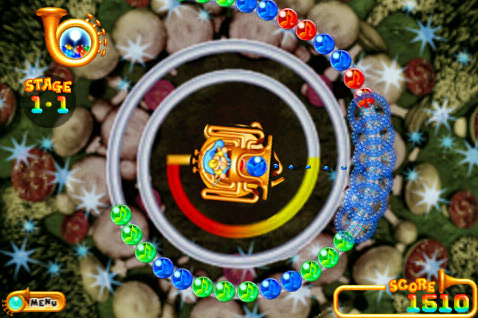 PuzzLoop is the original "match-three-of-a-kind" circular puzzler released in 1998 that spawned numerous clones including the popular multi-platform Luxor.  As the YouTube video demonstrates, the game is simple.  The player controls a turrett in the middle of the screen that is surrounded by an inward-spiraling track on which a string of balls of varying colors close in on the aforementioned turrett.  The objective: fire colored balls at the incoming string of balls in order to create groups of three or more that eliminate upon contact.  The iPhone version is a solid translation that feels particularly polished.
Puzzloop offers both a Stage Mode, which breaks the gameplay into distinct stages, and an Endless Mode that provides more of a continuous play session.  In addition to balls of various colors, certain artifacts appear in the game that help or hinder the player, such as slow (slows the flow of balls), stop (temporarily stops the flow of balls), bomb (destroys in-proximity balls), and bats (which changes ball state).
The game features a nice touch that we wish all iPhone games offered: online score tracking.  A great motivator to keep coming back.
PuzzLoop for iPhone utilizes touchscreen controls and provides a satisfying pick-up puzzle gaming experience and can be downloaded from the App Store for $7.99.

Game Details

Name:

Puzzloop (v1.00)

Price:

7.99 [Buy]

Developer:

Hudson

Size:

7.0MB

In Brief:

Puzzloop is an iPhone port of the original, "match-the-balls" spherical puzzler.  The iPhone translation is polished and provides solid gameplay.