A few weeks back we posted a roundup of all 99 cent downloads then available on the iTunes App Store.  Lemonquest's 99-cent puzzler Circulate Prologue [App Store] had not yet been released when that story went live. But if it had, it would have stolen the crown.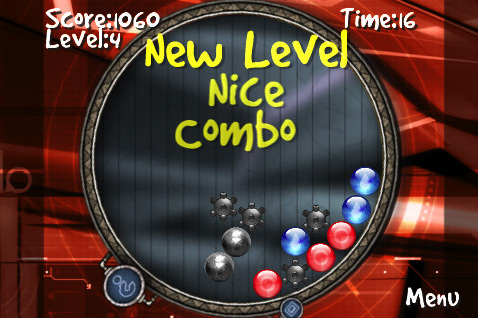 Circulate Prologue is a bit of a teaser for the upcoming iPhone port of the popular PC puzzler Circulate, that will be available in October.  As Lemonquest describes it, Circulate Prologue plays as follows.
Put various spheres together by deftly turning the scenario this way and that. Ahead of its time, this game allows you to master gravity as you explode spheres in a spinning chamber. Circulate Prologue is easy to pick up and play, and is the perfect warm up for Circulate, a new twist on Puzzle games.
While the game originated on the PC, it seems as if it were conceived with the iPhone platform specifically in mind.  Various spheres appear in the center of the circular playfield and fall "downwards" with gravity, depending on the orientation of the iPhone.  As spheres accumulate along the edge of the playfield, they slide and move amongst themselves as the iPhone orientation changes.  The goal is to join three or more spheres of the same color to make them explode.  The more spheres that are joined at a time, the more points you'll get.  It seems a tired format, but Circulate Prologue's unique accelerometer-based control and convincing physics system breathes new life into the formula.  Making things more interesting, there are metal spheres that can only be exploded by tapping an adjoining bomb sphere as well as bubble spheres that float "upwards" and collect along the "top" of the playfield.
This prologue release features 30 levels which offer ample playtime.  What's more, Circulate Prologue exhibits a rare degree of polish and features a very high quality soundtrack that accounts for most of its 19.7MB install size.
Circulate Prologue is easily worth 99 cents and deserves a place on every gamer's iPhone or iPod touch.  We're anxious to see what the full version brings in the coming months.
Game Details

Name:

Circulate P. (v1.0.2)

Price:

0.99 [Buy]

Developer:

Lemonquest

Size:

19.7MB

In Brief:

Circulate Prologue is an accelerometer-controlled spherical puzzle game that offers impressive polish and a new spin on the match-three-tiles formula that is a perfect match for the iPhone platform.  It is one of the best values on the iTunes App Store, today.