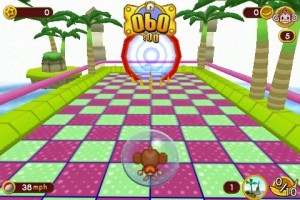 Perhaps obvious to our readers, but SFGate notes that games are the big winner in App Store sales. Seven of the top 10 paid applications were games. Apple has announced that 25 million apps have been downloaded (10 million in the first three days) since the App Store launch.
Sega's Super Monkey Ball has been one of the biggest beneficiaries of the strong sales. While there has been some speculation about Super Monkey Ball's sales numbers, Sega's president Simon Jeffery now says he expects they will sell 1 million downloads of Super Monkey Ball for the iPhone. No time frame is given for this sales goal, but this would represent almost $7 million in revenue for that game alone. Jeffery says we can expect more to come:
"This is a very viable platform," Jeffery said. "We're just scratching the surface on the iPhone. There's way more we can get out of the iPhone as we learn the software developer kit."
Besides raw processing power, Gameloft reports that games are allowed to be as large as 100 MB which far exceeds other mobile platforms. As a result, they expect the added storage will bring games with "more graphics, more levels and game play". In fact, Gameloft's upcoming Asphalt 4 racing title will be 50 MB in size.