Glenda Adams of Maverick Software let us know that after a lengthy hiatus, the long-time Mac development company is back with a lineup of iPhone games and toys to be available on the iTunes App Store at launch.  The company's four initial titles were designed from the ground up specifically for the iPhone and iPod touch.
The new titles, as Glenda describes them:
Comet Cowboy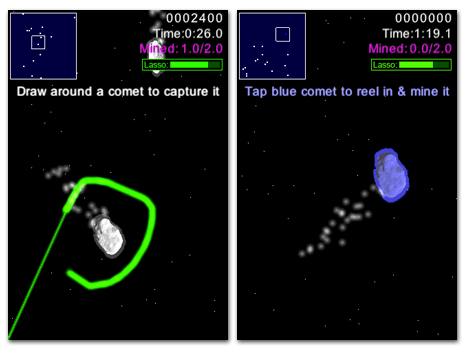 A unique action game that uses the multi-touch display to let you zip around space, mining comets by lassoing them with your laser. With sharp graphics, multiple levels, and automatic quick save when you get a call or switch to another app, it's the perfect game to play when you have a few minutes to kill. Comet Cowboy will be available for $4.99 on the App Store at launch.
Yulan Mahjong Solitaire
The classic tile matching game, specifically redesigned for the iPhone. Zoom in and out on the tile board with a pinch, select tiles with a tap, and even ask for a hint if you get stuck. Includes 8 board layouts and infinite levels of undo if you work yourself into a corner. Yulan Mahjong Solitaire will be available for $4.99 on the App Store at launch.
Snowglobe
Turn your phone into a snowglobe! Shake the phone to make the flakes swirl around, or tilt the phone to watch them fall whichever way is down. You can even pick any picture from your photo library to be inside the globe, and customize the size, speed, and number of snowflakes. Available for only 99 cents on the App Store at launch.
Blip Solitaire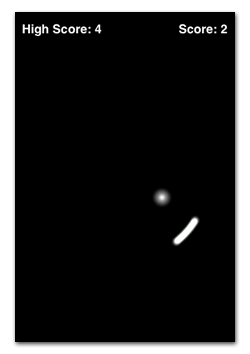 A fun variation of the classic Pong game, played solo. Simply tap to move your paddle around a circle, keeping the ball bouncing from side to side. Simple but addictive. Available for free on the App Store at launch.
Glenda Adams is a very well known and respected, long-time Mac developer who has worked on a great many big-name Mac titles and ports.  She is the Director of Technology & Development for Aspyr Media and co-founder of Mac development studio Westlake Interactive.  Maverick Software published shareware Mac games and utilities in the '90s:
Maverick Software was formed in 1990 as a developer of Macintosh shareware games. After making several popular titles through the 90's, it went into hibernation for a few years. The new iPhone platform was just the kickstart needed to get things rolling again, and we're back with all new products.