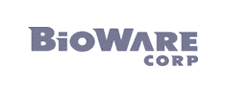 Games developer BioWare has found itself in the spotlight of late thanks to the XBOX 360 release of the rather popular Mass Effect.  And as evidenced by the recent PC release, it's clear that BioWare is looking to broaden its platform horizons.  In so doing, the company hasn't overlooked the iPhone.
As BioWare revealed in a recent MTV interview,
"We look at every platform that comes along. Obviously, something that's as big a cultural and technical success as the iPhone is something you really got to take a close look at. Certainly, there's nothing written in stone yet but we've got a lot of folks looking at it. It's intriguing. I think one of the things that we'll have to see how it shakes out is what type of consumer buys games on it and what type of experience they're looking for. You want to always mash the consumer experience with what you're building. We want to understand what people are going to do with it. Who knows. We're definitely looking at every platform."
Will we see an iPhone port of Mass Effect in the iTunes App Store before long?  Let's hope.  But until then, stay tuned…