In the latest news out of the BREW 2008 conference, it appears that 2K Games' highly acclaimed title BioShock will soon be landing on the iPhone platform.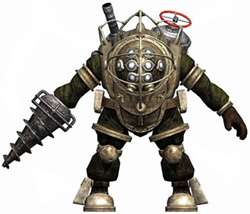 Currently available for the XBOX 360 and Windows PC, BioShock is a first person shooter set in a fictional underwater dystopian city during an alternative history 1960.  The game received wide praise for its stunning visuals, physics system, and audio quality.
Mobile development house IG Fun is doing the mobile conversion of the original title and plans to bring a version to several mobile platforms, with a 2D rendition in the works for handsets unable to handle a 3D game of this sort.  IG Fun CEO Sean Malatesta demonstrated an early 3D demo of the game running on a BREW (Binary Runtime Environment for Wireless) handset which Pocket Gamer reports "looked spectacular" with impressive visuals that should please even die-hard fans of the console / PC original.
We are wagering that BioShock, ported to the iPhone, taking advantage of all that the iPhone SDK and system hardware offers, should well surpass what is possible on the typical BREW platform.  We're particularly interested to see how IG Fun marries the iPhone's touchscreen and accelerometer to the game's control system.  Stay tuned for more on this.