Freeverse has released a video preview of the first original 3D iPhone game: Wingnuts Moto Racer. We'd previously reported that Freeverse had embraced the iPhone/iPod Touch as a gaming platform with plans to release a number of games.
Wingnuts Motoracer is an OpenGL 3D racing game in which you navigate a motorcycle along a race course to reach designated checkpoints. A video of the game is embedded below:
It appears the video has been pulled. We've replaced the video with a screenshot. Sorry.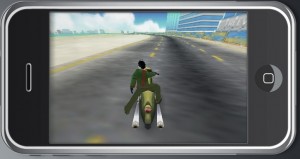 At present, the game controls use the touch-display to steer left/right, but Freeverse Marketing Director Brian Akaka tells us that the eventual plans are to use the iPhone's accelerometer as "tilt" steering for the game.  3D performance of the iPhone is described as "great" with the ability to push over 6000 polygons at once.
Wingnuts Moto Racer is expected to be ready for release in June when the official iTunes App store is launched.  Visit Freeverse's iPhone Games page for their other iPhone/Touch game plans.