So Return to Monkey Island finally hit iOS and Android earlier today following its debut on PC and Switch. When it was originally announced, I wasn't actually sold on the aesthetic, but Terrible Toybox being involved meant I knew I would need to eventually play it because it likely would be worth it. I decided to wait for a potential Switch physical release to buy it. It was then released on PS5 and Xbox Game Pass. This is when I tried out Return to Monkey Island ($9.99) for the first time, and I ended up liking the few hours I put into it a lot, but didn't enjoy playing it with a controller. I figured I'd hold off for a potential mobile version or just wait for the Switch physical because it felt like an experience that would be brilliant on a touchscreen or portable.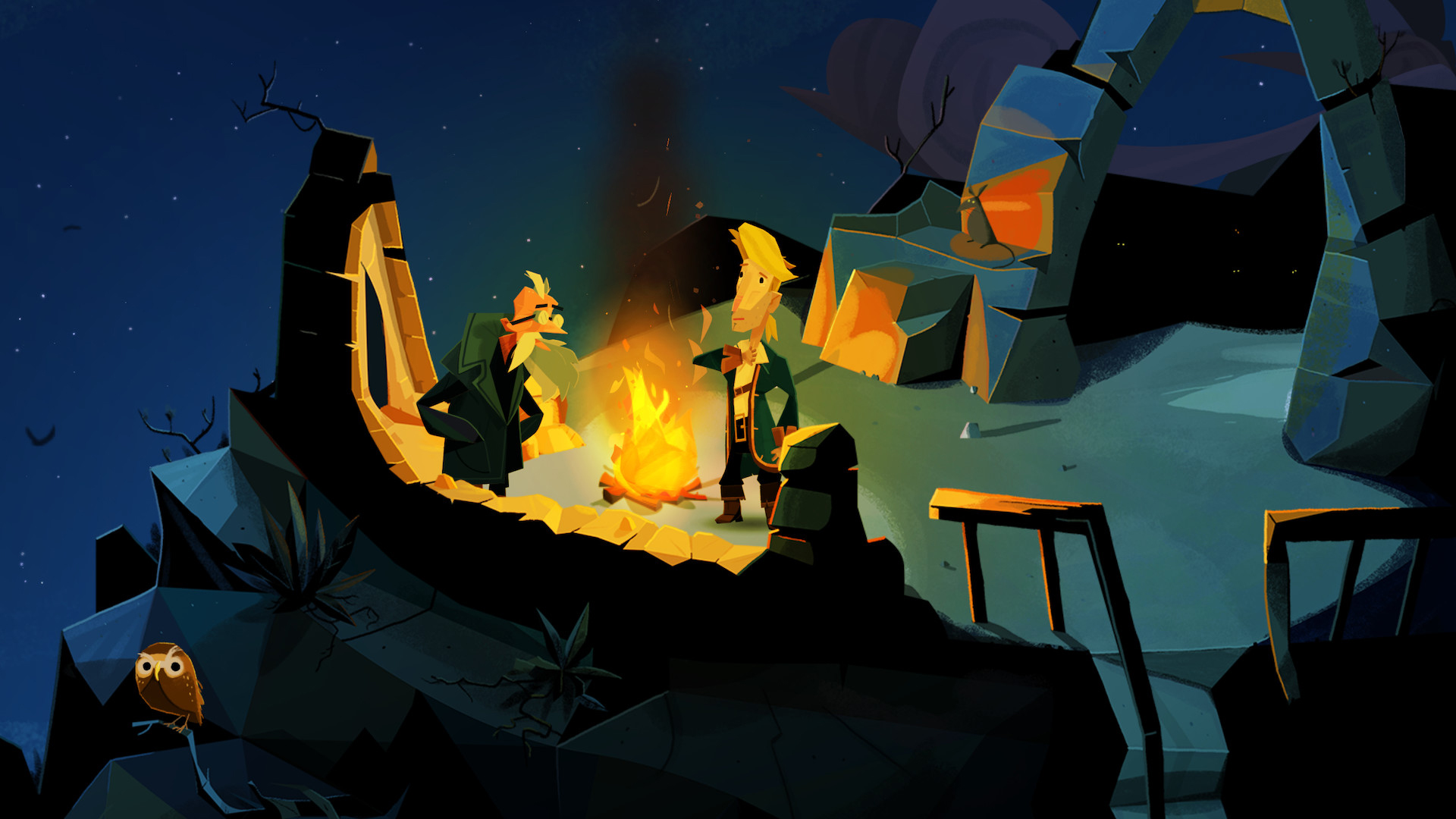 A few months had gone by, and I did end up playing it more on Xbox. The way things work out, Devolver Digital announced a mobile version just as I was near the end. I've been replaying the game and trying out the different hint systems while seeing how the game differs if at all across platforms. For this Return to Monkey Island mobile port review, I'm going to cover why this is the gold standard for point and click adventure games in many ways, but also touch on the port quality for mobile, Switch, and how it plays on Steam Deck as usual.
Despite its name, Return to Monkey Island can be enjoyed as a standalone story. You will miss out on some references though. While there is an in-game scrapbook that I used as a refresher for the original games, don't let the name or anyone tell you to skip this until you play games that aren't as accessible outside of playing on PC. If you've already played a few games in the series, Return to Monkey Island will feel like going back to an old bar after many years, but remembering many things you loved about it. Familiar faces, voices, style of puzzles, and more await you in Return to Monkey Island, but this time there are plethora of accessibility and quality of life features that you can enjoy if you ever get stuck. You don't need to worry about looking up a walkthrough here. Return to Monkey Island has it all included if you ever need some help, and the hint system is very smartly implemented.
Return to Monkey Island has Guybrush Threepwood back talking about an adventure going across many new and old locations. Not only are series' creator Ron Gilbert and co-writer Dave Grossman back, but also composers Peter McConnell, Michael Land, and Clint Bajakian who worked on both The Secret of Monkey Island and Monkey Island 2: LeChuck's Revenge are back with Rex Crowle who worked on Tearaway which I adored on PS Vita. This feels very much like the band coming back for the most part, and while many revivals have taught me to be skeptical, I'm glad this team pulled it off. While we have had Special Edition versions of both The Secret of Monkey Island and Monkey Island 2: LeChuck's Revenge hit mobile in addition to Telltale's Tales of Monkey Island, none of them have felt this polished and great to play on mobile.
If you've never played a game in this series or are new to the genre, Return to Monkey Island has you tapping to move around, tapping and dragging to find points of interest, interacting with said points of interest, and going through a plethora of well-written and in many cases voiced dialogue to progress through the story and puzzles. There is a lot of backtracking in parts, so keep that in mind as you approach this adventure.
Return to Monkey Island has a few control options available on mobile. I played with touch controls on both iPhone and iPad which felt like the best way to play it. I also used my Razer Kishi V2 on iPhone 11 and it worked great. On the iPad, I only tried my DualSense controller, but the game lets you choose between controller button prompts for PS5, Xbox, or Nintendo Switch. It defaults to Xbox, but you can change it. I don't have a wireless keyboard handy to try out keyboard and mouse support, but using a mouse worked fine. It treats it like a touch input in Return to Monkey Island. I don't have an Android device to test on, so whatever I've said so far applies to the iOS version on the mobile side.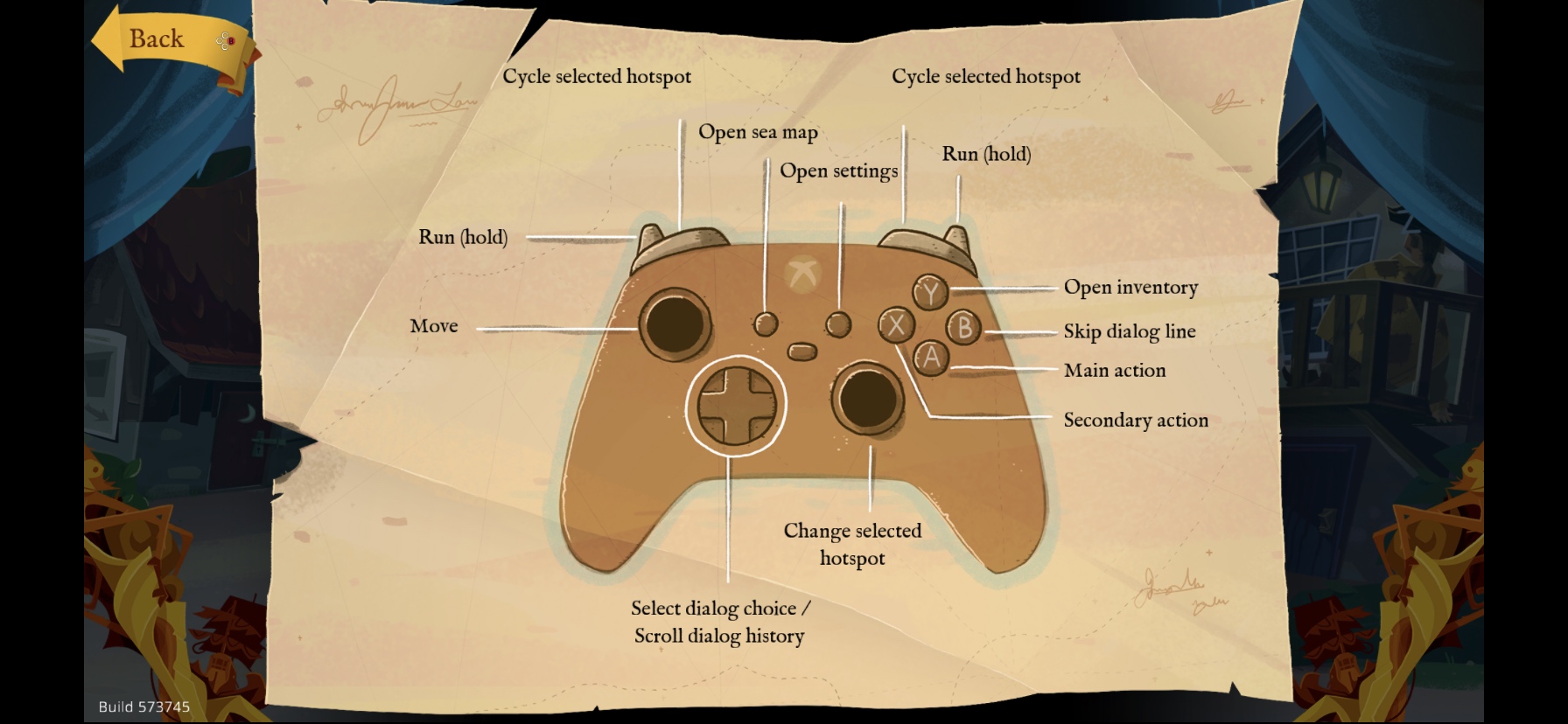 I'm glad to have come around on the visuals in Return to Monkey Island. While I prefer the look of the original game, Return to Monkey Island feels like the correct step forward for bringing the franchise into the modern era. The aesthetic not only works well in motion, but it looks gorgeous on high resolution displays. Return to Monkey Island on iPhone doesn't have fullscreen support and runs in 16:9 with black bars on my iPhone 11. The iPad version runs fullscreen on my 11" iPad Pro though and looks superb.
Barring the writing and visuals that are a huge part of the experience, audio is where Return to Monkey Island absolutely shines. The voice acting is superlative, and it is backed by an incredible soundtrack. It feels weird to think of it like one, but this is probably the closest we will come to a AAA point and click adventure game. While not the same genre, I think we should be talking about Return to Monkey Island alongside great games like Pentiment.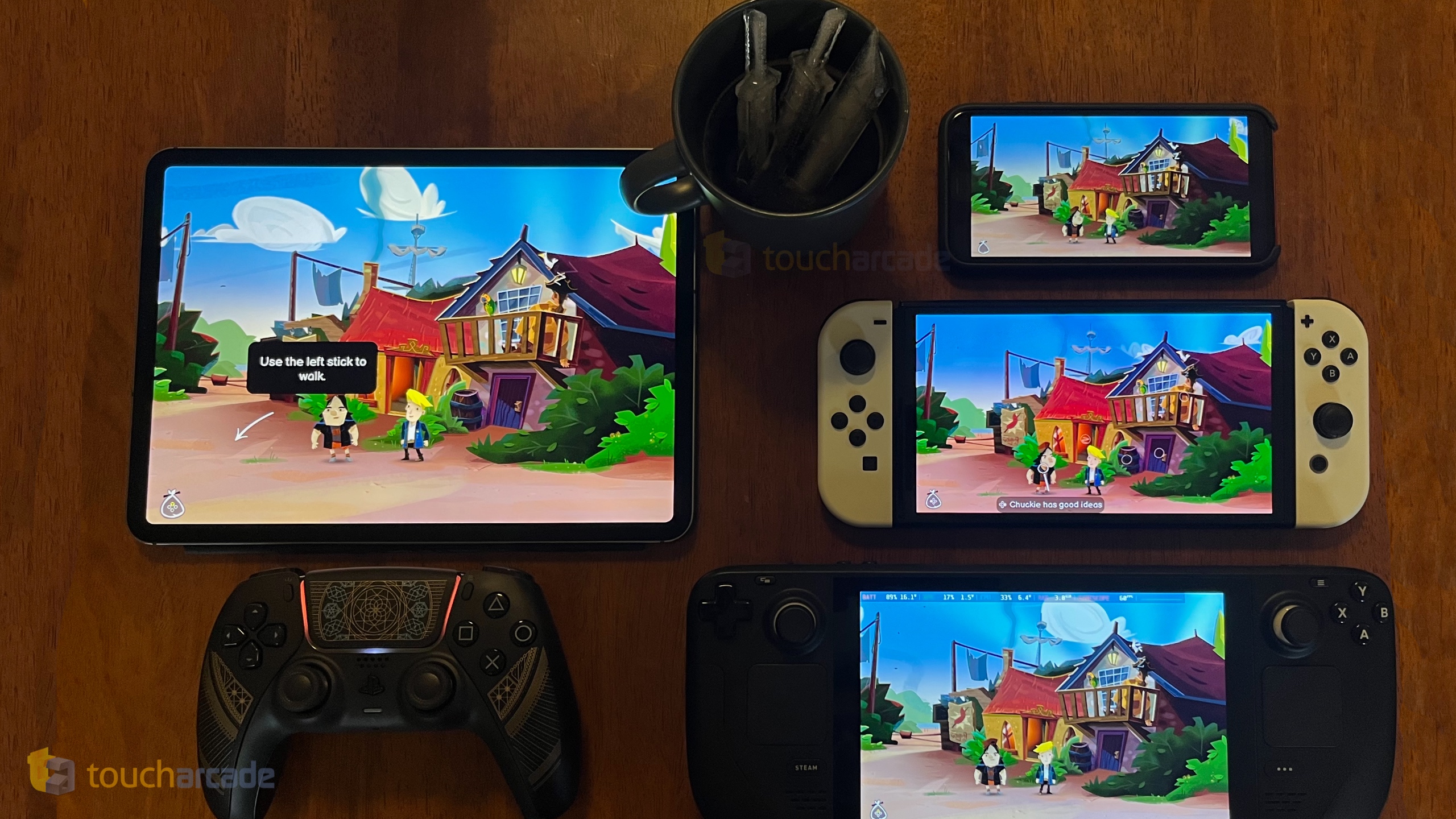 Having now played Return to Monkey Island on basically everything but PS5, it shines on a portable. The iOS versions have controller support as well as touch support as I mentioned above, but so do the Steam Deck and Switch versions. Given the game looks, runs, and plays brilliantly on all portables I tried it on, I recommend getting it wherever you enjoy playing games the most. There is no definitive portable version because they are all excellent. My favorite version is definitely the iPad version on my iPad Pro.
On the topic of accessibility, when you start a new game, you're given the option of playing in casual or hard mode. The former is for those who want easier puzzles and to focus on the story while the latter aims to be a "full monkey" experience with more and harder puzzles. The hint book which you obtain in-game can be used in both difficulty options. If you did play prior games and have more time to spend on the game, I'd recommend the hard mode. I think 11 hours is about what you should expect if you don't use casual mode and end up retrying some puzzles a few times. Return to Monkey Island ended up being a lot meatier than I expected.
Usually, I'd be hoping for a Switch physical release for a multi-platform game I enjoy a lot at this point, but Return to Monkey Island is already getting a physical release this week on PS5, Xbox, and Switch. I pre-ordered it the moment I finished writing this review. My only complaint about Return to Monkey Island on iOS right now is that it doesn't seem to have functional cloud save support between iPhone and iPad. I tested this with the pre-release build so things might change at or soon after launch, but it didn't work across two different iCloud accounts on four devices.
I hope Devolver Digital can work with Lucasfilm and Terrible Toybox again to bring some of the earlier games to modern platforms. They deserve to be played by as many people as possible, and Return to Monkey Island proves that the team handling the games knows what makes these special, and does enough to make them feel good for newcomers and veterans to the genre. The only reason you should avoid Return to Monkey Island is if you don't enjoy point and click adventure games that can have some obtuse puzzles. This release does enough with accessibility and hints to negate that, but I'd only hesitate in recommending it to that group of people. If you do enjoy the games, just go buy Return to Monkey Island on iOS and enjoy your weekend with it. It rules.