Hello everyone, and welcome to the week! It's time once again for our look back at the noteworthy updates of the last seven days. It feels like we're just a little too early for a lot of the Halloween events, but you know they're coming. As a result, there's surprisingly little going on in terms of big updates for the usual faces. There are some titles we don't see too often that got some pretty good ones though, so let's make the most of it. Of course, you can keep an eye out for updates yourself using AppShopper or by participating in the TouchArcade forums. This weekly summary is just here to fill you in on the things you might have missed. Let's go for it!
Animal Crossing: Pocket Camp, Free Animal Crossing: Pocket Camp doesn't seem to be getting much love these days, probably because its Switch cousin has been tearing up the turf. It's still getting updates here and there, however. This one in particular sets the stage for the Halloween event, a fine tradition of the series and this app. It also makes a few little improvements here and there, along with some bug fixes. Nothing terribly visible, mind you, but that behind-the-curtain work is an important part of keeping games working when a new iOS version is rolling out.
Jetpack Joyride, Free Great Scott, Marty! We've got to go back… to the Back to the Future event in Jetpack Joyride! Yes, the game's most frequently reoccurring event is back again, giving you another chance to get all those sweet Back to the Future goodies for a limited time. I mean, for a limited time this time. I'm sure the event will be back again. Enjoy some Back to the Future-themed backgrounds, gear, and vehicles as you go where you don't need roads, but a good jetpack instead.
MARVEL Strike Force: Squad RPG, Free It's finally here: Iso-8. What is that? Pff, only the most important discovery in the history of the Marvel Universe for publishers making free-to-play games. In this game it works like gear that allows you to customize your characters. Give them more power and new abilities to build your team just the way you like it. This update also adds a few new characters to the game who will be showing up in the future. She-Hulk is the most famous of the bunch, with Scream and Anti-Venom filling out the other spots. Some new ability enhancements, new challenge tiers, and a whole lot of bug fixes round this one out.
Subway Surfers, Free Well, this is a pretty neat update, at least by the usual standards for Subway Surfers. You get the usual change of location, this time taking the action back to Peru. The usual new Surfer and board fitting the theme as well: Carlos and the Tumi board. You're collecting Gold Statues to earn prizes here, and I'd imagine most of those prizes are worth less than actual gold statues, but what do kids know? But there's another new character here, and they're a fan-made creation. Tankbot has a fish tank on its head complete with occupant, and a cute yet cool design. Hopefully this is just the start of a trend.
Star Traders: Frontiers, $6.99 Old reliable Star Traders: Frontiers is still out here getting near-weekly updates with new stuff. The latest version adds three new Ship Component Effects: increase Engine Safety, reduce Hyperwarp Jump Time, and the all-round improvement of the Craft Boost. And hey, what good are new effects without new components? There's a new Zenrin-exclusive component, a new Alta Mesa-exclusive one, and a new Steel Song-exclusive one. Treats for everyone! There are also some new Battle Launch Bays, some balance adjustments, and a couple of bug fixes. Cool stuff.
Homescapes, Free It's kind of wild how the silly mini-game they made up for the ads for Homescapes have taken over its identity at the moment. You would almost think this is a game about strategically removing pins, rather than a puzzle/builder. Well, they have no one but themselves to blame, I suppose. At any rate, this is the big Halloween update. It adds a Halloween event with Count Dracula and lots of spooky decorations to collect. In hopefully less-spooky additions, there's a… cottage in the woods? Oh, that doesn't sound good. It's up to you to decorate it and make it cozy. Hopefully no evil spirits or axe murderers or anything. The new puzzle element is the Light Bulb. It's a pretty simple object, as you just make matches to collect them.
AFK Arena, Free I love the tag line they're going with on the App Store right now, "The best RPG for busy you!" The character limit can be cruel sometimes, friends. Well, I don't know if AFK Arena is the best RPG for busy everyone, but it is a pretty good RPG for busy many. The latest update has a ton of things in it, so if you want the full details do check the notes yourself. The highlights include two new heroes: Celestial hero Zaphrael – The Righteous and Hypogean hero Lucretia – The Betrayed, some new adventures to embark on, and a whole lot of adjustments to the overall UI. The Abyssal Expedition gets a bunch of improvements in particular, including a new Trading Hub where you can buy Militia Rewards you may have missed out on. Plenty to enjoy in this new version.
Pokémon Café ReMix, Free As we all know full well by now, Pokemon is all about friendship. Friendship and camaraderie. You teach me and I'll teach you, and all that stuff. So this new update to Pokemon Cafe Mix is very much in keeping with the core values of this massive brand, as it adds a new team function to the game. You can make teams with other players and participate in events alongside them. That sounds nice. Perhaps you could name your team Rocket. That's a cool name for a team, I think. To go with this new feature, team events have also been added. I mean, yeah. Presumably there will be some nice rewards for participating in them, so buddy up and keep your eyes open for them.
TEPPEN, Free Ahhh, Ammy is here! Yay! There's a new card set in this latest version of Teppen, and its name is The Tale of Amatsu no Kuni. It means "heavenly country", if you're wondering. You probably weren't. Sorry, I always do that. Along with that set comes the new hero Amaterasu, who many people will know from the eventual-hit game Okami. That's not the only game making its Teppen debut, however. Sengoku Basara is also tied up in all of this mess, and you'll see many of the characters from that criminally unappreciated series show up. Orochi teaming up with Nobunaga Oda? Now that's what I call a potent enemy. Good luck! By adding the second-best Capcom dog (Missile is first, of course), Teppen has finally earned a coveted UMMSotW of its very own.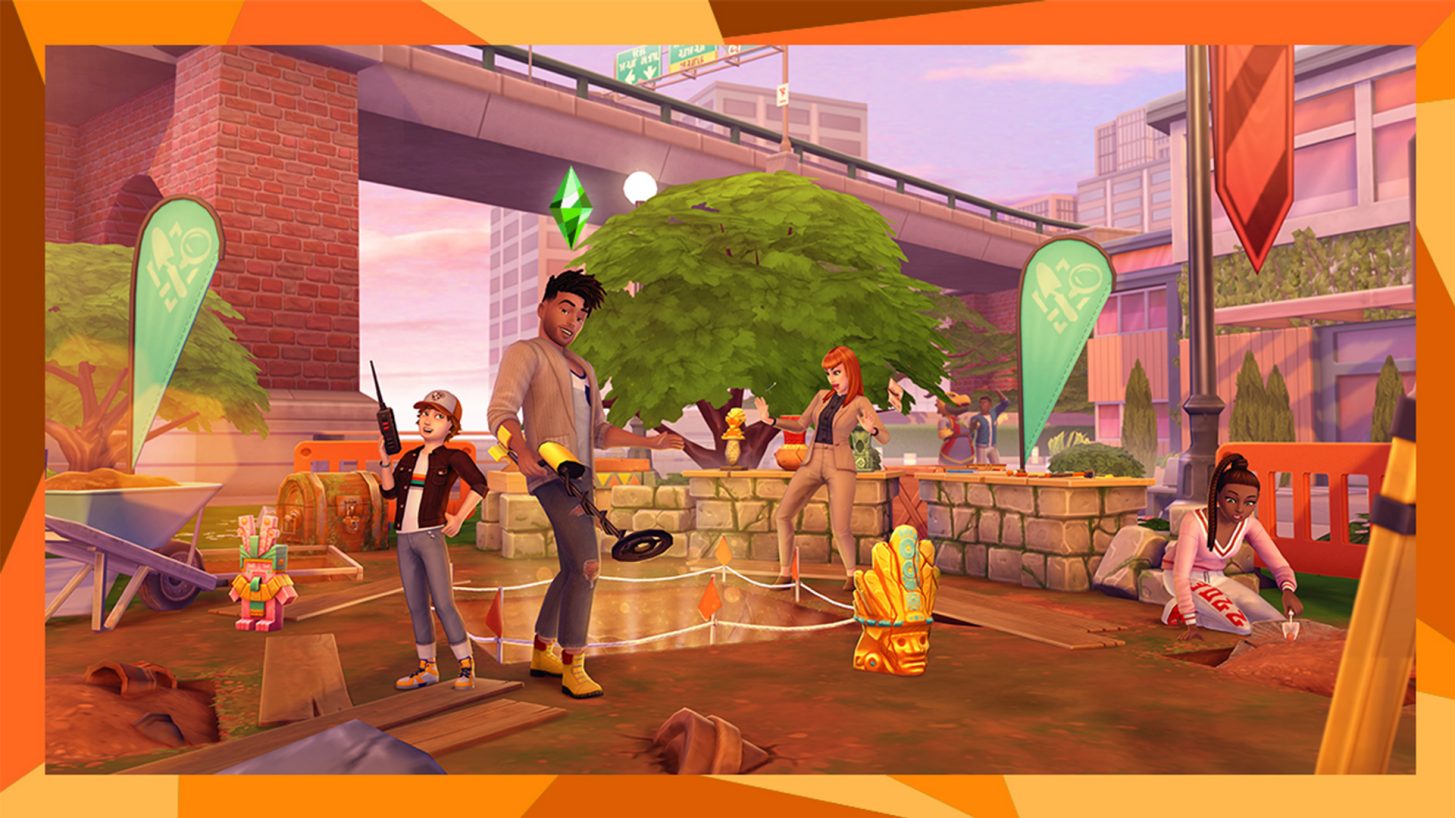 The Simsâ"¢ Mobile, Free Let's finish things up today by looking at one of those Sims games. There's sometimes things going on in them. Yes, I see The Sims Mobile is our winning ticket this week. A young treasure hunter named Samuel "Smallfry" Friday has arrived in Briny Heights just in time for the game's first ever Treasure Hunt event. Visit dig sites to search for treasure, earning Ancient Relics that can be turned in to unlock new room decorations. Another event added in this update is the Sweet Treat Showdown, which gives you the chance to unlock a giant lobster costume and other goodies by baking the best treats. Yeah, that sounds about right for The Sims.
That about wraps it up for last week's significant updates. I'm sure I've missed some, though, so please feel free to comment below and let everyone know if you think something should be mentioned. As usual, major updates will likely get their own news stories throughout this week, and I'll be back next Monday to summarize and fill in the blanks. Have a great week!