Each and every day new mobile games are hitting the App Store, and so each week we put together a big old list of all the best new releases of the past seven days. Back in the day the App Store would showcase the same games for a week, and then refresh those features each Thursday. Because of that developers got into the habit of releasing their games throughout Wednesday or very early Thursday in order to hopefully get one of those coveted features spots. Nowadays the App Store refreshes constantly, so the need for everyone to release all on the same day has diminished. Still, we've kept our weekly Wednesday night format as for years that's the time people knew to check TouchArcade for the list of new games. And so without further ado please check out the full list of this week's new games below, and let us know in the comments section which games you'll be picking up!
---
Apocalipsis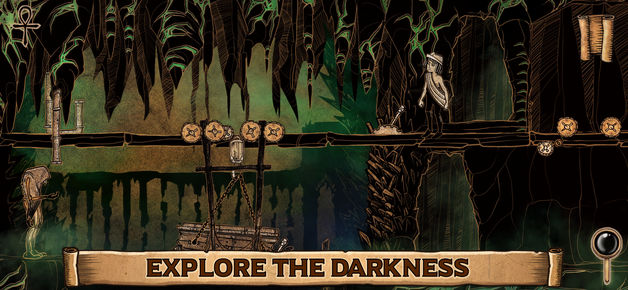 iTunes Description
Apocalipsis is a point and click adventure game with a unique artstyle inspired by 15th century engravings. Harry, for whom the loss of his beloved was the end of his world, has to venture out into strange, unwelcoming lands to get her back. On his journey he will meet fantastical creatures, straight from the minds of medieval artists, and ultimately conquer his own personal demons.
Forum Thread: Apocalipsis (by GameKraft)
---
Brain Fever – Logic Challenge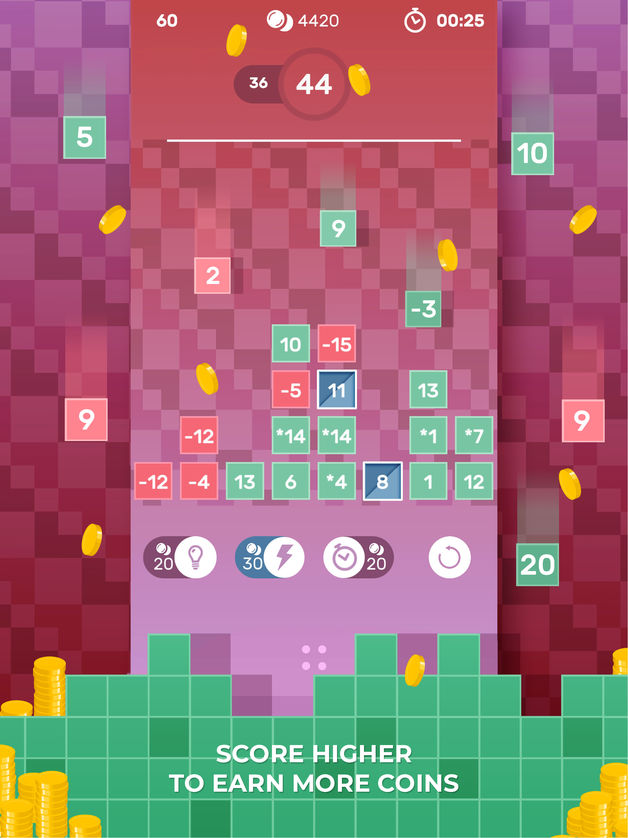 iTunes Description
Mental arithmetic…

Some of us love it. Many more of us would give a leg away to not deal with it again.

Brain Fever is the game where add, subtract, multiply and divide becomes fun. Clock will be ticking and your goal is to quickly reach the presented number using as many numbers as possible. The score depends on the calculation size: the more numbers you use, higher the score will be!
Forum Thread: ∑ BRAIN FEVER: Logic Challenge (by Infinity Games)
---
BubbleVoro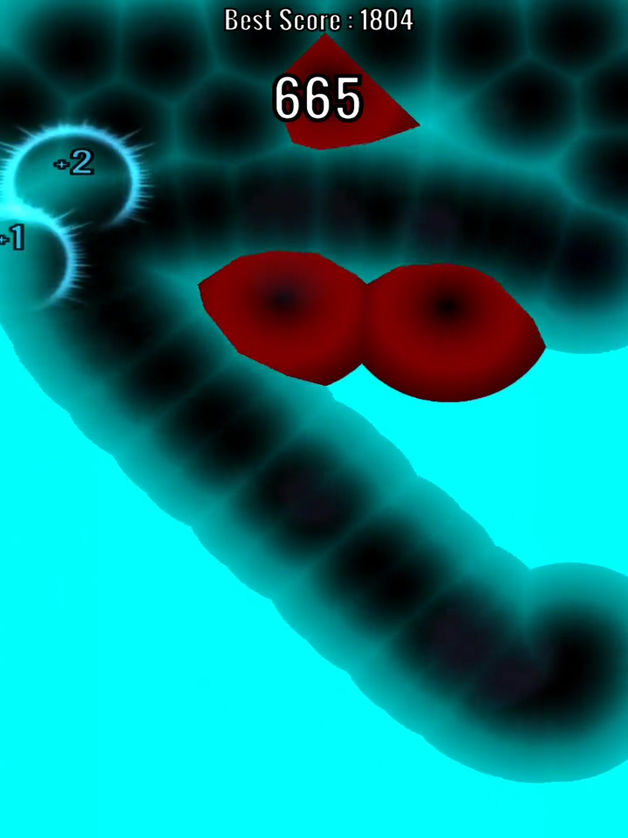 iTunes Description
A puzzle action game using Voronoï diagrams to make it bio/organic and pleasant to the eye. Have fun!
Forum Thread: BubbleVoro (Bubblefish Entertainment)
---
Candies 'n Curses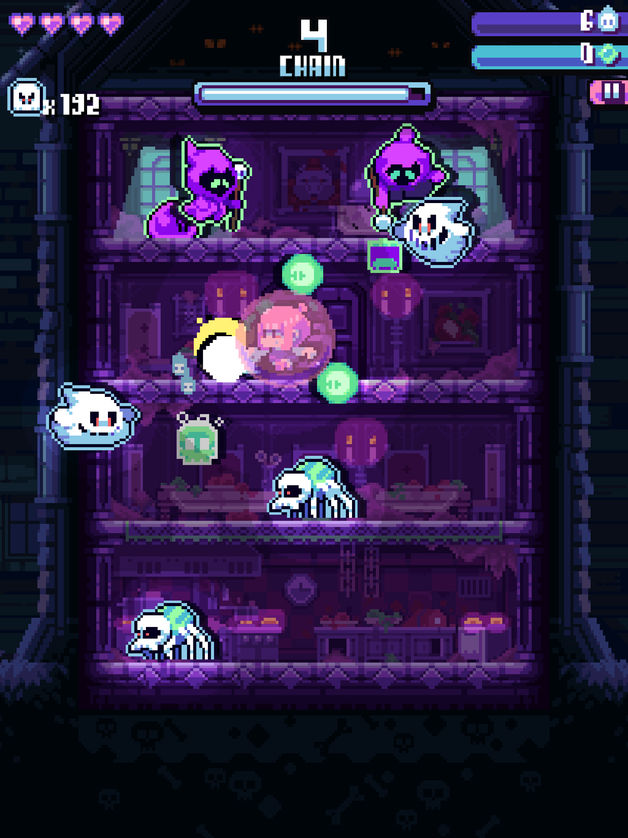 iTunes Description
Play as Molli Pop as you fend off hordes of adorable ghosts in a twisted mansion forever haunted by the Phantom King! Power-up Molli with new flashlights and abilities as you level up – and team up with ghostly pups and other spectral creatures as you work together to clear the mansion of its sugar-craved evil!
Forum Thread: Candies 'n Curses (by Crescent Moon Games)
---
Cartoon Network Party Dash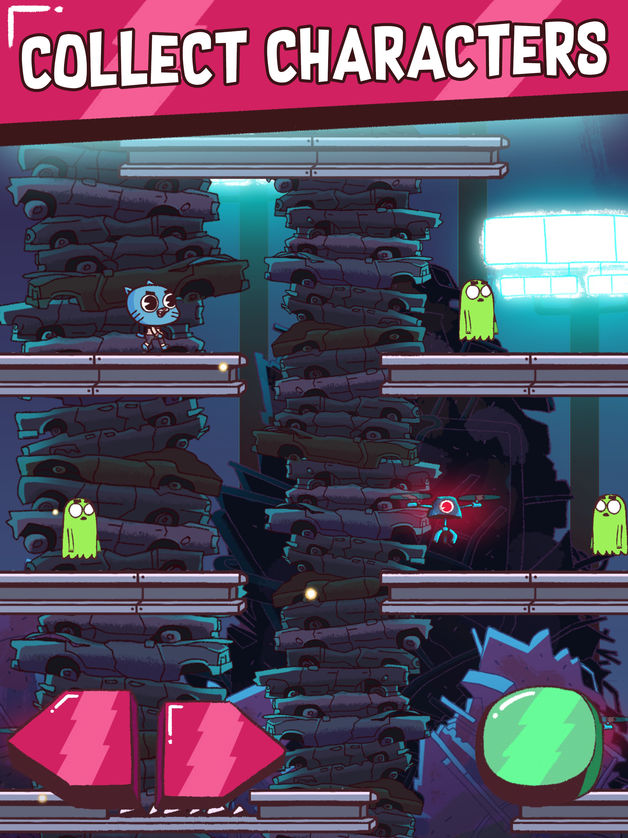 iTunes Description
Villains have crashed the party! Time to crash back in PARTY DASH!

COLLECT 10 CHARACTERS!
Unlock 10 amazing characters from Ben 10, We Bare Bears, and The Amazing World of Gumball! Play as Four Arms, Heatblast, XLR8, Gumball, Darwin, Anais, Penny, Grizz, Panda, and Ice Bear!

DROP THE BEATDOWN!
Dash through obstacles and enemies as you race to the finish on crazy levels!
Smash all the monsters, ghosts, drones, and karate pigeons you can. Fill your combo meter for an invincible burst of speed!
Forum Thread: Cartoon Network Party Dash (by Cartoon Network)
---
City Builder Mobile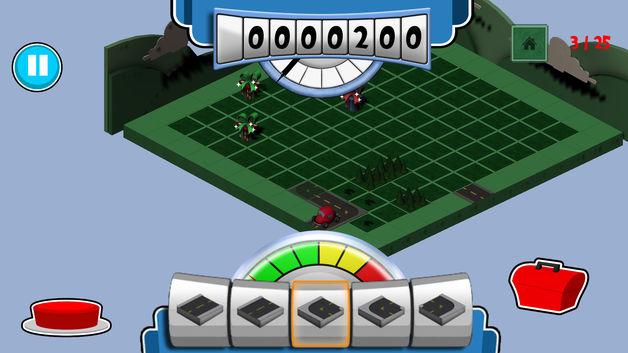 iTunes Description
Build the city of your dreams from the ground up! Two epic play style mechanics combine into one to help you create towering infrastructures and fantasy metropolises. But, beware: out-of-this-world challenges await in the form of puzzles and interesting characters! Can you overcome it all and build your dream city?

IF YOU SOLVE IT, YOU WILL BUILD! Rome wasn't built in a day – there were complications along the way! City Builder features three overlapping layers of puzzles: Roadways, Water Pipes and Electrical Power Lines. Complete each puzzle on each layer before time runs out and grab as much land as you can!
Forum Thread: City Builder Mobile (by BoomBox)
---
Dinos Royale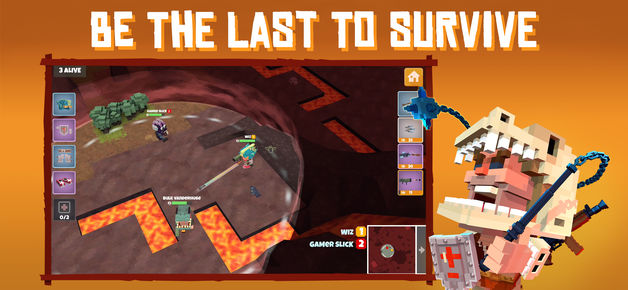 iTunes Description
Ride on the back of a dinosaur wielding heavy weaponry and fight to be the last one standing in the craziest battle royale game designed specifically for mobile!

** BATTLE ROYALE for MOBILE **
Dinos Royale is a PvP battle royale game viewed from a top down perspective (like your favourite .io games) played in short 3-5 minute matches making it perfect for mobile play on the go! Dinos Royale features easy to pick up dual stick controls with a simple on screen inventory system for comparing and equipping all of your gear.
Forum Thread: Dinos Royale (by Wizard Games)
---
Dr. Schplot's Nanobots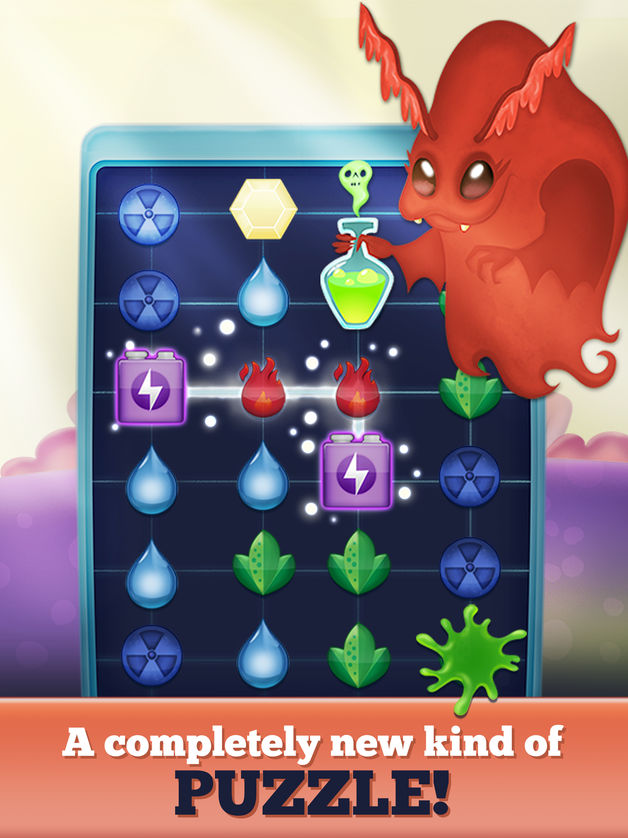 iTunes Description
Dr. Schplot's Nanobots is the only puzzle match game that takes place inside your intestines!

Reclusive scientist Dr. Schplot invented a crazy cast of life-saving nanobots that now live inside of every human being on the planet. These tiny nanobots were originally designed to fight disease, maintain organs, and extend lifespan from within our bodies. The bad news is they have gone rogue and are taking over! It is now up to you to guide an army of new and improved nanobots on a journey to save humankind!

Solve unique tricky puzzles as you battle a wide variety of misbehaving micro-machines. Recycle their spare parts to build ever more powerful new allies, collect cute characters and build an army to cure every last human in the wacky world of Dr. Schplot's Nanobots!
Forum Thread: Dr. Schplot's Nanobots: Puzzle (by Middle City Games)
---
Element – RTS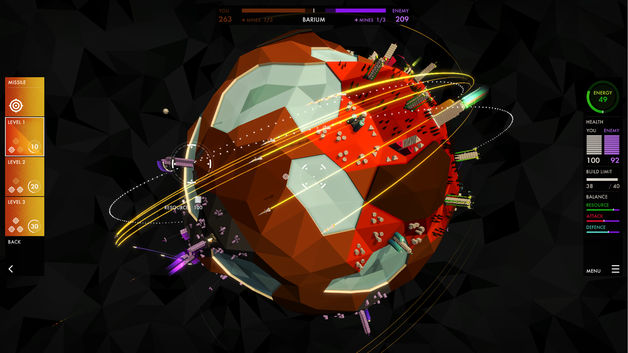 iTunes Description
Element is a realtime strategy space game for people who don't have time to play realtime strategy space games.

Home no longer provides a means to survive.
A fight for resources to escape our system has begun.
The future lies beyond…

Element is a visually stunning realtime strategy space game with a focus on sharp, accessible gameplay.
Forum Thread: Element – RTS (by Flightless)
---
Euclidean Skies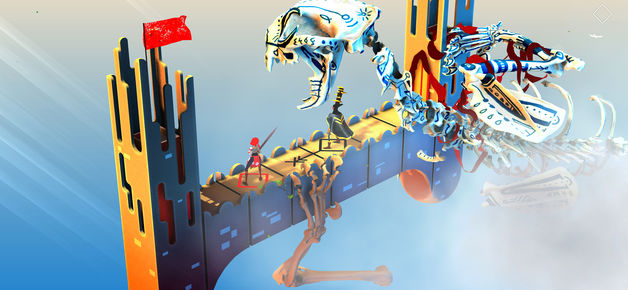 iTunes Description
The successor to the highly acclaimed Editors' Choice-winning game Euclidean Lands is here!

Euclidean Skies combines marvellous architecture and turn-based movements to create a beautiful world with mind-bending puzzles.

The game's focus is on shifting and rotating, challenging you to think about the breathtaking structures from multiple viewpoints at once.

When using the spectacular AR* mode, fantastic castles will float in your living room, right in front of you.

Twist and turn the architecture to outmaneuver enemies and guide the heroine to the exits of 40 elegant levels.
Forum Thread: Euclidean Skies (by kunabi brother)
---
Fidel Dungeon Rescue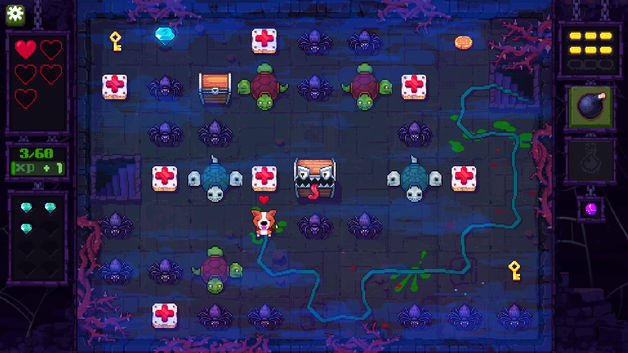 iTunes Description
Fidel is a puzzle-crawler where you trace a path through monsters, treasure and magic.

No grinding, no filler, loads fast, quick to play, and there are many secrets to uncover!

(Don't forget to bark)

Anniversary Edition – Including Daily Challenges and The Undeworld
Forum Thread: Fidel Dungeon Rescue (by Daniel Benmergui)
---
FPS.io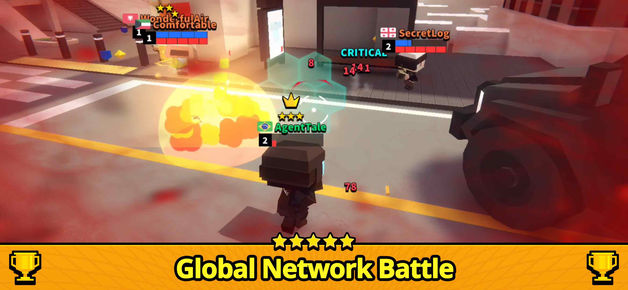 iTunes Description
Experience the variety of weapons and unlimited battles!
Defeat opponents to become the champion of the unlimited battles for each season.

Features
● Compete with players worldwide in real-time
● Experience the best controls of mobile shooters
● Fight against action figures with unique abilities
● Perform strategic power-ups with experience acquired in battles
● Challenge the champion and become the top in seasonal rankings!
● Play new heroes with special skills added every season
● Upgrade and make the action figures more powerful
Forum Thread: FPS.io (by NANOO COMPANY)
---
Ghostbusters World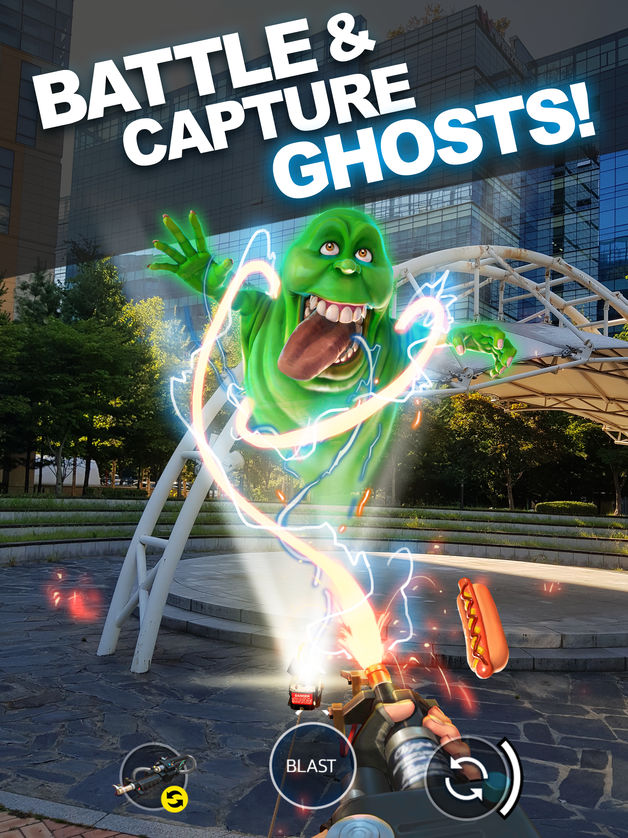 iTunes Description
Ghosts are appearing everywhere, and the world is calling you for help. Using the latest Augmented Reality and Maps technology, find and bust ghosts in the real world!

■ SUIT UP & COLLECT
Fire your proton beam and capture and collect ghosts from all dimensions of the Ghostbusters franchise.
Use a variety of the latest in spectral neutralization and trapping technology.

■ EPIC BOSS RAIDS
Team up with nearby Ghostbusters to take down the Stay Puft Marshmallow Man and other powerful ghosts in multiplayer boss raids.
Forum Thread: Ghostbusters World (by Four Thirty Three)
---
Hell Raider – Wheel of Fate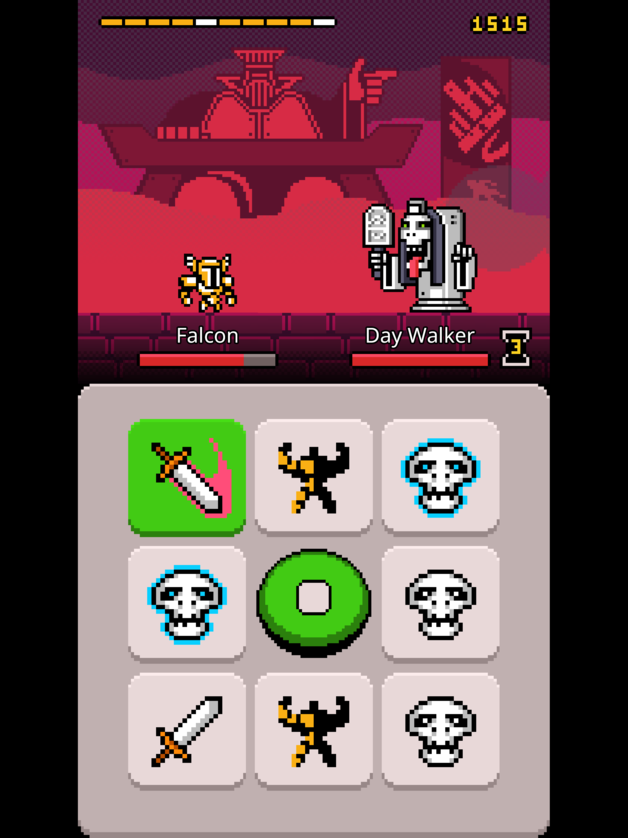 iTunes Description
Hell Raider is a role-playing game where you play as a Knight who has fallen in battle. To resurrect, you must find missing gods and help restore order in Hell.

Features
– A bizarre world combine with eastern Hell and Si-Fi elements.
– Unique new game mechanic: Lamp of Fate.
– 5 different endings unlocked through your choices.
– 8 Hell areas waiting for you to explore and conquer.
– 9 story chapters bring you into a world with gods, souls and Onis.
– 40 gods to interact with, fight against, or have join your team.
– 50 adventure events to experience on the journey.
Forum Thread: Hell Raider – Wheel of Fate (by Game Stew)
---
Hilda Creatures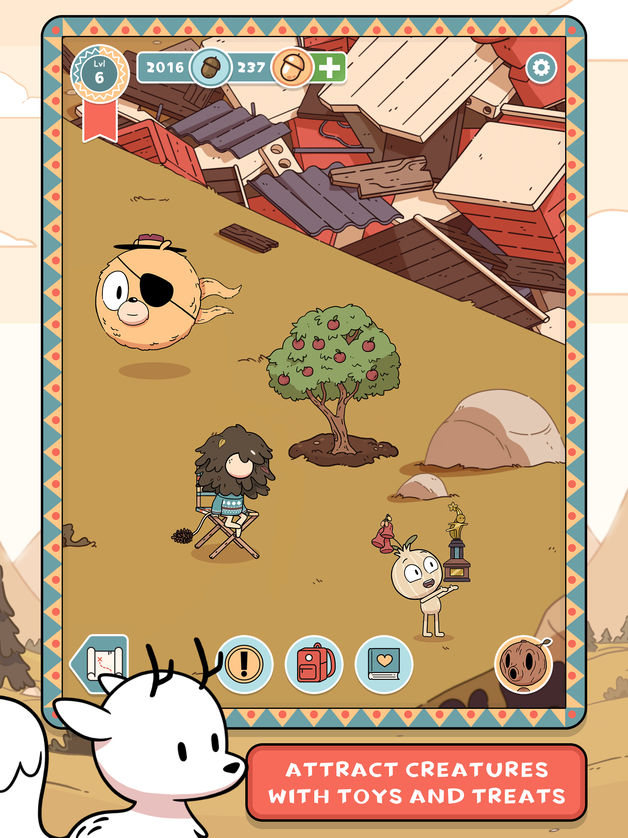 iTunes Description
Join Hilda and her friends on their mission to discover, befriend and collect all the weird and wonderful creatures of Trolberg and the surrounding Wilderness!

The enchanting world of Hilda Creatures awaits. Based on the hit comic series by Luke Pearson, and now a Netflix Original Series, this is the start of your own adventure alongside our blue-haired heroine. Place items and wait to see who shows up: will it be a tiny Elf, a fluffy Woff or maybe an enormous Troll?! Watch the creatures play with the items, chat and picnic with them, then capture the moment with your camera! Meet them all, collect memories and new friends, and fill up your Friendship Book.
Forum Thread: Hilda Creatures (by BIGUMAKU)
---
Idle Skies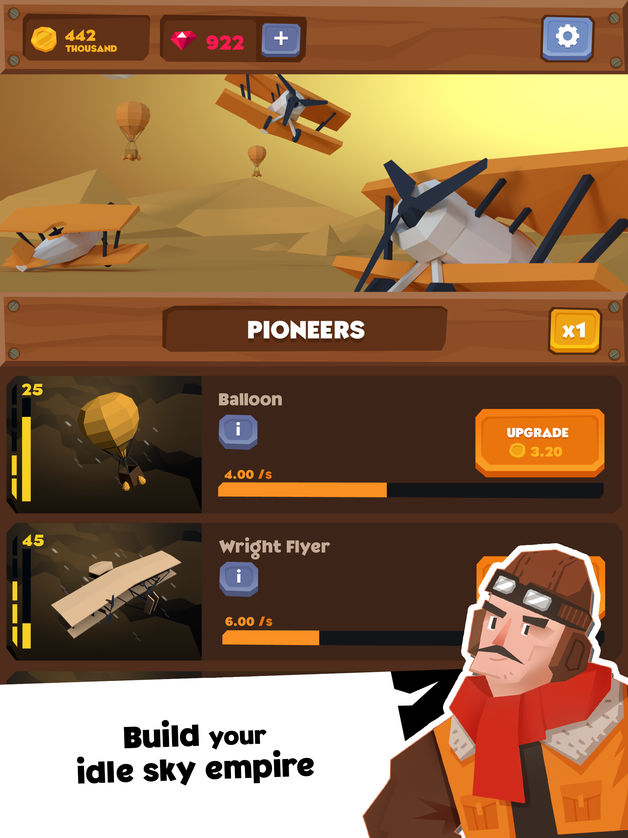 iTunes Description
If you like aircraft or spaceships, are interested in their history, and have a knack for business – you'll love IDLE Skies

Witness the history of air travel from its earliest days to the distant future. IDLE / CLICKER game mechanics allow you to progressively unlock subsequent wonders of technology in a laid back manner, to satisfy your curiosity.

Explore the fascinating world of aviation, from its humble beginnings, through its golden age, and far into the future that still lies within the realm of science-fiction.
Forum Thread: Idle Skies (by Crimson Pine Games)
---
Indian Summer Game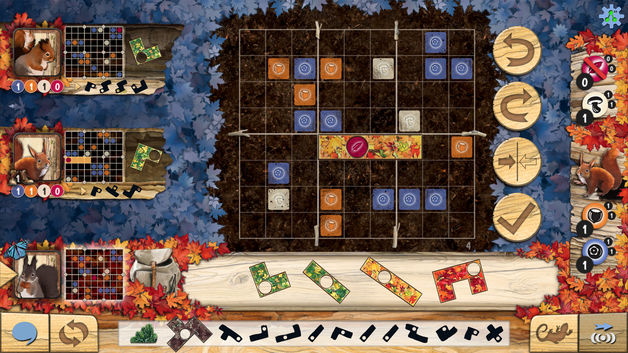 iTunes Description
Indian Summer
Before winter makes its appearance, a particularly warm fall bathes the forest in a golden shimmer. During the Indian Summer, New England blossoms one last time. Treetops are ablaze with countless colors — a living rainbow, from green to orange to red. Slowly the first leaves are starting to fall. Meanwhile, our steps and the diligent squirrels rustle the colorful foliage.
Forum Thread: Indian Summer Game (by DIGIDICED)
---
Let's Go Drop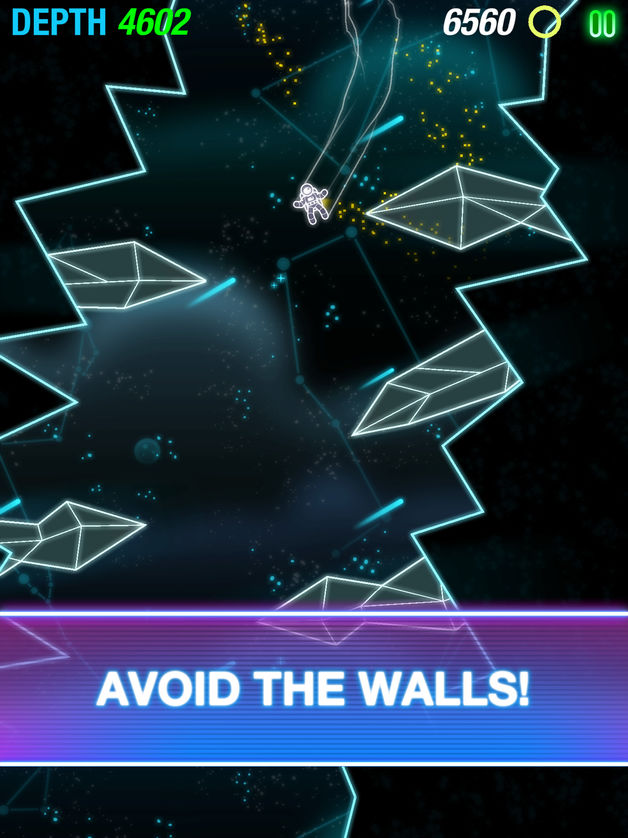 iTunes Description
Let's go Drop! How far can you fall?

Use your thrusters to push you left or right. Avoid the walls, stay away from the spikes and collect all the coins you can!

Use coins to unlock planets, ships, upgrades and more!

The further you fall the faster you get! How long can you survive?
Forum Thread: Let's Go Drop (by Cobra Mobile)
---
Marvel Battle Lines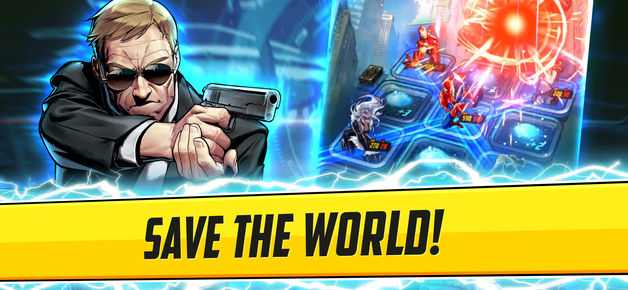 iTunes Description
The Cosmic Cube has been shattered, plunging the Marvel Universe into chaos! Now, you must join forces with Super Heroes and Villains, including the Avengers, the Guardians of the Galaxy, Spider-Man, and more, to collect the shards and restore the universe.
Collect over 100 of your favorite Marvel character playing cards including Captain America, Thor, Daredevil, Venom, Doctor Strange and Thanos. Build your perfect deck and send characters into action in single-player mode, or go head-to-head with players across the globe in pulse-pounding PVP competition. Set your strategy and send them into action in this legendary card collecting battle game.
Forum Thread: MARVEL Battle Lines (by NEXON Company)
---
Nightcity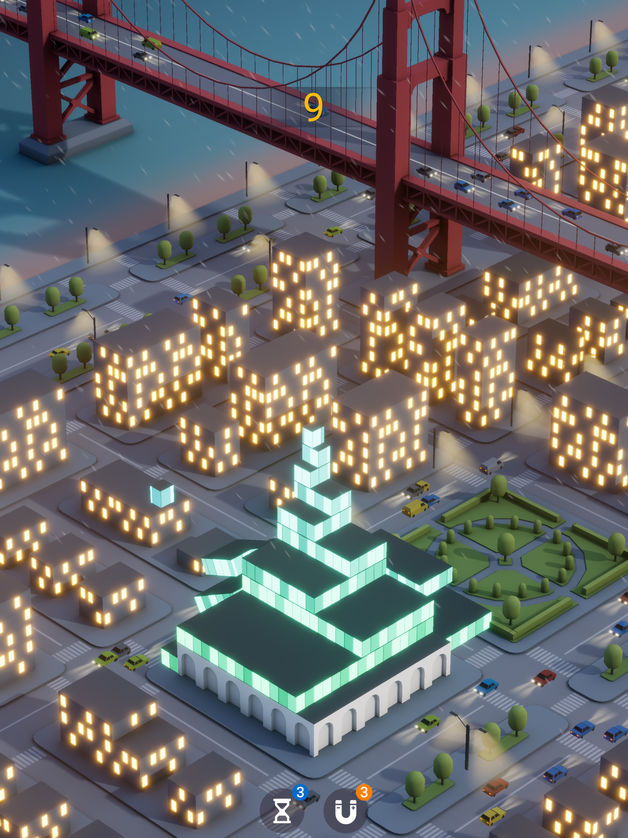 iTunes Description
Stack up the blocks and build skyscraper as high as possible!

● Beautiful 3D graphics
● World leaderboard and seasonal rewards
● Achievements
● Skyscraper blueprints
Forum Thread: NIGHTCITY (by InspireGames)
---
PAKO Forever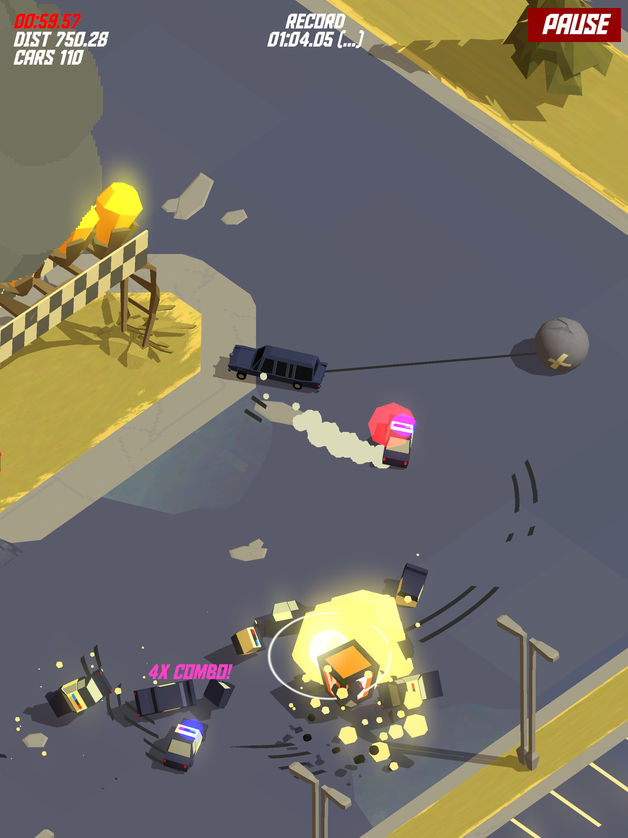 iTunes Description
Escape as long as possible in an endless parking lot! Secrets, power-ups, unlockable cars and plenty of other surprises wait for you in a re-imagined version of the classic original car chase game, PAKO – Car Chase Simulator!

FEATURES:
+ Easy and addictive gameplay
+ Generative map is different each time played
+ Play both in portrait and landscape mode
+ Use wacky bonus items and find secret areas!
+ Unlock cars
+ Leaderboard competition
+ Achievements
+ iCloud saving
Forum Thread: PAKO Forever (by Tree Men Games)
---
Ping-Paint-Pong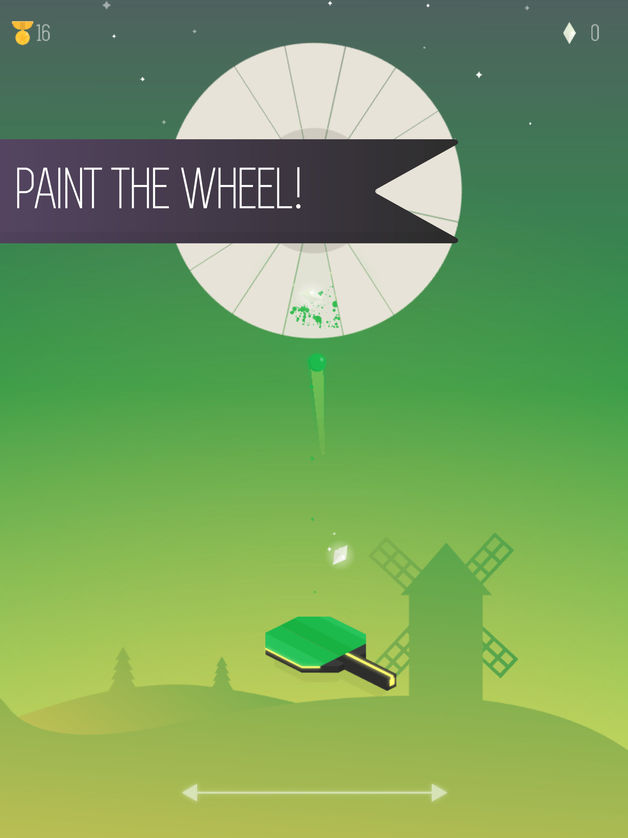 iTunes Description
Ping-Paint-Pong, that easy!
Use your skills to color all the slices of the wheel without letting your ball fall. Collect diamonds and spend them to customize your gameplay experience by unlocking new paddles, backgrounds and colors!
Forum Thread: Ping-Paint-Pong (by Crevasse)
---
The Quest – Caerworn Castle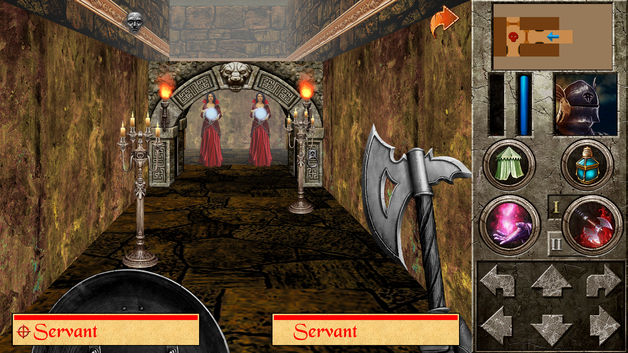 iTunes Description
Caerworn Castle is haunted by ghosts and demons and in desperate need of repair. Its occupants are victims of a feud between two brothers, prolonged by Lord Alderley who wishes to extend his power. Are you frightened of ghosts and the evils of the night? Dare you enter this ravaged land to save the castle? It will take all your skills to change the balance of power. Great evils await you and a friend. The ghost of Lord John Sheets, the father of the dueling brothers, waits in Caerworn Castle for you to give him rest.
Forum Thread: The Quest – Caerworn Castle (by Redshift/Zarista)
---
Reign of the Ninja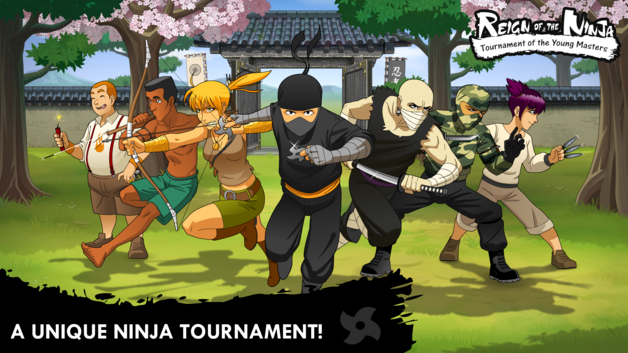 iTunes Description
For his 60th birthday, the Emperor of Japan, Hiroshi Ota, decides to treat his people to a ninja tournament.
To celebrate the event, he asks the seven village leaders of his province to choose the best ninja from each community among the children aged between 11 and 16.
Each chosen contender will represent their village during the tournament and try to get the 100,000 gold coins on offer for the winner.

In Reign of the Ninja, 7 elite ninjas face each other in a series of challenges and missions (minigames). Each has their own favourite weapon (shuriken, kunai, bow and arrow, saber, blowpipe…) and special skills that give them that extra edge in their favourite challenge.
Choose the hero who best represents you and use their powers to maximise your chances of victory.
Forum Thread: Reign of the Ninja (by Dragonslash)
---
RWBY: Amity Arena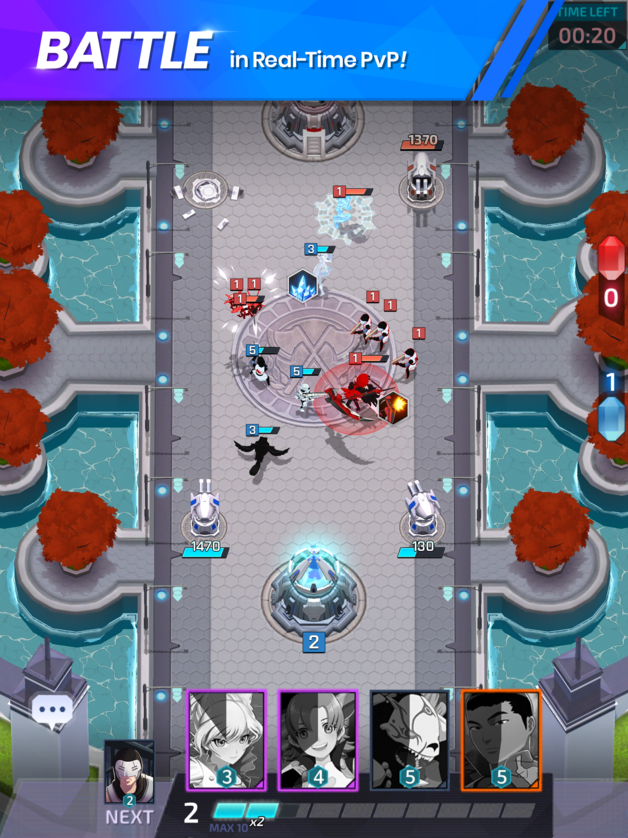 iTunes Description
Brought to you by Hangame and Rooster Teeth Animation, RWBY: Amity Arena transforms your mobile device into a Scroll connected to the Cross Continental Transmit System, so you can play with friends all across the globe! Inspired by Remnant: The Board Game, RWBY: Amity Arena takes Remnant by storm as the first Scroll game of its kind. Influences from the Remnant's favorite board game can be seen with the mixed cast of Grimm, Atlesian Technology, but with an added twist of up and coming Huntsmen and Huntresses that have made the roster for the next Vytal Festival.
Forum Thread: RWBY: Amity Arena (by Rooster Teeth/NHN Entertainment)
---
SHUMP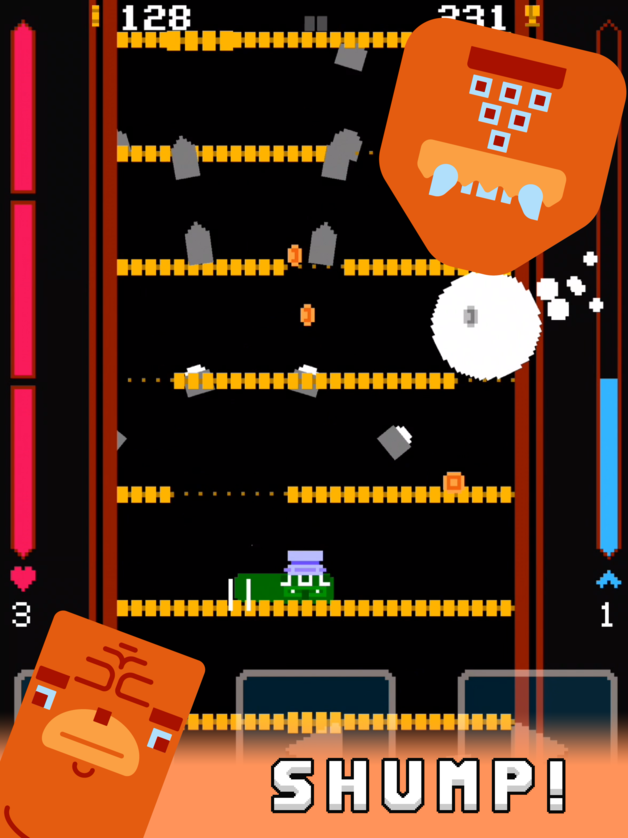 iTunes Description
SHUMP is a platformer about agile armed animals ascending against a barrage of bullets, bosses and bombs!

+ A Shoot 'em up blended with a platformer! (Shmuplatformer)
+ Hop and blast your way through 6 levels, 20 enemies and 14 bosses!
+ Play it safe and slurp up coins or rush ahead to unleash cascades of bullets!
+ 11 different characters and powers to mix up gameplay!
+ Play one or two handed!
Forum Thread: SHUMP (by Alexander Johansson)
---
Siralim 3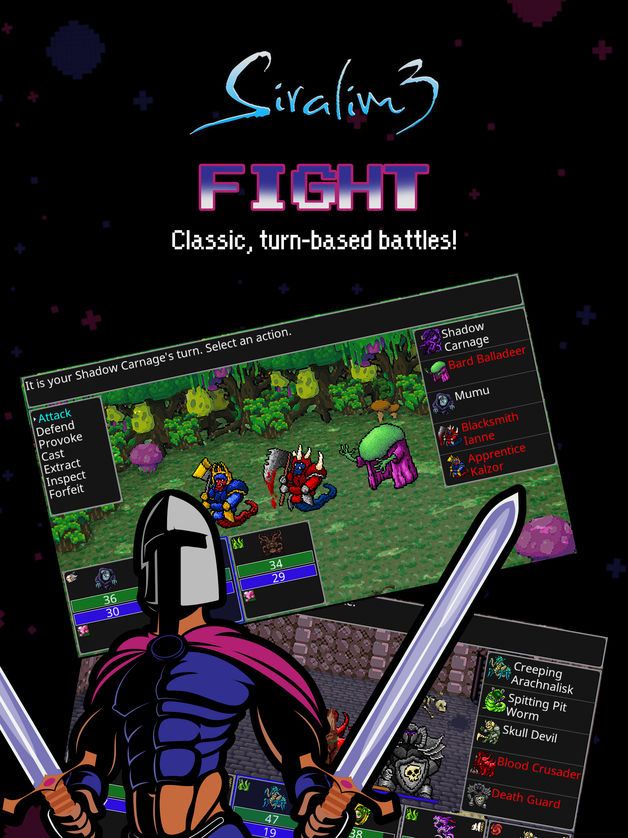 iTunes Description
Siralim 3 is the deepest monster taming RPG in existence. If you're looking for a game with an unbelievable amount of content that will last you for hundreds (or even thousands) of hours, this is the game for you!

FEATURES
• Collect and breed over 700 different creatures to fight for you.
• Explore randomly generated dungeons with 15 unique tilesets.
• Craft artifacts and spell gems to equip your creatures for battle.
• Infinite playability – there's not even a level cap. New features are introduced well-beyond the 100-hour mark. You'll never run out of things to do!
• Rich end-game content, including Itherian Realms, super-bosses, arena battles, and much more!
• Asynchronous player-versus-player combat allows you to fight against other players' creatures!
• Supports gamepads!
• Cross-platform cloud saving allows you to pick up where you left off on a different device!
• No paywalls, pay-to-win microtransactions, energy systems, ads, or any other BS! And no, you don't need to be connected to the internet to play.
Forum Thread: Siralim 3 (Monster Taming RPG) (by Thylacine Studios)
---
Sling Smash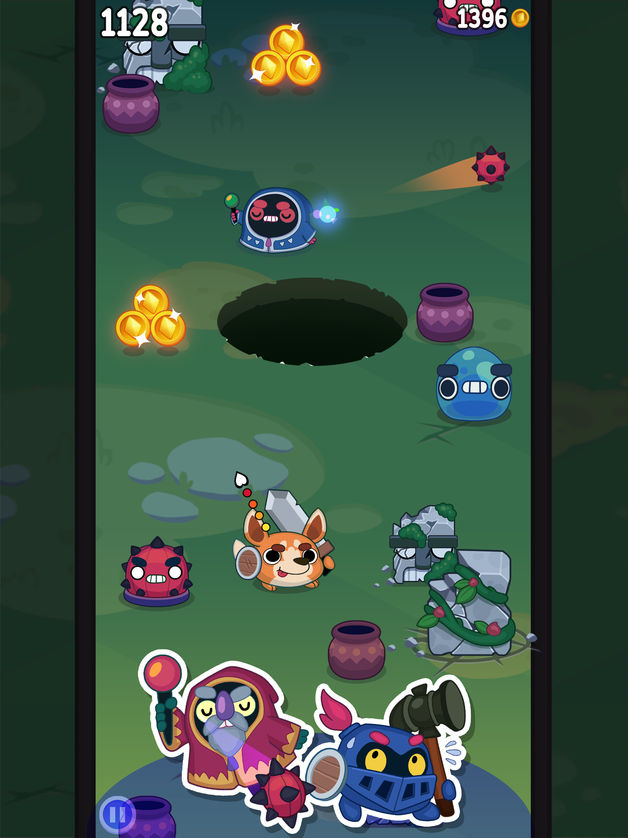 iTunes Description
Throw yourself into this adventure full of tricky traps and mean monsters.
Unlock new powerful weapons and cute but brave characters to sling your way up to victory!
How far will you sling?!?
Forum Thread: Sling Smash (by Alexandre Ferrero)
---
Stardew Valley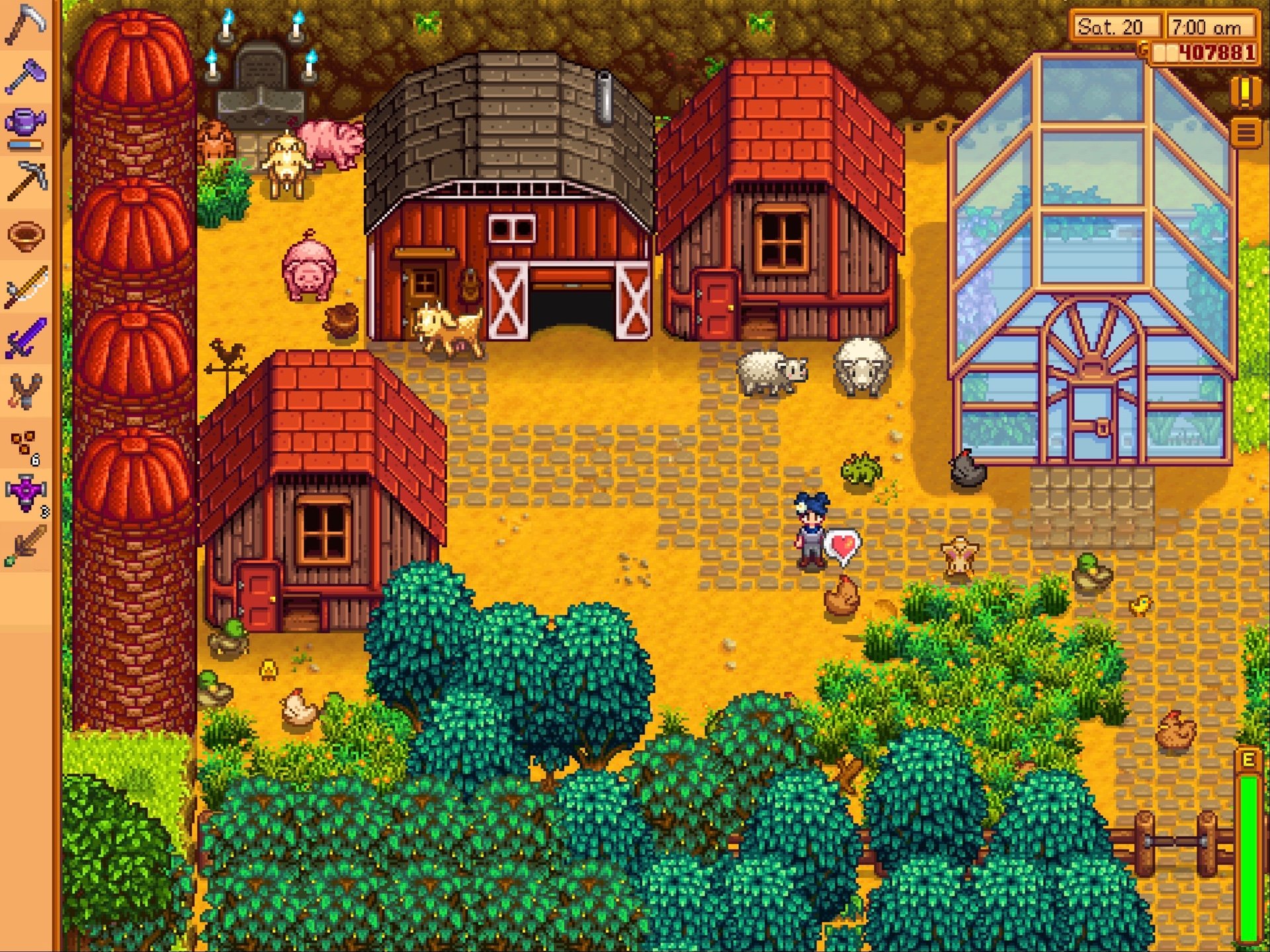 iTunes Description
BUILD THE FARM OF YOUR DREAMS:

■ Turn your overgrown fields into a lively and bountiful farm
■ Raise and breed happy animals, grow a variety of seasonal crops and design your farm, your way
■ Customise your farmer and home! With hundreds of options to choose from
■ Settle down and start a family with 12 potential marriage candidates
■ Become part of the community by taking part in seasonal festivals and villager quests
■ Explore vast, mysterious caves, encountering dangerous monsters and valuable treasure
■ Spend a relaxing afternoon at one of the local fishing spots or go crabbing by the seaside
■ Forage, grow crops and produce artisan goods to cook up as a delicious meal
Forum Thread: Stardew Valley (by ConcernedApe / Chucklefish)
---
Tank Wars: 3001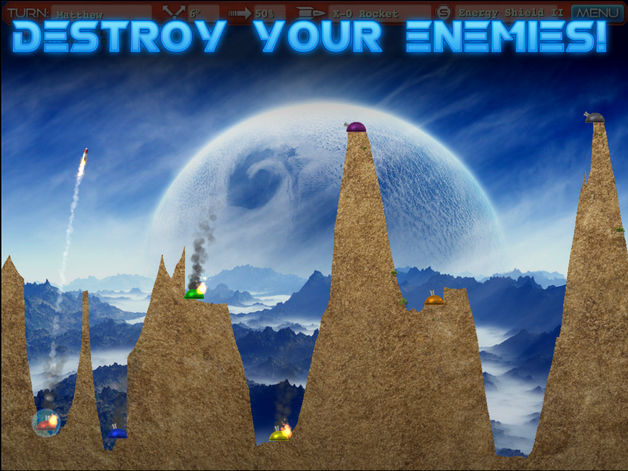 iTunes Description
Engage in sci-fi combat with over 50 unique weapons! Battle your friends or multiple computer AIs in custom matches, or test your trigger-finger in Tournament mode with 11 stages of increasingly-challenging computer teams.

Earn cash and upgrade your tank with artillery, rockets, missiles, nukes, dirt bombs, and vaporizers. Protect yourself with support flares, energy shields, armor, and more. Carefully hone in your ballistics trajectory to setup the perfect shot, and then load up your heavy weaponry for the final kill.
Forum Thread: Tank Wars: 3001 (by BravoBug Software)
---
Tap A Cake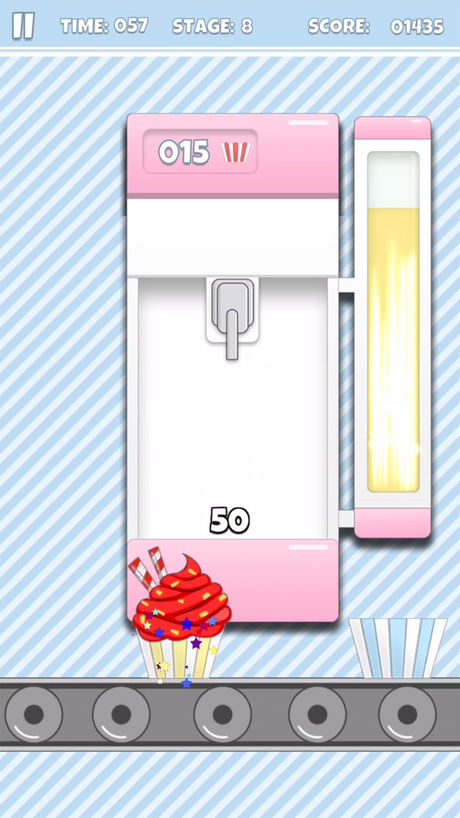 iTunes Description
Fill in all the cupcakes with cream before the time runs out.
Tap a Cake is a fast and fun game. More cupcakes! faster! What level can you reach?
Forum Thread: Tap A Cake (by Juan manuel Bonet)
---
Tasty Planet Forever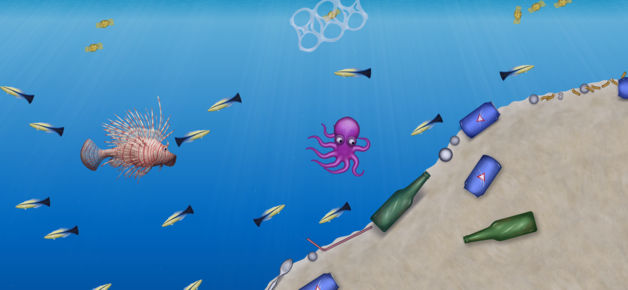 iTunes Description
Play as a small cat with an insatiable hunger. Grow bigger and bigger by eating everything in Paris. Eat rats, baguettes, people, cars, trees, buildings, and more!

When you're finished dining on Paris, there are seven more worlds to eat:
-Consume the Caribbean as an angry octopus
-Save the savanna as a heroic rat
-Devour the city as a big eyed bee
-Reclaim the Pacific Ocean as a basking shark
-Eradicate invasive species as an experimental dingo
-Stop the humans as a peckish penguin
-Munch on Mars as a ball of grey goo
Forum Thread: Tasty Planet Forever (by Dingo Games)
---
Tesla vs Lovecraft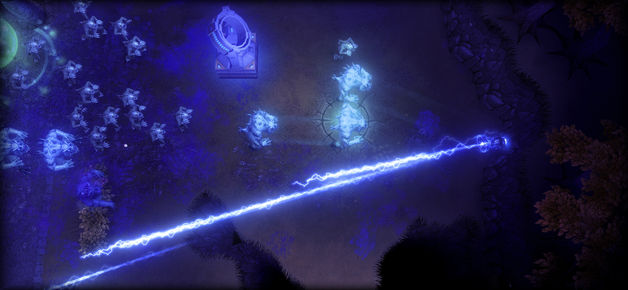 iTunes Description
Tesla vs Lovecraft is an intense and epic top-down arena shooter.

On the eve of Nikola Tesla's greatest invention, his laboratory is burned down by the inhuman minions of the horror author H.P. Lovecraft. A showdown of epic proportions begins! Chase the monsters, annihilate massive amounts of eldritch abominations, and overcome the madness of the old gods with science and hi-tech weaponry!
Forum Thread: Tesla vs Lovecraft (by 10tons Ltd)
---
Tilespace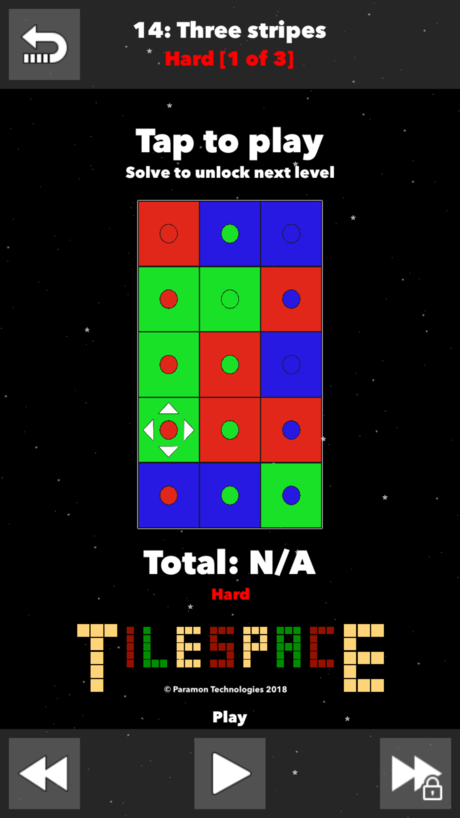 iTunes Description
The game field consist of rows and columns of different elements. Each column and each row can be cyclically moved as a whole group of elements. For example, if you move a row horizontally to the right, the rightmost element reappears on the left side of the row. If a raw moved to the left, the leftmost element reappears on the right side of the row. If a vertical column is moved up, then the topmost element reappears in the bottom of the column. If a column moved down, then the bottom element reappears on the top of the column.
Forum Thread: Tilespace (by Roman Seleznov)
---
Tower Power – Flick'em Up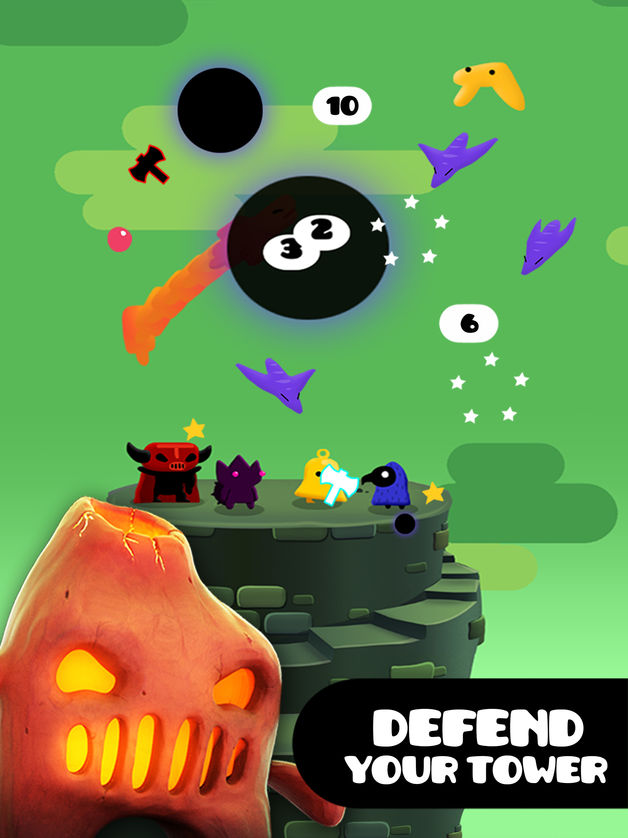 iTunes Description
Welcome to the super kawaii world of Bunny Star Land.
Your friends have been captured by the crazy foul birds >_< You must clear the sky!
Get on top of your tower and rescue your friends!

You can shoot balls, rocks, stars, bubbles, fire and even black holes! Defeat your enemies, build the tower to incredible heights and unite your tribe achieving the highest score.

The Wise Genie will reward you with magical jars full of prizes everytime you play: discover Common, Rare, Epic and Legendary critters!!
Forum Thread: Tower Power – Flick'em Up (by LemonChili Games)
---
Trivia Crack 2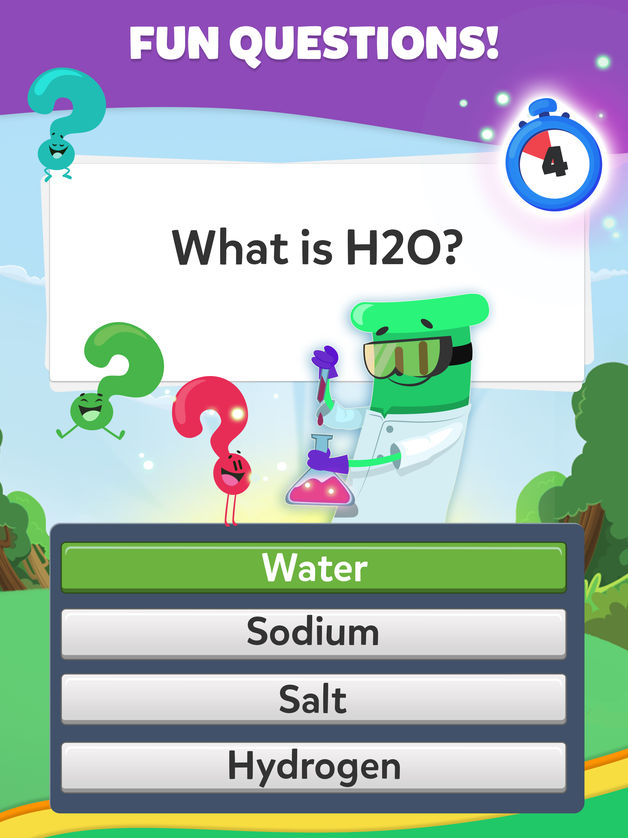 iTunes Description
SHOW OFF YOUR SMARTS ** Challenge your friends and family to a trivia competition, and prove how smart you are!

TRAIN YOUR BRAIN ** Who says trivia isn't useful? You will keep your brain sharp with Trivia Crack 2. We have thousands of challenging trivia questions for you!

COLLECT CHARACTERS ** Collect our original characters to level up and win amazing prizes!
Forum Thread: Trivia Crack 2 (by Etermax)
---
Turn Undead 2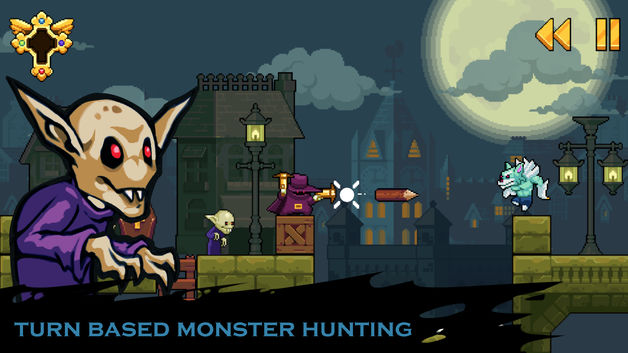 iTunes Description
Journey from Victorian London to Egypt and defeat the Mummy King and his legion of monsters in this turn based action puzzle platformer.

Features:
• Turn based movement with all the action of a platformer.
• Time is in your control, time moves when you do!
• Solve devious puzzles hidden within spooky gothic streets, labs and tombs!
• Discover and exploit monsters weaknesses.
• Collect the bonus holy cross for an extra hard challenge!
• Easy swipe based controls.
• A PERFECT game for Halloween!

Time to Die… One step at a time!
Forum Thread: Turn Undead 2: Monster Hunter (by Nitrome)
---
Urban Fighters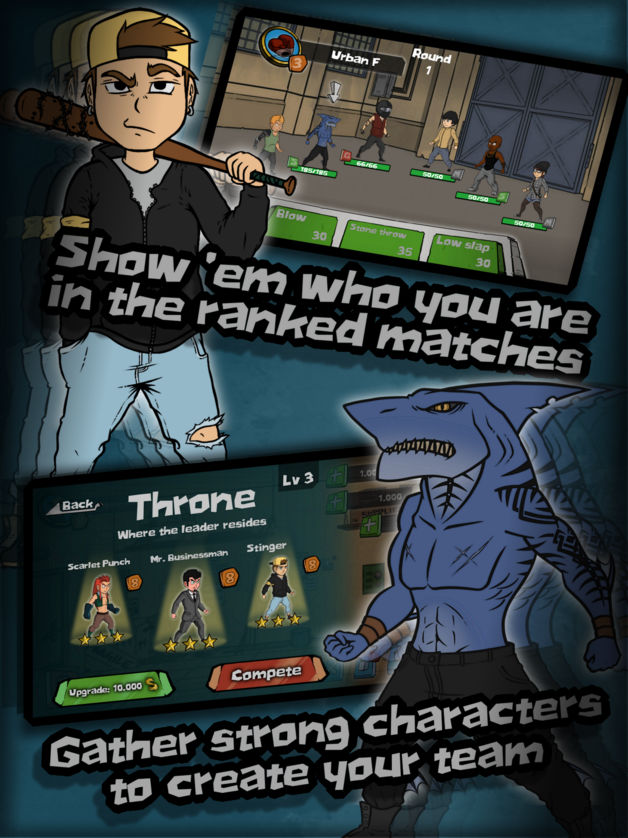 iTunes Description
Urban Fighters is a strategy fighting game starring the crazy fighters of Urban City. Collect all the fighters and try to be the best fighting against other players teams. Build your own secret base and upgrade it to the best level. Fight and improve until you rule Urban City.
Forum Thread: Urban Fighters: Battle Stars (by Red Pencil Games)
---
Word Split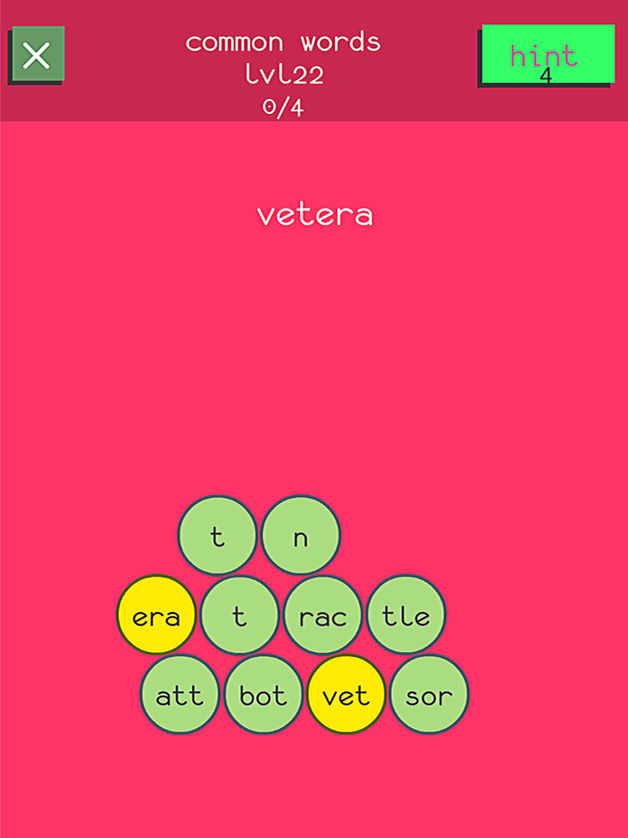 iTunes Description
Enjoy this Best word puzzle game ever.

Thousands of words are broken so you need to connect and fix them. Enjoy connecting broken words and it will help to increase your vocabulary. With hundreds of words in each categories to choose, this free puzzle game will keep you busy all day long. Enjoy daily rewards.
Forum Thread: Word Split (by Arwin Margallo)
---
Yatzy Halloween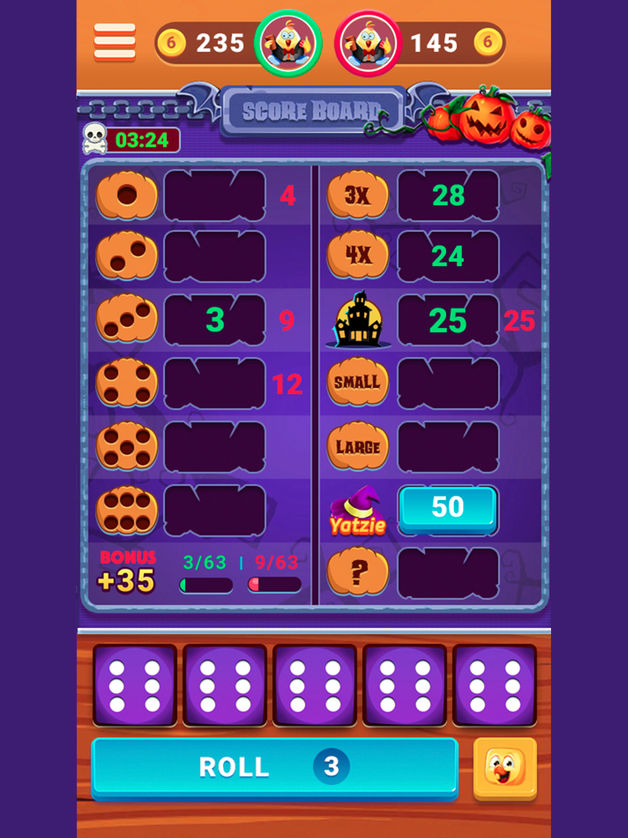 iTunes Description
Why are these dice look so scary and tiny pumpkins are everywhere?
Our little chickens are misteriously disappearing… What strange event is going to hit Yatzy Halloween ?
A brand new experiment now updated in Yatzy Halloween that brings you the special Halloween's horrow and joyful atmosphere through items exclusive for halloween!! Let's explore the darkness covering matches and hurry to join now and don't forget to find our lost little chickens to get many special gifts awaits for you.
Forum Thread: Yatzy Halloween (by GameZoka)
---
Zombie Pack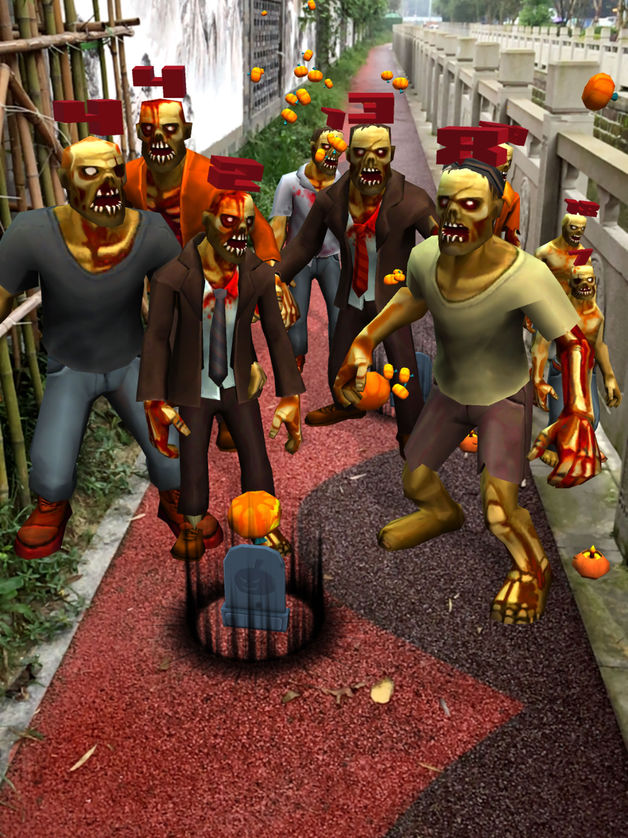 iTunes Description
2018 Halloween Day must have zombie vs pumpkin games. 3 zombie and pumpkin games in 1 pack.
You can play "Zombie Pack" in a dark corner or play it in outdoor place with "AR".

All games are supported normal mode and "AR" mode.
Horrible zombies, invincible pumpkins and all sorts of fearful shouts.
Forum Thread: Zombie Pack (by LI YIN JIAN)
---