Blizzard is giving away a bunch of free Hearthstone (Free) card packs starting on March 26th, leading up to the release of the Witchwood expansion. As part of the start of 2018, The Year of the Raven for Hearthstone, every daily quest will award a card pack. Yes, all three daily quests will each award a card pack for completing them. The giveaway runs until April 9th, so if my calculations are correct, you could earn 45 packs if you manage to complete all three daily quests each day of the promotion. Don't worry about getting a card pack that's about to go to Wild: the packs will either be Journey to Un'Goro, Knights of the Frozen Throne, Kobolds and Catacombs, or The Witchwood packs. The latter packs won't be openable until the expansion goes live, of course.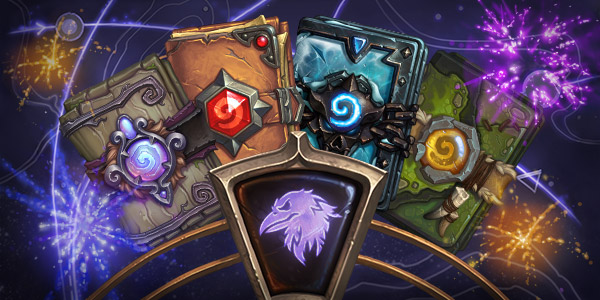 Hearthstone is an expensive game to keep up with, since players need to acquire a ton of card packs in order to build out decks, especially as the meta changes. And $50 for the 50 card packs each time an expansion rolls out really starts to add up for players that want to stay active and competitive. So, if Blizzard comes along, offering a ton of freebies, I'd recommend taking them up on it if you're looking to keep playing Hearthstone at a high level. Considering the Legendary drop rates, you're likely to get one or two out of these packs if you earn them all.
Now, the bad news for those looking to min-max this situation is that the easiest daily quest where you play a match against a friend will be inactive for the length of the promotion. There should be other opportunities to net free The Witchwood packs ahead of the expansion's release, so now's a good time to play Hearthstone or get back into it if you want to pick up a bunch of stuff for free. If you're curious about card reveals for The Witchwood, they start up on March 27th at 3:00 AM PDT on various forms of media. Get ready for more fun with mistranslations of cards revealed on non-English streams, and the community freaking out about which cards will rock the meta!