Nintendo has been pretty good about updating its hit mobile title Fire Emblem Heroes (Free) on a near-monthly basis. Some of those updates are bigger than others, and one certainly gets the sense that the development team is having trouble finding dramatic new additions to put into the game without stretching things too far. Heck, the last update had an almost entirely unrelated rhythm game in it. Perhaps it's not surprising, then, that this month's update is a bit low-key compared to the last one. Still, regular players will probably be quite interested in what it offers.

Let's start with the least exciting parts of this update. Soren: Shrewd Strategist has a new character-specific weapon skill in his five-star form called Wind's Brand. Some more weapons can now be strengthened in the refinery, as well, including Soren's new Wind's Brand. Eirika's Sieglinde and Leo's Brynhildr are now eligible for the refinery, so if you use those characters, get to it. There's a new option in the setting to sort characters by level, which is a nice little UI improvement.
Okay, onto the new map types. First up is Rival Domains. In these special maps, you'll fight using a larger army of up to twenty (!) units called a brigade. Your goal is to capture enemy camps, defeat the enemy within ten turns, and get as high a score as possible. Earn a high enough score and you'll get some sweet rewards. Don't have enough characters or the right kinds to win? Don't worry, because for the first time ever in Fire Emblem Heroes, you'll be able to call on your friends to lend you their units. At last, a use for in-game friends! Naturally these larger armies will require more space to move around in, so the map sizes in Rival Domains will be increased from the usual 8 x 6 to 10 x 8. New Rival Domains maps will be deployed every Saturday, so plan on working it into your regular rotation.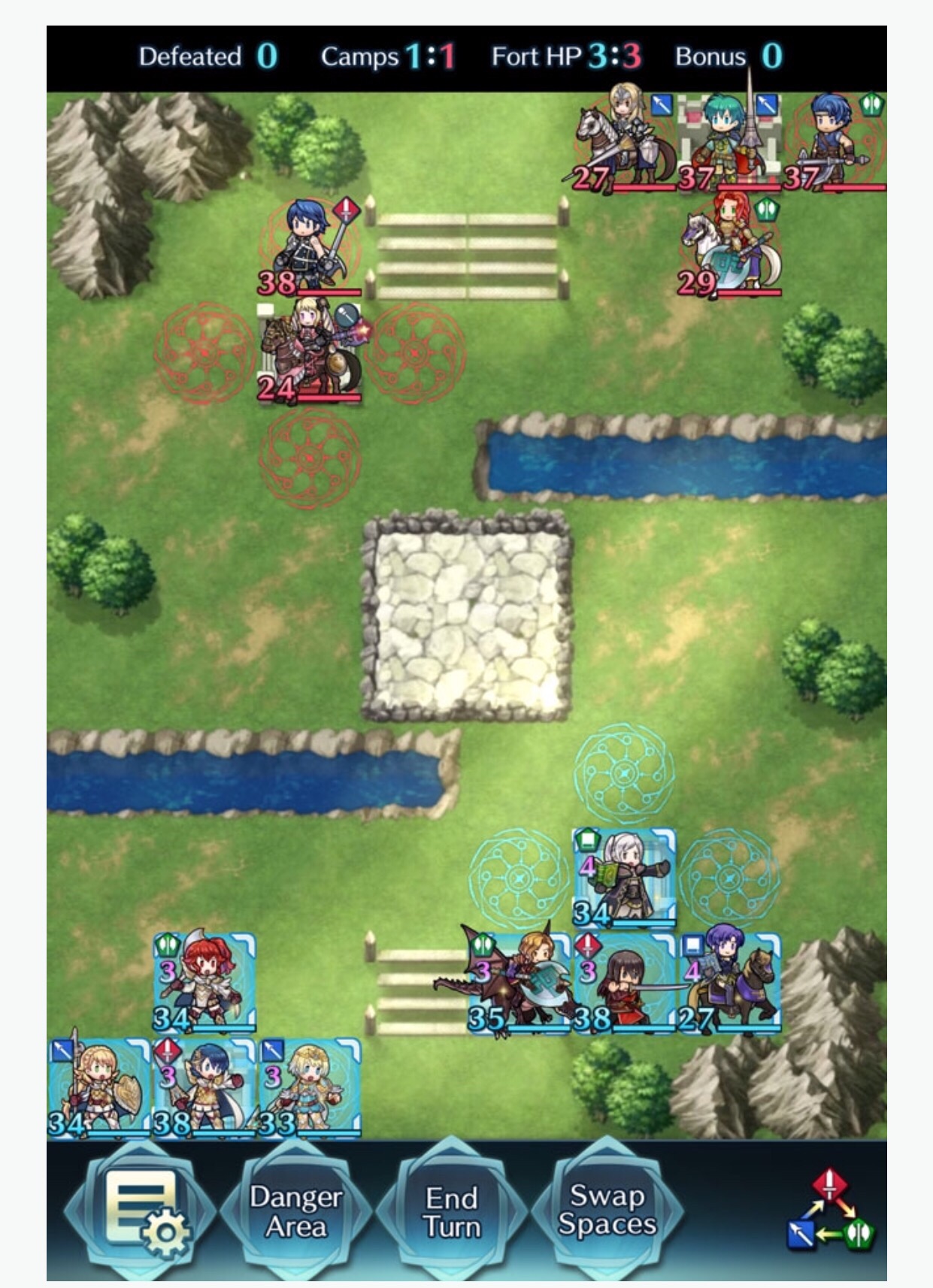 But what about Sunday? Oh ho ho, my inquisitive friend, I've got something for you, too. A new map type called Blessed Gardens will begin this very Sunday, with new maps arriving each week on the same day. In these maps, you can earn orbs, feathers, and more, but there is one catch: only certain units will be able to participate. Moreover, you won't be able to send in duplicate units, so you are going to have to rethink your team of three Hectors plus Azura. Think carefully, as you'll need to consider who you want to bring in with your free first batch of Blessings.
Not related to the update but still of interest is the upcoming addition of some new heroes to the game. The Branded King summoning event adds a new version of Chrom to the game, along with male and female versions of Robin's future child Morgan. The female Morgan is a wyvern rider who wields a blue spellbook as a weapon, while the male version is on foot and uses a red spellbook. The new version of Chrom is a mounted unit, but he's still carrying the Sealed Falchion, so don't park any dragons near him. As usual, a new set of story maps will launch alongside these characters, giving you a chance to learn a little about them and earn a few orbs.
That's about all for this update, but honestly, I'm pretty excited about that Rival Domains mode. It seems like it's bringing in a lot of elements from the mainline games that should spice up the strategy a little. If nothing else, it beats the stuffing out of a gardening event.