There's an unexpected cameo in the latest update to Pac-Man (Free), and it's Sonic the Hedgehog? Huh? Yes, the blue speedster, most famously known for going fast, is now in a limited-time Dash maze in Pac-Man for iOS and Android. Sonic is trying to collect rings instead of pellets, invisibility power-ups instead of powerup pellets, and friendly woodland creatures instead of fruit, keys, and Galaxians. It's kind of an odd pairing, but it kind of makes sense? Sonic is trying to go fast, and nothing compels him to go faster than being trapped in a maze, hunted down by robots…that then become ghosts. It is disturbing that the creatures that Sonic normally frees are now the items to eat. Hmm. Not everything was going to be a perfect 1:1 pairing, I suppose.
If you want to give Sonic in Pac-Man a shot, the update is available now. If you haven't played Pac-Man on mobile in a while, the game now has a whole free-to-play economy. You can earn or buy tokens to unlock new sets of mazes, which award crowns, which are then used to unlock the Tournaments portion of the game. You can just play classic Pac-Man if you want, with all 256 original levels, and you can pay $2.99 (with a $0.99 special offer) to remove ads permanently. The Sonic Dash mazes are available for free in the Pac-Man app for iOS and Android right now.
Update: If you can't get enough Sonic/Pac-Man crossovers, then good news: you can now unlock Pac-Man in Sonic Dash! (Free)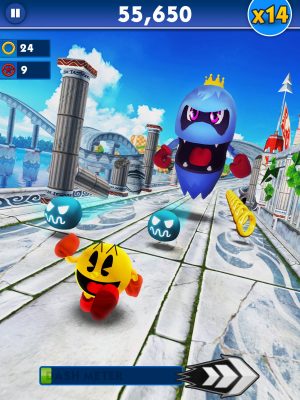 What a time to be alive!