The idea behind the TouchArcade Game of the Week is that every Friday afternoon we post the one game that came out this week that we think is worth giving a special nod to. Now, before anyone goes over-thinking this, it doesn't necessarily mean our Game of the Week pick is the highest scoring game in a review, the game with the best graphics, or really any other quantifiable "best" thing. Instead, it's more just us picking out the single game out of the week's releases that we think is the most noteworthy, surprising, interesting, or really any other hard to describe quality that makes it worth having if you were just going to pick up one.
These picks might be controversial, and that's OK. If you disagree with what we've chosen, let's try to use the comments of these articles to have conversations about what game is your game of the week and why.
Without further ado…
JYDGE
Developer 10tons has gained quite a reputation for making stellar dual-stick shooters. This started way back in 2003 with the excellent Crimsonland which they brought to mobile back in 2014, but more recently they've had a string of hits with Neon Chrome, Time Recoil, and their newest release JYDGE ($8.99), each offering a unique spin on the dual-stick shooter formula. This week amidst a bunch of great new releases it seems all anyone was talking about was how awesome JYDGE was, and I can totally see why: It's all I've been playing in the days since it came out.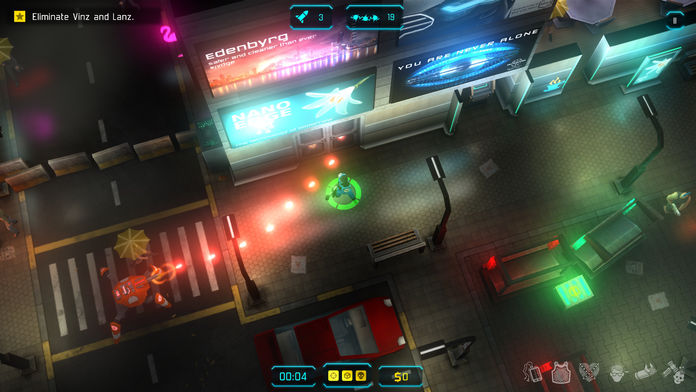 JYDGE is actually a follow-up title to Neon Chrome, taking place in the same universe. However, where Neon Chrome is expertly built to be a game you play over and over and over again, with a different experience each time, JYDGE is a more traditional level-based game. Whether you enjoy a randomized high-scoring type of game or a pre-designed structured affair, both Neon Chrome and JYDGE complement each other so much they're like two sides of the same coin.
It's nice having a set of levels with pre-defined goals, and in addition to the main goal of completing each level there are smaller meta goals to shoot for. Each level is timed too, and altogether this makes a game that's fantastic for speedrunners and completionists alike. Just completing the game and playing through the base goals while experiencing the story if this strange dystopian world is satisfying on its own, but the additional goals add a lot of replay value to an already enjoyable package.
We've already reviewd JYDGE earlier this week and so I'll save most of the details in this post here, but if you've enjoyed the previous dual-stick shooter releases from 10tons and want something a little more structured and traditional than Neon Chrome but with the same intense action, JYDGE is calling your name. As a bonus it's still on a 50% launch discount for just $4.99, and at that sale price or its normal $10 price it's kind of a crazy bargain for such a high-quality action game.