Welcome to another one of our roundups of all the new games of the past week, and what a strange week it's been. Apple introduced the ability to pre-order games in the App Store, and the first batch of games was a handful of high-profile ports and highly-anticipated mobile exclusives. We're seeing the first wave of pre-order games going live tonight with the arrival of Life is Strange and Gorogoa. Then out of nowhere FEZ, which has been supposedly coming to mobile for years now, popped up out of nowhere this morning. THEN, later on today Oddworld: New 'n' Tasty simialrly arrived out of thin air and is the 2014 remake of the original Oddworld. AND we've still got Playdead's Inside coming at some point in the next day or so. It's madness, I tell you! So check out the full list of games below and let us know which ones you'll be picking up if your wallet can handle it.
---
Ace Attorney Investigations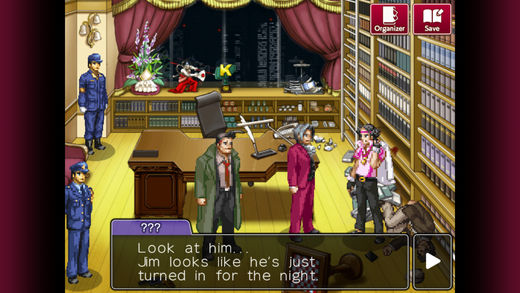 iTunes Description
An exciting new chapter in the Ace Attorney series!

Ace Attorney Investigations: Miles Edgeworth takes the Ace Attorney series from the courtroom to the crime scene, leaving the legal battle behind while bringing the action to various crime scenes. This time around, the player takes on the role of famed prosecutor Miles Edgeworth, a memorable rival of charismatic legal eagle Phoenix Wright. Edgeworth actively investigates crime scenes in order to pursue the truth behind each case. By solving the challenging puzzles presented him, Edgeworth will work with the police to bring criminals to justice.
Forum Thread: Ace Attorney INVESTIGATIONS (By CAPCOM)
---
Ball Bouncer: Infinite Climber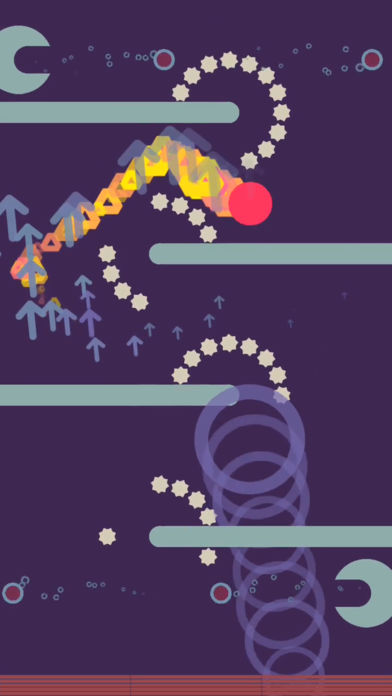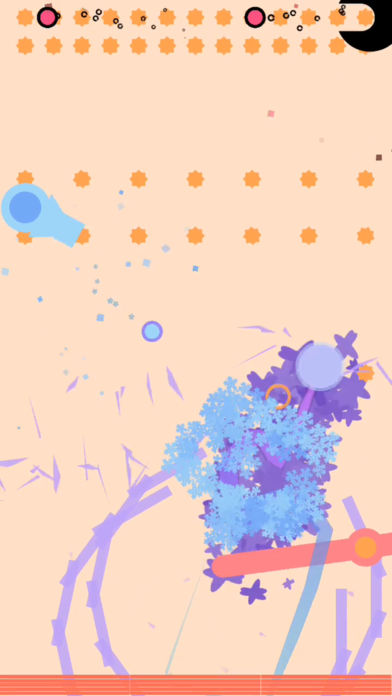 iTunes Description
Looking for a physics-based challenge?

Meet Ball Bouncer, a physics-based vertical climber with unique controls and an a challenging infinite gameplay. Try a new unique control scheme: swipe your finger in the direction where you want a ball to throw itself and make it bounce in such a way that it dodges all sorts of crazy obstacles, from trap-doors and guns to black holes and teleporters. Everything wrapped inside a colorful minimalistic style.

Rise higher to earn the best score and collect stars to exchange for skins. The slightest mistake though and it's game over!
Forum Thread: Ball Bouncer: Infinite Climber (by The Atomic Life)
---
Block Jelly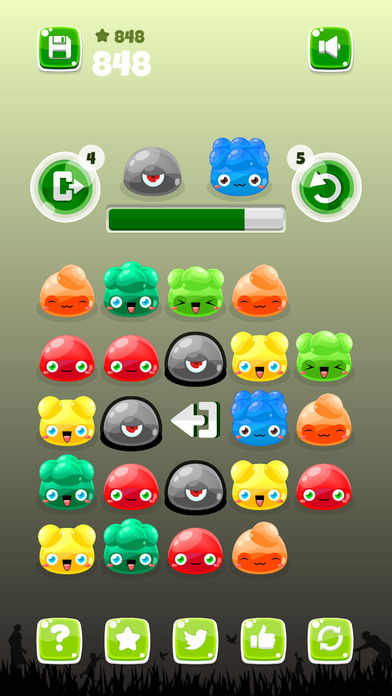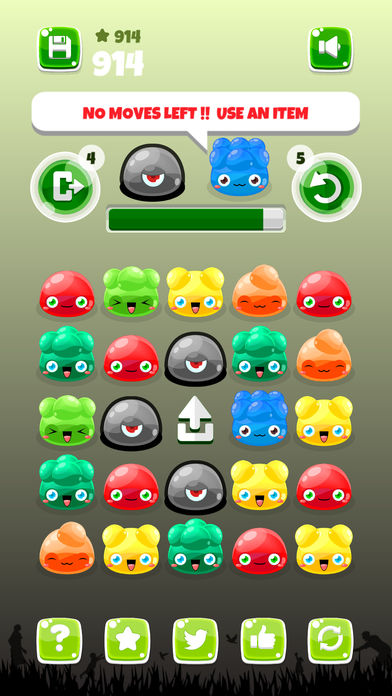 iTunes Description
Block Jelly is a cute puzzle game in a dynamic gamefield.

HOW TO PLAY?

– Swipe to move the jellies and merge them to create head bubbles.
– But watch out for the "Blocks", they won't move so you must destroy them.
Forum Thread: Block Jelly (by Alper Ulgener)
---
Box Boss!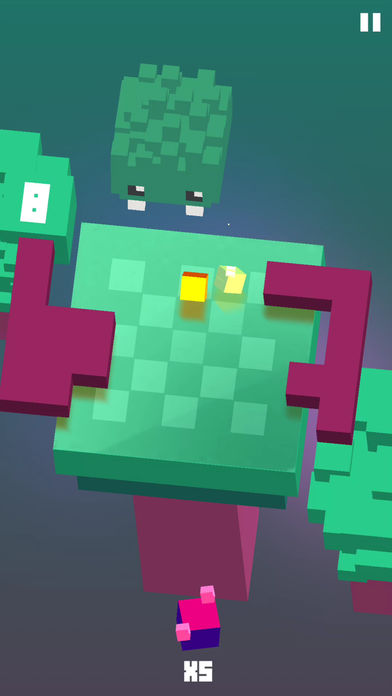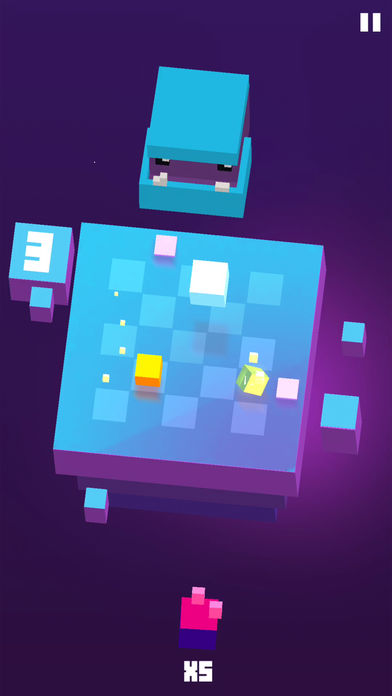 iTunes Description
Are your fingers fast enough to defeat the Box Boss?

Collect the cubes and swipe fast enough to survive!

With over 100 arena levels, The Box Boss is a unique game of avoidance you wont be able to put down.
Forum Thread: Box Boss! (by Pixelshake and Noodlecake)
---
Brain Machine I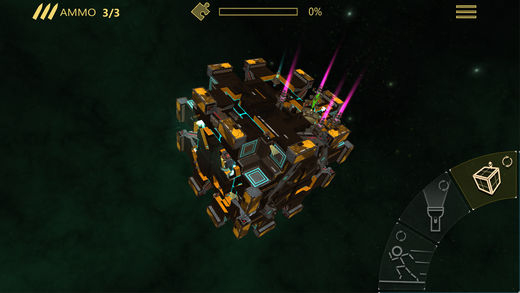 iTunes Description
Brain Machine is a puzzle game with amazing mechanics on magic cube, and also an extraordinary story line. You will hide, think, find and collect. You will feel sorrow, fear, tension, happiness and desperation. Take them down and find the truth!

o Maps on flexible magic cubes.
o Hide from AI robots or be shot to death, some can only hear your steps, some can see you when your light on.
o You can run/walk and light on/off. Trick robots with your skills! And watch out for those weird traps!
o Apart from enemies and cube-rolling, we beat our brains and design all amazing puzzles, by lines-setting, force mechanics…and sometimes, though robots are smart, you can make them yours!
Forum Thread: Brain Machine I (By Youzu Stars)
---
CasinoRPG – Vegas Tycoon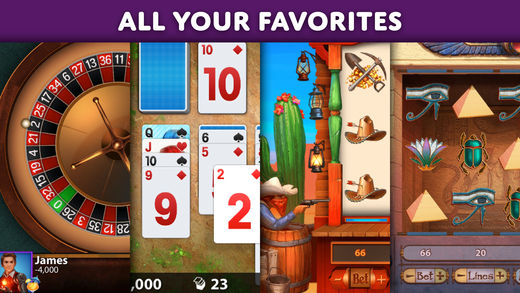 iTunes Description
Play the tables or own the strip in this Vegas themed MMORPG that merges role-playing, tycoon, city building and casino games. Use your winnings in casino games like slots, poker, blackjack, bingo and roulette as you rise from janitor to casino mogul.

Play all of your favorite casino games including unique slots, poker, blackjack, roulette, solitaire, video poker, bingo and a variety of lottery and scratcher games. All games have exciting multiplayer features like you won't find anywhere else. More games are being added all the time!
Forum Thread: CasinoRPG – Vegas Tycoon (by GoldFire Studios)
---
Chimney Post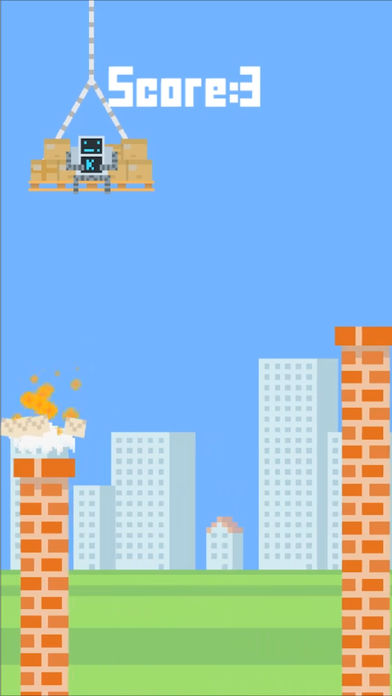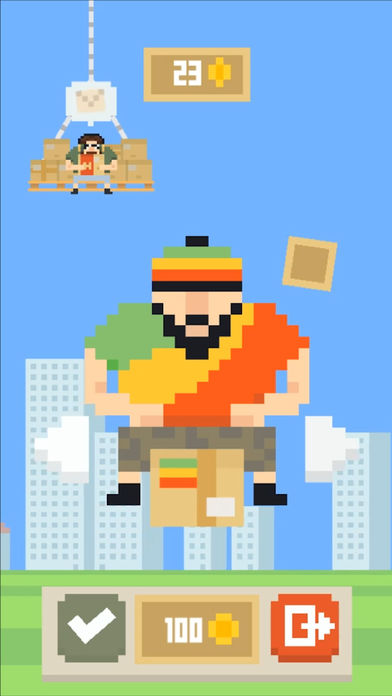 iTunes Description
Are you a fan of endless retro games with 2D graphics? Well, Chimney Post can be easily named as your best companion when it comes to spend your spare time or have some fun hours with your friends and family.

So, in this jumping and moving game, you are a post guy who is carried by a helicopter and flying over the city full of chimneys, and your objective is to hit as many chimneys as possible with the post through your dangerous journey. For you, as the flying boy, there are 2 challenges: Improve your own record and try to hit more chimneys, or be the top in the leaderboard and beat all your friends.
Forum Thread: Chimney Post (by Shrum studio)
---
Clicker Racing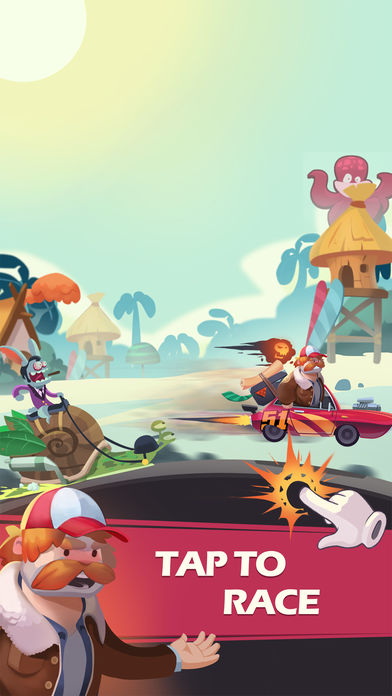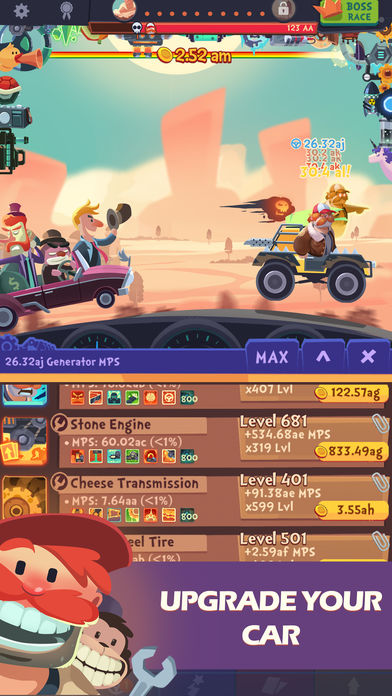 iTunes Description
Welcome to Clicker Racing… In this idle/clicker racing game, you will unleash the power of your fingers to help Old Jim to defeat thousands of rivals, explore wonderlands and make Jim's dream come true: become the greatest racer ever!

Begin with only an old cheap car, how can you do that? Your taps matter!!! Tap to speed up your cars. Tap to defeat rivals and earn race gold bonus. Tap to activate Car Skills. Recruit your racing team, purchase racing technologies, upgrade Cards and Magic Tools strategically to gain huge speed boost and bonus.
Forum Thread: Clicker Racing (by No Power-up)
---
Climby Hammer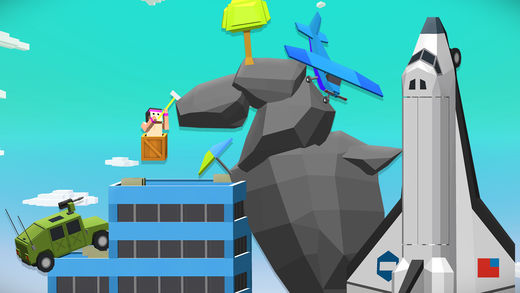 iTunes Description
Craft, share, and compete in Climby Hammer. Battle against physics as you scale treacherous terrain using only your trusty hammer. Can you handle the mountainous challenge?

• CRAFT YOUR OWN MOUNTAIN •
Create a course any way you like. Share it with your friends and challenge their best times!

• DESIGN YOUR CHARACTER •
Draw your avatar's face from scratch. Then deck yourself out with collectible outfits.

• JOIN A CLAN •
Team up with your friends in weekly challenges to become world famous mountaineers.
Forum Thread: Climby Hammer (by Naquatic)
---
Dream Golf – Putt Away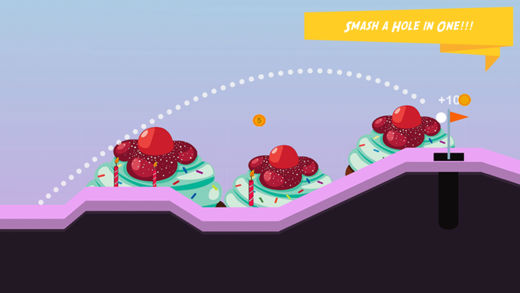 iTunes Description
Get ready to go on another adventure with Smash Game Studios. Welcome to one of the craziest game of golf you've ever played. Play your way through some of the most whackiest courses. Get mesmerised in this beautiful work of art.

Each level you come across will be very unique and different from the previous level you played, discover the best way to get a Hole in One. The game features a very simple and easy to play gameplay. All you have to do is Aim and power up your shot and shoot for an eagle, but you will also make sure that you complete each level within the given time. Do you think your game to face the challenge head on beat it. Compete against your friends in our online leaderboards, show the world your the best. The game does not feature any in-app purchases you just need to play smart and unlock all the 5 unique themes
Forum Thread: Dream Golf – Putt Away (by Smash Game Studios)
---
Dream Town Story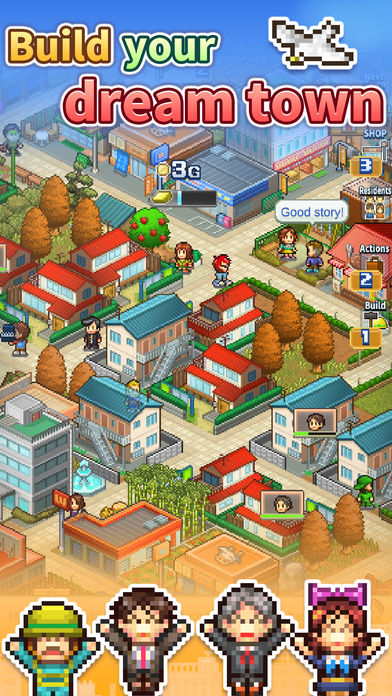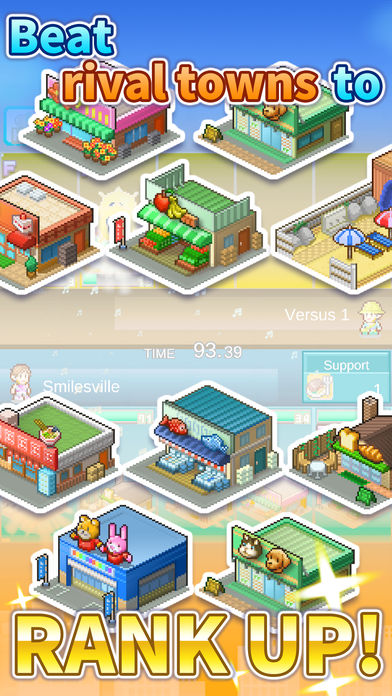 iTunes Description
Tired of tedious town simulators taking up your time? Develop dream dwellings down to the last brick and construct cityscapes crawling as far as the eye can see in this stimulating simulation game!

Compete with other towns in the rankings, or take it easy and go at your own pace.

Build houses to have people move into your town, then add shops and lots of other facilities, making it a vibrant, lovely place to live. Stores like the bike shop or car dealer will sell vehicles to your residents, allowing them to travel further and visit more places.
Forum Thread: Dream Town Story (By Kairosoft)
---
Drift It!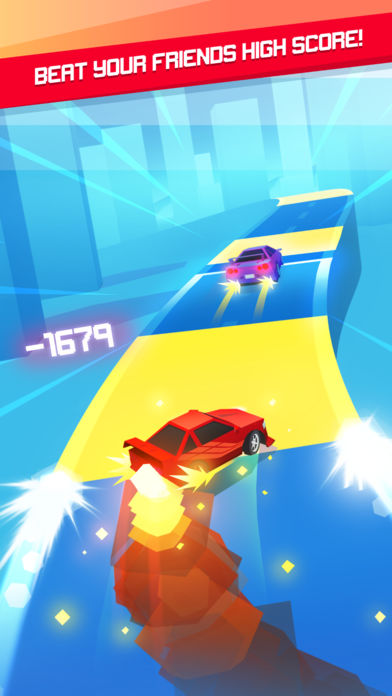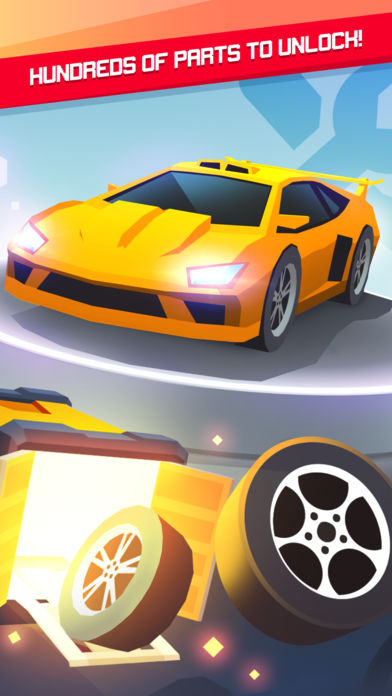 iTunes Description
One Tap Multiplayer Arcade Drifter! Hit perfect drifts for the ultimate combo!

– One tap easy to learn controls.
– Play online against your friends.
– 20+ Cars.
– Lots of modifications.
– Customise your own drift car.
– Level up your car for bigger scores.
– Supports 13 Languages.
– Challenge the world for the highest score.
Forum Thread: Drift It! (by PlaySide)
---
FEZ – Pocket Edition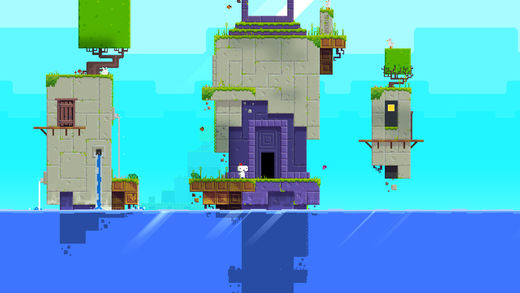 iTunes Description
Gomez is a 2D creature living in a 2D world. Or is he? When the existence of a mysterious 3rd dimension is revealed to him, Gomez is sent out on a journey that will take him to the very end of time and space. Use your ability to navigate 3D structures from 4 distinct classic 2D perspectives. Explore a serene and beautiful open-ended world full of secrets, puzzles and hidden treasures. Unearth the mysteries of the past and discover the truth about reality and perception. Change your perspective and look at the world in a different way.
Forum Thread: FEZ – Pocket Edition (By Polytron)
---
Find the Words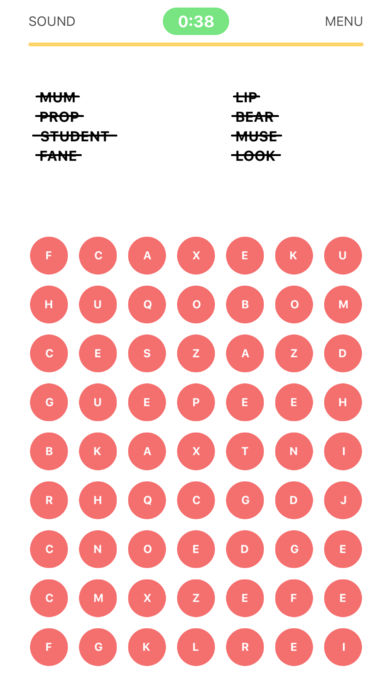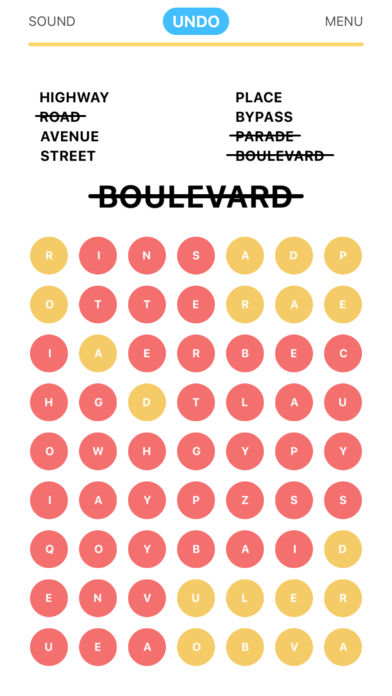 iTunes Description
Enjoy the classic word find puzzles, with a small twist. Letters can only be used Once!
Work your way through 100 Hand crafted word find puzzles. Then try your hand at against the clock in Rush mode, find as many words as you can before the timer reaches 0.

Features :
– 100 Hand Crafted word find puzzles with more to come.
– Rush mode, find as many words as you can before the timer reaches 0.
– Your progress is saved in the cloud and synced to all your devices.
– Gamecenter achievements and leaderboards.
– Clean and colorful minimalist design.
Forum Thread: Find the Words (by James Swiney)
---
Fingertrainer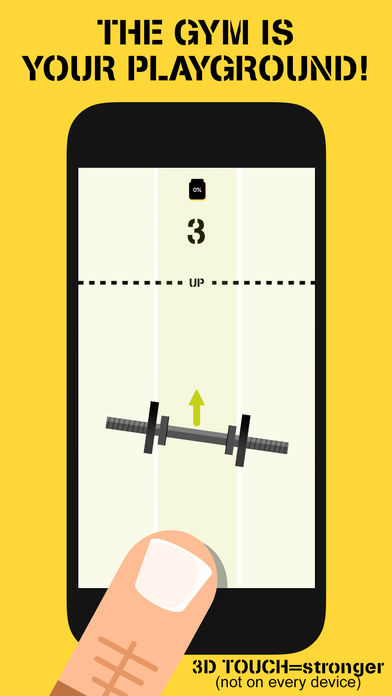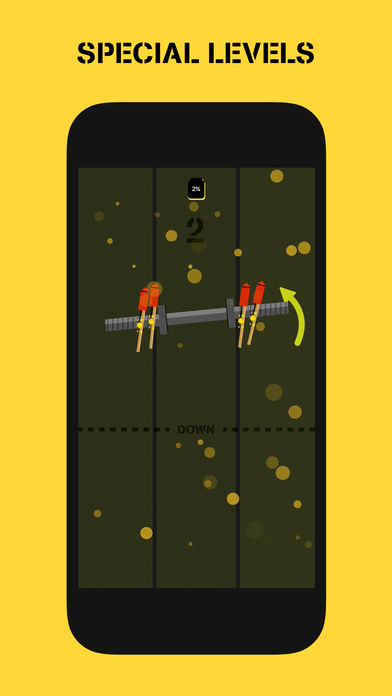 iTunes Description
Go harder, longer and stronger with the brand new "FingerTrainer" App.
Lift the weights up and down till your muscles scream!

# Perfekt training for all ten fingers.
# Test their strength in five different Levels.
# Unlock 20+ new outfits for your weights —–> surprises included

### 3D-Touch (not on every device) or swipe for extreme power!
Forum Thread: Fingertrainer (by startregen)
---
Frog Souls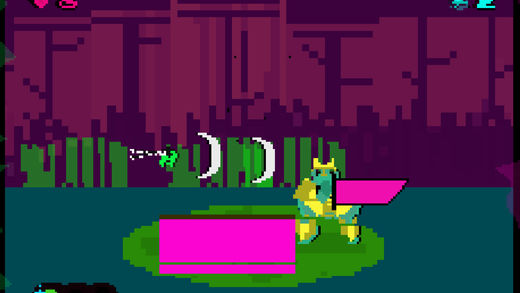 iTunes Description
In an infinite pond many dimensions away a Mysterious Being gives a sword wielding frog an important task – Overthrow the four Masters and find the Lost Rings.

Frog Souls features simple game-play with high challenge and replay-ability. Jump and attack with timing to overcome each duel. Upgrade your character each run. Collect the souls of fallen frogs for rewards…

Can you defeat the Four Masters and complete the story?
Forum Thread: Frog Souls (by FABA GAMES)
---
Gorogoa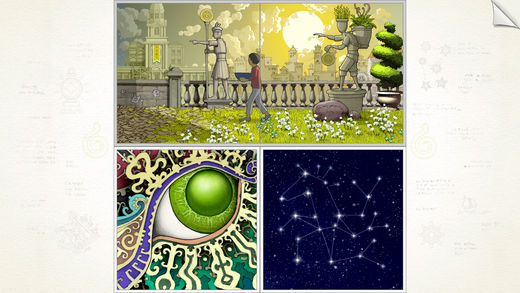 iTunes Description
Gorogoa is an elegant evolution of the puzzle genre, told through a beautifully hand-drawn story designed and illustrated by Jason Roberts.

UNIQUELY IMAGINATIVE PUZZLES
The gameplay of Gorogoa is wholly original, comprised of lavishly illustrated panels that players arrange and combine in imaginative ways to solve puzzles. Impeccably simple, yet satisfyingly complex.

GORGEOUSLY HAND-DRAWN GAMEPLAY
Jason Roberts created thousands of meticulously detailed hand-drawn illustrations, encompassing the impressive scope of Gorogoa's personal narrative.

A NEW KIND OF STORYTELLING
Gorogoa isn't just a game – it's a work of art, expressing itself through soulful, charming illustrations and distinguished puzzle mechanics.
Forum Thread: Gorogoa (By Annapurna Interactive)
---
Jumanji: The Mobile Game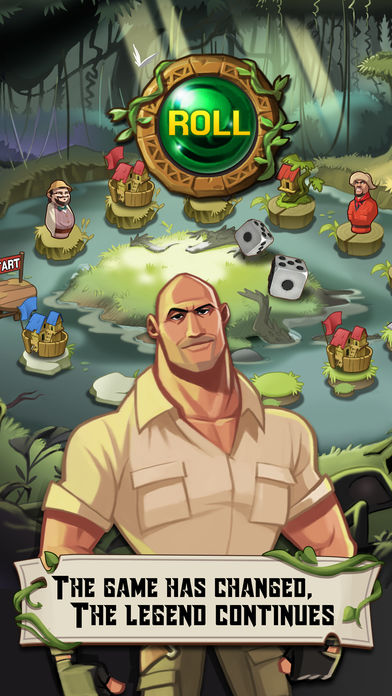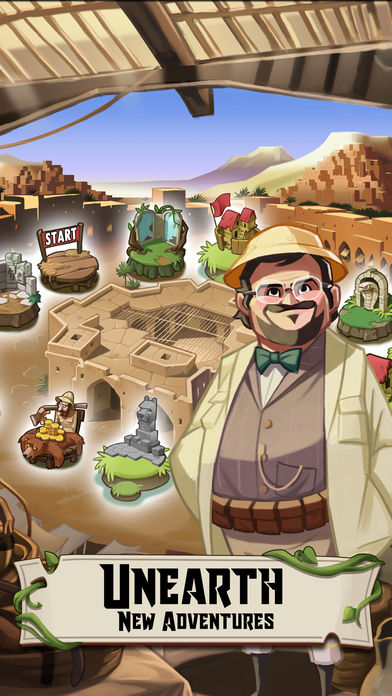 iTunes Description
Untouched for decades, the legendary game always finds a way! Jumanji is now a competitive mobile game! Challenge your friends and new rivals in an exciting new board game!

Pick your favorite character, fill your deck with unique skill cards, and start your journey to save all of Jumanji! Defeat other players in the treacherous world of Jumanji!
Forum Thread: JUMANJI: THE MOBILE GAME (By NHN Entertainment)
---
Knights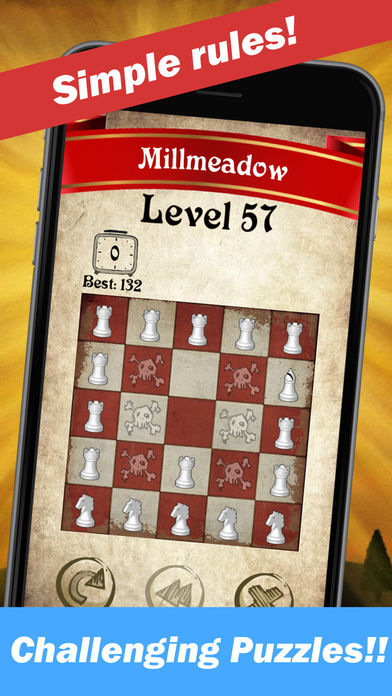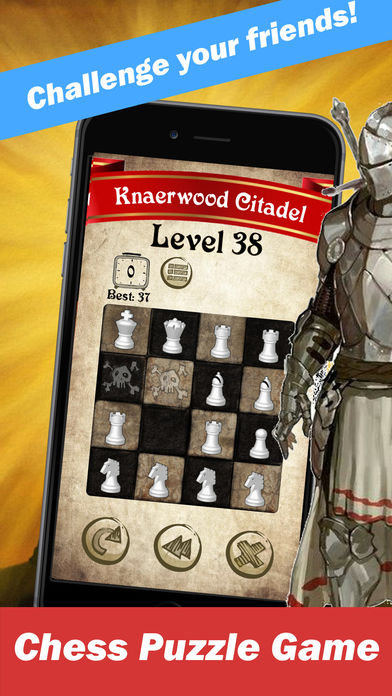 iTunes Description
Four knights are placed on the first row and other pieces from a chess set are placed on the remaining fields.

One of the pieces (except knights) is removed and the game starts.

Move all knights to the opposite rank!!

How many moves will you need to win?
Forum Thread: Knights (By PutschMobi)
---
Left Behind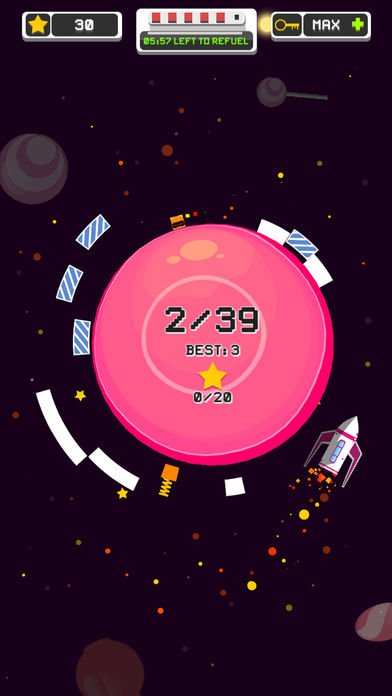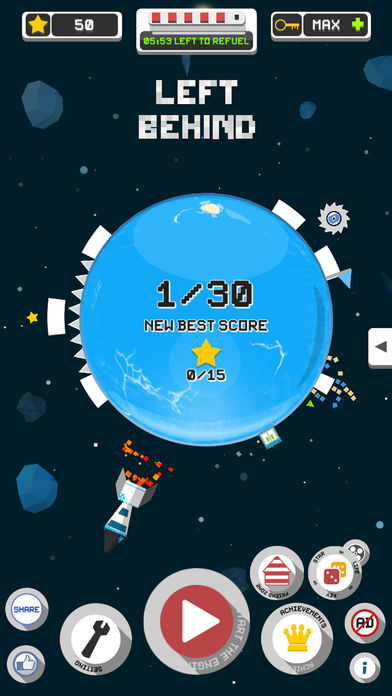 iTunes Description
A game you could play of all times. See if it is really insanely addictive and quite replayable!

How far can you travel to?
Run above different flat planets, swift jumping over one obstacles to the next, pikcing up stars to unlock gorgeous planets.

Only 70% players could conquer The Earth; only 30% players could pass The Moon. Guess where you could be?
Forum Thread: Left Behind (by ZPLAY)
---
Life is Strange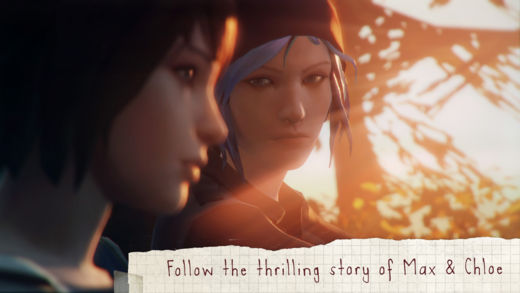 iTunes Description
Life Is Strange is a five part episodic game that sets out to revolutionize story-based choice and consequence games by allowing the player to rewind time and affect the past, present, and future.

Follow the story of Max Caulfield, a photography senior who discovers she can rewind time while saving her best friend Chloe Price.

The pair soon find themselves investigating the mysterious disappearance of fellow student Rachel Amber, uncovering a dark side to life in Arcadia Bay. Meanwhile, Max must quickly learn that changing the past can sometimes lead to a devastating future.
Forum Thread: Life Is Strange (By SQUARE ENIX INC)
---
Like a Boss!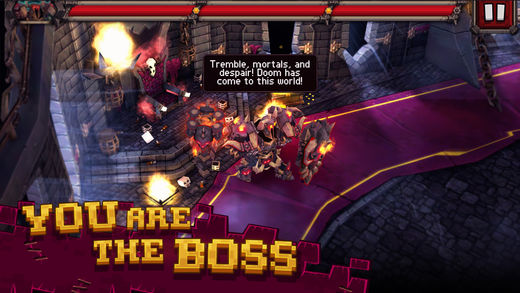 iTunes Description
Heroes of MMORPGs raid dungeons, search for epic items, go on quests and generally raid the realm for all it's riches.. at any cost. Now it's time to become the Boss in the role-playing fantasy world you know from MMOs, but its your territory that is being invaded, your riches, and your minions that are being ransacked!

Fight off guilds of heroes trying to take your loot. Save other mini bosses from these adventurer raids. Take out quest givers in their towns so they stop sending more adventurers to bother you. It's time to take the dungeons back, hold your territory and be the best across the realm!
Forum Thread: Like a Boss! (By Versus Evil)
---
The Lions Knights – Dissidia War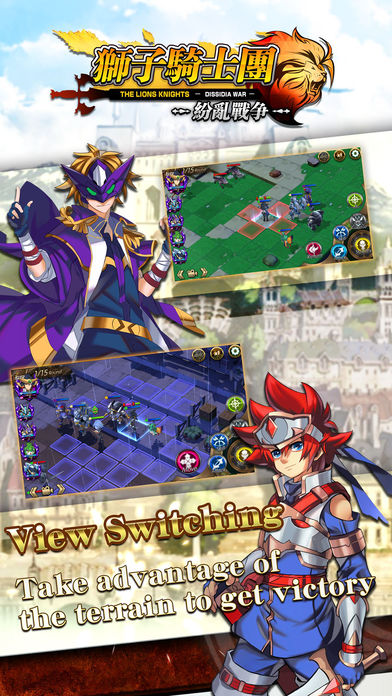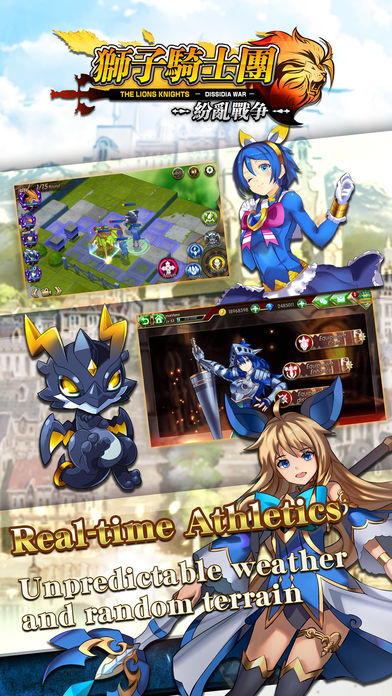 iTunes Description
"The lions Knight" is a game designed to the players who love SRPG game. A large number of 3D heroes and monsters! The battle is tactfully and simple operation; And the other leisure playing – farm and mining. we provide a strategy and relaxed game experience for player experience .

– Game features
The influence of map on hero, random weather, map height, position of the role station, mutual restriction of role attributes, many role skills, BUFF effect
Forum Thread: THE LIONS KNIGHTS – DISSIDIA WAR (by HuaHua Inc)
---
Macho Cat : Pet Cat Simulator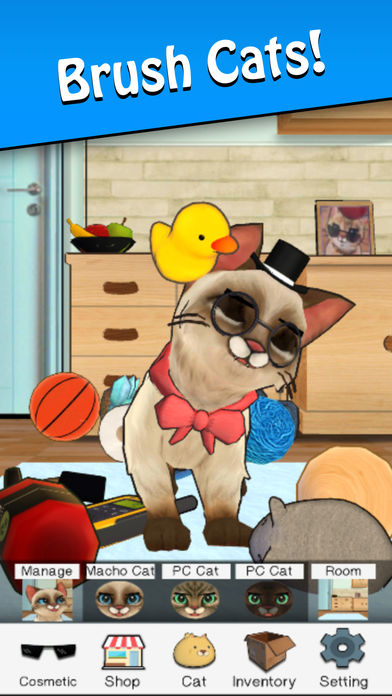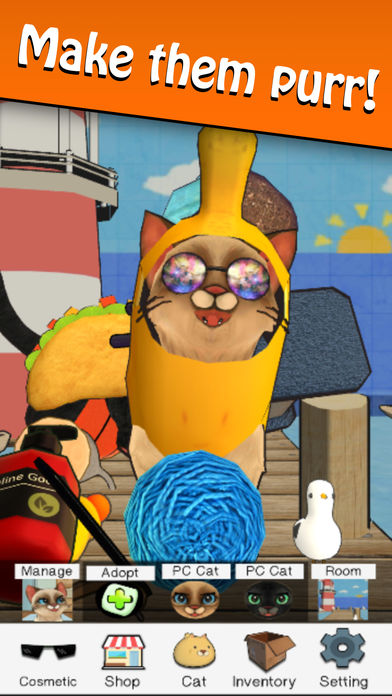 iTunes Description
Do you like brushing furry cats? This relaxing cat game will let you collect hundreds of different items to brush the cats with and make them purr in satisfaction!

It's a simple virtual pet cat experience with no energy bar or wait time, so you can brush your cats anytime!

Play dress up with your cats by unlocking cosmetics and make your own unique cat. Adopt up to 9 cats and understand different cat personalities and preferences to make them all happy!
Forum Thread: Macho Cat : Pet Cat Simulator (By Sia Ding Shen)
---
Misa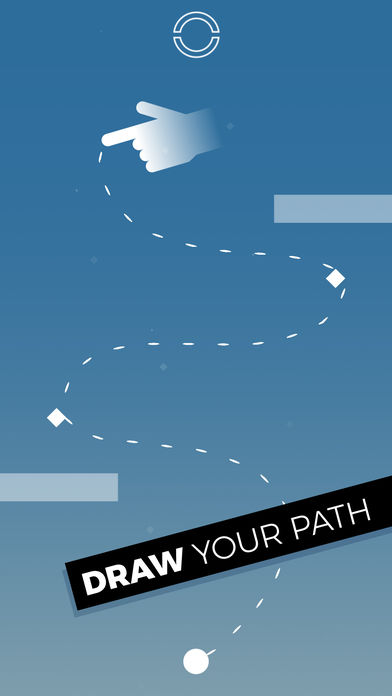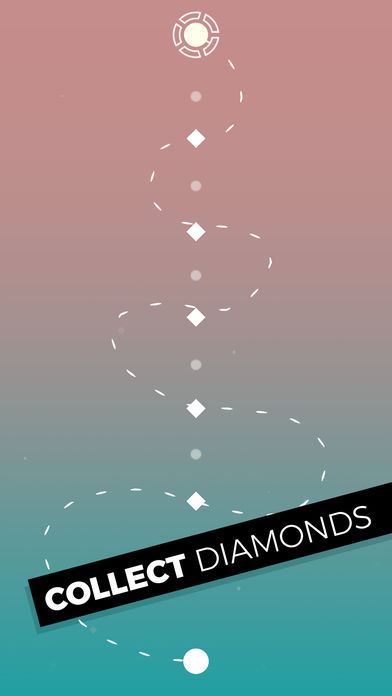 iTunes Description
MISA is a relaxing, addictive and deceptively simple puzzle game. Draw a path that will get you through a landscape of everchanging geometry. Grab diamonds along the way. Reach the goal. Make your own path.

– Draw a path with a simple touch. See how your plan works out.
– There are many ways to solve puzzles in MISA. Find out your own way!
– Play through up to 99 challenging levels!
Forum Thread: Misa (by Suji Games)
---
Oddworld: New 'n' Tasty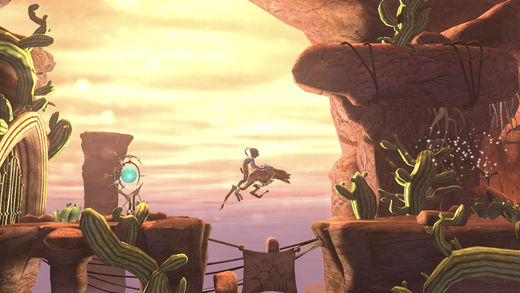 iTunes Description
A mudokon chosen by the fickle finger of fate, Abe was a first class Floor-Waxer for RuptureFarms who was catapulted into a life of adventure.

Late one night he overheard plans from his boss, Molluck the Glukkon, to turn Abe and his fellow Mudokons into Tasty Treats as a final effort to rescue Molluck's failing meatpacking empire!

Can Abe change the fate of thousands and rescue the Mudokons? Can he escape the dark recesses of RuptureFarms and the desolate, uninviting, and downright terrifying surrounding environment?

Lead our unlikely hero on his mission because if he doesn't make it… Abe's back on the menu!
Forum Thread: Oddworld: New 'n' Tasty (By Oddworld Inhabitants Inc)
---
Oir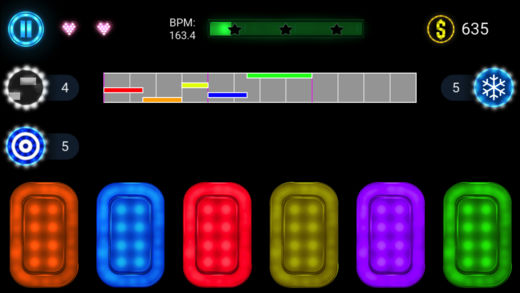 iTunes Description
Features:
Music driven gameplay.
Powerups.
Unlockable instruments: Piano, Electric guitar, Harp, Synth, Trumpet, Rhodes and much more.
Different gameplay modes.
Adaptable BPM.

From zero to professional, a music game that everybody loves. Start learning music and enjoy the beat!
Forum Thread: Oir (by Antonio Zimmerman)
---
PatchWord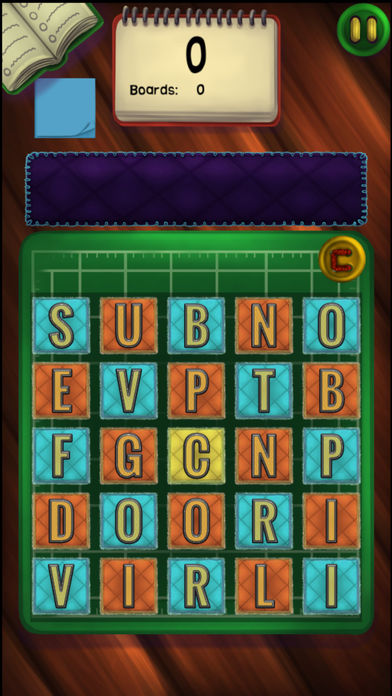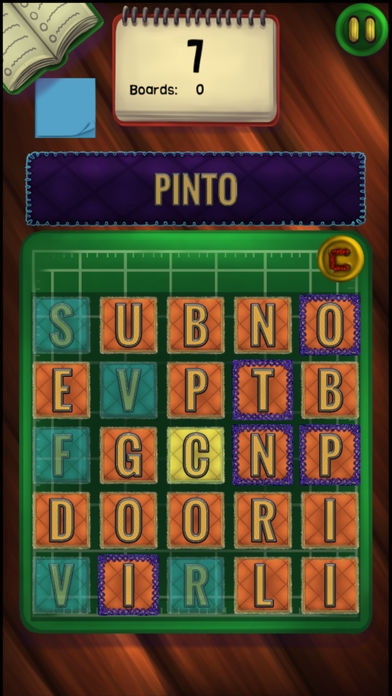 iTunes Description
PatchWord revolutionizes word games. Stitch randomly generated letters together to make words and turn your PatchWord board into a single color. Longer words score more points, seven+ letter words score bonus points. Choose carefully though, each word can only be used once per game. Challenge Facebook friends to beat your score playing the exact same game, or accept challenges from them.

Free to play and offering freeform word play with no levels or pay-to-win options, PatchWord is a challenging, skillful and totally fair way to determine who is the biggest Word Nerd!
Forum Thread: PatchWord (By Savage Yeti Games)
---
Pocket Fantasy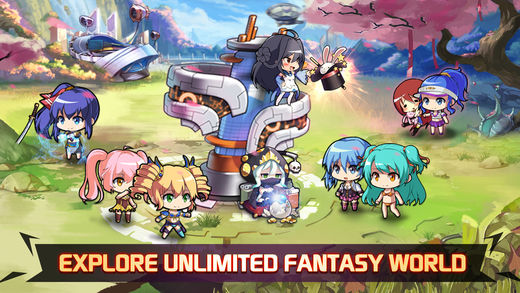 iTunes Description
Pocket Fantasy – Super RPG Adventure game is a NEW fascinating Anime strategy role-playing online game in 2017!! You can cultivate hundreds of cute anime girls to be super heroes, battle arena with real players world-wide and achieve your Ultimate Victory!

Featuring hundreds of cute Anime Girls, this game's enchanting graphics, cute characters, and its innovative "Summons" and "Instance Exploring" systems deliver an unforgettable gaming experience! Thrilling PvE mode, PvP war games and delicate ACG style battles will also amaze you like no other!
Forum Thread: Pocket Fantasy (by Zelong Feng)
---
QB – A Cube's Tale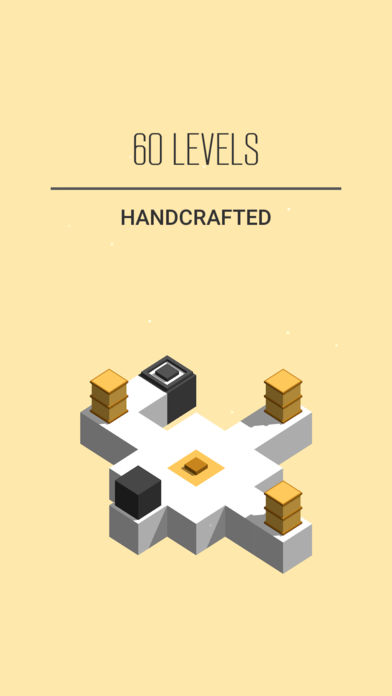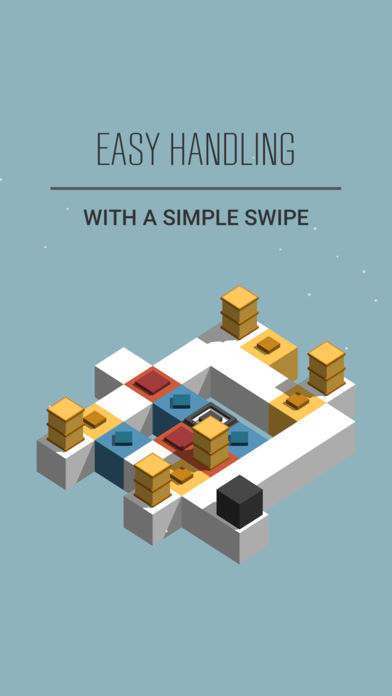 iTunes Description
In QB – a cube's tale, you guide the cube QB through a stylistic, rudimentary world. On his journey, QB is faced with great challenges. Various other cubes obstruct his way to the coveted black cube, which will bring him closer to his goal.
Forum Thread: QB – a cube's tale (by Stephan Goebel)
---
Seal Guardian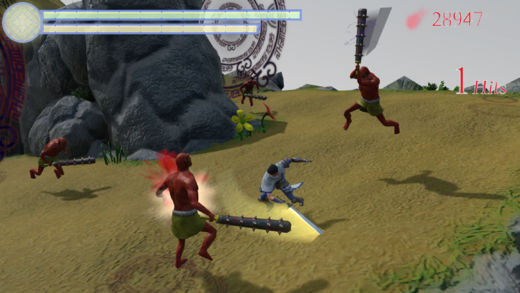 iTunes Description
Seal Guardian is a hard core, fast-pace, hack and slash style action game.
It focus on melee combat, fighting against ferocious demons.
Crazy combos can be executed by combining light and heavy attacks.
New combos and skills can be learnt when the game progress.
Forum Thread: Seal Guardian (By White Budgie Games)
---
Shootout on Cash Island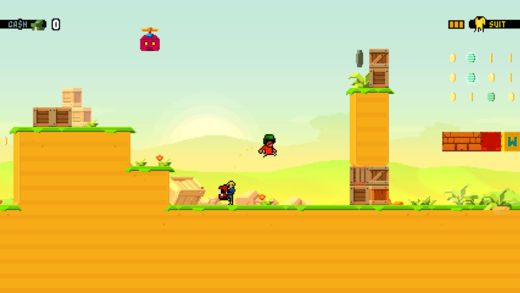 iTunes Description
Bobby has a job to locate and secure the legendary Money Tree, but as it always happens in this kind of nonsense stories – he's not the only one looking for it.
Use guns, helmets, grenades and jetpacks to find and collect the map pieces placed in the empty jam jars around the island.
Forum Thread: Shootout on Cash Island (by Adrian Kumorowski)
---
Slam Jump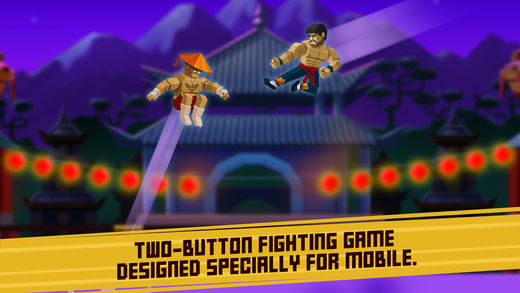 iTunes Description
In late 2017, Jagger, a wealthy Russian Media Mogul, introduced the Slam Jump Tournament to the entire world. Warriors from all around the world applied to participate, but only the BEST qualified.

Slam Jump is a two button arcade fighting game drilled to very basic combat actions: Jumping and Kicking. No more having the screen filled with many buttons for different actions. Jumping and Kicking is all that matters and it gives rise to very intense strategic fights.
Forum Thread: Slam Jump (by All in a Days Play)
---
The Spellsmith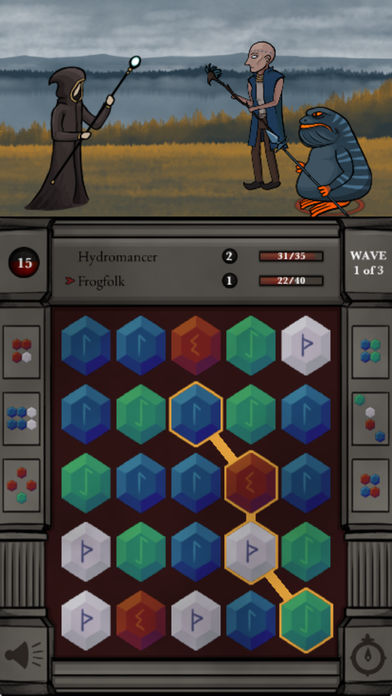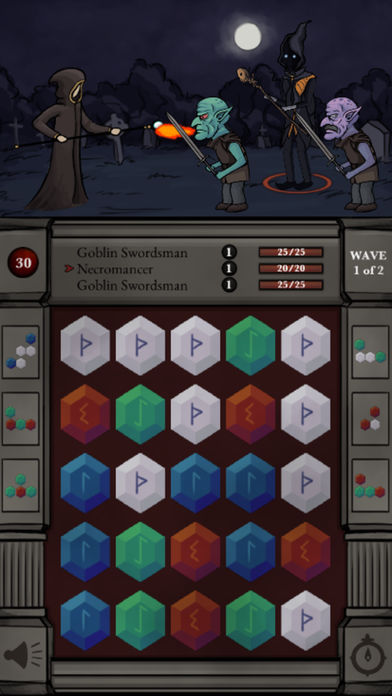 iTunes Description
A quaint and challenging puzzle game in which you match gems to cast spells.

You are a wizard whose magic was stolen by a greedy King! You must venture forth to relearn all of your powerful spells. Will you be able to spot them hiding amongst your gems and defeat the Goblin King?

No in-app purchases!
Forum Thread: The Spellsmith (By Sunil Patel)
---
Territory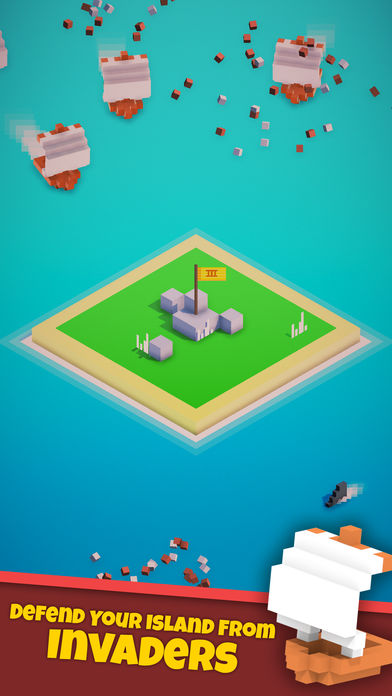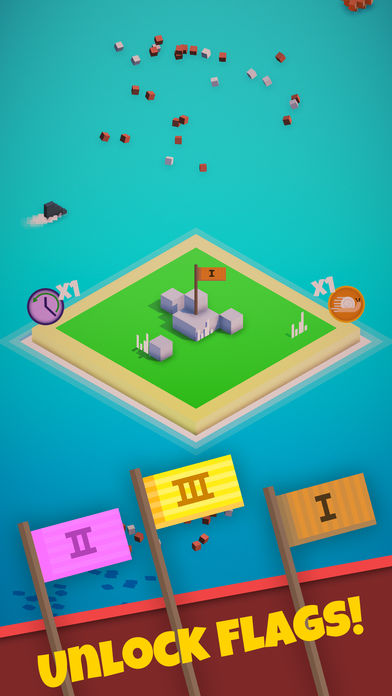 iTunes Description
Protect your island from the mighty seas and those who venture across it! In this fast-pace defence game you'll be craving more after the first round. Stop the oncoming pirates with the Godly-power of your fingers, and raise a flag to show-off your tropical paradise!
Forum Thread: Territory (by Mark Leigh)
---
Undersea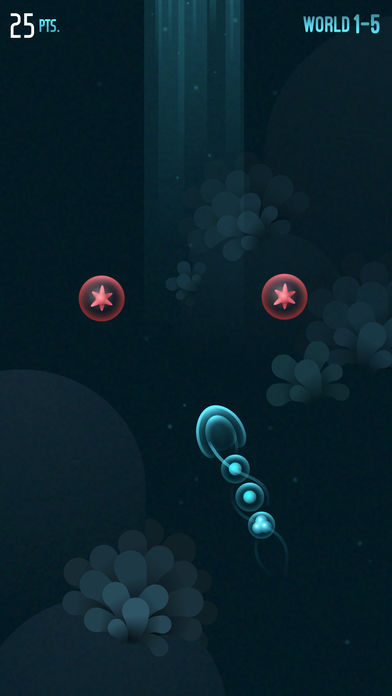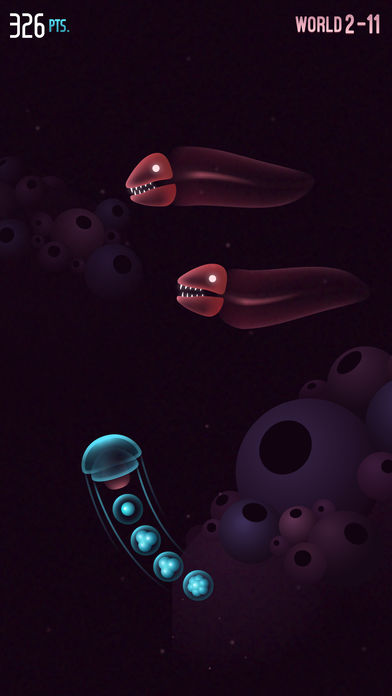 iTunes Description
Race through the depths and experience the breathtaking atmosphere of the undersea.
Let the pumping soundtrack, stylish visuals and challenging game-play push to the top.
Action Arcade gaming at its best!
Forum Thread: Undersea (by Mamau)
---