BlizzCon is officially over, unfortunately, but it was a blast to attend, and we got plenty of fun Hearthstone (Free) news to hold us over until the next expansion hits. During the Hearthstone Q&A panel, the developers went beyond just talking about the upcoming expansion, so we got some interesting tidbits of information that I think you'll find interesting. Nothing ground-breaking, unfortunately, but plenty of cool things nonetheless. One of the most important insights was the possibility of a traditional draft mode coming to Fireside Gatherings in the future. Arena start off looking like Magic's draft, where players have to pick cards from the same packs, which brings out a whole different strategy.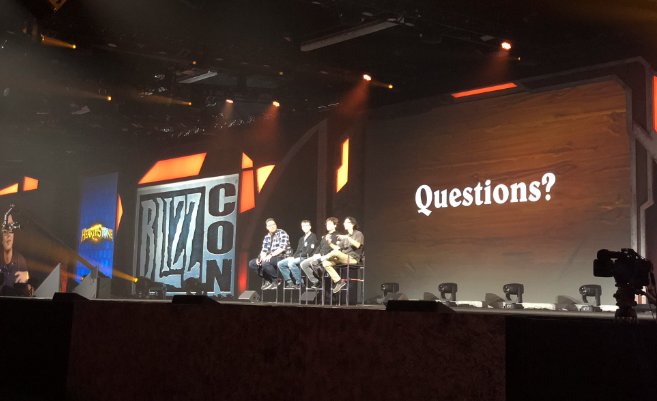 The developers considered doing that for Hearthstone early on, but the game's asynchronous nature got in the way. So, they focused on the most interesting part of the draft process, where you're down to having to pick between 3 strong cards. However, Ben Brode mentioned that they have been considering doing the traditional, synchronous draft mode for Fireside Gatherings, which I think would be a great incentive for people to actually attend those. Would that be something you would be interested in? I think it would be pretty call since it would emulate Friday night Magic.
Another interesting tidbit is that some Dungeon Run bosses will be rarer, secret encounters, which is one way the developers are adding replayability to the mode. The developers don't seem to be planning adding more Bosses to the mode down the road though, but the many Bosses combinations should provide plenty of entertainment. Then the Druid Hero skin came up (Druid is the only class that doesn't have an alternate hero yet), and the developers said they are working on it but are nowhere near announcing anything. They did say they are looking into different flavors and want the Druid hero to feel different than Malfurion.
One attendee asked whether the developers will ever give us the opportunity to have a deck with random card backs instead of always having to assign a card back, and the developers seemed to like that idea a lot. If I had to guess based on their reactions, I would say we might be getting that feature soon. Ultimate Infestation came up, of course, but it sounds like the card won't be nerfed or changed any time soon. And that was about it. So, while we didn't get anything ground-breaking out of the panel, we did get some cool future plans. I hope we get that randomized card back feature soon.