It's time for Super Bowl LI, the 51st incarnation of the Big Game, as everyone who doesn't pay the NFL trademark has to call it. Coverage in the US starts at 12:50pm eastern time, with Fox having various forms pregame coverage through the afternoon, all up to the game's start time at 6:30pm eastern time (GMT-5). This year, the New England Patriots look to take their 5th Super Bowl in the Brady/Belichick era, while simultaneously trying to exact revenge on NFL commissioner Roger Goodell over excessive penalties in the Deflategate scandal. The awkwardness of the trophy presentation would be magnificent. Meanwhile, the Falcons come in as an underdog, but don't count them out. Their quarterback Matt Ryan was the league's MVP, their offense is explosive, and coach Dan Quinn was the defensive coordinator for the Seahakws in their past 2 Super Bowl appearances. The Falcons tore through the Seahawks and Packers in the NFC playoffs. Combine that with the evil empire factor the Patriots have going on, and the nation, plus fans in the stadium, could quickly get behind the Falcons in this one.
If you want to watch this showdown of football titans from your iPad, iPhone, or Apple TV, as always there are a few ways to do so.
Bally Sports, Free The Super Bowl cycles around to Fox this year, and you'll need their all-purpose sports app to watch the game, but it should be available for free. The stream will not work on iPhone due to NFL licensing restrictions, but if you have an iPad or Apple TV, you can watch it on there. All the pregame coverage can be watched through the app, an exclusive Field Pass stream, and a Spanish-language feed are available. That might be the best reason to watch on Apple TV: to avoid Joe Buck by listening in Spanish. If you do have an iPhone, the Fox Sports VR app will at least provide several camera angles and real-time highlights for you.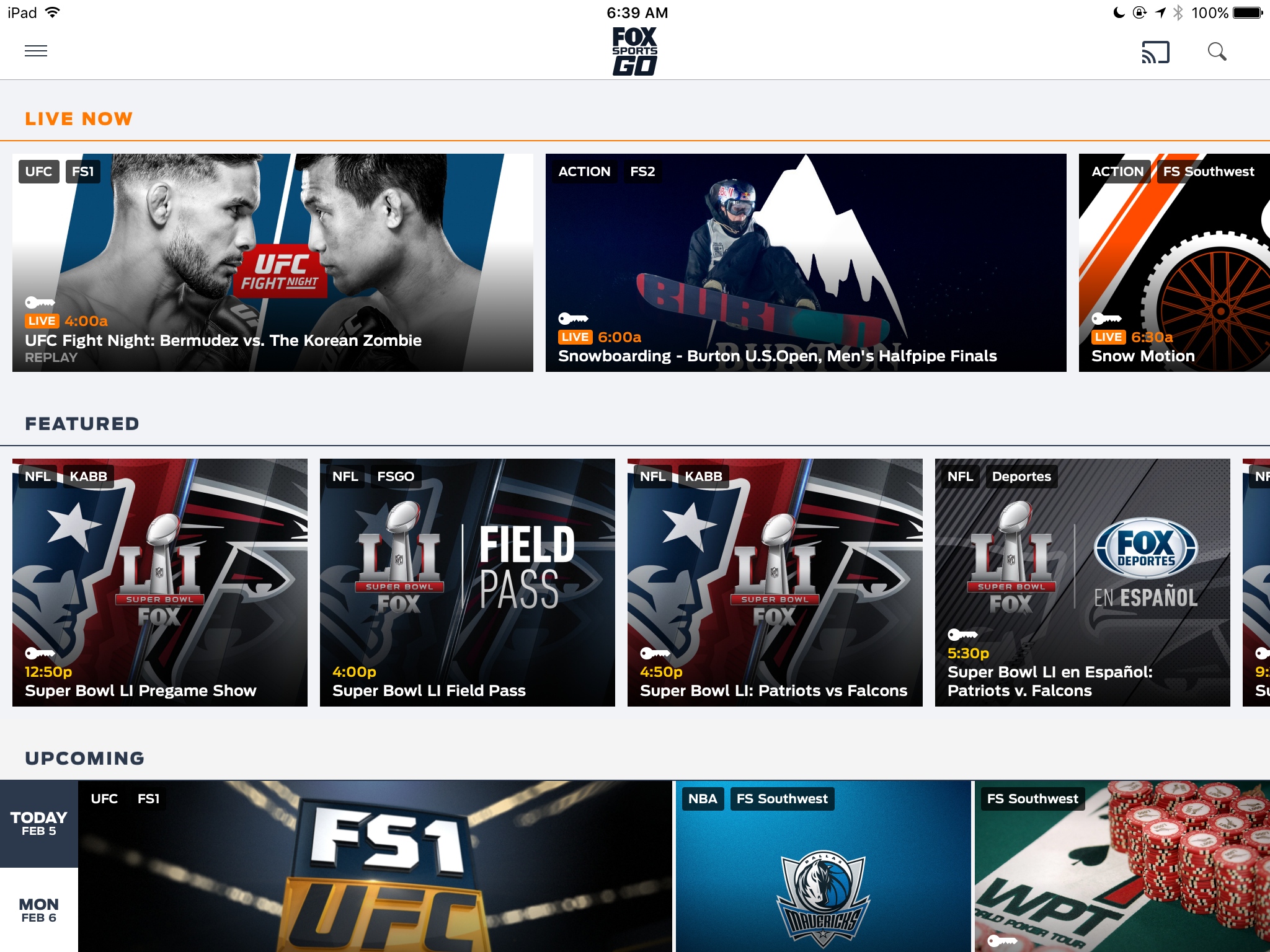 NFL, Free If you're a Verizon subscriber, you can watch on your iPhone by using the official NFL app. Maybe someday this deal will expire and the NFL will enable phone streaming for everyone, but until then, you're out of luck if you just have your iPhone. Bring your iPad and tether from your phone.
Sling: Live TV, Shows & Movies, Free If you're not on Verizon and without an iPad, in past years you'd be out of luck. Not this year! Thanks to Sling partnering up with Fox, you may be able to watch the Super Bowl through your local Fox provider via Sling. You'll need to check, as it will need to be a Fox owned-and-operated station. Wikipedia has a list of the cities that fall under this distinction, and you can enter your zip code at Sling's site in order to see if you get your local Fox channel through Sling Blue. Sling offers a 7-day free trial, but do note that Sling tends to get slammed during major sports events. If you're looking to cut the cord, Sling has a bunch of live channels for a good price, and supports all the major streamers now. Sling works quite well if you need a few live channels still, though if it's like anything in the early days of the service, there is a noticeable delay between Sling's stream and real life.
Stream it yourself: As always, the Super Bowl is being broadcast in the US via over-the-air broadcast signals. That means that you don't need cable, just an HD broadcast antenna to pick up the Fox broadcast singal. If you want to watch it on your TV, you can do so by just plugging in to the antenna port on there, and you'll get the game in full HD. Otherwise, you could use a box like Slingbox or HDHomeRun to take the over-the-air signal and turn it into a video feed you can watch yourself. Slingbox users will want the official Slingplayer app while HDHomeRun users can use a client like Channels for iOS and tvOS.
International viewers: Everyone outside of Canada, UK, and Republic of Ireland can watch via NFL Game Pass live, which you will need to sign up for to watch. If you don't want to sign up for a subscription service even with a trial, your best bet is to find your country's broadcaster, many of whom are offering streams through their apps. Canadian viewers can watch through the CTV GO app. UK viewers can watch through the BBC iPlayer app. Australian viewers can watch through the PLUS7 app.
If you need something to pass the time while the endless pregame coverage is on before the game, may I recommend this video of national treasure Marshawn Lynch, former Seattle Seahawks running back, visiting Houston, Scotland (get it, because the Super Bowl is in Houston this year) and getting into all sorts of shenanigans:
Also, watch the Clueless Gamer segment from Conan O'Brien, where Tom Brady gets involved in playing For Honor. Tom Brady takes this very seriously.
Anyway, here's 5 great football games to play for yourself if things turn into a blowout, or while you're waiting for the pregame coverage to end:
MADDEN NFL MOBILE FOOTBALL, Free If you come in expecting a bog-standard football game, like if you haven't played Madden in a while, that's not what you're getting. EA Sports has quickly shifted to the ever-profitable Ultimate Team model, where you build up a super-team for yourself. Still, it's NFL football from the company that knows how to do realistic NFL football best, and Ultimate Team can be quite fun if it gets its hooks in you.
Football Heroes Online, Free The best original 2D football series on mobile. It combines the simple chaos of Tecmo Bowl with some of the violence of NFL Blitz, throwing in a whole team-building aspect to it. This latest version's cool new hook? Online multiplayer! Literally punch your way through the opposition for football glory, regardless of where they are! Also check out Football Heroes PRO 2017 (Free) which features an NFLPA license and thus has real players to play with.
LED Football, $0.99 The first football game was that LED Mattel football game. LED Football carries on the tradition of this gaming classic by giving you . The game's really old in terms of iOS games, not having seen an update since 2010. It still works, though Apple's gonna break old 32-bit apps like it soon. It's still pretty amusing and timeless, so check it out!
Football Unleashed, Free This is definitely a simplified take on football, and the game is rough around the edges. But it's got good, simplified football action that takes inspiration from NFL Blitz. Passing works well as you can throw ahead of your receivers rather than just targeting a specific receiver. Running only gives you spin moves, but it works well enough. Plus, the game-changers are fun to mess around with. And it's kinda funny to hear Jamaal Charles, a running back by trade, say in the tutorial that there's nothing better than throwing a touchdown pass. It ain't game of the year, but it'll give you some fun while waiting for the real game to start.
Flick Field Goal 22, Free The football kicker is a life mostly of grief. If you screw up, you're a goat forever: see Scott Norwood and Blair Walsh. There's only 2 kickers in the Football Hall of Fame, with Morten Andersen being the second and a bunch of people think he wasn't deserving. The good news is that you're at far less risk of traumatic brain injury and if you do a half-assed hit on a returner, you're a hero! Sadly, Flick Field Goal 17 doesn't let you hit anybody, but it does let you get some sweet, sweet kicking in. Kick field goals in absurd wind, from obscene distances. Be the hero you've always wanted to be in your mind.