The idea behind the TouchArcade Game of the Week is that every Friday afternoon we post the one game that came out this week that we think is worth giving a special nod to. Now, before anyone goes over-thinking this, it doesn't necessarily mean our Game of the Week pick is the highest scoring game in a review, the game with the best graphics, or really any other quantifiable "best" thing. Instead, it's more just us picking out the single game out of the week's releases that we think is the most noteworthy, surprising, interesting, or really any other hard to describe quality that makes it worth having if you were just going to pick up one.
These picks might be controversial, and that's OK. If you disagree with what we've chosen, let's try to use the comments of these articles to have conversations about what game is your game of the week and why.
Without further ado…
Le Parker: Sous Chef Extraordinaire
It may have only just come out today, but already Le Parker: Sous Chef Extraordinaire (Free) has whipped and beaten my heart into a light and fluffy meringue. The App Store is flush with retro-styled platformers, and it's no secret that I'm a big fan, but the truly excellent ones are few and far between. While it doesn't reinvent the genre and probably won't change the landscape of video games as we know it, Le Parker is one of the ones that gets just about everything right, and all the little things come together to form one amazing package.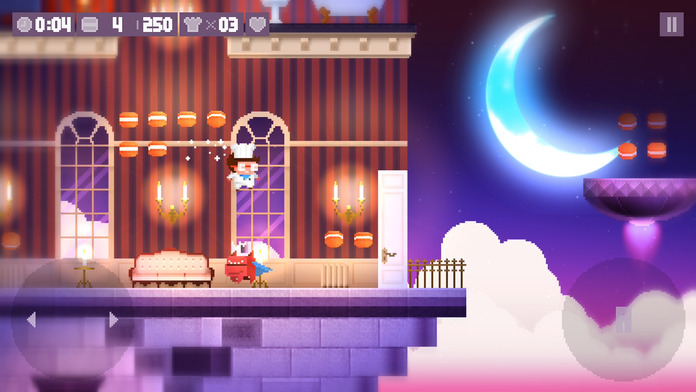 The story in Le Parker is as old as the platformers it pays homage to. You, as Le Parker Sous Chef Extraordinaire, have the world's most amazing recipe for meringue. It's so light it literally floats! You've entrusted your recipe with your girlfriend the Princess, but the evil King has raided her quarters, stolen the recipe, and plans on using its airy deliciousness for nefarious purposes! How do you harness the power of meringue for evil? Who knows! And who cares, as it sets up nicely for a classic rescue-the-princess storyline.
From screens and video you can see that Le Parker is a gorgeous game. It uses a really stunning color palette, with darker tones creating a moody atmosphere and brighter tones making things more cheery. Oh, and the music! Definitely play this one with the sound up, because the music does a fantastic job of setting the mood of each level, as does the occasional quips of the female narrator who has an adorable French accent. This game is absolutely charming in every way.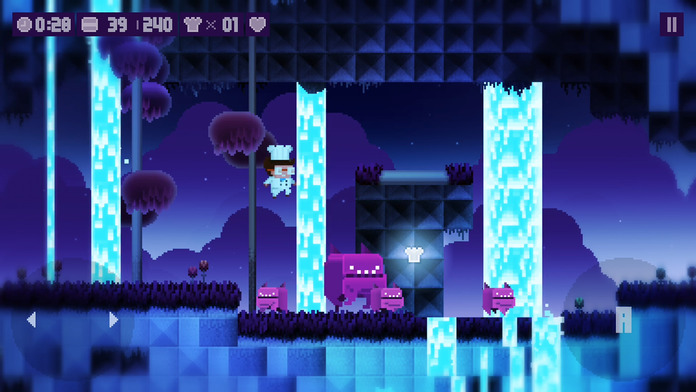 It's not all about looks though, and Le Parker has the platforming chops where it counts. The controls are tight, with just left/right movement and a single button for jumping and double-jumping. The physics and weight of Parker feels spot-on, and it's satisfying just to run and jump around, just as a platformer should be. This is also a VERY challenging game, and will test your ability to maneuver through tricky situations and deal with a variety of cool and dangerous enemies if you want to make it to the end of the game. There's no gimmicks here, just pure platforming goodness.
Making it to the end is just the beginning though, because each of Le Parker's 32 levels has 3 additional goals beyond just reaching the endpoint. Each level has a hidden culinary item to seek out, like a meat cleaver or a rolling pin, and they can be quite tricky to track down. Then there are collecting all the macarons in each level which are floating around like coins do in most other platformers. Again, these can be tricky to find and encourage fully exploring each level.
My favorite additional goal though is the Time Attack challenge. This tasks you with beating a level in a certain amount of time, and let me tell you, these times are NOT easy to hit. You'll really need to play and understand every inch of a level, and sometimes even find a shortcut or two, if you want to achieve these goals. It's a great way to appeal to the speedrunners among us without having the game be entirely about speedrunning, and serves as a great incentive to go back and remaster levels you've beaten.
Ok, so this piece is getting a little long for a simple Game of the Week nod, and that's typically a sign that I REALLY like a game. That's certainly the case with Le Parker. I've been playing all day and I'm already itching to stop writing this and get back to it. Yes, it's a pixel art game. Yes, it's a retro platformer. And yes, that will rub some people the wrong way. But for those of you who are massive platforming fans like I am, you're gonna want to check out Le Parker: Sous Chef Extraordinaire, as you can tell it's a total love letter to the genre from massive platforming fans.