You don't even have to squint for Antiquia Lost (Free) to resemble the recent Asdivine games released by Kemco. In terms of its visuals, mechanics, and systems, it's barely changed from EXE-Create's last few games for the prolific RPG publisher. There are a few small twists, most notably that one of the main characters has an unusual method of leveling up, but for the most part, if you've played any of the EXE-Create RPGs that use weapon customization as a core mechanic, you'll know what to expect here. That's not necessarily a bad thing, I suppose, but it's also not a very exciting thing. The most noteworthy part of Antiquia Lost is in how it advances Kemco's IAP monetization techniques, and that's not really the kind of dinner bell most of us want to hear.
In Antiquia Lost, we follow the adventures of Bine, a young man with a mysterious power. Early on, he meets up with Lunaria, a sort of slime princess from a neighboring tribe. The two are almost immediately joined by Jade, a cat-man who serves the old guy role for this game, and Safira, another goo girl who serves as a soldier for the royal family. Important people are disappearing all over the world, and worst of all, the disappearances are seemingly set up to put the three peaceful tribes that populate the planet at odds with each other. There are four endings to the game in total, with the one you receive determined by who you have the highest trust level with.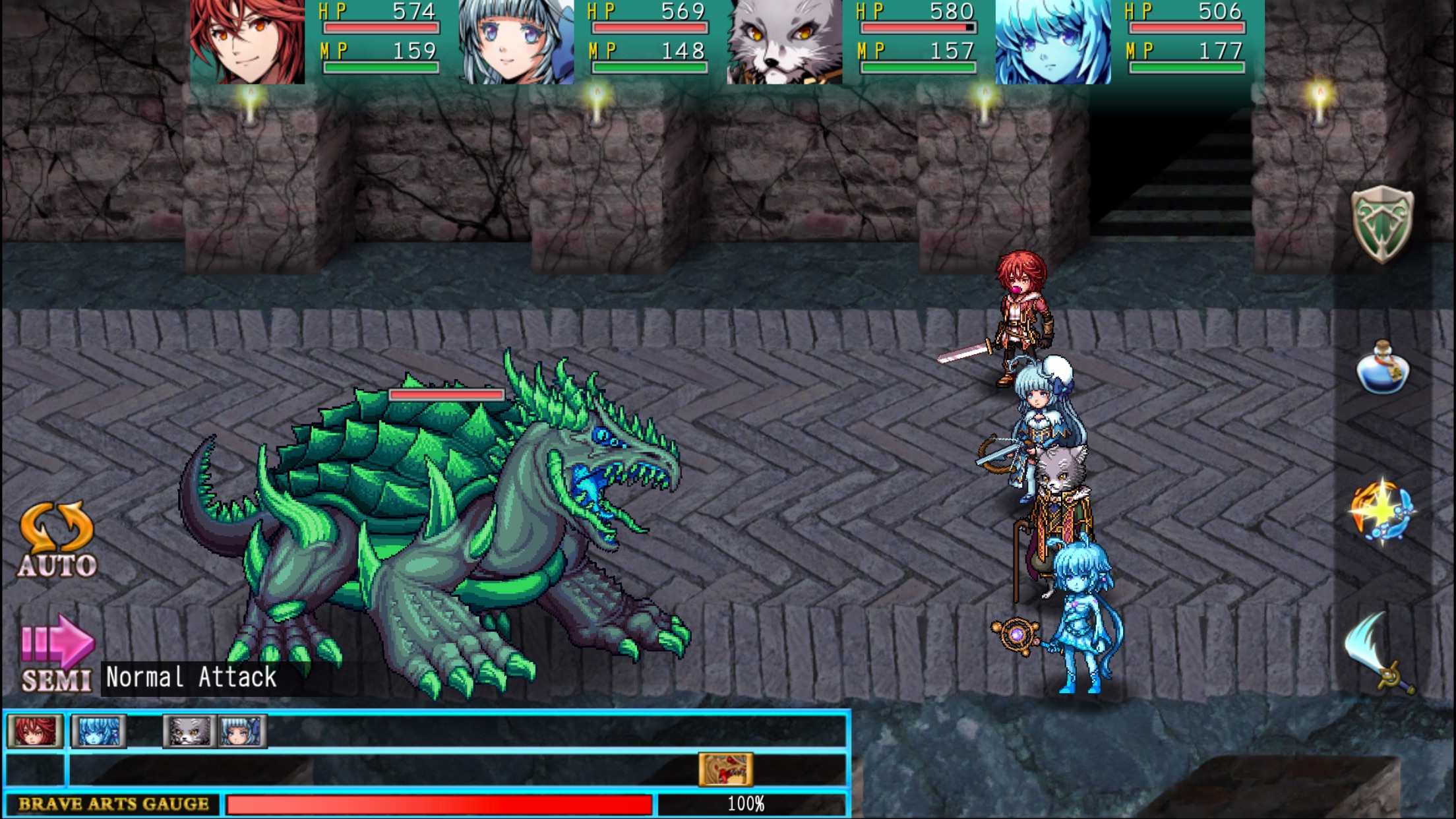 Trust is built by answering questions correctly during certain portions of the game. This time, it's not just about which ending you'll get. Building trust unlocks more powerful Brave Arts for Bine to perform with his teammates, which provides a nice practical value for not irritating everyone. Brave Arts are basically the game's limit breaks, so you won't be seeing them terribly often. They're vital for surviving some of the higher difficulty settings and battles, though. As with many of the recent Kemco RPGs, Antiquia Lost can be a breeze or a fierce fight depending on which difficulty level you play on. There's no real incentive beyond the challenge itself for playing on the higher levels, but it's nice to have options.
Lunaria is the main thing that sets this game apart from previous releases. She doesn't level up in the usual manner. Instead, she eats gems that are found on enemies. In practice, she'll gain power as she goes from the gems she automatically consumes, but you can and should stuff her with extra gems if you want to turn her into a powerhouse. The other characters follow a typical system of leveling up, with accessories you can equip to learn new skills. The skills themselves can be powered up through usage, and as is the norm with EXE-Create, the cap on everything is absurdly high. If you're inclined to beef everyone up, you'll have a lot to do here. The post-game content is a bit lighter than the Asdivine games, however, so there's less incentive to do that than usual. One potentially interesting addition is that of map actions for certain characters. For example, Jade can smash rocks on the map to open new passages. Unfortunately, this element is terribly underused in this game, with only a small handful of locations to use each ability. I hope it will show up more fully-formed in future titles.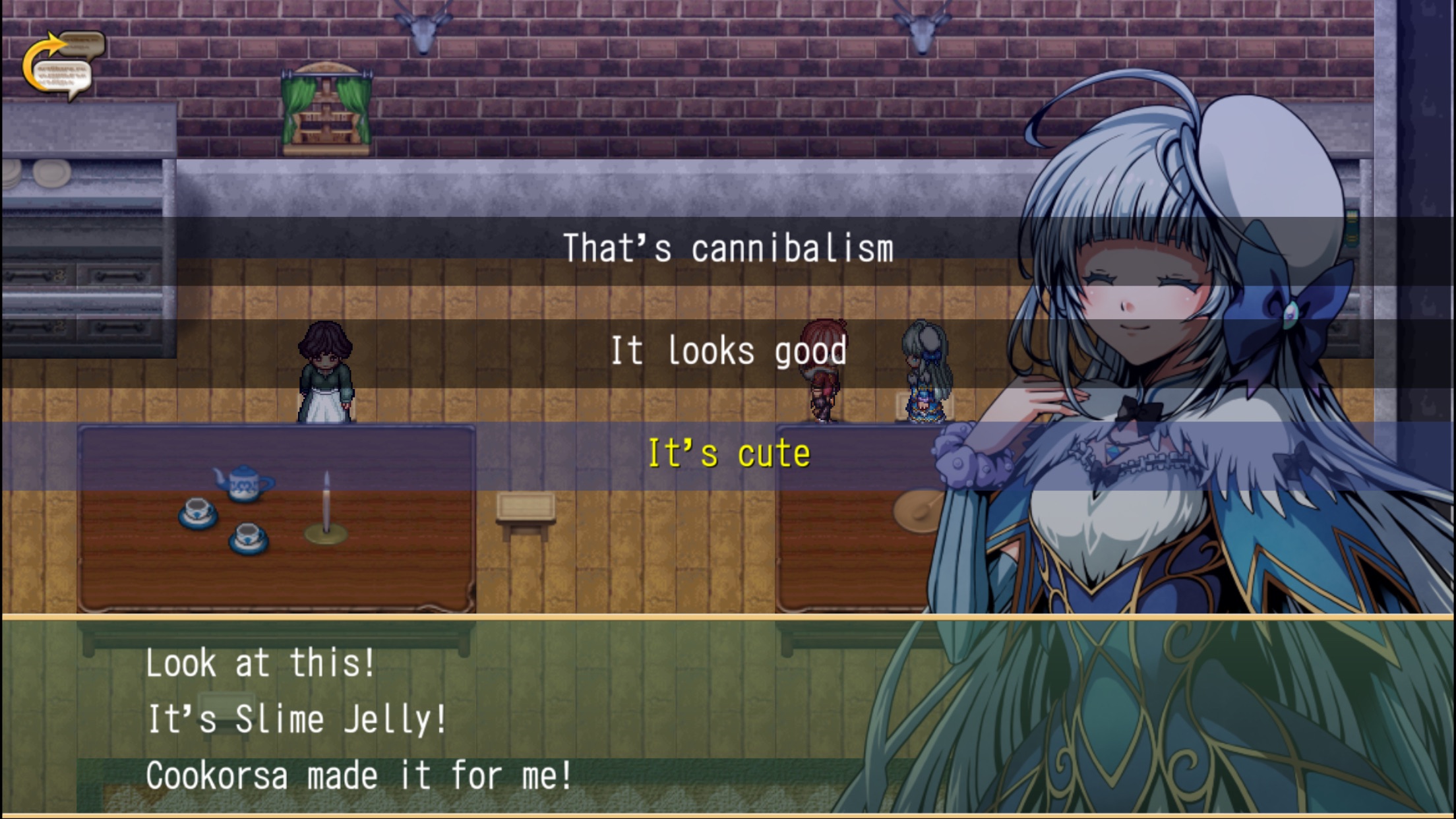 Otherwise, it's the same old business here. Travel from town to town setting right what went wrong, usually by venturing to a nearby cave and beating the stuffing out of some monsters in turn-based battles. Buy new equipment now and then, seek out treasure wherever it may be found, and watch the story slowly come together. The translation lacks the punch seen in some of EXE-Create's better games, but it's adequate enough. It doesn't help that there isn't a designated comedy character this time around, so the writers don't really have a good place to dump their jokes. That said, Lunaria is an interesting character, and Safira has her moments, too. The mysterious Alma carries a lot of the narrative weight over the long term, but isn't really a strong enough character to shoulder it all. Bine is regrettably as vanilla a protagonist as they come.
Antiquia Lost is available in both ad-supported free-to-play and premium versions. The premium version will give you a bunch of Alchemy Stones, the game's premium currency, and is ad-free, but in all other respects, the two versions are identical. That's nothing new for Kemco, nor is the presence of an IAP shop anything outside the norm, but for what I believe is the first time ever in a traditional JRPG from the publisher, the premium currency is starting to leak outside of that shop. Each character has an additional accessory slot that can only be unlocked by spending Alchemy Stones. You also have a farm where you can plant seeds to get stat-boosting fruits after a certain amount of real time has passed. By default, one pot is open for you to use, but if you want to unlock the other three, you'll need to pay up. None of this is essential for beating the game, but I'd be lying if I said I wasn't a bit concerned for future games in light of this. At any rate, you can still grind out the premium currency if you're patient.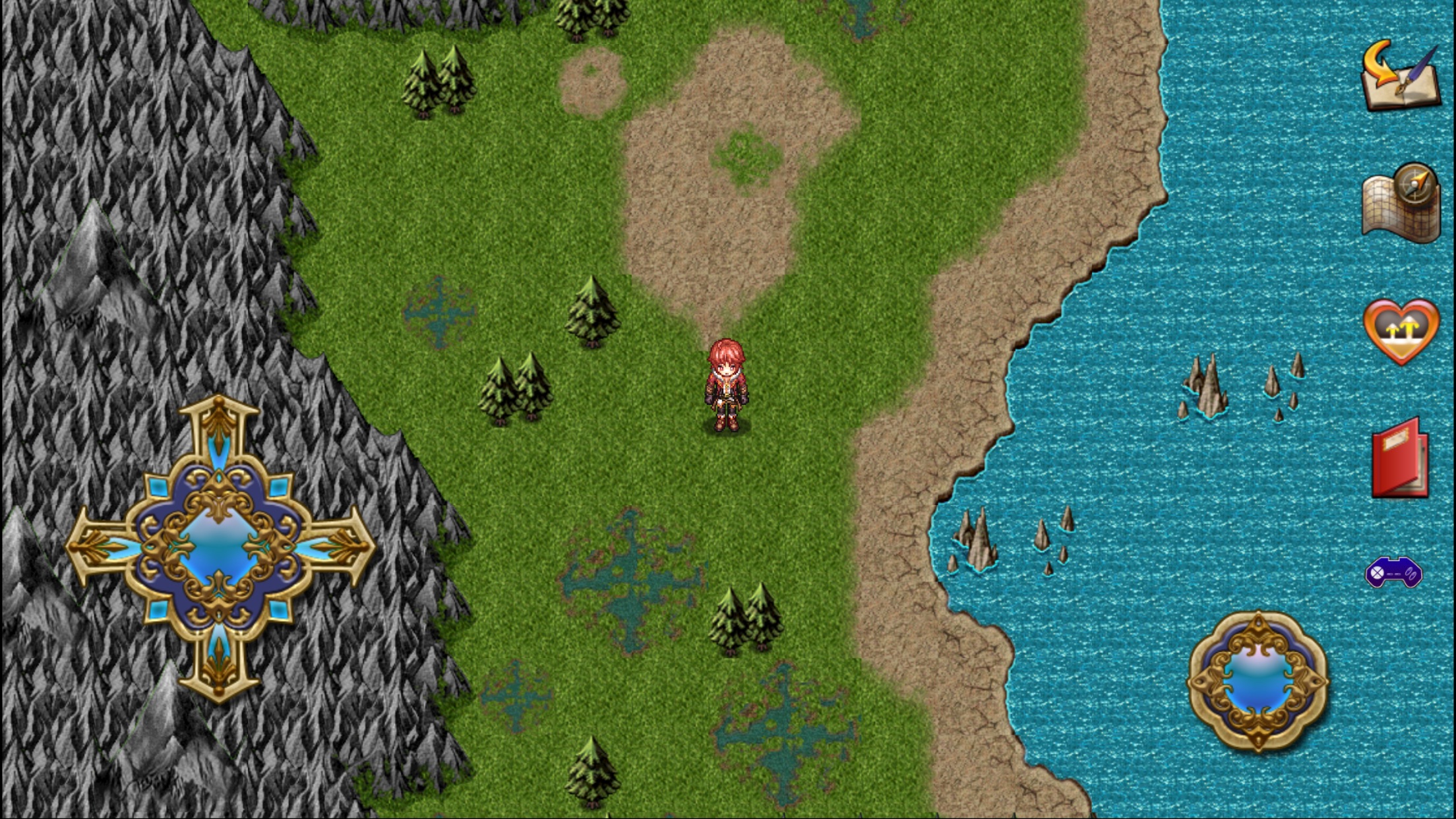 The weapon refining system makes its return here, as does a random gatcha-style ticket system for drawing new equipment. This time there are two premium draws that you can only access by spending premium currency, along with a third draw that can be played by using tickets dropped by enemies. There's some decent loot to be found in these draws, but as usual, the best items are reserved for the in-game shop. Weapon types you won't find anywhere else in the game are available in the premium shop, as are gems that change the appearances of some of your characters. Nothing related to the story is locked up in the shop, however, so they're still playing things pretty fairly for now.
Most Kemco releases have issues with scrolling smoothly, but Antiquia Lost feels worse than usual to me. Playing on my iPhone 6S Plus, the game was choppy on a somewhat regular basis. It's unfortunate, because the visuals are otherwise reasonably good. EXE-Create does nice work with battle animations in general, and Antiquia Lost holds up that tradition. I wish the developer had time to do to the overworld scenes what they've done with the battle graphics in their games, but I suppose when you're on a six to eight week turnaround on game development, you do what you can.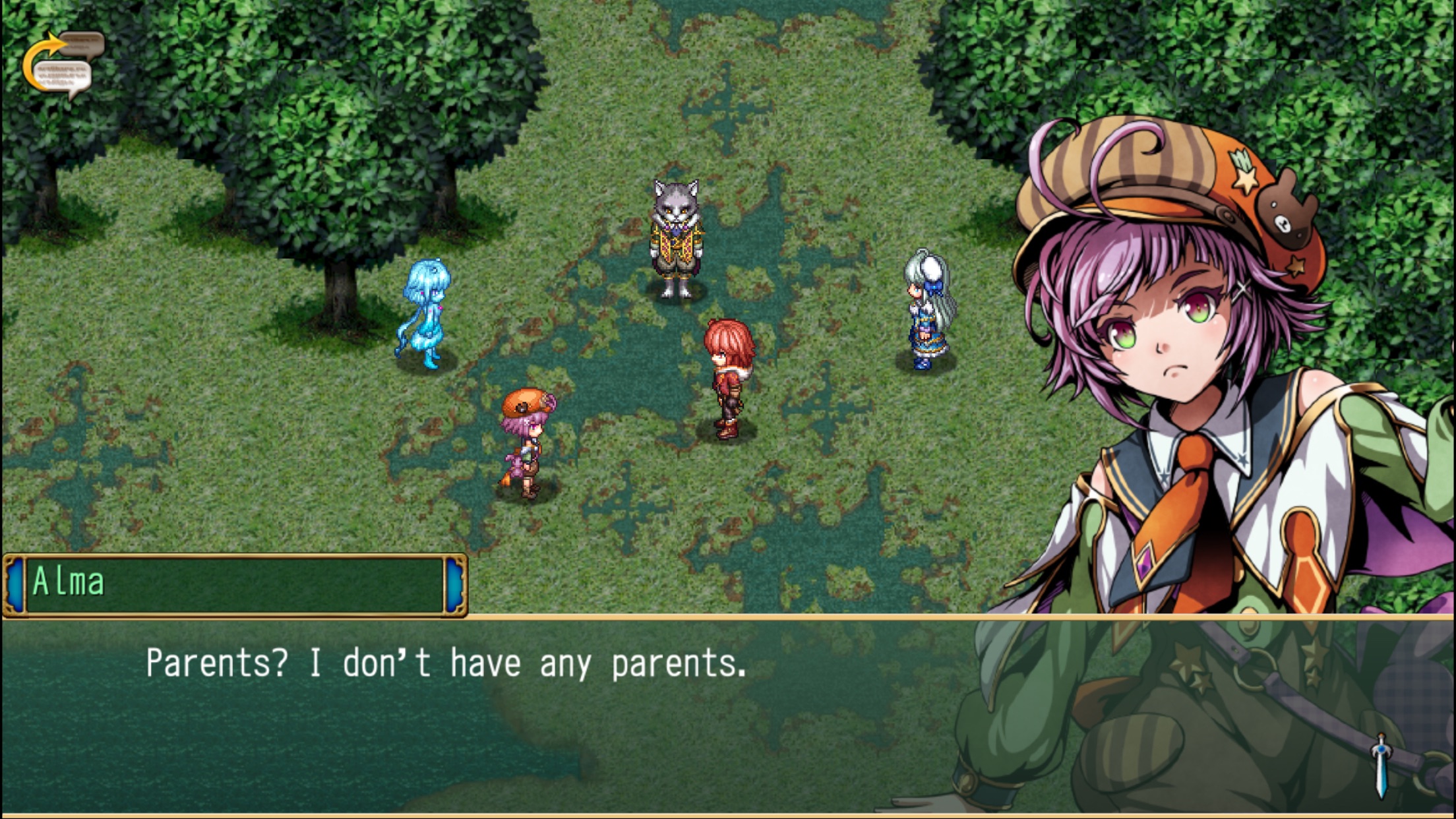 Antiquia Lost is another decent RPG from EXE-Create. It's utterly uninspired, but it's competent in most respects. The characters and their interactions are fun, even if we've seen all of these types before in previous releases. It doesn't offer up quite as much content as the recent Asdivine games have, particularly in the post-game, and the increased focus on monetization means that I'd more strongly recommend the free version over the paid one this time around. If you're in the mood for a new traditional-style JRPG on iOS, though, it's not like we're flush with choices at the moment. If you can tolerate the total lack of originality, there's definitely some enjoyment to be mined from this game.