Hello everyone, and welcome to the week! It's time once again for our look back at the noteworthy updates of the last seven days. Some big names and little names alike in this week's round-up, with a bit of fun for everyone. Hopefully, anyway. Of course, you can keep an eye out for updates yourself using AppShopper Social (Free), the watchlist in the TouchArcade App (Free), or by participating in the TouchArcade forums, but this weekly summary is here to fill in the things you might have missed. Let's dig in!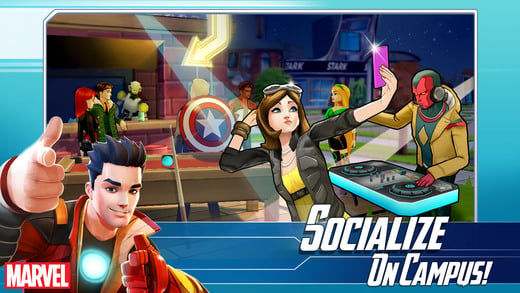 MARVEL Avengers Academy, Free Suffering from event burn-out? Well, TinyCo has finally added some new story content to the game, allowing you to recruit Tigra and upgrade a few characters and facilities. This update also adds a feature that allows you to quickly find any character on the campus. There's also a new mini-event going on where you can unlock Squirrel Girl, Agent Coulson, and maybe even MODOK. Yes, it's time to kick butts and eat nuts. My question is, when do we get Nancy, Chipmunk Hunk, and Koi Boi?
MARVEL Spider-Man Unlimited, Free Wow, this must be Merry Marvel Story Update Week or something. Spider-Man Unlimited gets a new chapter with 40 stages to play through in this update, and it all takes place in the far-flung future of 2099. New Spideys include Spider-Man 2099 in his new costume, Venom 2099, and Flipside, and your new boss battle is with none other than Goblin 2099. Did you know? We are now closer in time to the real 2099 than we are to when Superman was created. Haha, go do something fun today, everyone.
Pathfinder Adventures, Free This update to the cool board game Pathfinder Adventures adds a bunch of stuff to the game. The highlights include new daily challenges, improvements to treasure chests, and some new dice. I haven't really played enough of this game to contextualize all of that, but apparently there are still quite a number of bugs in the game, so I can at least confirm that this is in fact an Obsidian release.
FINAL FANTASY BRAVE EXVIUS, Free This being the first big update to the international version, there's nothing too big in here. You can now summon 11 heroes at once, and an Auto Limit Burst option has been added. The rest mostly concerns the UI, giving you more sorting options and making various important elements clearer. Naturally, there are some bug fixes and performance improvements as well.
Doomsday Clicker, Free It's the end of the world as we know it, and I feel fine. Well, sort of. My finger's a little sore from tapping on Doomsday Clicker all day long, though. So I guess it's the end of the world as we know it, and I'm suffering from mild discomfort as a result of my own actions? That's the story I'm going with. This stylish tapper gets 20 new roommates to collect in its latest update, and has gotten some spiffy bug fixes and improved frame rate performance.
AG Drive, $2.99 Speedy futuristic hovercraft racer AG Drive is throwing down the gauntlet with its new, more intelligent AI opponents. Yes, no more running into a wall, backing up with that whole beep-beep sound, and then running into it again. That's not a thing that actually happened before, but if it did? Boy howdy, it wouldn't anymore. The developers have also shined up the visual effects a bit and smoothed out the difficulty curve in early races.
Crossy Road, Free It feels like it's been a while since the last content update for Crossy Road, but the Arctic Update is here with a selection of new figures to unlock. There are 12 new characters in total, including a polar bear, a lemming, a narwhal, and a wolverine, but not The Wolverine. What else is included? You'll have to check it out yourself, I'm not the Weekly World Crossy Road Examiner over here.
Looty Dungeon, Free Looty Dungeon is also expanding its roster in its latest version, and in this case, it's quite the line-up. With cameos from the heroes of games like Canabalt, Crashlands, and even Crossy Road itself, you won't want to miss this one. Or do you? Apparently, this update introduces some pretty nasty glitches with the quest system, so you might want to wait it out until a fix arrives.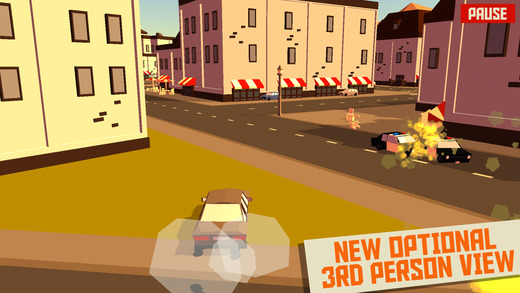 PAKO - Car Chase Simulator, $1.99 Did I already use a reference to that REM song in this week's article? Yes? Ugh. Okay, well, here's another end of the world situation. This is the end, my friends? The show must go on, however, and when life hands Pako an apocalypse, it makes a Pakocalypse. That's a thing now, deal with it. In practical terms, this means you get a new post-apocalyptic stage, three new vehicles, a new Pakocalypse mode for all of the old stages, some good old guns to defend yourself with, and some new music. Wow, that's a Pako-load! See, now I'm doing it too. For getting me to pun horribly, I'm forced to reward Pako with the coveted Update Mondays Most Spider-Mans of the Week award.
Episode - Choose Your Story, Free What in the name of Moxy Fruvous is this? You might have seen this one show up in incentivized ads in apps near you. Anyway, I thought I'd include it instead of a King game this week because, I don't know, I get tired of writing about the same stuff all the time. I guess they pulled down the Mean Girls license for this game, which I didn't think was something anyone would actually try to get for a video game. This update kicks off a new season that sees the characters go to college. I'm sure plenty of drama will ensue. And it will likely all be the machinations of Dave the Puppy, the puppetmaster who yanks all of our strings.
Faily Brakes, Free The brakes don't work. This is not a good car to be driving. But you're going to do it anyway, aren't you? Is it to spite me? Is it to spite yourself? I don't know, but if you're committed to it, you can at least enjoy some new Crash Effect Pickups in this update. There are also some new vehicle pickups, a feature that lets you race against your ghost, and more. Be sure to check out the new costumes and special cars, too, you rebel, you. Don't say I didn't warn you.
Minion Rush: Running game, Free Those silly Minions. They just keep on running and raking in lots of money. In this update, they're putting on some kind of sports event connected with the summer. No, not that one, don't say it. Collect torches, dumbbells, and laurels in the new special event, and bag yourself an Athenian costume which I'm sure is entirely unrelated to these summer sporting events that the Minions are engaging in. There's also a new diving mini-game, very similar to the sport seen in the… uh, Commonwealth Games?
Super Dangerous Dungeons, Free Adding new levels to an action-platform game is probably the best thing an update can do, and that's just what we've got here with the new version of Super Dangerous Dungeons. There's now a new sand-themed bonus dungeon to play through designed to challenge the best of the best. Even better is that you can access it right from the beginning, so you can foolishly tackle it before you've even cleared the main game. Just remember, it's super-dangerous. Dungeon. Yes, I'm still doing the bad name puns thing. I'll stop in a few entries, I promise.
Hearthstone, Free One Night in Karazhan has arrived in Hearthstone, bringing a new board, a bunch of new card backs, and a mess of Tavern Brawls to enjoy. If you want more details, be sure to check out Terrific Taso's Touchstone Tavern column. He's got all of the goods, some of the bads, and that's all there is to it.
Real Racing 3, Free As usual, the highlight of this Real Racing 3 update is a selection of new cars you may or may not ever get to use. This time, it's a trio of Jaguars that includes the 1963 Lightweight E-Type, the 2017 F-Type SVR, and the 1992 XJ220. This new version also gives nice perks to fully-upgraded cars, allowing them to race twice as far without needing to be serviced, to be customized for free, and perhaps best of all, to race in Time Trials without using any Drive. As always, there are some tough events going on right now where you can win some high-powered wheels, too.
That about wraps it up for last week's significant updates. I'm sure I've missed some, though, so please feel free to comment below and let everyone know if you think something should be mentioned. As usual, major updates will likely get their own news stories throughout this week, and I'll be back next Monday to summarize and fill in the blanks. Have a great week!