Hello everyone, and welcome to the week! It's time once again for our look back at the noteworthy updates of the last seven days. So I was already to go for a full-sized article this week, only to find that this was a pretty quiet week. Oh well, that's how it goes sometimes. Of course, you can keep an eye out for updates yourself using AppShopper Social (Free), the watchlist in the TouchArcade App (Free), or by participating in the TouchArcade forums, but this weekly summary is here to fill in the things you might have missed. Let's dig in!
Sky Force Reloaded, Free Sky Force's last update included a really keen new level, and the developers are obviously not finished with the game yet. The latest version adds yet another level, a new weekend tournament level, and a new plane. That new plane comes with its own unique special weapon, too. Unlocking that new level is going to take some serious skills, but I know you can handle it, pilots.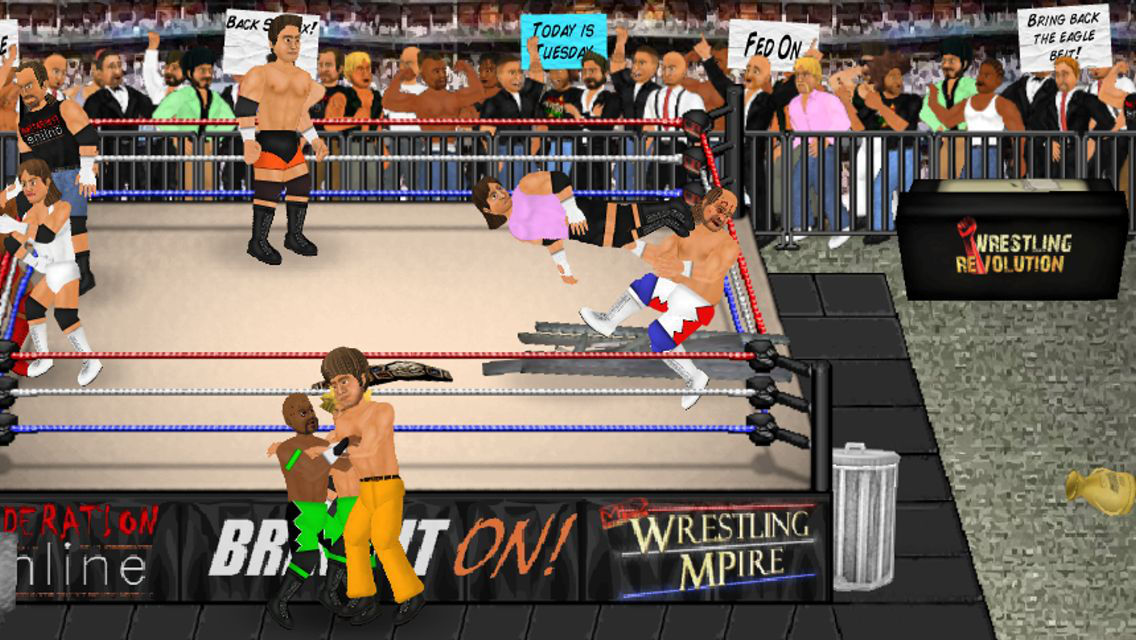 Wrestling Revolution HD, Free MDickie's fine wrestling title gets a few new goodies in its latest version. I hope you like superheroes. The new move is the Superman Punch, a kind of running/flying attack. There's a new face with a square jaw, and a lovely little superhero mask you can put on that face. To top it off, there's also a new superhero cape you can wear, and a new utility belt waistband. It's not all superheroes, though. There's also some warrior facepaint, and some hoods and headwear from MDickie's School Days game. Cool stuff!
The Sandbox Evolution, Free The Sandbox Evolution is still quite new, but it's already landed its first big tie-in. This update brings the Ghostbusters franchise to the game, crossing over with the new movie and the overall brand in an IAP pack you can grab for $2.99. Your few bucks gets you two of the heroes from the new movie, Erin and Holtzmann, three enemy ghosts, a ghost trap item, special ghost-blocking walls, Slimer, and some cool decorations including the original Ecto-1 and the ghost containment unit. That's all great, but I wish there was a part of a Slinky that you could straighten out.
Happy Wheels, Free It feels like this game kind of came and went, but if you're still playing it, you might be interested in this update. Irresponsible Dad gets five new levels to play around in, while passing more than eight levels in the first two chapters gives you a new all-characters level to mess around with. This update also includes some bug fixes.
Pinball HD: Classic Arcade, Zen + Space Games, $1.99 I invite you here to play pinball, on this, the day my daughter is to be married, and this is how you disrespect me? Well, let me make you an offer you can't refuse. Pinball HD has a new table called Mafia, and you can buy it for the sum of $1.99. I mean, you could refuse that, I suppose. I was just trying to get into character is all.
DEAD TRIGGER 2: Zombie Games, Free Dead Trigger has a couple of new weapons in its line-up, the KrissVector and the LA22A2. I guess it must be gangster week, because there's also a Gangster Pack available for purchase that gives you the Lupara Shotgun and the FN FAL Assault Rifle. There's a new series of tournaments called the Collector's Hunt that will run over the next few seasons. Finally, the developers have also improved performance on newer devices and made a few tweaks to some events.
Respawnables - Special Forces, Free Given this game's last big mash-up was with Sony property Men in Black, and it previously crossed over with the classic Ghostbusters, it's perhaps not that surprising to see Respawnables running an event to coincide with Sony's new Ghostbusters film. In this event, you become a Ghostbuster and can earn a bunch of prizes and rewards that are yours to keep. You'll be hunting the likes of Slimer and the Stay-Puft Marshmallow Man with an assortment of Ghostbusters-themed weapons and items, including Proton Guns and Ghost Traps. You can earn a lot of it for free, but if you want to pay, that will naturally speed things along.
Star Warsâ"¢: Uprising, Free This update adds the smooth-talking Lando Calrissian to this Star Wars action-RPG. There are new raids, new gear to collect, new monsters to fight, and so on. Those are all awesome additions, but this update also cranks up the game's difficulty in a way that looks suspiciously like Kabam is pushing players towards making more consumable purchases. Yes, that's right. They've altered the deal. Pray they don't alter it any further.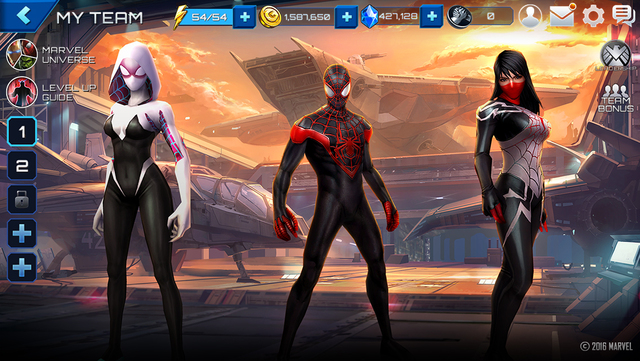 MARVEL Future Fight, Free To celebrate Captain America's 75th anniversary, Marvel Future Fight received an additional Captain America for its roster. No, it's not Steve Rogers, it's someone else. No, it's not John Walker or Sam Wilson, it's one of the female Captain Americas. No, not Miss America Chavez, it's one of the alternate universe ones. No, not Danielle Cage or Roberta Mendez, it's someone from the Carter family. No, not Shannon Carter. It's Sharon Rogers, a completely original character! She's apparently pretty awesome in the game, so go get her and head into battle against the Red Skull's daughter, Sin. This is just bananas enough to earn this week's coveted Update Mondays Most Spider-Mans of the Week award.
Fallout Shelter, Free Bethesda's unexpected hit spin-off Fallout Shelter is launching on PC this week, so I guess it's time for some updates. This is a big one, too. You can now go on quests outside of your shelter and travel the world, such as it is. Not only are there new locations, but the combat has been given an overhaul to give you more control. New enemies are skulking around, and naturally, there are lots of new items in the store to buy. With real money, not bottle caps.
War Tortoise, Free Foursaken's beefy battle tortoise gets beefier and… battlier… with this update. There's a new fortification, some new units, a bunch of new options, the ability to choose your starting level using a new item, and oh-so-many bug fixes and tweaks. Remember, turtles might fight with honor, but tortoises have no such obligations. Wear a helmet.
MARVEL Avengers Academy, Free I'm only including this update so I can complain about the rolling clown show that has been this game's Spider-Man event. Just awful stuff. Filled with bugs, poor explanations for mechanics, and nested doll-like hoops to jump through to get anything done. This should have been a joyous event, TinyCo. Instead, it has brought only pain and suffering. Therefore, I give this Avengers Academy update the dubious honor of being a rare recipient of the un-coveted Update Mondays Spidercide Mark of Ultimate Shame. What did Spidey ever do to you to deserve this, TinyCo? Is your boss Howard Mackie or something?
That about wraps it up for last week's significant updates. I'm sure I've missed some, though, so please feel free to comment below and let everyone know if you think something should be mentioned. As usual, major updates will likely get their own news stories throughout this week, and I'll be back next Monday to summarize and fill in the blanks. Have a great week!