This weekend was pretty surreal for people who follow the mobile gaming scene, as Pokemon Go (Free) seems to be hitting harder than Flappy Bird. Crazier, yet, as of this writing, it isn't even available in most places of the world yet. If you weren't around for the Flappy Bird phenomenon, it was truly incredible, as seemingly one random morning practically every person with an iPhone suddenly was playing Flappy Bird. Similarly, every single social media service I use was packed with people I know, many who aren't even into video games at all, going on real-world adventures to collect Pokemon in Pokemon Go.
When looking at how hard a mobile game suddenly hits, Flappy Bird provides an interesting point of comparison, as its relative popularity compared to other things on the internet at the time was borderline unbelievable. I remember putting this article together back in 2014 when it seemed all that anyone cared about was Flappy Bird, even when compare to several other very viral things that seemingly everyone was into. From the article: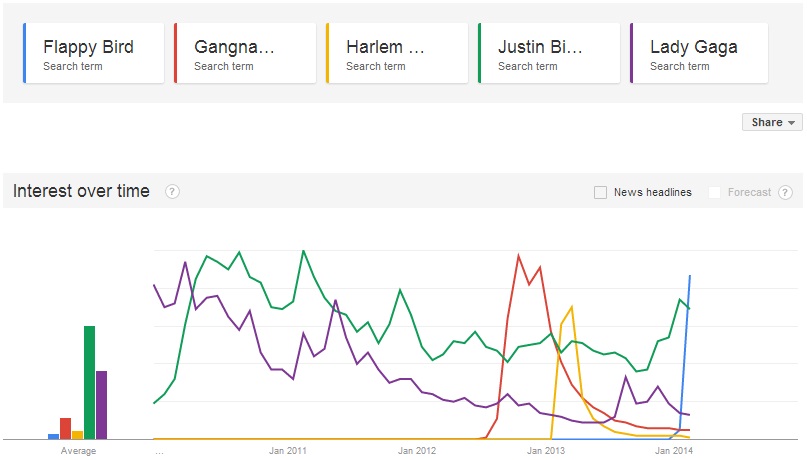 The above graph displays Google trend data between Flappy Bird which again is blue, Psy's smash hit Gangnam Style in red, the confusingly popular video meme Harlem Shake in yellow, pop star Justin Bieber in green, and finally, Lady Gaga in purple. What's supremely interesting to me about this chart in particular, is that more people are searching for Flappy Bird than there were people looking up Justin Bieber following his arrest, which was so popularized that MSNBC interrupted a Congresswoman to report on it.
With Flappy Bird as our point of comparison for a mobile game suddenly breaking into the mainstream, let's take a gander at how Pokemon Go absolutely rocketing past the peak of Flappy Bird Mania.: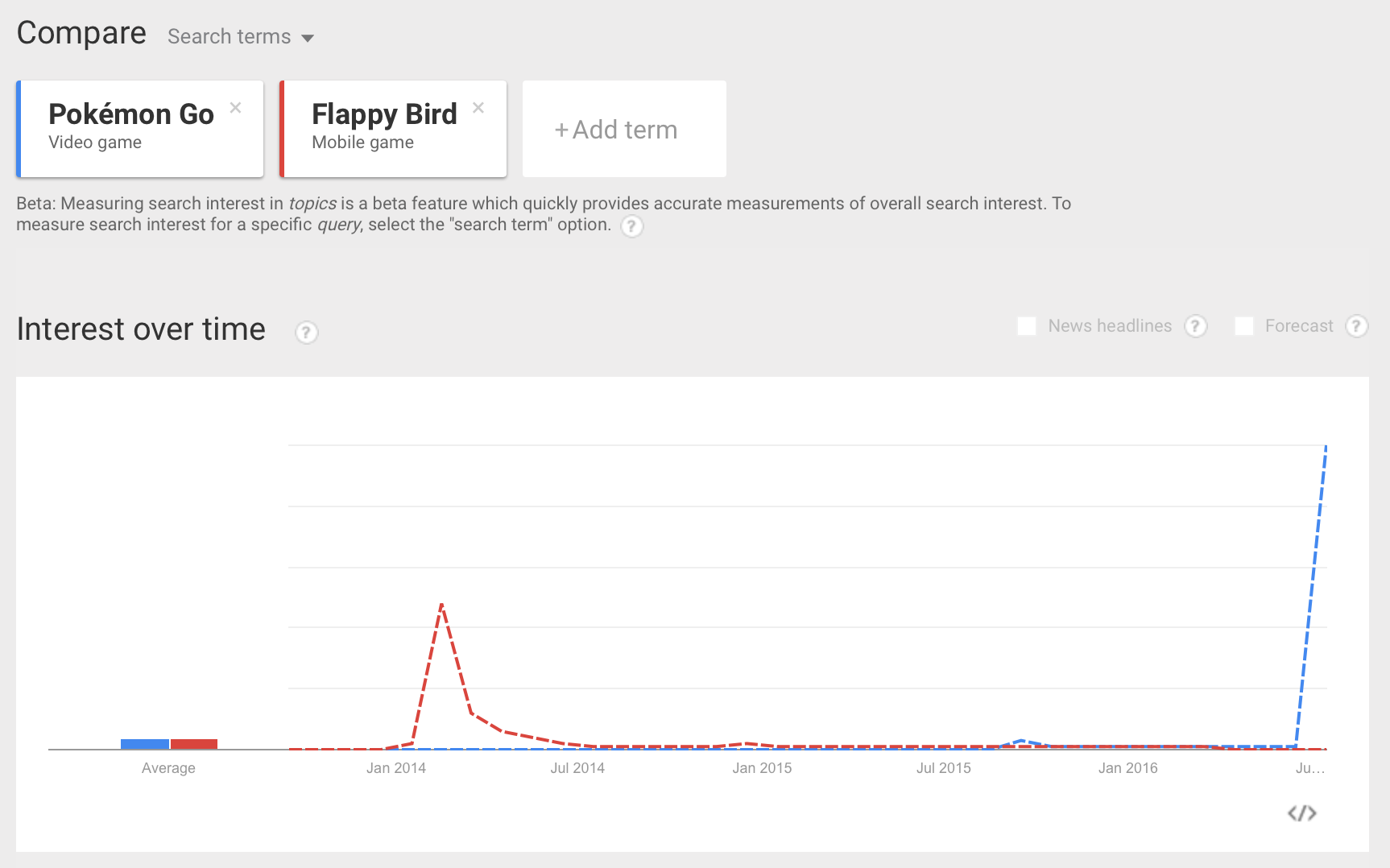 Nintendo's stock is seeing similar surges along with Pokemon Go's popularity, check out this graph by the Wall Street Journal's Takashi Mochizuki showing it jumping 25%, adding $9B in value to the company:
Look what Pokémon Go has done to Nintendo stock. https://t.co/qdcMvlPRwt pic.twitter.com/qiApCcJXXn

— Takashi Mochizuki (@mochi_wsj) July 11, 2016
The limited launch of Pokemon Go has been so explosive that it hasn't been hard to find incredible photos of people gathering to play it out in the real world. Hell, part of my daily routine is jogging at a park by my house that practically no one uses. It's almost odd to see another person on the trails there, and this weekend so many people were out wandering around looking for Pokemon that dodging all of them made running difficult. (Granted, it doesn't help that Pokemon Go players locally seem to pay very little attention to their surroundings.) Here's what some of the other gatherings looked like:
A perfect storm of pokestops at Southbank has caused a massive crowd of players. Norms totally baffled. pic.twitter.com/cHbjJekdAS

— James Croft (@jamescroft) July 10, 2016
Pokemon GO is just insane right now. This is in Central Park. It's basically been HQ for Pokemon GO. pic.twitter.com/3v2VfEHzNA

— Jonathan Perez (@IGIhosT) July 11, 2016
People are even going to crazy lengths to play the game, including but not limiting to getting a boat and paddling out to a gym in the water:
Yeah, we kayaked out to the fountain to claim this gym for #teamblue #pokemongo pic.twitter.com/vKyWMK4bsN

— Kelsey Thomson (@Kelchup) July 10, 2016
There's a bit of a down side to the popularity of Pokemon Go combined with the real-world nature of the game, as thieves are using the game to lure victims to Pokestops to steal their phones. (So, seriously, be careful when you're playing.) Meanwhile, the r/pokemongo subreddit is currently the second most active subreddit, with practically all growth of other subs coming from Pokemon Go spinoffs like r/PokemonGoStories and r/PokemonGoFitness. It's insane seeing a game just absolutely take over like this.
Crazier yet, according to the Analytics firm Similar Web, Pokemon Go is on track to have more daily active users than Twitter does on Android: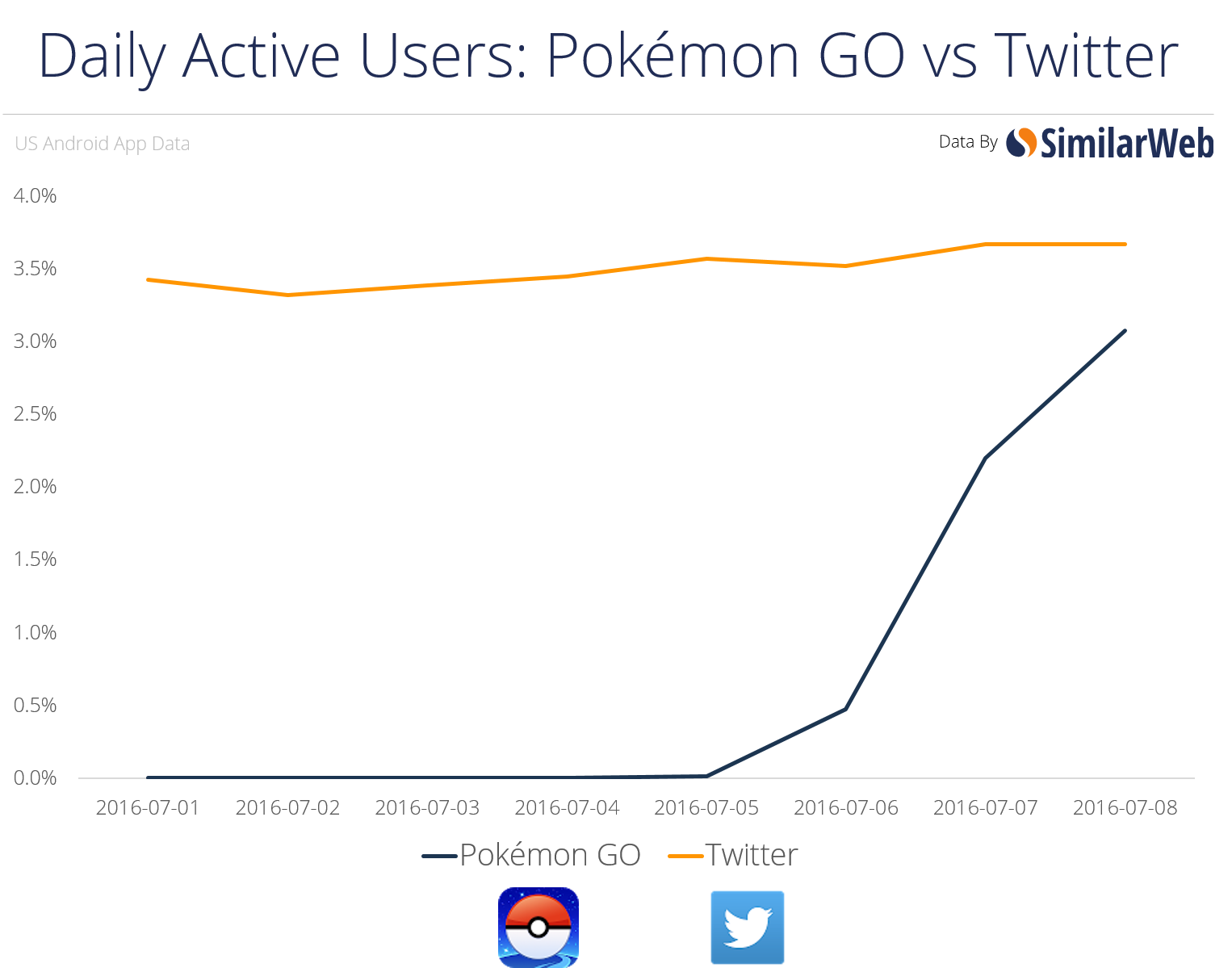 The major question that remains is how is Nintendo going to keep interest in the game high? Admittedly, your first few sessions with the game can be a pretty awesome experience, particularly if you live in a dense metropolitan area, but once people have caught a bunch of Pokemon, are they going to come back? Right now the game doesn't offer much depth to it, particularly when compared to Niantic's other (incredibly similar) game Ingress (Free). It does seem a bit premature to wonder when Pokemon Go will hit its peak, but again, considering the game isn't even available in more than a select few regions right now, this rollercoaster likely has a long way to climb before it starts to fall.