Hello everyone, and welcome to the week! It's time once again for our look back at the noteworthy updates of the last seven days. With both of the big events last week, you might expect that there wouldn't be quite as many updates as usual. You would be correct in that assumption, oh wise seer. That doesn't mean there aren't some cool updates to look at, though. Of course, you can keep an eye out for updates yourself using AppShopper Social (Free), the watchlist in the TouchArcade App (Free), or by participating in the TouchArcade forums, but this weekly summary is here to fill in the things you might have missed. Let's dig in!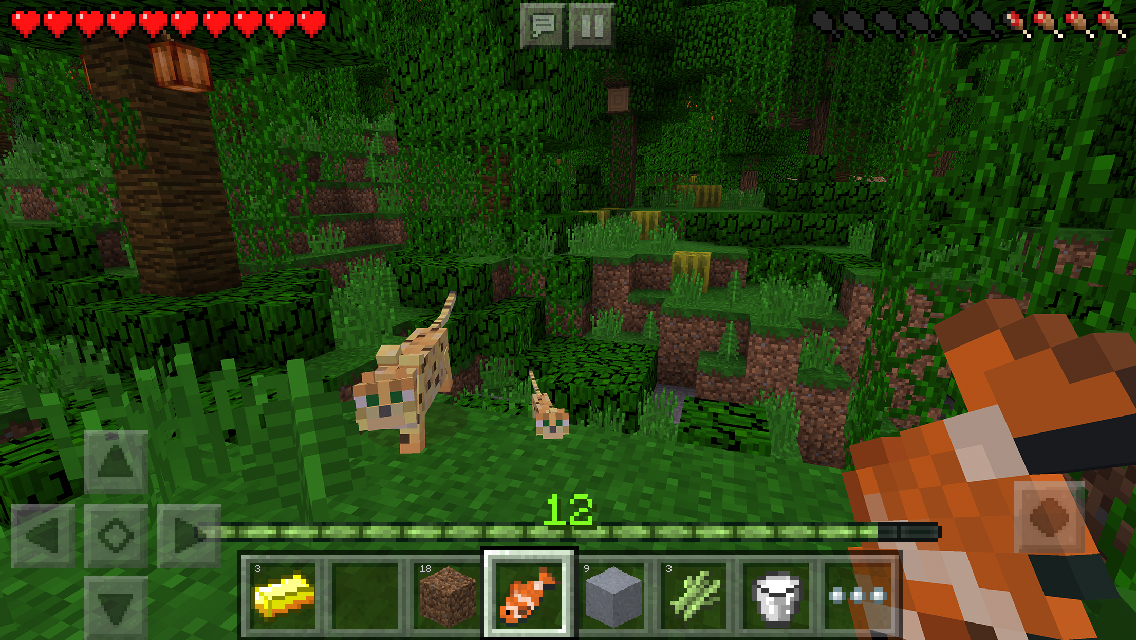 Minecraft, $6.99 Okay, so here's the thing: Microsoft paid a lot of money for Mojang, which really amount to paying a lot of money for Minecraft. They've generally stayed invisible, but it was only a matter of time before that amounted to more than just a Microsoft Game Studios mark on a Wii U box. Thus, the latest version of Minecraft: Pocket Edition has Xbox Live support that allows players to play across platforms with other Xbox Live users in Realms. That does require an Xbox Live subscription, which makes sense. But hey, you also get Xbox Live achievements to go with that. If you don't care about all of that, this update also includes pistons, jungles, zombie villages, horses, pig riding, mutton, carrots on sticks, and some new mobs. They've also updated the in-game store UI, something that's been sorely needed for a while.
Mazes of Karradash 2, $1.99 This nifty update adds some extra rewards for those good enough at the game to claim them. If you're able to topple Asmodeus on Nightmare difficulty, you'll unlock a new race, demigod, and a new, even more nasty difficulty setting called Inferno. This new version also adds in the ability to kill your character from the options screen if you'd like to start again. Sometimes you just want to go spend what you've earned, you know?
King Rabbit - Classic, Free It's hard to argue against more free content, but I'm sure someone out there will try anyway. It's that kind of scene, my friendly cats. But most will probably appreciate that King Rabbit has 16 new levels to play. On top of that, there are a few new achievements, a new leaderboard, more hidden diamonds to look for, and some bug fixes and performance improvements. Oh, one other nice point in this new version is that you can now listen to your own music while playing. I wish every game had that feature, so it's great to see it here.
The Greedy Cave, $0.99 There's a new play mode in The Greedy Cave called Dreamworld Challenge. In this mode, you get one shot at seeing how far you can make it in a whole new world full of rare equipment and treasures. This version also adds in a few more languages and makes a few UI improvements. For a buck, I'd hardly call it greedy.
Family Guy The Quest for Stuff, Free This is just like that time that Family Guy did a spoof on a popular movie series! Yes, it's time for the next event in Family Guy: The Quest for Stuff, and this time, it's Jurassic Park-themed. You have to try to contain the dinosaurs that somehow got loose in Quahog, with some new skins and characters on the line. TinyCo was so busy seeing if they could, they never stopped to ask if they should.
Marvel Contest of Champions, Free This update will bring the Civil War tie-in to a close. In addition to wrapping up that story, this update includes a number of UI improvements and bug fixes that make doing various things in Alliance Wars and your Champion screen easier. Not the flashiest of updates, to be sure, but for fans of the game, I'm sure it gets the job done.
The Last Warlock, $3.99 Okay, I hear you, this isn't from last week, but the week before. I missed this one last time, and I really like this game, so this is just how it's going to be, okay? With that tyrannical fist pounded on the boardroom table, let's move on to the update. It features two new single-player quests, two new multiplayer maps, some new creatures, and a bunch of bug fixes and balancing tweaks. A little something for everyone who enjoys the game, whether it be solo or with other players.
Warbits, $4.99 If you were sitting around wishing for more Advance Wars-style games on iOS, 2016 has been very good to you. Warbits has only begun to fight, as this first big update shows. Multiplayer now has three different tags to suit your mood, including a whole new mode with 10 maps. There are some in-game turn notifications, and more options for match timeouts. You know, in case you're playing with someone who isn't so good at taking their turn right away. You can now manually save to iCloud, which is something every game with iCloud support should offer because, seriously, iCloud is really weird sometimes. There are a few other nice things in this version, but I'll cut it here and just give these nice people their coveted Update Mondays Most Spider-Mans of the Week award.
Lost in Harmony, Free I think this game has been kind of a hard sell for the mobile market, and in a way, that's kind of sad. There are definitely some big flaws in the game, but its heart is in a good place, and if nothing else, the excellent post-release updates really show how much the developer cares about seeing this game make it. This latest one adds a new level creator that lets you use one tap to analyze your music and generate a full level from it. You also now have to ability to toggle tapping to jump and the visual warnings that let you know something is coming. All of the kits have been unlocked in the creator, and the developers have also added 11 new achievements.
Leap Day, Free Leap Day, the sneaky boots, sneaked in an update between when I finished writing the last article and when it was posted. Ordinarily, I would reward such chicanery with a swift boot, but this update is pretty solid, so here it is. In the new version of the game, you can now change characters. There are 10 new monsters to unlock, part of a whopping 43 prizes to collect. They say it equals three months or more of unlockable prizes in total, but I bet Andy C83 has already got them all.
The Simpsonsâ"¢: Tapped Out, Free The next event is on in Springfield, and given how many superhero sequel movies there have been this year, perhaps it's not a shock that it revolves around that topic. There are lots of new characters and buildings to collect, including Citizen Solar, Wind Lad, the Satellite Station, Wholesome and Sons Publishing, and more. Well, hey, Simpsons certainly knows a thing or two about returning to a dry well, right?
MARVEL Future Fight, Free On what I'm sure is a totally unrelated point, here's another update for Marvel Future Fight. The biggest news is new character Hyperion, the leader of the Squadron Supreme and one of several Superman expies the Marvel Universe has accumulated over the years. There are some new costumes for a few characters, too. Black Widow has a trench coat dealie that seems to be drawn from the Civil War movie, while Ronan, Yondu, Mockingbird, and Iron Fist are sporting some alternate looks from the comics. A few more characters join the Tier-2 group with this version, as well.
Turbo Dismount®, Free These paid content add-ons for Turbo Dismount must be doing alright, because they keep on putting them out there. As usual, $0.99 gets you a new pack of levels. Dubbed "Law and Disorder", it includes four new levels to play around in. Even if you don't want to buy the new set, however, you can enjoy one free level called "The Getaway". Naturally, there are also bug fixes and performance improvements. That might as well be the center square on the Officially Authorized Update Mondays Bingo Card by now.
Pyramid Solitaire Saga, Free It's been a while since we've looked in on this game and… oh no, what did they do to the icon? Helena, your decent-looking hand-drawn art has been replaced with something that looks like it crawled out of the Dreamcast's butt! Argh. Oh well, 15 new levels, some sort of wild confrontation with the thief who stole everything ever. Good luck, Helena, you soulless abomination.
That about wraps it up for last week's significant updates. I'm sure I've missed some, though, so please feel free to comment below and let everyone know if you think something should be mentioned. As usual, major updates will likely get their own news stories throughout this week, and I'll be back next Monday to summarize and fill in the blanks. Have a great week!