Slightly more hyped than usual, Samurai Rising is RPG giant Square Enix's latest attempt to get a slice of the booming social RPG market. As with many of their other efforts in this market, Samurai Rising takes strongly after another popular free-to-play game, in this case White Cat Project. It's an action-RPG built for single or multiplayer play, with all the trimmings and tricks you've probably come to expect from the social RPG genre. I've spent a little time with the game since it came out yesterday here in Japan, and I thought I'd give you a few impressions.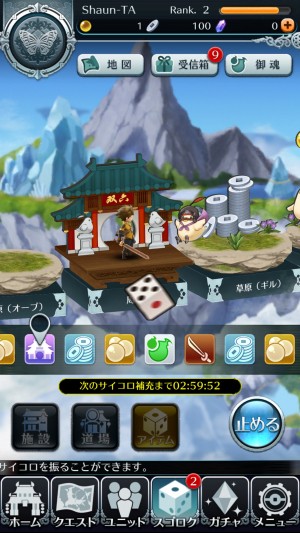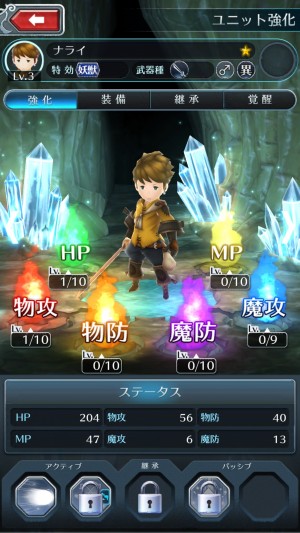 First of all, the usual provisos apply. There will be a big data download when you start the app the first time, and here and there after that. You need to be online to play. The gameplay is gentle at first but eventually starts to put the pressure on you to have strong characters, and you'll need some luck at the random gatcha draws to get them. With that out of the way, let's go into some specifics. To start with, Samurai Rising is a very pretty game. The game's visual style takes after Bravely Default very strongly, albeit with an Edo-era Japan twist. Even the monsters go for a cool Final Fantasy-by-way-of-medieval-Japan motif with, for example, Bombs that look like paper lanterns.
The gameplay is fairly simple. You just tap to attack and drag your finger around the screen to move. Stages are relatively short and consist of a few skirmishes with regular enemies followed by a boss battle. Although you bring a party into battle with you, only one character appears on-screen at a time, with a button to swap between them as you like. You can also bring a friend's character with you, and they will appear on-screen with your chosen hero. The multiplayer mode naturally allows for more than one character on-screen at time, of course.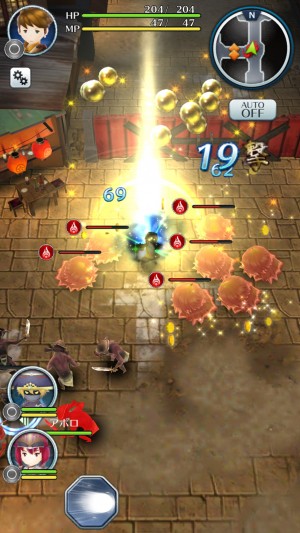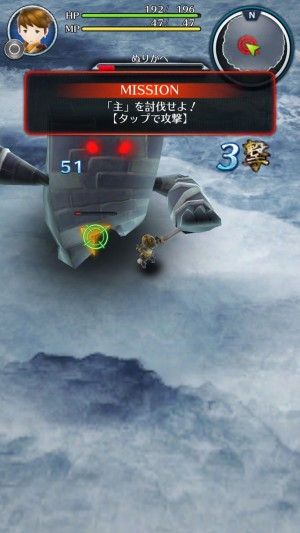 The characters are all essentially Final Fantasy job classes done in a medieval Japan style. You've got fighters, black mages, white mages, and so on. It's a cool touch of familiarity, though to be honest, we've seen so many social RPG takes on Final Fantasy that even this old stand-by is losing its shine. Characters can be strengthened by equipping gear that you find on quests or by bumping up their stats with various colored essences you come across.
I'm still quite early on in Samurai Rising, so it's hard for me to speak with any sort of authority as to how its difficulty curve will go in the long run. It seems that, as usual for a social RPG, if you can get some friends with powerful characters, you'll be able to skate through the early part of the game at least. I suppose the only big problem at this point is that the game feels very much like White Cat Project with a Final Fantasy spin and a dash of samurai for seasoning. That doesn't make it a bad game by any means, but it does make it somewhat redundant, and that doesn't speak well for its chances of survival in the cut-throat social RPG landscape.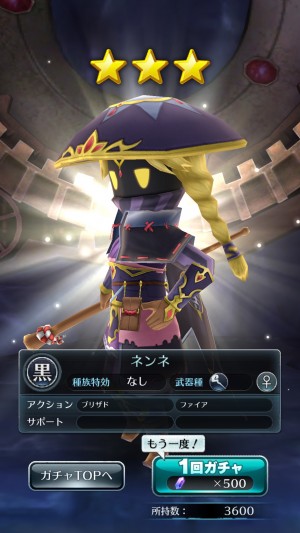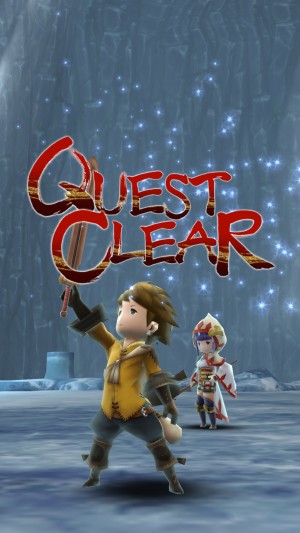 As always, it's up in the air as to whether or not Square Enix will release this game outside of Japan. Most of their free-to-play games haven't come over, but they've been taking a few more chances of late. The production values on Samurai Rising make me think that they want to take it wider, but the samurai style could point to this being a product meant primarily for the domestic Japanese market. I suppose time will tell. At any rate, if I come across anything particularly interesting down the line, I'll write up some further impressions. For now, you can file Samurai Rising under "good, but not particularly exciting" with most of Square Enix's other social RPGs.