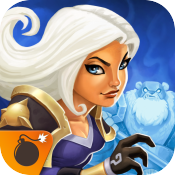 We live in a pretty amazing time where we can beam entire video games to our insanely powerful pocket computers right out of thin air. This digital gaming revolution has a ton of benefits, like being able to buy a video game in your underwear without getting arrested, but there are also plenty of drawbacks. The biggest one being that with always connected "games as services" once that game ceases to be profitable anymore the developers need to shut it down. Shut down the servers, shut down any further development, shut down anything that costs money pertaining to that game. Well, that's exactly what's happening with Kabam's free to play hack 'n slash RPG Spirit Lords. As players have found out through in-game notification and on Kabam's official forums, Spirit Lords is shutting down its servers on July 8th. They've already shut off in-game purchases as of this past Sunday, and once the servers shut down the game will be completely unplayable and there will be no way of players accessing their profiles from that point forward.
As a small consolation, certain players who have spent money on IAP in Spirit Lords will have the opportunity to transfer their in-game currency over to one of Kabam's more popular and profitable games: Marvel Contest of Champions (Free) or Star Wars: Uprising (Free). The offer is good for anyone who has purchased one or more Moonstone packages in the game, and those players will be notified via in-game message on how to claim that offer. While it's not a totally ideal situation, it's nice that Kabam is at least trying to do something for those who have invested in Spirit Lords, and given that Star Wars: Uprising is more or less a Spirit Lords re-skin, it might be the best transition for currently active players.
It still feels like a band-aid type of fix, though, and I think as we move even deeper into an all-digital age, not just in gaming but in many facets of our life, there needs to be a solution for this type of thing. Perhaps when a developer starts out designing a new game that relies on server connections, they could preemptively build in a simple way to make the game playable offline should the servers ever need to be shut off. I understand the need to be connected for security reasons and for saving player data, but I think most players would be happy if they could simply keep playing the game they've potentially invested a ton of time and money into rather than have it all simply vanish into thin air.
We'll have to see how things play out in the coming years as the digital landscape matures, but for now it sucks if you were one of the not-quite-enough people who were loving Spirit Lords and now have to say goodbye to your beloved game come July 8th.
Thanks Toan!