A couple of weeks ago, I wrote that Niantic was planning on showing us more of Pokemon GO in a GDC talk titled Catch 'Em All: Pokemon GO and Real World Gaming. Well, the updated GDC schedule published today has a big "CANCELED" next to the talk, so it looks like any chance to learn more about Pokemon GO has, well, gone out the window, at least for now. If you don't remember what the talk was supposed to be about, John Hanke, Niantic's CEO, was supposed to show how the company has developed a unique vision for delivering a mobile Pokemon experience that gets would-be trainers into the outdoors. Hanke wanted to show how Pokemon GO took on the challenge of real world gaming design by loosing hundreds of Pokemon across the world. Attendees were even supposed to get a taste of the Nintendo-made wearable device.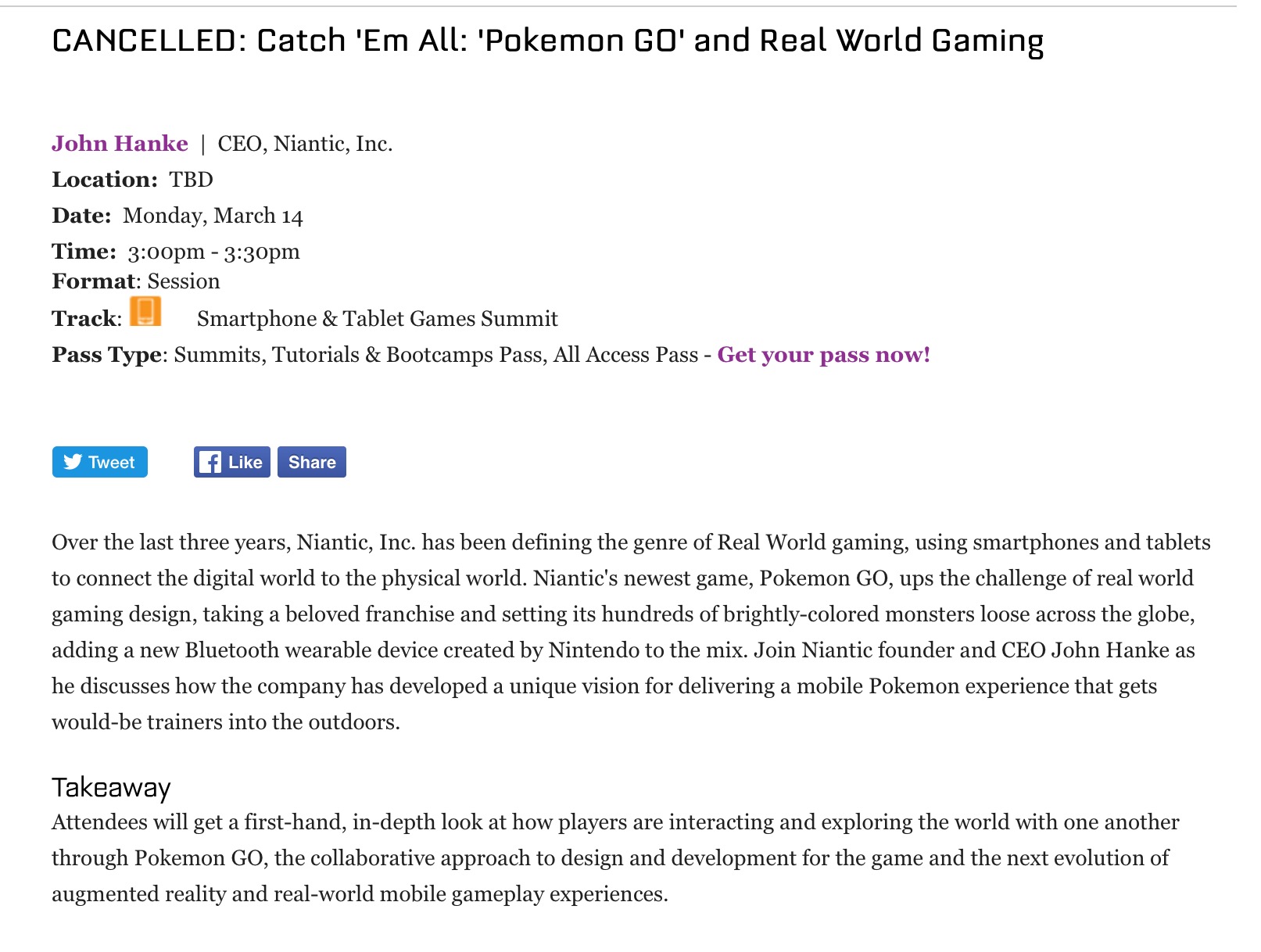 So, why was the talk canceled? I have no idea since no reason has been provided at the time of writing. I do have to say that other than that trailer we got all the way back in September, we haven't seen any screenshots or videos of the game, a fact that has many feeling slightly uneasy about the fate of the game. Personally, I'm still optimistic that we'll get Pokemon GO at some point. At least I hope so because I'm still waiting for an AR game worth playing, and Pokemon GO seems to have the right idea. Well, I guess this development should help you realize whether you're an optimist or a pessimist. So, do you think all is well with the game, or is Pokemon GO in trouble?
UPDATE: Niantic CEO John Hanke has given a statement to Gamespot discussing why the GDC talk was cancelled:
"We have decided to forego our GDC talk on Pokemon Go in order to focus on getting the product ready for beta test and launch. As much as we hate to disappoint those in the industry attending GDC, we feel our time and energy right now are best spent on making sure every aspect of the product is where we want it to be."