Hello everyone, and welcome to the week! It's time once again for our look back at the noteworthy updates of the last seven days. This week is the calm before the storm, friends. The Christmas updates will soon be upon us, so let's enjoy the peace while we can. Of course, you can keep an eye out for updates yourself using AppShopper Social (Free), the watchlist in the TouchArcade App (Free), or by participating in the TouchArcade forums, but this weekly summary is here to fill in the things you might have missed. Let's dig in!
Oddworld: Munch's Oddysee, $2.99 With any luck, my review of this game should be going up pretty soon, but I'll say one thing in advance: it's a good thing this patch came when it did. This game was having a lot of crashing issues while I was playing it for the review, and the timely nature of this update, which fixes them, pulled the score's proverbial fat out of the fire. With that stuff fixed, this is now a great version of Munch's Oddysee to play on the go. But is the game itself great? Stay tuned!
Pinball Arcade Plus, $0.99 This month's new table is No Fear: Dangerous Sports, a 1995 Williams release designed by Steve Ritchie. Yes, that's No Fear, the clothing brand and of late energy drink company that was super popular in the late 90s. It might sound silly, but the table itself is fairly good, even if it's visually a little on the XTREME side. As usual, this one will run you $4.99 and is available as IAP.
Terra Battle, Free Mistwalker's excellent crack at the social RPG craze is still kicking. This update adds a new Daily Quest to the game, and adjusts the balance of powered points in versus games to make matches a little more interesting. Naturally, there is a big bag of bug fixes, too.
Fantasy War Tactics R, Free And here's a walk-back. It's always interesting to see these happen, especially for games that have soft launches, but I guess you never really know how the larger audience will react until the game's actually out. Anyway, this new version makes the game more player-friendly on the whole. Conditions for completing daily quests have been made easier and the rewards for finishing them have been increased. Gold drop rates have been increased under certain circumstances, and the difficulty in some regions has been lowered. We'll have to see how the people that have stuck around the game take to these changes.
Turbo Dismount®, Free This is a fairly normal update for Turbo Dismount, which is to say that there is a new vehicle, the Tumbler Quad-bike, and a new head, the Dirt Bike Helmet. Support for iPhone 6s and the iPad Pro has also been added in this version of the game. I should also note that the new vehicle is free with any purchase.
Drive Ahead!, Free Hey, it's a Christmas update. The timing is about right, too. Not too early, but I'm also not completely sick of Christmas updates yet, so it looks like a win to me. Anyway, this update adds an Advent Calendar to the game so you can count down the days to Jesus's birthday by doing missions, as opposed to the traditional method of eating cheap chocolates vaguely shaped like things. You also get six weather-appropriate vehicles, four appropriately-weathered arenas to use them in, and nine cool helmets because you can never have enough headwear.
Smash Hit, Free I don't know about you, friends, but when I see glass, some small part of me wants to break it. The bigger the piece of glass, the stronger that urge becomes. Is it any wonder Eli and Jared won't let me play with the iPad Pro units at TouchArcade Towers? Luckily, Smash Hit exists for me to get those urges out, and wouldn't you know it? It now supports the iPad Pro. This update also adds a couple of new local multiplayer modes where you can play unique stages either cooperatively or competitively. Sounds fun!
Apocalypse Meow: Save the Last Humans, Free There's a whole new sector to play in this fun shoot-em-up. Sector 7 arrives, and with it comes new enemies and a new boss. Also, the game now offers support for 3D Touch if you have a device capable of such feats. Although I'm tempted to give the nod to Ms. Croft, I think I'm going to give Apocalypse Meow this week's coveted Update Mondays Most Spider-Mans Of The Week award. I'm not sure if cats can drink celebratory vermouth, but I guess since it's metaphorical, it probably won't hurt them.
True Skate, $1.99 Speaking of 3D Touch support, True Skate has also joined that particular cool kids' club. Of course, it has more presents in its bag than just that with this update. There's also a fun new course called Mondo Ramp. That's not an adjective they cart out for just any old ramp, I hope you realize.
Lara Croft GO, $4.99 Nothing against the new Tomb Raider games, but I kind of feel like Lara Croft GO does a better job of capturing the feel of the classic gameplay than they do. If you've already finished up Lara's latest, you probably don't need me to tell you that a new update hit last week with a whole bunch of new puzzles to play through. Featuring a new location, a new mechanic, more gems, artifacts, and costumes to collect, and of course, new achievements, it's the kind of content that Square Enix probably could have charged for, but didn't. Be warned, though: these levels aren't messing around. They're a good challenge even for expert Tomb Raiders. 
Storm Casters Ultra, Free It might sound like something that stumbled out of a middle school grammar lesson, but I can assure you that Progressive Prestige requires little-to-no conjugation. Before, when you chose to Prestige, you had to give up all of your goodies. Seriously, what fun is that? Now, you can have your Prestige and eat it, too. Er, not literally, mind you. What I'm saying is you can Prestige and keep all of your cards. You can also infinitely Prestige, and I'm not even sure what that means. This update also fixes a bunch of bugs, but there are still more to be found! Compare your answers with those of your friends, and may the best player win!
Soda Dungeon, Free Speaking of fixing bugs, here's Soda Dungeon's latest batch of patch-ups and tweaks. The dungeon now auto-saves after treasure rooms, so you don't have to worry about losing a rare goodie. And hey, while we're on the subject of rare goodies, you can now find rare and legendary items that are already leveled up. Convenient! There are a few other adjustments made to make life easier for players, but I'll leave some of the mystery to you.
Pinball HD: Classic Arcade, Zen + Space Games, $1.99 If real pinball tables aren't your jam, Pinball HD's got you covered this week. The developers have added a new table to the selection, Street Racing Pinball, and I suspect you can guess what it's themed around. As usual, you can buy it in this app or get it as its own separate thing, but really, who wants a million individual launchers on their home screen? Well, whatever your tastes, you're covered.
Alphabear: Word Puzzle Game, Free It's a little update for Alphabear, but it doesn't really need that much, does it? The game now features special events, which will occur about once per month. The first is the Thanksgiving event, which should still be going on right now. There are also some new events for Chapter 8, and some UI improvements to make flipping between chapters a bit easier.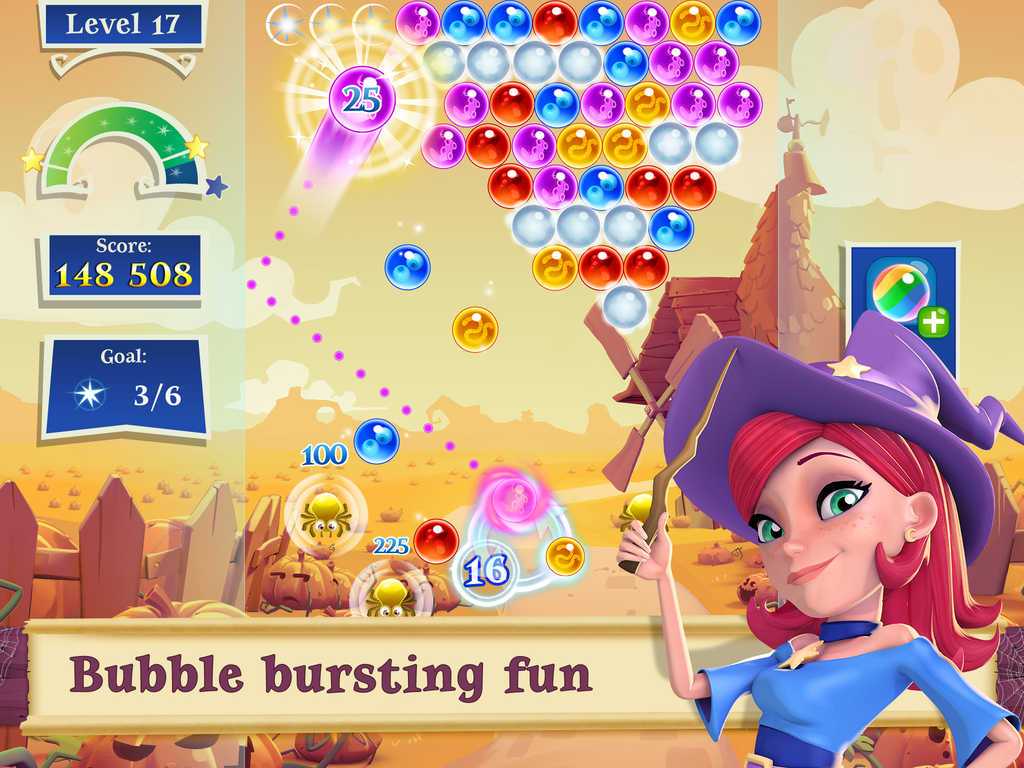 Bubble Witch 2 Saga, Free Stella is apparently suffering from bouts of dizziness and disorientation. There could be something sinister afoot, but my bet is that she's putting a few too many magic mushrooms in her mouth instead of the cauldron. In terms of gameplay, you can probably guess that a King update means a batch of new levels and not much else, and you'd be correct. 20 new levels, in this case. Hopefully that'll keep Stella busy popping bubbles instead of mushrooms.
SimCity BuildIt, Free Teapot, Bobby's Helmet, Telephone Box. That is what you are to SimCity, my London friends. That said, I guess it's nice to see London getting some notice in a game like this, even if it is kind of on the Big Benny side of things. You can apparently lay down some residential areas that make your city look English, and even if all of that stuff isn't to your liking, you'll probably at least enjoy the new expanded city limits that include more beachfront property to sully with your urban sprawl.
Afterpulse, Free Oh, hello, Afterpulse player. Tell me, are you interested in a new gun? Yes, I thought you might be. The A 500 Autumn is apparently a fully-automatic rifle with enhanced targeting mechanisms and upgraded fire power. Well, that certainly sounds impressive, but I have no idea how that actually works out in the game. This update also adds some special seasonal offers to the in-game shop, giving you a better chance of getting the aforementioned buzzword-laden gun.
Pet Rescue Saga, Free Ugh, this game has been on overdrive with the updates lately. I mean, if you're having fun with it, I'm happy for you, but every time it updates, I get to see that vile little puppy staring at me. Look at his chubby jowls and soul-dead eyes. Sitting next to some colorful blocks to make it look like he's all fun-loving and happy, but the nearby cage tells you the real story of Dave The Puppy. Can't wait til we reach the end of this game and find out he's the evil boss behind all of the animal kidnappings. 15 new levels, plus Dave's got Pancake The Panda working overtime trying to raise funds for his evil empire by selling bamboo, his only food source. The cruelty is off the charts, even though this game never is.
Piloteer, $2.99 Okay, this is a really cool game, it really is. But these update notes say this is a major update, and friends, I just don't know. If you aren't an English speaker, well, yes, this one's a big deal, as the game supports six more languages that cover a pretty wide spectrum of people. There are also a bunch of new Game Center achievements, and you can now easily share screenshots of your character in various poses. Naturally, you also get bug fixes and performance enhancements. It's nice and all, but I would say out of ten Spider-Mans, this update is a five Spider-Mans at best.
That about wraps it up for last week's significant updates. I'm sure I've missed some, though, so please feel free to comment below and let everyone know if you think something should be mentioned. As usual, major updates will likely get their own news stories throughout this week, and I'll be back next Monday to summarize and fill in the blanks. Have a great week!