Hello everyone, and welcome to the week! It's time once again for our look back at the noteworthy updates of the last seven days. After last week's deluge, this week is, dare I say it, a little light. That doesn't mean there aren't some cool updates to look at, though. Of course, you can keep an eye out for updates yourself using AppShopper Social (Free), the watchlist in the TouchArcade App (Free), or by participating in the TouchArcade forums, but this weekly summary is here to fill in the things you might have missed. Let's dig in!
Five Card Quest - Tactical RPG Battles, $2.99 Well, this is a pretty quick update. Since I'm not doing the review for Five Card Quest, I can safely give my opinion that it is an awesome game. The developers at Rocketcat seem to really be into responding to feedback to it, too. That gives us this update, which contains a bunch of little fixes in response to player comments so far. Increased animation speeds, bestiary info in the pre-fight menu, a couple of balance tweaks, and a bunch of UI improvements and fixes. I also hear there is horse simulation coming to the game in a future update, so please be excited.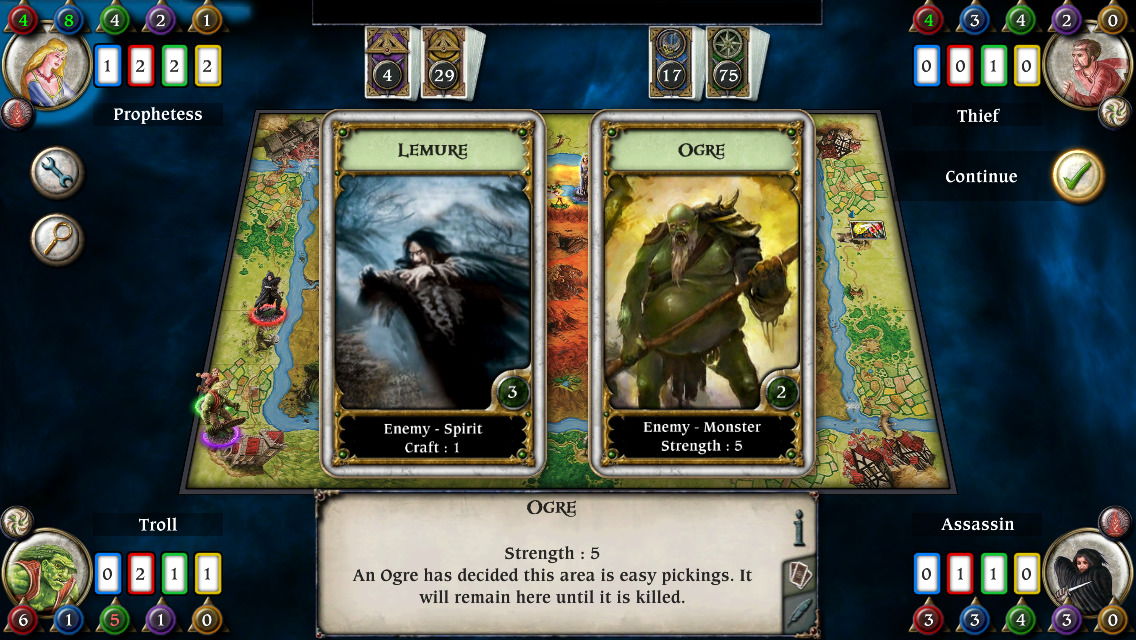 Talisman, $3.99 Talisman has yet another expansion. The City arrives in this week's update, or at least it's supposed to? Some players have been reporting the expansion isn't available to purchase yet, even while some components are. Well, I'm sure it'll sort itself out sooner or later. This update also increases the maximum number of players to six and adds a new AI speed option so that you can make things go even faster. And of course, there are also a number of bug fixes.
Lightning Fighter 2, Free Lightning Fighter 2 is a pretty decent free shoot-em-up with colorful graphics. The latest update adds three new stages to the game, along with two new ships. Some bugs have been fixed, and a few ship prices have been adjusted. I know a few people that really like this game, and they'll certainly be happy to have some more content.
Pocket Mine 2, Free Pocket Mine 2 gets pretty regular content updates so it's no surprise to see it back around again. A new island, new collection sets, and some adjustments to how gear is distributed are the main highlights here. You should be able to get better gear earlier in the game now compared to before.
DEEMO, $1.99 The excellent rhythm game Deemo gets a new song you can buy and play, along with a new collection of previously-released tunes so that you can buy them in one lump sum. There's also a new option for turning the button sounds on or off, depending on how you prefer to play. Bug fixes and performance enhancements round things out.
Soda Dungeon, Free Soda Dungeon is one of those games where I had tons of fun for a few days, exhausted everything there was to do with it, then tossed it to the dark corner of a folder on the fourth page of my home screen. Well, we've got an update here, and although it doesn't add much for me to do, it's nice to see the game is still getting attention. The story this time around seems to be a lot of balance adjustments, which is probably for the best because the original version was really easy to exploit. The developer has also made a couple of additions and improvements to the UI, including a convenient button for the shop that lets you sell everything.
Dust: An Elysian Tail, $5.99 It's no secret that I loved Dust to pieces, but some people have been having problems getting the game to work correctly. Specifically, iOS 7 users couldn't get the game to run at all. Yes, that's got to be a pretty small niche at this point, and the developer probably didn't need to take care of it, but they did, so if you happen to be using that version of iOS and want to play Dust, rejoice! There were also some other more minor tweaks made to controls, gameplay, and the game's difficulty.
Neko Atsume: Kitty Collector, Free Okay, yes, this isn't really much of a game, but as the resident Kemco expert, how could I not mention Hit-Point's latest non-RPG success? The cult hit cat collection game gets some new cats and goodies in this latest update, but most importantly, it now has an English translation. Will being able to understand the game make it more popular with English players, or less? Only time will tell!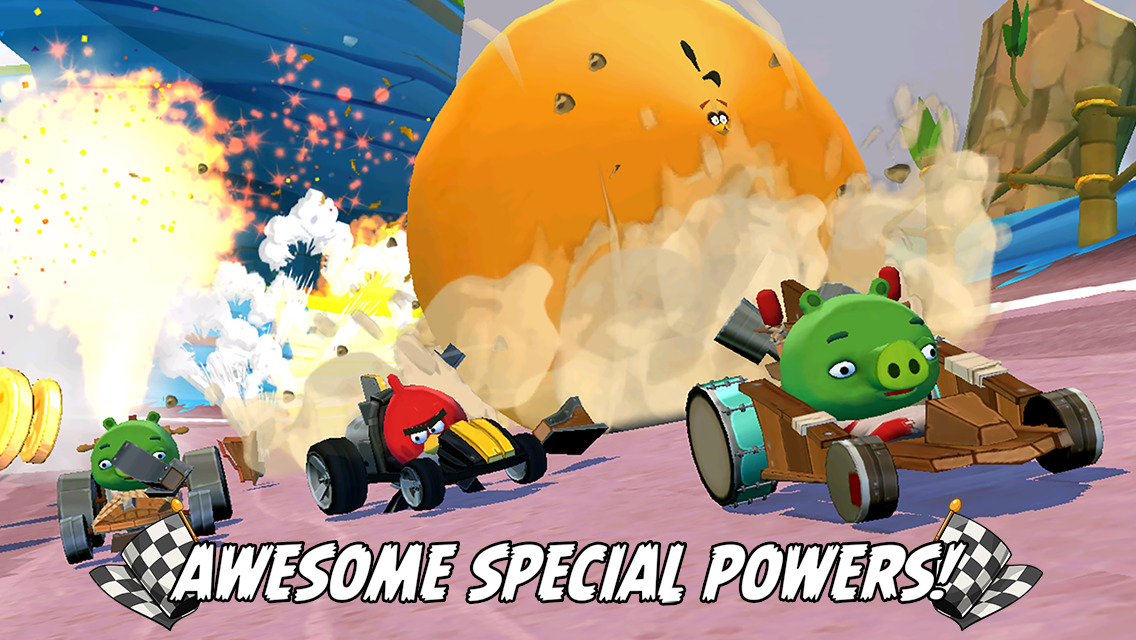 Angry Birds Go!, Free Well, Hallowe'en is over, so this should be the last Update Mondays where we see any content related to it for the year. Angry Birds Go got in just under the wire with a Hallowe'en-themed kart and some season-appropriate decorations. Other than that, this was one of those bug fix and maintenance updates, which is a good thing but not very exciting to write about.
Alto's Adventure, $4.99 Alto's Adventure is a lovely game. If you're going to make another auto-runner, at least try to make it beautiful, right? Luckily, this game has some depth behind its attractive appearance, and this update adds a bunch of requested features to make it even more enjoyable to play. MFi controller support is now in, along with some new volume sliders, and the ability to choose whether you want helmets and chasm rescues or not. Game Center and iCloud support has been improved, with some bugs fixed and an overall smoother experience as a result. A couple of outstanding bugs have been addressed, and the game runs a bit smoother on weaker devices than it did before.
Pet Rescue Saga, Free Oh hey, Dave The Puppy is apparently a witch. What did I tell you all? Now, all we have to decide is whether to burn him or sink him in a pond. Oh, and yes, 15 new levels for Pet Rescue Saga. Something about time travel shenanigans. I don't know, I'm just happy that Dave The Puppy's tyranny has finally been revealed for all to see.
Walking Dead: The Game, Free Not much to report here, other than the fact that all of the Telltale games that were removed from the App Store due to bugs have returned. Like the living dead, right? Ha ha, we have a lot of fun in Update Mondays. Anyway, I'm glad this game is back. I missed Lee.
Sentinels of the Multiverse, $0.99 This update marks the arrival of cross-platform multiplayer in Sentinels Of The Multiverse. There are also a few additions to the UI to make things work better, and the tutorial has gotten an overhaul to make it more useful to new players. Also, bug fixes ahoy! Say, I wonder if that cross-platform play is also cross-dimensional? Just asking for a friend.
Mortal Kombat, Free Chi-chi-chi-chi, ha-ha-ha-ha. After briefly stopping by my RPGs On Saturday Mornings Mobcrush stream last weekend, Friday The 13th's Jason is now settling into the Netherrealm. You can unlock Jason a few different ways if you want to add him to your roster. He comes in two types: Slasher Jason and Unstoppable Jason. Slasher, only available through limited time special packs in the store, revives twice and all of his special attacks are unblockable and cause bleed status. Unstoppable, who can be earned in Challenge Mode, revives once. His X-Ray move causes bleed status, but he's definitely the worse of the two Jasons in virtually all respects. For going above and beyond the Jason call of duty, I'm happy to award Mortal Kombat X the coveted Update Mondays Most Spider-Mans Of The Week award. Now, please, put down the machete.
MARVEL Future Fight, Free Well, I'll hand it to Netmarble. They went fairly obscure looking for spooky additions to the game for Hallowe'en. There are three new characters the game, including the Agents Of S.H.I.E.L.D. (Super Hydraulic Influenza Experimental Lion Dancers – Shinin' Shaun) version of Lash, Elsa Bloodstone, and, of all characters, Warwolf. Marvel keeps trying on that one. You have to admire it, in a weird way. In addition to the new characters, there are six new uniforms, a Hallowe'en-themed stage, new six-star skills for Thor, Blackbolt, and Punisher, and the ever-present bug fixes and performance improvements. Warwolf. Yeesh.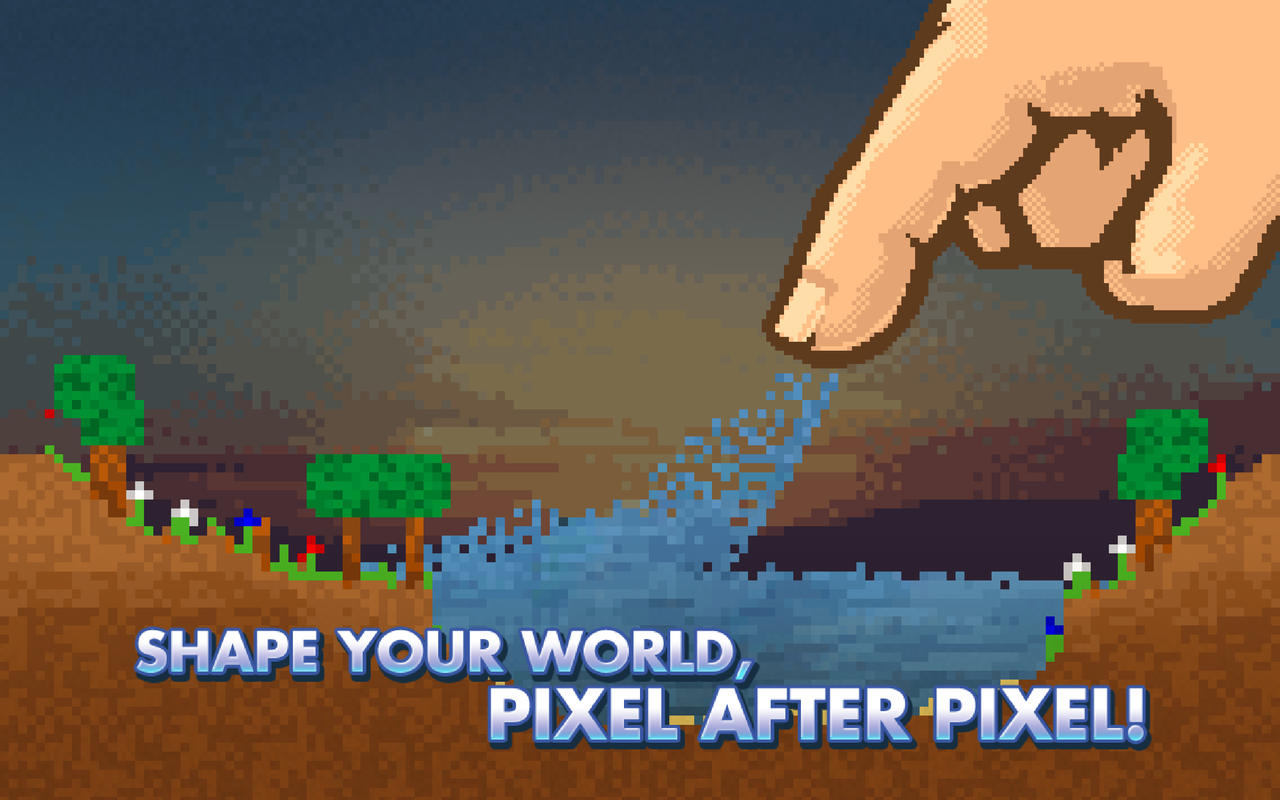 The Sandbox - Building & Craft, Free The Sandbox also gets in on the holiday fun just under the wire, with a new headless horseman element, new werewolf and vampire enemies, and a few Hallowe'en decorations for you to play around with. The new enemies can actually turn humans into their own kind. Sort of like evil Tupperware salespeople.
Battle of the Bulge, $9.99 The road to regaining the trust of burned customers can be a tough one. Slitherinandoah takes the first tentative steps on that road with a big update to Battle At The Bulge. If you'll recall, this game got an update a few weeks back that didn't set well with a lot of players. This new version tries to address as many concerns as possible, and as such, it's a humongous list. If you're interested, I'd advise you to check the description in the App Store, as there's no real way to summarize everything in the space I have here.
EA SPORTSâ"¢ UFC®, Free EA's UFC game gets eight new legendary fighters, including Rampage Jackson and new coverboy Chuck Liddell. To go with them, there are two new Legends Live events where you can play historical match-ups from UFC's past, like BJ Penn vs. Matt Hughes. There are also new packs added to the game featuring Legend abilities.
That about wraps it up for last week's significant updates. I'm sure I've missed some, though, so please feel free to comment below and let everyone know if you think something should be mentioned. As usual, major updates will likely get their own news stories throughout this week, and I'll be back next Monday to summarize and fill in the blanks. Have a great week!