A couple of Noodlecake-published games have just gotten updates for one of the spookiest days of the year, Halloween. First up, The Balloons (Free), which just came out recently, has gotten updated to add a new casual mode that's the default mode, for people who found the default game too difficult. The original game is now rebranded "Hardcore" mode. The controls are now reversed by default to where tapping left goes left, instead of the original default, where tapping left would blow you right. As someone who thinks inverted controls in FPS games is Orwellian, I applaud this move. But with Halloween on the horizon, you have 10 new characters including a bat, skull, and candy corn. This goes along with the new spooky theme song and hidden level skins.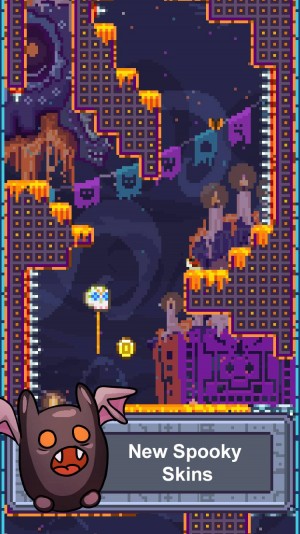 Not to be forgotten, Shooting Stars ($2.99) has gotten an update. While there aren't any more mobile game journalists to destroy, you have new powerups, new enemies, and more importantly, new bosses to defeat. Including "Donald Tump," who will swiftly deal with you haters and losers and make the world of Shooting Stars great again.
A shot modifier with cat paws is always a trump *badumtss* pic.twitter.com/fwsXhUamYd

— Bloodirony Games (@bloodirony) September 16, 2015
I feel like all these Halloween updates call for a celebration.