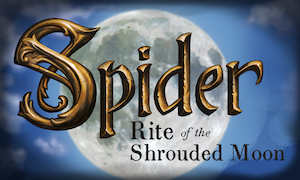 Earlier today while writing a story about Furdemption's forthcoming update, I mentioned that I absolutely hated spiders, but I forgot about one very important exception: Spider: The Secret of Bryce Manor (Free). Normally I can't stomach even looking at a spider, but in that game it was a great pleasure to experience life as a tiny eight-legged creature exploring a massive mansion; platforming, defeating enemies, and solving puzzles. As you probably know, Spider was our Game of the Year pick way, way back in 2009, and developer Tiger Style Games has been working on the sequel Spider: Rite of the Shrouded Moon for several years now. Well, it's been a long time coming, but the new Spider finally has an official release date just a couple of weeks from now on August 6th. Check out a brand new trailer as well.
Man, I'll tell you what, some things are just worth waiting for. Tiger Style originally teased the new Spider in the fall of 2013, and we got a hands-on demo of a seemingly pretty complete version several months later at GDC 2014. In fact, Tiger Style had hoped to have the game out before the end of 2014, but were committed to the "it's done when it's done" mentality. Obviously 2014 came and went, and most recently we went hands-on with Spider again this past March at GDC 2015, where it was looking better than ever. We even gave it a special nod as one of our picks for Best of GDC 2015.
So, obviously, we're pretty excited for Spider: Rite of the Shrouded Moon. As you impatiently wait for August 6th to arrive, be sure to check out the newly-updated official website for a few extra tidbits of info and some sweet animated .gifs, and also feel free to discuss the game in our forums as we all anticipate the arrival of a new Spider game.