It's turned out to be quite the big night of new game releases. This morning there was hardly anything noteworthy floating around in the New Zealand App Store, but as has been the case lately, lots of stuff popped up throughout the day at random times. Hey, whatever, App Store! There's also some stuff that launched earlier in the week which I've included below, and a few things that are supposed to come out soon but haven't quite shown up yet. So check out the list below and let us know which games you'll be picking up!
---
Bintu Run
iTunes Description
Some binturongs dream of racing. Now those dreams can come true!
Run, Jump, and Roll your way to the best times while you explore worlds of unique tracks and challenges.
Forum Thread: Bintu Run (By Upright Bear)
---
Cally's Caves 3
iTunes Description
Its time for the epic conclusion to Cally's battle with the Nefarious Herbert! Cally's parents have been kidnapped again, as Herbert tries to take control of the Caves to perform his evil experiments. Join Cally in this action-packed run and gun platformer, conquering insane bosses, exploring to find secrets, and levelling up EVERYTHING. Use your weapons to level them up and evolve them into their ultimate forms! Unlock new character abilities like the Triple Jump, Dodge Roll and Water Wings. Use a new playable character, Bera to unleash crazy ninja moves and solve puzzles. Most importantly, battle to rescue your parents from Herbert's clutches, and bring an end to Herbert's experiments for good!
Forum Thread: Cally's Caves 3 (by Jordan Pearson)
---
Cloud Path
iTunes Description
Walk on the path as fast as you can, and earn one point for each step you do. Collect gems and unlock new characters!
◉ Tap right to walk.
◉ Tap left to jump the stairs.

Be careful to make the right move!
Forum Thread: Cloud Path (by Ketchapp)
---
Cublast
iTunes Description
Are you ready for some arcade fun? Cublast is an all new agility game for your phone!
It's features tilt and touch controls in multiple challenging stages!

Cublast is made by two Dutch students who both share a passion for making games. We put a lot of time and love in our game and we will continue to further improve / add content!

Please help us out and submit us all your feedback, with your help we can make Cublast as good/fun as possible. Have fun playing and blast some cubes!
Forum Thread: Cublast (By ThinkFast Studio)
---
Fingers of Fury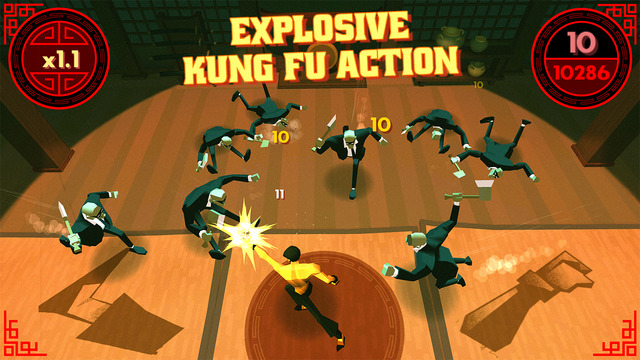 iTunes Description
Only your deadly fingers stand between you and death.
Enter the Diabolical Dojo and defeat wave after wave of axe wielding thugs in this Endless Kung-Fu brawler from the makers of CounterSpy.

Features
EXPLOSIVE KUNG-FU – Defeat waves upon waves of Axe Wielding thugs, battling against escalating attack styles.
SIMPLICITY IN ACTION – Intuitive 2 tap controls…be like water my friend….
YOUR JOURNEY IS THE REWARD – Make your way through multiple gorgeous dojos, try not to harm the civilians.
FRIENDS ARE THE BEST RIVALS – Beat your GAMECENTER friends scores in the in-game leaderboard by mastering the punch combo system.
Forum Thread: Fingers of Fury (by Dynamighty)
---
Fuzzy Flip
iTunes Description
Colorful and huggable, the Fuzzies invite you to join their exciting puzzle quest to make everybody happy! Tap on the multi-hued cubes and create amazing color combinations to reach the next gorgeous level. Enjoy a huge variety of puzzle modes and challenges, all with simple tap controls.

There's always something new to discover in Fuzzy Flip. After all every Fuzzy's motto is, "The more, the merrier!"
Forum Thread: Fuzzy Flip (By Ayopa Games LLC)
---
Gabriel Knight: Sins of the Fathers 20th Anniversary Edition
iTunes Description
As struggling author and bookstore owner Gabriel Knight, investigate a series of savage ritual killings in New Orleans and their connection to voodoo's sinister mysteries. The deeper he dives into master storyteller Jane Jensen's tale of terror and suspense, the closer he'll come to discovering the secrets of his own family history–and unfolding his destiny.

Experience one of adventure gaming's most stunning masterpieces all over again in this blockbuster retelling of the award-winning 1993 murder-mystery, which adds all-new puzzles, scenes, and HD graphics! Blending the best of yesterday and today, it re-imagines the 1993 original, voted one of the greatest games of all time, for an entirely new generation of fans.
Forum Thread: Gabriel Knight: Sins of the Fathers 20th Anniversary Ed. (By Phoenix Online Studio)
---
Guardian Sword
iTunes Description
Guardian Sword is a strategy puzzle RPG, full of classic RPG charm that you rarely see in the genre these days.

Guardian Sword Highlight is the unique gameplay that allows the players to customize the puzzles by themselves. You can choose from 40 Tiles with different abilities which means you can devise your own strategy in various ways and limitless.

If you are looking for a game that is all new and if you would like a simple yet very strategizing gameplay, you are looking for "Guardian Sword".
Forum Thread: Guardian Sword (by Picsoft Studio)
---
Hex Brutal
iTunes Description
This is Hex Brutal, an absolute true classic side scroller, impossible yet completely addictive and strangely satisfying! If you're always ready for an old school shoot em up, or you love retro gaming then step aboard and man your Spaceship! You are on course to explode through a vast time warp into endless infinity in T minus 5 seconds…

You'll find yourself in a speeding time void deep in space, caught in a futuristic stronghold of mechanical tunnels. Enemy droid planes will be sent to intercept you, all you need to do is learn the tunnel layouts, navigate with speed and keep your hand on the fire button. Can you make it through each layout to the check points?

Watch out for collapsing tunnels and enemy base fire, they're not gonna let you get through easily, but who knows? All you need to do is know where they all are! Your 5 seconds are up..
Forum Thread: Hex Brutal (by Appsolute Games LLC)
---
Incurve
iTunes Description
Get ready for 2 different gravities

Goal is to hit as many white dots on your way up.
When you're touching the screen, the dots have a surrounding gravity on.

Use this as an advantage to get higher.
Forum Thread: incurve (by Riku Tamminen)
---
The Journey Back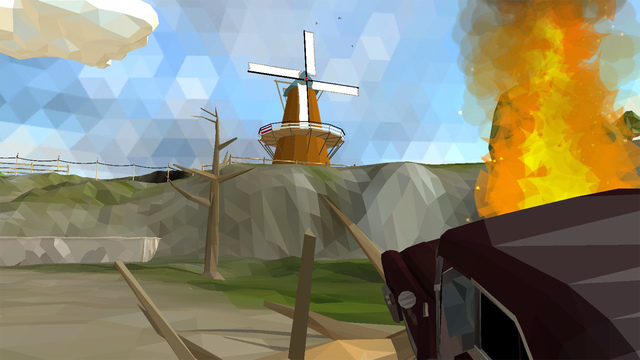 iTunes Description
The Journey Back

The Journey Back is a first person exploration experience. You gain consciousness after being involved in a car crash. Explore a colorful, stylized 3d world, solve puzzles and find out what happened along the way.
Forum Thread: The Journey Back (by ThroughView)
---
The Long Siege
iTunes Description
The Long Siege is a real-time match-three puzzle game with RPG elements set inside an extraordinary atmosphere of music and visuals. The core mechanic centers on matching items in your own tower through a mixture of belt-type scrolling and single taps to command your army. It's a fun-to-play strategic thinking challenge requiring you to plan ahead to summon the right units, level up, upgrade your defences and complete the quests to unlock special items.

Commence an onslaught against unique enemies, including formidable leaders, and take their towers down one-by-one as you travel towards the dark side of the world!
Forum Thread: The Long Siege (By Anomaly Studios Pte Ltd)
---
Paper Train: Rush
iTunes Description
Hop into the engineer's cab of a paper train, and travel through a cardboard world where toys come alive to race along a plotting board's railway! Dodge oncoming trains, collect shiny coins, jump over dangerous obstacles and enjoy the speed of a runaway train!

Test your runner skills, while visiting various railways resembling a child's toyroom. Full of colors, action and randomness, every run offers something new to see. Choose between multiple railways, navigate through cram-full train stations, vast deserts, tight caves, and unlock funny figures or trains which populates the frisky toyworld.
Forum Thread: Paper Train: Rush (By Istom Games Kft.)
---
Prune
iTunes Description
Prune is a love letter to trees. A game about the beauty and joy of cultivation.

With a swipe of a finger, grow and shape your tree into the sunlight while avoiding the dangers of a hostile world. Bring life to a forgotten landscape, and uncover a story hidden deep beneath the soil.
Forum Thread: Prune (by Joel Mcdonald)
---
Puzzle Wizard
iTunes Description
Puzzle Wizard is a very difficult, color-themed puzzle game designed for serious puzzle fans who love to be challenged. In Puzzle Wizard the player's movement is restricted to a single color at any point in time. Players must find a path to the key where none appears to exist. Each of the 12 levels introduce a new puzzle mechanic, resulting in a continually expanding range of possibilities for the player to consider. All puzzles are logically designed and solved. The extreme difficulty of Puzzle Wizard emerges naturally from the domain.
Forum Thread: Puzzle Wizard (IQ 130+) – (by Cheeky Mammoth)
---
Qbert Rebooted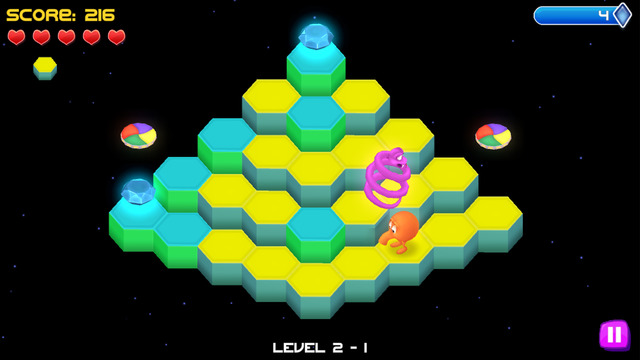 iTunes Description
Q*bert Classic stays true to the original in all its jagged 2D pixel art glory, now optimized for touch screen control. As the title character, players jump around an isometric cube pyramid and convert each blockís color while avoiding familiar adversaries Coily, Ugg, Slick, Sam, Wrong Way and Red Ball. Levels become progressively harder with more enemies blocking your path and the tiles requiring multiple jumps to change to the required color.

Q*bert Rebooted takes the arcade classic and catapults it into the 21st century with 3D game play yet remains faithful to the original. Featuring hexagonal blocks instead of squares, Q*bert Rebooted introduces new enemies, playable characters, power-ups, traps, gem collecting and characters, and new ways to play.
Forum Thread: Qbert Rebooted (by Sideline Amusements)
---
Run The Joint
iTunes Description
Behind the walls of our very own Shawshank, lies a tale of injustice. Our inmates need you to help them defy the odds and make their great escape to freedom, before it's too late.

Run The Joint is the most addictive double character runner game on the App Store today. With intuitive tap to jump gameplay, collect the coins and special treats along the way and unlock new characters and explore different levels to see where your route to freedom will lead.

How far can you get before the long arm of the law tightens its grip?
Forum Thread: Run The Joint (By Naked Penguin Boy)
---
Special Tactics Online
iTunes Description
STO brings the most intense, tactical-action experience to iOS through killer gameplay, streamlined controls and carefully crafted maps. Select your custom loadout, plan out strategies and accomplish your objectives.

STO is very accessible but with immense, tactical depth:
– use Smoke Grenades to block line of sight
– choose a Bomb Site to raid or control
– set up Sniper points
– get up close with Shotguns and SMGs
– pick your Boosters carefully
– complete your objective
Forum Thread: [STO] Special Tactics Online (by Beast Mode Games LLC)
---
Stupid Zombies 3
iTunes Description
The Stupid Zombies have risen again, and our heroes are on the move!
Drop some mad geometry and score huge combos with crazy bank shots!
Send zombies flying with huge explosions and massive destruction!

– 3 Wild Weapons: the Trusty Shotgun, Fiery Flare Gun, and Grannie's Homemade RPG Launcher!
– 100 Brain-Bustin' Levels – And More to Come!
– Play With Your Friends and Save to the Cloud!
Forum Thread: Stupid Zombies 3 (By GameResort LLC)
---
Super Retro Bros.
iTunes Description
Classic retro platformer game that will bring you back to your childhood!
Super Retro Bros.!!!

Explore the legendary world looking for the key and the door riding Shopping cart, Balloon and a Witch's broom!
Hilarious stages will keep coming!
Forum Thread: Super Retro Bros. (by Orca Inc.)
---
To-Fu Fury
iTunes Description
To-Fu Fury is a fast-paced, action-packed take on the puzzle-platform genre. Solve crafty physics puzzles and triumph in frenetic melee battles. Stick to wooden surfaces, slide down slippery jade, and use metal to ricochet towards your goal… but beware the deadly traps and devious Hoshi bandits! Legend tells of a small, squishy hero, whose gelatinous powers can overcome any obstacle and vanquish any foe. But who is this fabled champion? And why does he look like a small cube of soy product in a red headband? Meet To-Fu, the wobbly cuboid warrior whose fighting skills and lightning speed make him the unlikely hero of a quest to defend the world from the evil Hoshi clan. On his journey, he'll encounter fierce enemies and elaborate challenges, take on towering bosses, and navigate white-knuckle obstacle courses! The successor to To-Fu and To-Fu 2, the Runner Up Apple Game of the Year 2011, To-Fu Fury adds new visuals and new dimensions to game play. To-Fu Fury lets you make optional purchases using real money.
Forum Thread: To-Fu Fury (by Amazon Game Studios)
---
Vault!
iTunes Description
Pole vaulting has never been so fun!
Cascading cliffs, huge bouncy springs and those infuriating red balls! How far can you go? How long will you last? Can you get the highest score? Classic intuitive physics arcade action with easy to use, hard to master tap and hold controls, mean that things aren't as simple as they seem.
Forum Thread: Vault! (by Nitrome)