While folks in certain regions are eagerly waiting for Super Evil Megacorp's Vainglory (Free) to launch worldwide (along with Android support) on July 2nd, those of us that can already enjoy the mobile MOBA can also check out the game's newest update a little early.  Version 1.6 not only adds a new hero, but also adds a few welcome additions to player queueing along with added card collecting methods.
The most obvious addition is the debut of Rona, the latest hero to grace the Halcyon Fold. A melee damage dealer, Rona attacks fast and is powered by Bloodrage, which accumulates during combat and is used to increase the power of abilities (and is used to launch her ultimate). We'll be putting her through her paces and will offer a deeper look at her abilities later on.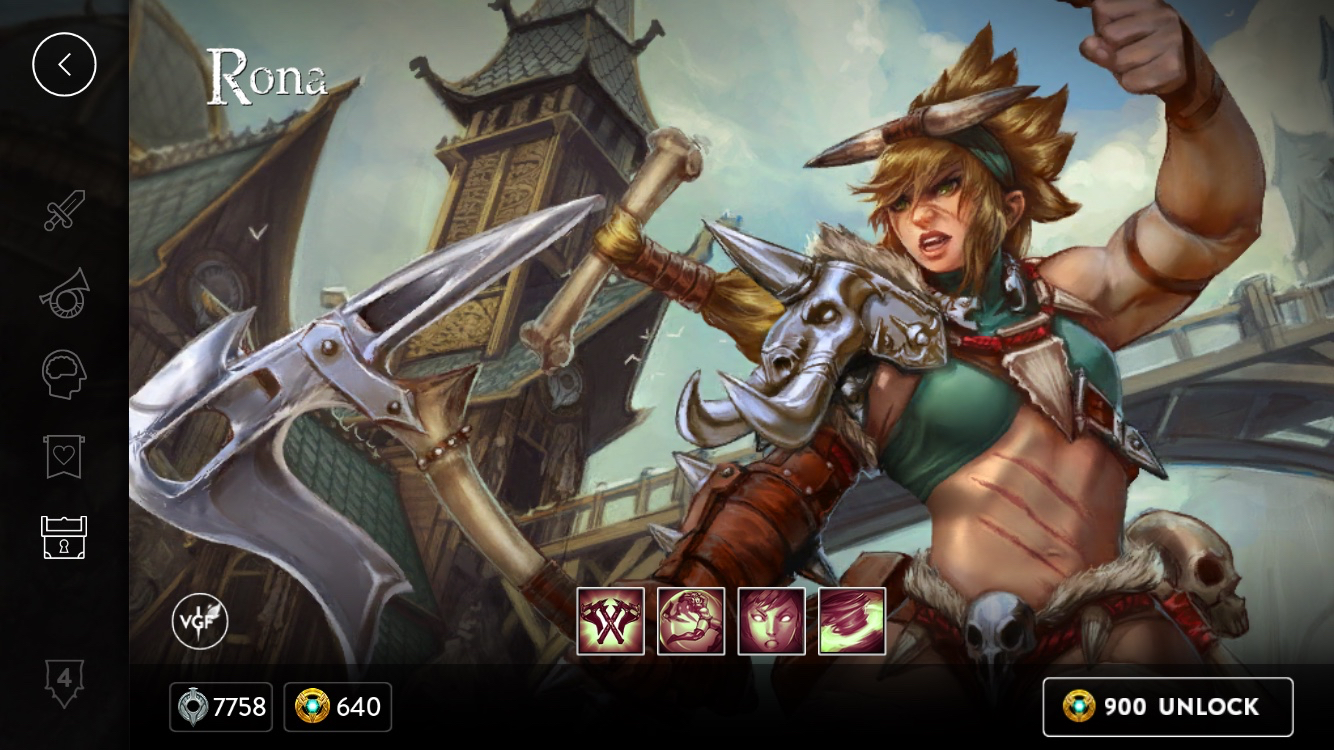 As we reported last week, Version 1.6 adds a few significant improvements to various aspects of the game. First is the addition of separate queues for players. Instead of having only one Public queue for all types of players, Vainglory now has a separate Casual and Ranked queue. The Casual queue is meant for beginners looking to get their feet wet in competitive play or for players experimenting with new heroes or tactics. Players can earn XP, Glory, Cards and Karma but playing in that queue won't affect their skill tier.
Ranked, meanwhile, is now the only way to level up your skill tier but there are a variety of restrictions tied to it. Players must be account level 10 and karma level 10 to play in the Ranked queue. In addition, the free hero rotation does not apply and players must have at least three heroes unlocked to play. Players can't also be in parties where team members are greater than one skill tier apart. In case you haven't  figured it out, the developers are trying hard to make Ranked as player-neutral as possible in order to make skill tier upgrades that much more rewarding.
Version 1.6 also offers some extra welcome additions, such as the ability to purchase card packs with ICE and Glory, as well as new skins added for a few heroes. The profile section has also been redesigned to reflect the changes to Casual and Ranked queues. Finally, a multitude of gameplay and hero changes were made, which can be studied in detail via the game's patch notes.
The update is now live for iOS players, so I highly suggest players update so they can check out all the new changes. Meanwhile, stick with us and be on the lookout for a beginner's guide to Rona.