If you ask a large contingent of people around the TouchArcade community, today, May 14th, is simply "Heroes and Castles 2" release day and nothing more. Indeed, Foursaken Media has quite a dedicated fan base, and this sequel is bigger and badder than the original (which was plenty big and bad) in every way. However, the hits just kept on coming all throughout the day. Knights of Pen & Paper 2, Fearless Fantasy, BlazBlue: Battle Cards… there's just so much on tap for this week. So check everything out in the list below and leave us a comment about which games you'll be picking up.
Update: The highly anticipated Dark Souls-like Ire: Blood Memory is also available now and has been added to the list below. Yeesh, what a week!
---
antiPattern
iTunes Description
Shoot 'em up game. Destroy colorful patterns with colorful weapon!

Strange patterns emerge in the universe. They consume everything in their path!
Use antiPattern weapon to eliminate the threat… or, at least, survive as long as you can.
Patterns are attacking in groups. Groups are united by their colors.
Forum Thread: antiPattern (by Arslan Zagidullin)
---
The Barbarian
iTunes Description
The Barbarian is a Top Down Action RPG built for mobile. Intuitive controls allow for enjoyable game play. The open world makes for a long, re-playable game based entirely on the skills and spells you choose to learn.

The Barbarian features over 100 enemy types and thousands of potential weapons and armor as well a skill and class system that changes how the game can be played.

This is a real, complete game, a console-style game, on mobile!
Forum Thread: The Barbarian (by S.F. Bay Studios)
---
Battle for Blood
iTunes Description
Constant fun and excitement! Bloody fighting from the start. Epic battles within 30 seconds. An all-new game type is coming! Are you ready to start a war? Our Knights, soldiers, and even our farmers are ready to go! Lead us into the devils lair!

• Fun, and easy to play! Match tiles to summon soldiers. Explosive fun!
• Epic battlefield experience for casual gamers! Truly epic battles, fierce engagements!
• Choose your army for battle! How strategic can you be?
• 12 kinds of soldier. Upgrade and fight with any combination of soldier you want!
• 5 special items to help keep you alive!
• 60 levels to battle through, New ones coming soon! You will love it!
• Variety of challenging monsters at every stage, INTENSE BOSS LEVELS!!
Forum Thread: Battle for Blood – Epic battles within 30 seconds! (by YFC games)
---
BlazBlue: Battle Cards
iTunes Description
Experience a fighting game like never before! Enter the world of BLAZBLUE, with an all-new CCG (Collectible Card Game) fighter! With BLAZBLUE: BATTLE CARDS™ you collect powerful fighting moves, customize the ultimate fighter, and unleash devastating card based attacks against online players around the world!
Forum Thread: BlazBlue: Battle Cards (by Metaversal Studios)
---
Detective Dixie
iTunes Description
Travel into the fantasy world full of magical cases and immerse yourself to the new crime-solving mystery game, the first chapter of DETECTIVE DIXIE and the Revenge of Wishteria. A mix genre of graphic novel and puzzle in dazzling painting artworks, unlike you ever played before!

The overflowing energetic, Detective Dixie visits the Wishteria town to solve the unusual death of the Mayor. In order to uncover the history of the town and reveal all mysteries behind the case, Dixie have to investigate the crime scene, travel across the town to find evidences, interrogate all the key suspects and finally unveil the trick behind the murder.
Forum Thread: Detective Dixie: The Revenge of Wishteria (by Lukman Gunawan)
---
Dragon Blaze
iTunes Description
A year has passed since a destructive force fell from the sky. Thought to have been defeated a century ago, Deathcrown, the unrivaled dragon king of the living and the dead, has returned from the ashes. Since his revival, the dragons and a vast number of human tribes have been fighting an eternal war.

As a descendant of the long-extinct Boden tribe, you must now use your power to reclaim the lands! Speak to and capture dragons as you journey through Dragon's Landing, unveil the secrets behind the pandemonium, and bring the relentless war to an end.
Forum Thread: Dragon Blaze (by GAMEVIL)
---
Drive Ahead!
iTunes Description
Watch your head in this two-player racing battle! Hit your opponent's head with your car to score. The first to get five points wins.

Drive ahead in gladiator arenas with off-road cars, garbage trucks and F1 racing cars. Each vehicle has its own strengths and weaknesses. The game features two different game modes: duel or single-player mode. Learn to master different tracks and vehicles in daily racing missions.
Forum Thread: Drive Ahead! (by Dodreams)
---
Fearless Fantasy
iTunes Description
As Leon, the world's most dangerous bounty hunter, you embark on a mission to slay the world's weirdest creatures, and save a girl from an awful marriage.

Fearless Fantasy is probably the weirdest RPG you'll play this year. It's a gesture-based adventure that's constantly keeping you on your toes. You use swipes, taps and pauses to both score critical hits and block enemy attacks, resulting in an involved and rewarding experience on every turn.
Forum Thread: Fearless Fantasy (By tinyBuild LLC)
---
Fluff Eaters
iTunes Description
An unusual adventure about a purple cat against a bunch of Fluffs!
Make Bouncy jump on a diverse type of elements, have fun touching those evil Fluffs and making them dissapear, use this cute cat's abilities to overcome amazing challenges joining the adventure through colorful and unique Worlds!

Bouncy is a purple cat who loves his bed more than anything in the world. One day, he was distracted by hunger and left his bed. When Bouncy returned, there were tiny Fluffs all over the place, his bed was a mess! The purple cat swore to give those evil Fluffs a lesson for what they did… he needs your help to do it, do you have what it takes to do it?
Forum Thread: Fluff Eaters (by Henry Fernandez)
---
Flype ZX
iTunes Description
Flype is a new arcade puzzle game for the ZX Spectrum 48K / 128K by Repixel8. Inspired by the 90's game Cool Croc Twins, Flype comprises of 20 levels of action of increasing difficulty.

Flype is now available to play on your iOS device via authentic emulation of the original Speccy version.
Forum Thread: Flype ZX (by Andrew Jeffreys)
---
Fragger 2
iTunes Description
The long awaited sequel is finally here! Fragger is back and better than ever with all-new puzzles and explosive mayhem! Introducing all new puzzle mechanics, like Gravity Boxes and Laser Switches.

Complete your missions by using your trusty hand grenades to solve puzzles and destroy the enemy. Enjoy the satisfying rain of debris as you blast your way to victory. Conquer 3 worlds with a total of 90 levels. Each world introduces new gameplay elements and increasingly engaging puzzles. New levels will follow in subsequent updates.
Forum Thread: Fragger 2 (by Harold Brenes)
---
Gamebook Adventures 10: Lords of Nurroth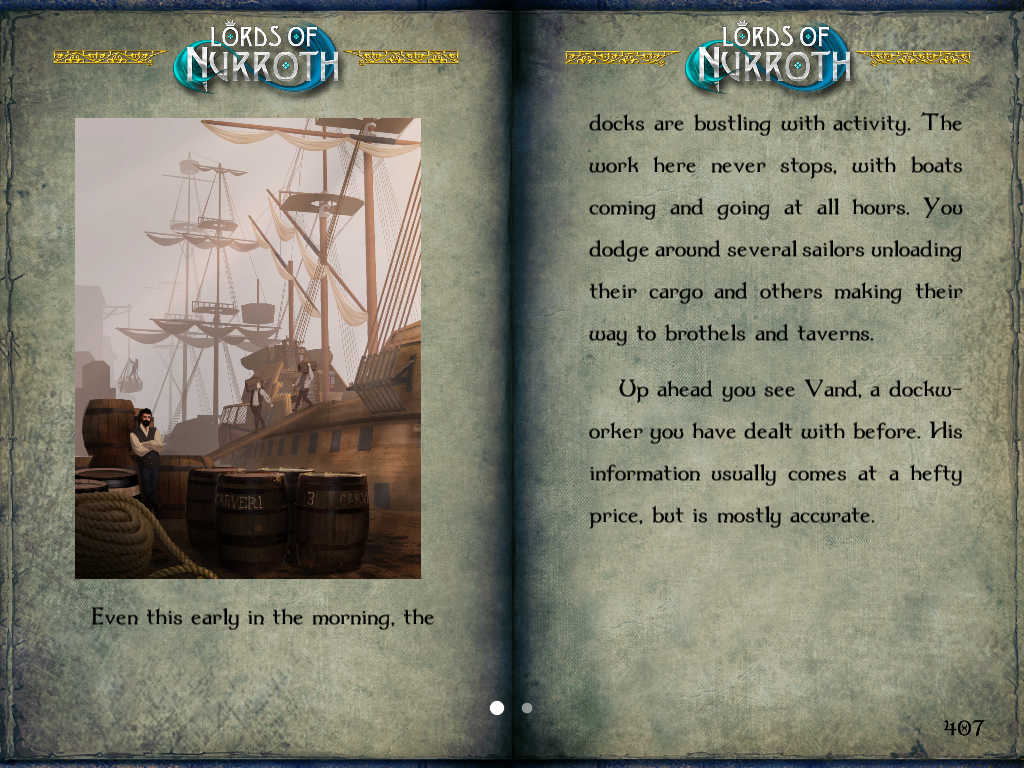 iTunes Description
Nurroth, north of Orlandes City, is often viewed as an uncultured den of pirates and thieves. As a professional thief yourself, you get more than you bargain for after completing your most recent job. Clearly, you've stolen something you shouldn't have. The Nurrothian Lords are on your trail, and you're soon caught in a political tangle between Nurroth and Falavia. But a thief's life is never meant to be easy…
Forum Thread: Gamebook Adventures 10: Lords of Nurroth (by Tin Man Games)
---
Guns n' Bottles
iTunes Description
Hit the bottles to shoot as fast as you can. Easy, right? Outdo yourself again and again until you reach frantic speeds to release all your accumulated stress.

Characteristics:
– Very simple game mechanics.
– 30 unlockable characters.
– Online tournaments each weekend.
– 25 challenges and lists of records.
– iCloud integration so you can continue your game on any device.
– Support for external controls made for iPhone, iCade and more.
Forum Thread: Guns n' Bottles – The fastest fingers in the west (by Ivanovich Games)
---
Hardboiled
iTunes Description
Hardboiled is a Fallout inspired role-playing game with turn-based combat.

The blast was immense. Humanity finally had destroyed itself. The fallout lasted for weeks after the bombs went off. If you didn't die in the blast, you died in the coming weeks from radiation and disease. Everyone was fighting for survival in what's left of the abandoned towns and cities. Slowly the survivors are trying to put what's left of their lives back together, some even with force. Just like the other survivors, Max was trying to reclaim his life back. He drove from city to city trying to find a suitable place that was good enough to call home. However, after his latest stop, things got a little complicated starting with a few stolen car parts.

Will Max be able to get the parts back? Will he try his best to help those in need or just mow everyone down in his search. He is ready to become a fist of justice.
Forum Thread: Hardboiled (by Game Dev Team)
---
Heroes and Castles 2
iTunes Description
You stand solemn, overlooking the battlefield. To your left, towering giants rush into battle, bashing hordes of goblins high into the air with each swing of their bone clubs. To your right, Dwarven Iron Helms break into shambling skeletons, while a line of Pikemen ready their spears for one last charge. Behind you, your Elven Archers unleash their arrows overhead into lumbering Trolls and savage Orcs. But it is not enough, and the enemy keeps coming… With one last cry to battle, you ready your sword and charge into the fray!

Enter Heroes and Castles 2, a 3rd person action-RPG, strategy, and castle defense mash-up! Choose from one of three powerful races, customize your hero, summon a massive army to fight beside you in battle, defend your castle, conquer lands, and ultimately destroy the enemy stronghold!
Forum Thread: Heroes and Castles 2 (by Foursaken Media)
---
Ire: Blood Memory
iTunes Description
Ire background:
THE day of atonement is nigh. Memory has fallen and the world is broken. Hone your blades, name it, and kiss your beloved good-bye — you are marching into battle. Gather Memory, redeem the Corrupt and vanquish the agents of nightmare from the realm. Find your Boon and reclaim Cadmeia from Kerr the Breaker.
Forum Thread: Ire: Blood Memory (by 10Birds)
---
King of Up
iTunes Description
King of Up is a challenging pickup & play game of skill and timing. Compete in speed run leaderboards, try for a distance record in "Infinity Challenge" mode, or challenge a friend in head-to-head mode. Can you become the King of Up?

Features:
– a bevy of zany unlockable playable characters
– locally saved statistics/gameplay recordings: review your best runs
– challenge a friend with pass & play (iPhone/iPod) or split-screen (iPad) player vs. player modes
Forum Thread: King of Up (by Easy 8 Software)
---
Knights of Pen & Paper 2
iTunes Description
Prepare to join Knights of Pen & Paper 2 in a turn-based, retro style, pixel-art adventure full of danger, intrigue, and semi-appropriate cultural references!

Players portray both party and game master playing a tabletop RPG, and must assemble both their characters, and the challenges they will face.

Now including races like Dwarf or Elf, assemble the party of your choice, choose quests and combat encounters, delve dungeons, craft powerful items, and complain loudly to the GM!
Forum Thread: Knights of Pen & Paper 2 (by Paradox Interactive)
---
Languinis: Match and Spell
iTunes Description
Match, spell, and save the Languinis in this one-of-a-kind puzzle game. Bombola!!
The lovable Languinis need your help to defeat the Phoenix god that is keeping them captive.

Match colored gems, uncover letters, and spell the most powerful words to win over 50 increasingly challenging levels and free the little Languinis one by one. Familiar color match gameplay mixes with a word game in this unique puzzle hybrid.
Forum Thread: Languinis: Match and Spell (by VRTRON)
---
Mad Truck Challenge Nitro Speed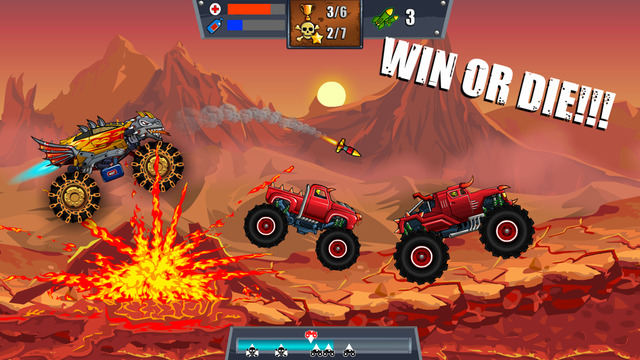 iTunes Description
Think you're ready for the ultimate fuel-injected, high-speed race of your life? Leave the car behind. This challenge is all about some of the baddest vehicles on Earth: it's the Mad Truck Challenge!

Mad Truck Challenge is more than just a drive down the road – it's a mayhem-filled 2D physics-based driving game that requires you to put the pedal to the metal! In this uphill racer you'll need to pit your truck against some mad, bad drivers who want nothing more than to win that trophy – and to see you go up in smoke at the side of the road! As you race over the hills, there's more to this game than just winning: you'll have plenty of time to pull off some extreme tricks.
Forum Thread: Mad Truck Challenge Nitro Speed (by SPIL GAMES)
---
Mr. Muscle
iTunes Description
Ahoj! My name's Gustav Fristensky, but you can call me Mr. Muscle. What, you've never heard of me? I'm a legendary Czech wrestler — a professional European champion — a symbol of strength in my country! I was born in 1879 in a small village near Prague. Over my career I won almost 10,000 fights, the first when I was just 19 and the last as an old man of 72.

But enough chit-chat… let's get back to training! Help me slice these bricks and keep my balance as long as possible.
Forum Thread: Mr. Muscle (by Flow Studio)
---
NDE Rescue
iTunes Description
BECOME A NDE RESCUER ! JOIN THE INTERNATIONAL TEAMS THAT CAN PULL YOU BACK FROM DEATH !
Step right into the middle of a massive toxic gas leak that prompted the evacuation of a mysterious cryotech facility. Many employees are still stuck inside the premises. The toxic gas leaves only a few minutes to breathe before turning anyone into some sort of aggressive creature.

UNCOVER DOZENS OF LEVELS FULL OF TRAPS
Uncover dozens of hazardous technical sites in which you will have between 2 and 5 minutes to cap the gas leaks.
In your exploration, you will need to save those who are already in a coma. They are having a Near Death Experience and you are here to bring them back to life !
Forum Thread: NDE Rescue – By KSCM Consulting
---
The Next Arrow
iTunes Description
What will be your Next Arrow?

Challenge your brain by creating the longest chain possible in the deceptively difficult world of the arrows. Think and elaborate strategies to survive and reach the first rank!

Push your anticipation and planning capacities further than anything before .
Forum Thread: The Next Arrow (by Kevin Choteau)
---
Nitro Nation Online
iTunes Description
Race, mod and tune dozens of licensed cars. Start a team, invite your friends, win a tournament together. Trade parts with other racers online and build a unique car. No limits on "fuel", no "pay-to-win". This is Nitro Nation – the most complete racing experience.
Forum Thread: Nitro Nation Online (by Osauhing Creative Mobile)
---
Nom Chops
iTunes Description
Introducing NOMster, a ferocious "nomming" monster in search of a thousand good meals to save his belly from utter dissatisfaction. But his appetite might bring destruction as bombs are intricately mixed in with his meals … eat one … shame on you … eat three … KABLUEY!

Simply touch the screen to open wide and let go to shut NOMster's mouth to block out the big bad bombs. Get 50 in a row and earn Lootsie points to spend in the marketplace for extra rewards such as headphones, cupcakes, bikes and more!
Forum Thread: Nom Chops (by PagodaWest)
---
Oddwings Escape
iTunes Description
Fly like never before! Soar through beautiful islands, solving exciting physics based challenges. Unlock and upgrade amazing new characters to unleash their powers. Race against your friends and other players for fame and glory!

Your mission is to fly as far as possible, collect coins and discover keys to release the Oddwings from the evil DR. Rooster's lab.

While you explore beautiful worlds, maneuver your way through the mad doctor's dangerous traps and obstacles: air bombs, poison gases and other exotic perils.
Forum Thread: Oddwings Escape (by Small Giant Games)
---
The Office Wars
iTunes Description
The robots have taken over! You are the sole remaining human at Whalecorp. Save the company by finding the important documents on each floor… without getting caught.

These are the Office Wars
Forum Thread: The Office Wars (by whaleo) – Endless Running, Hiding and Espionage
---
Rebel and Redcoats Mobile Edition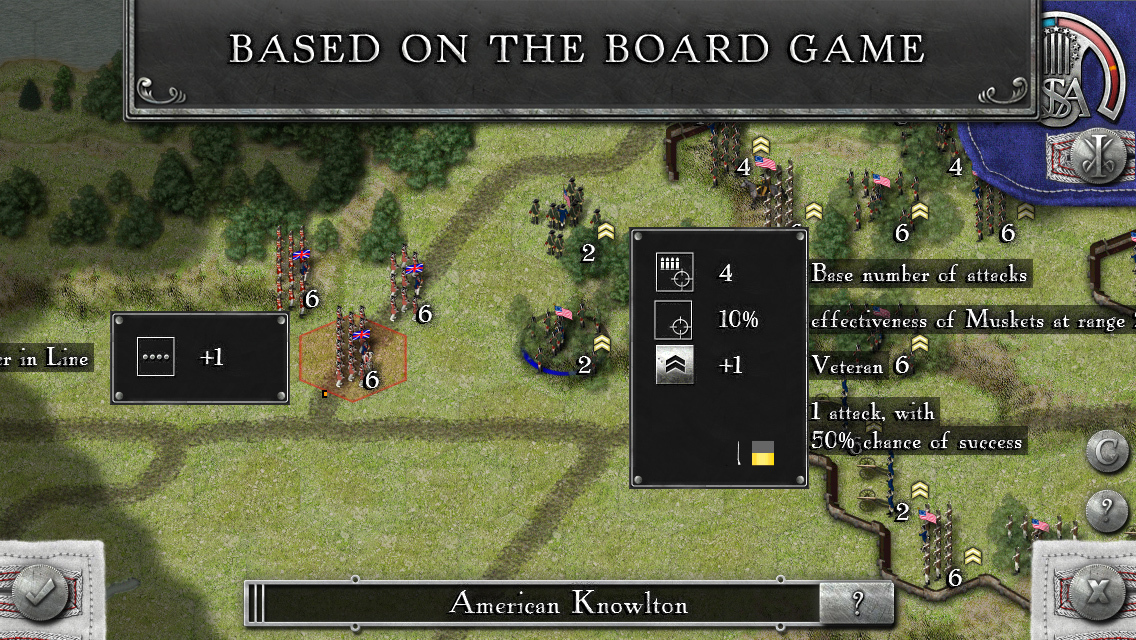 iTunes Description
Rebels & Redcoats recreates the pivotal battles of the American War of Independence. The latest strategy game from Hunted Cow Studios brings the classic Decision Games board game to iPad; and is the first in a series of games to come from this exciting partnership. Take command as either the American colonies or the British Empire and shape the future of a nation, with 10 historical battles.

You will face the same tactical challenges as generals such as George Washington and William Howe, with missions of varying size and objectives, and 24 different combat units. As with previous strategy games from Hunted Cow, every effort has been made to capture the look and feel of the warfare methods, equipment and uniform of the day, and this title is no exception. In these battles players will also find the detailed and accurate maps, orders of battle, and named regiments from the well-loved Decision Games board game.
Forum Thread: Rebel and Redcoats (by HexWar Games)
---
RPG Alphadia Genesis 2
iTunes Description
Long-awaited sequel to the Alphadia series with refined controls and 3D battles! Is the truth really black and white or is it merely one of many shades of gray?

Celesia- a world once rich and abundant with a source of power known as "energi." This same energi was not only the foundation, but also the origin of all life. And from its blessing, Celesia grew bright and prosperous. Everyone had believed its radiant, white light would never dim. However, their faith was shattered when another energi appeared in the world and began to alter everything as they knew it.

Its darkness of blackest black obliterated the light and beckoned only chaos and destruction… Its influence like the gloaming was called "black energi" and both feared and hated. And under the ruling Emperor of the time, it was ordered purged from the face of Celesia. Along with those infected by it…
Forum Thread: RPG Alphadia Genesis 2 (by Kotobuki Solutions)
---
Sketchman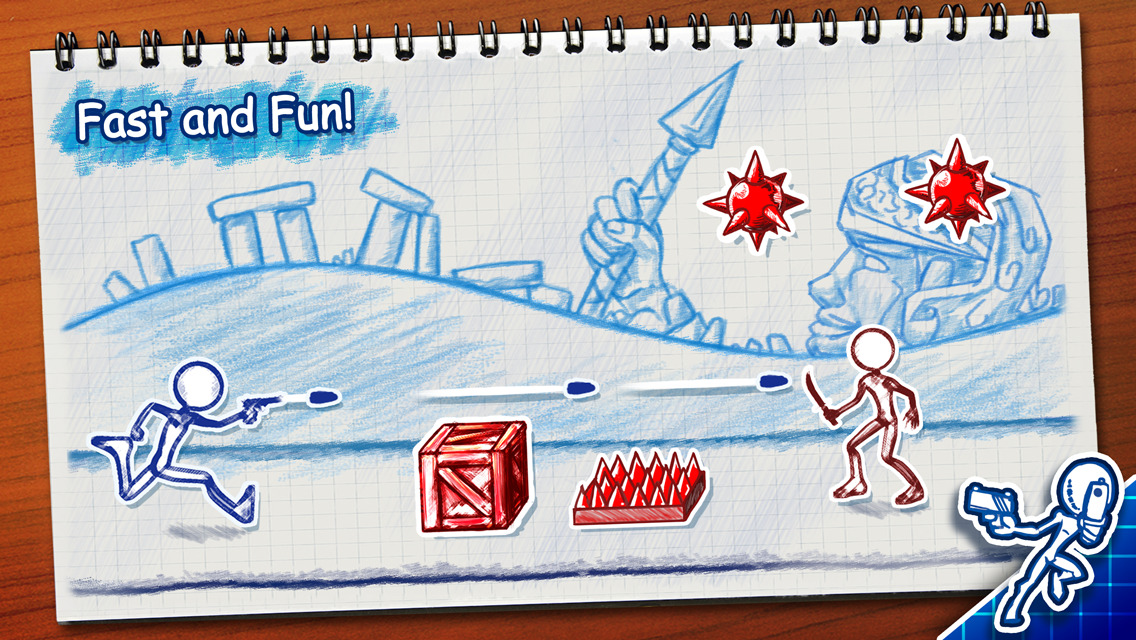 iTunes Description
Lookout evil doers, Sketchman is here! Jump, double jump, glide and shoot your way through hordes of enemies and hazards in this new exciting runner!
Forum Thread: Sketchman (by Ketchapp)
---
Snake Rewind
iTunes Description
The creator of the original mobile Snake is back!

Taneli Armanto and Rumilus Design have joined forces to bring you Snake Rewind! Iconic elements and intuitive gameplay from the original Snake are combined with cool visual effects, sounds and many new features. The result is a game that will entertain, challenge and delight you time after time!
Forum Thread: Snake Rewind (By Rumilus Design)
---
Special Ops
iTunes Description
DIVE INTO THE MOST MEMORABLE ACTION THRILLER EVER
√ Feel the story's dramatic intensity and see both sides of the story.
√ Dominate the battlefield strategically.
√ Fight to discover dark secret by completing 10 captivating missions.

EXPERIENCE CONSOLE-QUALITY GRAPHICS AND SOUND
√ Feel the chaos of war with console-like graphics, lifelike animations and dynamic objects.
√ The first FPS title powered by Unreal Engine 4 for iOS.
√ Specially designed for iPhone 5 and above
Forum Thread: Special Ops (by GameEon Infotech Private Limited)
---
Tallowmere
iTunes Description
Indulge Lady Tallowmere and see how far through her lovingly violent dungeons you can delve in this 2D indie action roguelike-inspired platformer.

New rooms are procedurally generated every time you play, meaning you'll have to be on your guard for every randomly-placed enemy, elite, boss, and treasure chest you'll come across.

How far can you make it? Each room gets progressively bigger, harder, and more rewarding the further you go.
Forum Thread: Tallowmere (by Chris McFarland)
---
Thundering Skies
iTunes Description
Thundering Skies is an arcade-style homage to the 16-bit shoot 'em up games of yesteryear, with the expected classic gameplay, the expected game references galore and some not-so-expected features.

– Six stages
– Two game modes: play at your own pace saving your progress or try to beat it in one sit with limited continues for an extra score boost
– Four difficulty levels, including an introductory mode
– Challenging bosses and minibosses
– Highly customizable controls
– Online score board
– An amazing soundtrack by Bettina Calmon
– Adjustable scanlines for that lovely CRT effect
Forum Thread: Thundering Skies (by Gustavo Galembeck)
---
Tofu Hunter
iTunes Description
Tofu has a face… and you've been chewing on it. Open fire on a wide range of soy-based creatures in a hunt around the world. Take on rare bounties, unlock special weapons and put your itchy trigger finger to the test. Don't turn away. Don't stop shooting. Become the Tofu Hunter.
Forum Thread: Tofu Hunter (by [adult swim])
---
Viking Remix Madness
iTunes Description
A rhythm-based endless runner using hilarious distractions to toy with the users.
Forum Thread: Viking Remix Madness (by Ferver)
---
Zombato
iTunes Description
The apocalypse like you've never experienced it! As the last human survivor, you have only one extra-powerful weapon that you can use against the undead: your ice cream truck! On your last journey into oblivion, you only need one kind of driving style: putting the pedal to the metal!

With lots of skills and endurance, you mow down as many zombies as possible and watch their blood spray off your windshield. But be careful! Your truck will only survive a single fatal crash!

It's too late for compromises. And for brakes. Let's get started!
Forum Thread: Zombato (by Michael Zechner)