The week got off to an early bang when Grim Fandango Remastered landed last night, but there's still plenty more in store to give you your weekly iOS gaming fix. Old-school-inspired dungeon crawler Legend of Grimrock finally makes the leap from desktop to iPad, as does 11-bit Studios' interstellar space strategy game Spacecom. Also, Miniclip's monster battler Beast Quest is now out worldwide, and has been getting great feedback ever since it soft-launched back in March. So warm up your clicking finger and hit some download buttons and as always let us know what games you're picking up.
---
Anodia 2
iTunes Description
It's time to break the bricks in style!

Anodia 2 is a complete new take on the classic brick breaker genre. With every level unique and fresh you will always wonder what comes next!

While staying true to the first instalment's praised gameplay quality, Anodia 2 brings all new levels with a modern design and art style. Anodia 2 introduces new user experience concept that we call 'Just Play' — simply hit the Play button, have fun and get the best high score.
Forum Thread: Anodia 2 (by CLM)
---
Battles of the Ancient World I
iTunes Description
The 'Battles of the Ancient World' game system is a tactical simulation of the some of the greatest and most important battles from 331 B.C. to 9 A.D.. Each, of the 4 scenarios available, features one of these great battles and players may play as either side. Each unit in the game represents an actual unit that participated in the battle, each with an actual strength between 250 and 1,200 men. The map represents the actual terrain over which each battle was fought. The game in the series has been designed to ensure maximum playability and historical accuracy, in that order. There are 60 different units across all the missions, ranging from elite Roman Legionaries, to Persian Scythed Chariots. Each unit has its own unique ability that you need to take advantage of in order to win each battle.
Forum Thread: Battles of the Ancient World I (by HexWar Games)
---
Beast Quest
iTunes Description
An evil wizard has enchanted the magical Beasts of Avantia – only a true hero can free the Beasts and stop them from destroying the land. Are you the hero Avantia has been waiting for?

Embark on an epic action-adventure in a huge open world. Battle hordes of dangerous enemies and take on giant Beasts in huge boss battles. Explore snowy peaks and sandy beaches, seeking out ancient artifacts and lost treasures.

Get ready for action-packed combat against multiple foes at once, timing your attacks, blocks and dodges to defeat your enemies. Complete quests to upgrade your equipment and give you the edge.
Forum Thread: Beast Quest (by Miniclip.com)
---
Blendimals
iTunes Description
Blended animals – ready for blastoff!

With your trusty blender, you must combine the right animals to survive in this epic platform puzzler. Mix, match, swipe n' tap to help the blendimals reach the place of their dreams… The Moon!
Forum Thread: Blendimals (by Exploding Cow)
---
Bloody Mary: The Witch's Lair
iTunes Description
Bloody Mary: The Witch's Lair is a simple yet addictive reflex game. Defeat waves of enemies in the colorful yet bizarre world of Bloody Mary. Earn coins to expand Bloody Mary's wardrobe, and swipe and tap away the enemies in style.

C-DRIVE MEDIA ART hopes you enjoy Bloody Mary: The Witch's Lair! Exciting new contents is coming soon!
Forum Thread: Bloody Mary: The Witch's Lair (by CDrive Media)
---
Buoy Buoy
iTunes Description
You. Are. Buoy. Boy.

– First endless floater
– Lungs full of air
– Tap & Tilt
– Very funny
– Caribbean music
Forum Thread: Buoy Boy (by Headup Games)
---
Calimero's Village
iTunes Description
Life is just not fair for poor Calimero! Calimero just moved in the city of Hatchington to have a new start. It's up to you to build a new city to gather all Calimero's best friends.

Recreate the world of Calimero, building the old mill and its incredible inventions, the school to gather the entire band. Make Priscilla, Valeriano, Pierrot and all Calimero's friends settle in Hatchington and help them through hundreds of missions. As you will unlock more and more buildings, you will also unlock mini games to earn extra coins and experience.

Based on the original cartoon art, players begin the game with Calimero around the main place of Hatchington. From there, you will be able to create houses for your friends, special buildings, roads to travel, crops to harvest, elaborate gardens and more.
Forum Thread: Calimero's Village (by Bulkypix)
---
Catch the Rabbit
iTunes Description
A mischievous rabbit has stolen all the golden fruits, try to catch the rabbit by jumping from platform to platform without falling! Collect fruits to unlock new animals.
Forum Thread: Catch The Rabbit (by Ketchapp)
---
Cooped Up
iTunes Description
You are the latest addition in the exotic bird sanctuary. The other older birds have been Cooped Up a little too long and are a branch short of a perch! Ahhemmm… they is a bit crazy!

Fling yourself up up and away but watch out, there's more than just birds that you must avoid. However don't be afraid to snack on the way…

…and don't let the other birds laughing at you get you down! Pick yourself up and twang twang twang again!
Forum Thread: Cooped Up (by Nitrome)
---
DigRun
iTunes Description
Match-4 Puzzle with new twists and cute characters, and angry, angry blocks! A new match-4 puzzle game with unique gameplay and fun twists! No ads & no in-app purchases!

Nut has awakened the blocks from their sleep. Abused by us gamers for far too long, now they seek to have their revenge! If it's colored, you can kill it. The same applies to these blocks too. Stack them together and blow them in pieces, while charging up super powers and using items! By destroying a big enough number of blocks, you can activate a mighty Superpower that helps you in keeping your destruction going. Each of the six colored blocks give you a different power, so try them out!

You can upgrade nearly everything in your arsenal. Nut's Power Fist, the items and the Super Powers – You can upgrade them all, by spending coins gathered from the destroyed blocks. Keep those upgrades coming – otherwise you won't have a single chance on the highest difficulty.
Forum Thread: DigRun ( by AFEEL, Inc. )
---
dither
iTunes Description
Tap. Tap. Tap. Wait. Tap. Wait. Tap. Tap. Score!

Tap or do nothing. It's all about the right timing.

Tap to rotate the pipes and connect them higher and higher.
Collect gems to earn more points and beat everyone in the leaderboard.

Look at the structure you have built! It looks awesome! Share it with your friends!
Forum Thread: dither (by Robin Kuhlmann)
---
Dive for Honour: Cold War
iTunes Description
Dive for Honour is a realistic submarine experience during the Cold War. Take control over the nuclear class ship and develop your own unique strategy to defend your freedom. Experience the atmosphere of deeps in world-saving campaign or feel the thrill of multiplayer combat! Submerge, be ready for the pressure of silent hunt and stealth, then launch your torpedos to take down the enemy!
Forum Thread: Dive for Honour: Cold War (by ECC Games)
---
Doodle Tanks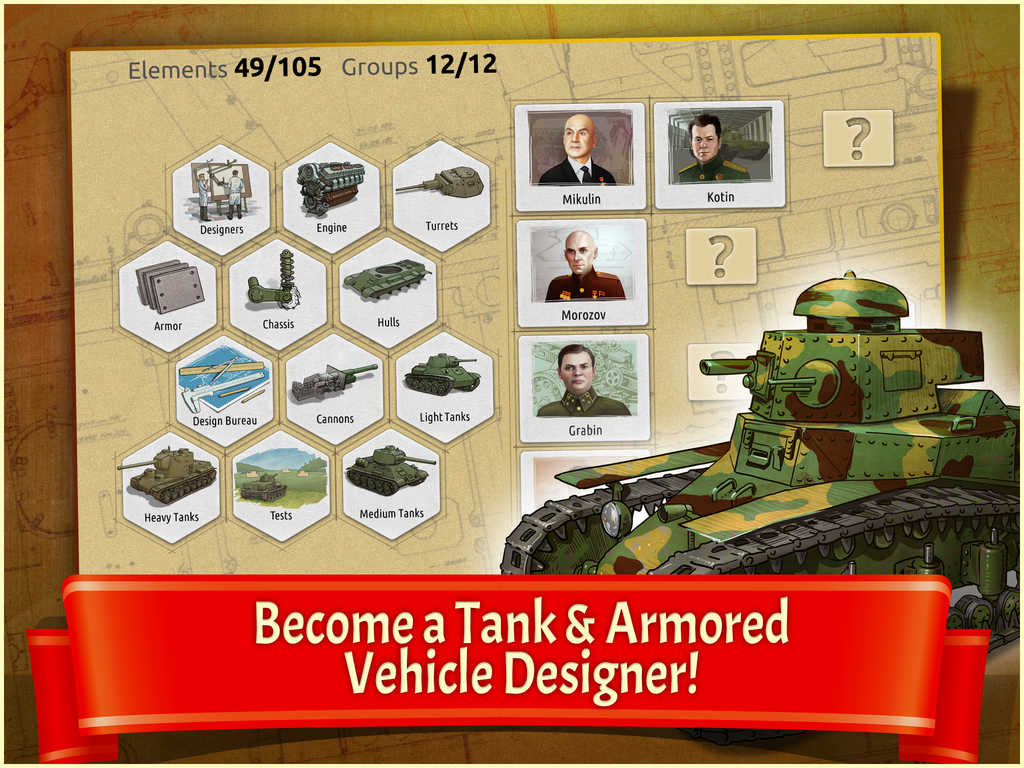 iTunes Description
BECOME A TANK & ARMORED VEHICLE DESIGNER!
From the creators of the award winning Doodle God & Doodle Devil comes a new ALL ages puzzle game with a fun historical twist.
Combine artillery and other elements to create dozens of World War II tanks and armored vehicles.
Start with four basic elements and watch your creations come alive as you create historically accurate tanks and armored vehicles that once rolled across Europe and Africa. Along the way, learn about the historic events and designers that shaped the outcome of the free world.
It's time to go to War in Doodle Tanks!
Forum Thread: Doodle Tanks (by JoyBits)
---
EvoCrea – A Monster Capture RPG
iTunes Description
Over 130 Monsters to Catch & Evolve! Explore a Massive Open World! No Energy Bars, No Waiting!

Embark on a journey through the world of Zenith. Become the top Evoker by capturing and battling over 130 kinds of Creo!

Test yourself in the Arenas, and work your way up to the Coliseum! On the way, you'll be fighting the sinister plot of the nefarious organization, Shadow Hive!
Forum Thread: EvoCrea – A Monster Capture RPG (by Mohammad Behbahani)
---
Fanais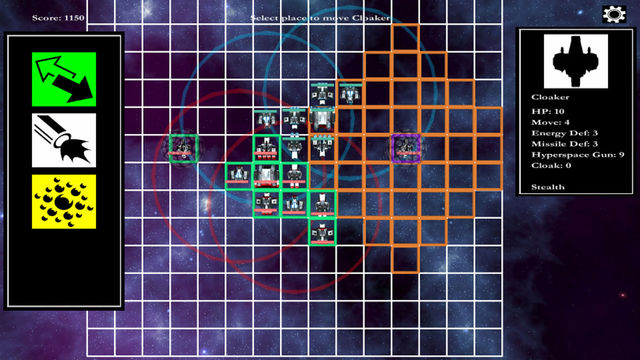 iTunes Description
Command a space fleet to victory!

You are in command of an entire fleet of space ships! Only you can win the battle for your people! Make your foes rue the day they ever meet you!

Play single player strategy game against 3 levels of advanced computer AI. Play Multiplayer against your friends or a random foe (after purchasing the full version)!

Good Luck!!!!!!
Forum Thread: Fanais (by Wulveagfin Games)
---
Forestwalker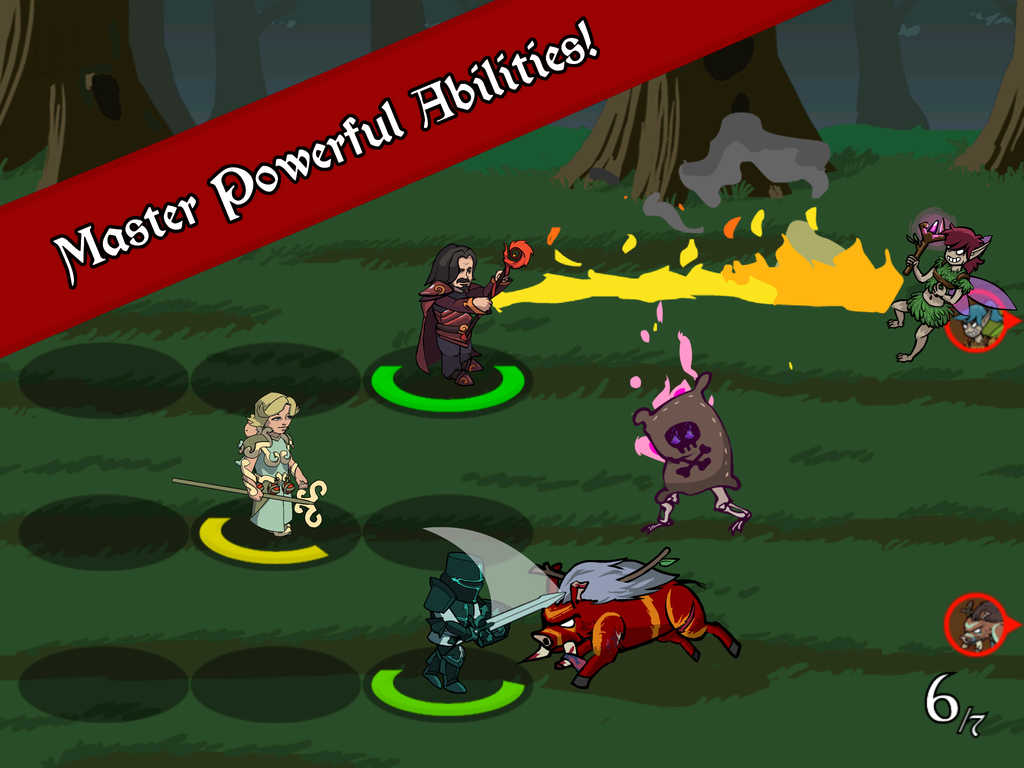 iTunes Description
Battle through the dark and dangerous forest in this unique, fun, and COMPLETELY FREE Adventure game exclusively on iPad!

Strategically move your heroes and crush your enemies. Forestwalker features gameplay unlike anything you've played before.

A grand adventure awaits you in the Dark Forest! Help the Family of Heroes find their missing children. Use quick thinking and fast fingers to defeat the forces evil in Forestwalker and recruit powerful members of your Family to help you in your quest!
Forum Thread: Forestwalker (by Lawrence Sequino)
---
Grim Fandango Remastered
iTunes Description
Something's rotten in the land of the dead, and you're being played for a sucker. Meet Manny Calavera, travel agent at the Department of Death. He sells luxury packages to souls on their four-year journey to eternal rest. But there's trouble in paradise. Help Manny untangle himself from a conspiracy that threatens his very salvation.

One of the most acclaimed adventure games of all time is now back, better than ever. Grim Fandango's epic story of four years in the life (or death) of Manny Calavera, travel agent to the dead, has been remastered to look, sound, and control even better than when it won GameSpot's Game of the Year award upon its original launch. Grim Fandango still stands as a classic of the genre, with unforgettable characters and unique combination of film noir and Mexican folklore.
Forum Thread: Grim Fandango Remastered (by Double Fine Productions, Inc.)
---
Hero Hustle
iTunes Description
Ever wanted to join a team of super heroes? Now you can. Act fast! Clear out blocks before you run out of options. Match numbers, increase your power. Watch out for bombs!

COUNT OR MATCH
Can you count the fingers on your hand? If yes, then you already know how to play. Clear blocks by counting (1-2-3) or swipe through matching numbers (9-9-9)!
Forum Thread: Hero Hustle (by Coin Bump)
---
Hyper Skate
iTunes Description
Behold! A super addictive skating arcade experience!

– Tap and hold on the left side to duck. Tap on the right side to jump/hi-jump. It's as simple as that, but how fast can you master it?
– Various characters to collect and play! Many more coming soon!
– Skate through the cityscape, beach, park, from daylight to nightfall! (Yeah, more stages coming soon!)
– Compete in the leaderboard! Show them what you got!
Forum Thread: Hyper Skate (by ZealTopia Interactive)
---
Into the Circle
iTunes Description
Shoot the ball in the right direction with the right amount of force. Aiming from one circle to the other and achieve a Perfect! How far can you survive?

From the Publisher of indie hits including Pathogen, Third Eye Crime and Zengrams comes this minimalist physics based action title. Shoot the ball into the circle and get as many perfects as you can!
Forum Thread: Into The Circle (by Gamebyr)
---
KonMa
iTunes Description
KonMa – a poor soul has lost in the reverse world where is laden with traps and shadow creatures. Take control of KonMa to embarks on dangerous adventure and help him to get to heaven.

In the game, you must make precision movements through tight areas without hitting the walls. If you hit the wall or enemy, or succumb to one of the many traps, you'll be transported back to the entrance of the level, and you'll have to try again.

Spikes, saws, bombs, lasers, shadow creatures, and more on your adventure. Trying to stay alive has never been fun.
Let's be a brave adventurer.
Forum Thread: KonMa (by Smappi Studio)
---
Lawn Labours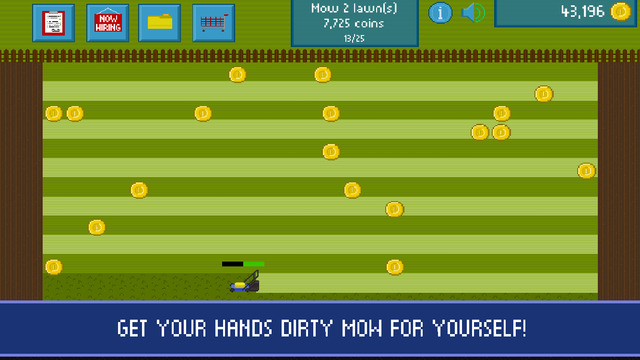 iTunes Description
Make millions mowing lawns in Lawn Labours, an idle game with active elements. Hire and fire to assemble the best lawn cutters around!

Lawn Labours is designed to be played on the move, simply open up the game, set your employees on jobs, close the game and come back later to collect all the juicy coins!

Have some extra time to play? No problem. In Lawn Labours you can also actively play, completing jobs for yourself and tapping coins to collect them!
Forum Thread: Lawn Labours (Digital Panda Studios)
---
Legend of Grimrock
iTunes Description
With over 1 million copies of the series sold on PC, the ultimate dungeon crawling RPG is now available on iOS!

Legend of Grimrock is a dungeon crawling role playing game with an oldschool heart but a modern execution. A group of prisoners are sentenced to certain death by exiling them to the secluded Mount Grimrock for vile crimes they may or may not have committed. Unbeknownst to their captors, the mountain is riddled with ancient tunnels, dungeons and tombs built by crumbled civilizations long perished now. If they ever wish to see daylight again and reclaim their freedom the ragtag group of prisoners must form a team and descend through the mountain, level by level.
Forum Thread: Legend of Grimrock (by Almost Human)
---
Moldicide
iTunes Description
Welcome to Moldicide. A hand-illustrated action anagram puzzler. You play as Chao the janitor, who, along with his sidekick, the Italian cappuccino machine Mr. Ernesto, try to save the world from the terrible Moldies.

Stop these dastardly things by guessing passwords to the installation's weapon systems! (Ok, really it's all about your ability to find anagrams in a jumbled sequence of letters but that's not nearly dramatic enough.)
Do well and a bigger, badder, more explosive weapon will deploy out of the ceiling and clean those Moldies right up. Be quick, however, the Moldies don't dawdle…Mr. Ernesto is there to help, so expect upgrades, new weapons and of course plenty of cappuccino.
Forum Thread: Moldicide (by Sprouted Interactive)
---
Oczilla
iTunes Description
Welcome to Oczilla – The Mutant Octopus! Let's experience the first brand new kind of tower defense game! Only on the App Store!

How to Play:
● Touch & hold on left or right side of the screen to rotate the octopus.
● Use octopus's legs to destroy enemies.
● Use collected DNA, gems and eggs to evolve your mutant octopus.
Forum Thread: Oczilla – The Mutant Octopus (By Khoa Tran)
---
Rush Over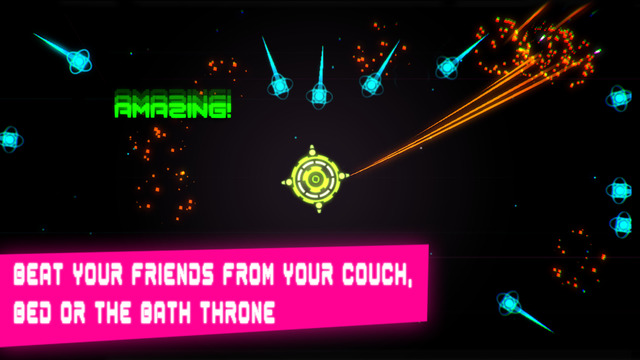 iTunes Description
Prepare for an epic battle! Warm up your fingers and get ready to be the fastest player on the world.

Rush Over is an easy to play but hard to master game, wich mixes an ultra intense gameplay with amazing HD visuals. Survive as much as you can to endless enemy assaults, beat bests worldwide records, and share your gameplay video recordings with your friends.
Forum Thread: Rush Over (by Comworks Technologies)
---
Spacecom
iTunes Description
Spacecom – a strategic-to-the-bone, starfleet command game in which deception, smart movement, and choices to battle decide victory or defeat.

No coincidence, no luck. Spacecom pushes your ability to strategize with a focus on real-time tactics and planning. Use proven maneuvers learned from military legends or devise your own plans.

Test your wits in single player campaign, go head-to-head with up to 5 opponents in multiplayer or experiment with new strategies in AI skirmish mode. Most of all, you'll need a bright mind, cunning, and sound tactics.

When the war begins, leave the little things behind and dive into austere soundscapes as you immerse yourself in starfleet command. From now on, what matters is your grasp of tactics and strategy, not how fast you can click. Spacecom is about creativity in planning, not complexity of game mechanics.
Forum Thread: Spacecom (by 11 bit studios s.a.)
---
Wooli: Return to Ploppington
iTunes Description
Help Wooli make his way home to Ploppington and reunite him with his wife and lambs.
Run, jump, slide and fly through beautiful hilly terrain but WATCH OUT for the sharp teeth closing in behind!

– Plop on enemies heads to slow them down.
– Use 'Sheep Shields' for invincibility and 'Haywire' for super speed.
– Collect Mutton Buttons for extra lives.
– Pick up Golden Grass To Earn Special Sheep.
– Burn through the streets of London in Race Mode
– Challenge friends and try to beat their times.
– Stunning procedurally generated graphics
Forum Thread: Wooli: Return to Ploppington (by Crowdcell Media)