In our last piece about Apple Watch games, we covered the trailblazer developers that debuted games that were either specially designed for Apple's latest platform or were updates to existing games that played, well, as if they were made for the device. However, there's a whole other category of apps for the Apple Watch that the company is classifying as Companion Apps which are designed to supplement iOS games that are just too complicated for the little machine. We've taken a look at a few of these upgraded apps and our impressions are below.
Asphalt 8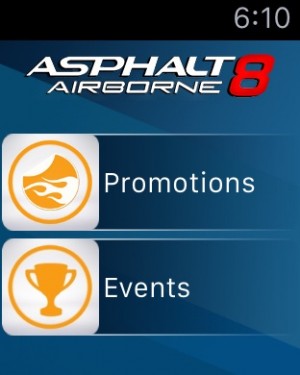 We start out with Gameloft's Asphalt 8 (Free), which is an arcade racer that we absolutely loved when it hit the App tore back in 2013. In terms of Apple Watch figures, Asphalt's companion app is the most basic one out of all the ones that we're checking out today. There aren't any new gameplay elements or even special unlocks for using the Apple Watch app. Instead, all you can do with the Asphalt 8 companion app is check to see if there are any current promotions and events within the game.
It's a pretty passive entry into the Apple Watch store, but Asphalt 8 typically has a lot of events going on at any time. While the jury is out as far as whether or not it's easier to simply fire up the game, the potential to quickly look at what's going on in the game and decide whether or not it's worth launching the app is an interesting idea.
Modern Combat 5: Blackout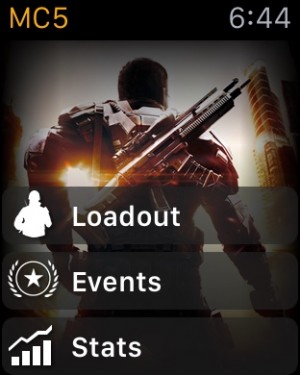 Another Gameloft title, Modern Combat 5: Blackout (Free) is the latest entry in the military based first-person shooter. While the game boasts a full single player campaign, the game's strongest and most lasting appeal centers on its fully featured online multiplayer mode.
Considering how important multiplayer is to Modern Combat, it's not surprise that its Apple Watch companion app focuses on that portion of the game. Launching the Apple Watch app gives you three different options to check out. Players can view their detailed multiplayer statistics, they can look at all single player and squad-based events that are currently being offered in-game, and they can customize their loadouts. That last feature is probably the coolest as one can not only view each multiplayer loadout that's on an account, but players can also customize every aspect about it which will then be fed back to the game with any changes ready for you once you launch Modern Combat 5 on your iOS device in the future.
The stats and events are nice, but I think it's pretty cool that you actually change up your multiplayer loads on the fly. It sounds like a small feature, but considering how resource intensive Modern Combat simply from launching the app on an iOS device, it's pretty convenient that it can be done in an Apple Watch setting.
Real Racing 3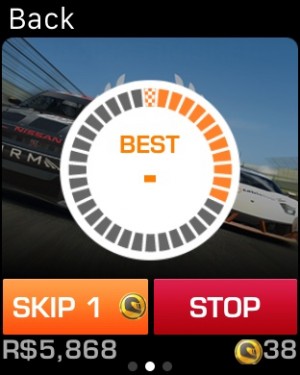 EA's Real Racing 3 (Free) easily vaulted to the top of the racing genre when it launched back in 2013 and it continues to be a favorite even today. In terms of Apple Watch support, Real Racing 3 launches Team Driver, which is a supplemental mode that lets you pay an entry fee to have a driver participate in a race outside of the game. It essentially translates to paying for a timer to start and the end of the timer (i.e. the finish of the race) rewards currency (more than the entry fee) which can be collected and used in-game. Getting further into the actual game unlocks more races that translate to higher entry fees and higher rewards.
As far as companion apps are concerned, this is the exact sort of thing that I was expecting and I think it works well for Real Racing 3. It's never a bad idea to open up an avenue to pick up some extra gold with quick check-ins, and the ability to do so from an Apple Watch makes it even cooler. The main complains I have right now deal with stability in the Apple Watch app – it tends to either hang indefinitely or take a long time to load. Hopefully those issues can be fixed but otherwise it's a good addition to the game.
Family Guy: The Quest for More Stuff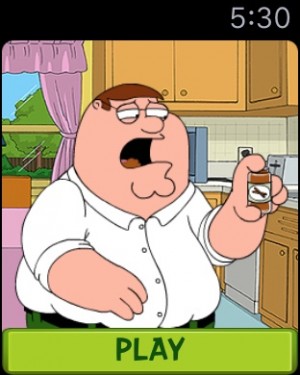 In case you've never heard of it, Family Guy: The Quest for More Stuff (Free) is basically Simpsons: Tapped Out (Free) but in the Family Guy universe. There's a lot of currency to collect (or purchase), buildings to construct, and timers to wait on. It's also had a decent amount of staying power for a genre that is incredibly saturated.
Family Guy's Apple Watch companion app works in a few different elements. The superficial elements are the addition of a few short movie that can be seen that show what exactly a few of the characters do when they're performing actions inside buildings. This is purely a visual element and doesn't really add anything to the game other than maybe a short laugh the first time they're seen. The Apple Watch app's second feature is a simple Memory game that offers the possibility of earning clams (Family Guy's premium currency) the more you play.
The Memory game is a bit bland but the possibility of earning clams is alluring. Otherwise, the companion app has some potential and is a nice bonus for folks that are already playing the iOS freemium game.
As you can see, there's a lot of variety in terms of functionality when it comes to companion apps. Personally, I think the ones that offer some more active input have greater potential than those that serve content passively. Of course, the platform is incredibly young so time will tell as far as what developers have in store in the future. Regardless, we'll be keeping tabs on new Apple Watch developments as they come in.