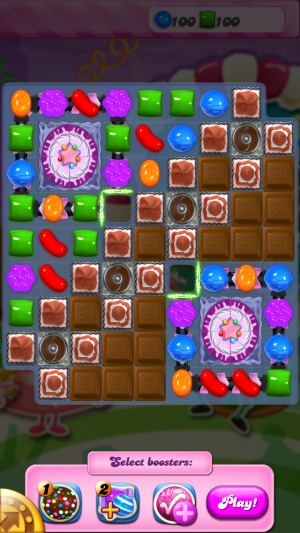 Long-time fans of King.com's sugar-coated candy puzzler Candy Crush Saga (Free) updated to Version 1.49.0 early last week expecting to be greeted by a whole new world of cyber-glycemia, but instead discovered a new system for using boosters that was missing from the update's description.
The old system was a convenient trick for getting the most bang for your gold out of those pricy special candies. Prior to the March Update, the player could select a booster, enter the level and if nothing looked playable, the player could exit the level and re-enter to try for a different layout of boosters and candies.
The newest update has effectively ended most of that sweet soiree.
The player still has the option of exiting an untried level, but the boosters can now only be selected inside the level and count as making a move. Exiting the level after selecting a booster now will result in the loss of a life as well as the waste of a booster.
It is doubtful that this sudden policy change will result in any significant flux among the game's helplessly sugar-fiending fanbase, but it is an interesting patch for an in-game mechanic that was, apparently, just a loophole all along.