Well, that was fast. Earlier this week we reported on the folks at Super Evil Megacorp debuting their latest Vainglory (Free) hero, Celeste, on their weekly Twitch stream last Friday. Less than a week later we've received word that the mobile MOBA has now been patched, unlocking the cosmic-centered sorceress for all the public to play.
As her name implies, Celeste features an arsenal of star-oriented abilities. Heliogenesis deals crystal damage in an area location with the ability to deal even further damage if the ability is cast again in the same area shortly after the first spell. Core Collapse launches a star that collapses after a brief delay, dealing crystal damage and stunning nearby enemies. Her ultimate, Solar Storm, launches a storm of stars that deal crystal-based damage to heroes in a large area.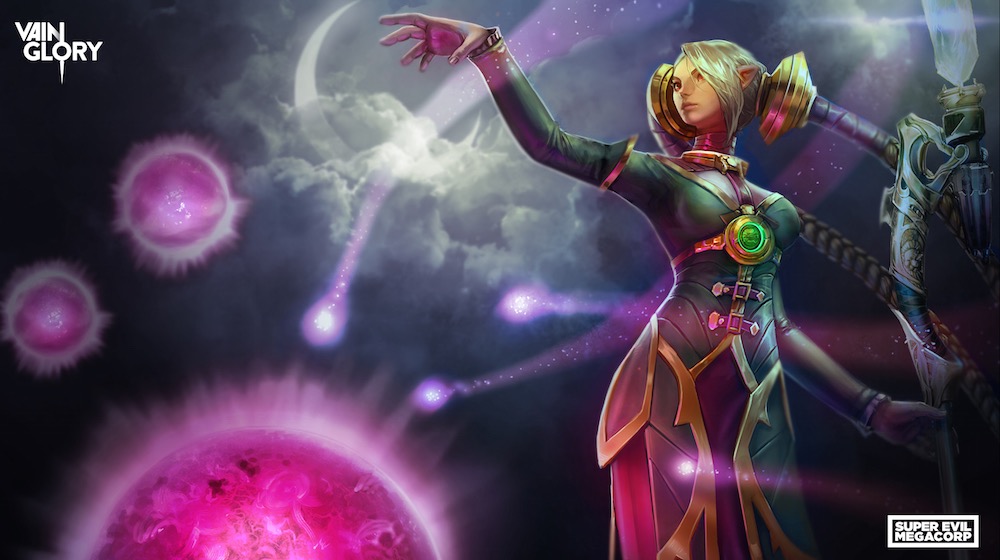 In addition to the debut of Celeste, the latest Vainglory patch has a few other great additions to the game. Additional tactical pings allow players to message allies to group up, advise of caution in an area or notify the team when an enemy hero has gone missing. Additional follower notifications inform players when folks they've followed come online as well as allowing you to notify your own followers when you're looking for a group. The developers have also made some significant changes to the matchmaking system with the game now taking into consideration recent behavior (e.g. AFKer) as the primary indicator of who you get matched up with as opposed to your overall Karma rating.
The Vainglory patch also made some key balance changes to a few of the heroes. Koshka got an all-around boost in all her abilities by means of energy cost reductions. SAW got a minor nerf in terms of cooldown for one of his abilities, and also received a more significant reduction in crystal damage for his ultimate. Meanwhile, Skaarf received a bug fix (which translates to a nerf) on his heroic perk. There were also a few significant changes to late-game items.
For more information on Celeste and all the changes made in this latest patch, check out the official patch notes. Meanwhile, we'll be taking out Vainglory's latest hero for a spin and will report later on a beginner's guide on how to use her to conquer the Halcyon Fold.