Lots of new iOS games have just hit the US App Store, and it's one of those weeks where there's eclectic mix of game types. I was a fan of the original Swap Heroes, so it's neat to see a sequel out, and World Zombination has my attention just for the sheer scope of zombie carnage onscreen all at once. Alto's Adventure is another highly-anticipated game launching tonight, but it's marching to the beat of its own drummer and will release in a few hours. Finally, don't forget about the big Space Miner update, which is basically like getting an awesome new game. Let us know what you'll be playing in the comments below!
---
AERENA – Masters Edition
iTunes Description
Assemble your team of Champions and face-off against your opponents in the game that redefines turn-based tactical combat.

AERENA – Masters Edition provides the ultimate experience for the Aerena Players.
No Ads! No tedious grind and no limits!

Fast paced but deep gameplay in a unique AEtherpunk setting!
Get this premium version of the highly acclaimed game and rise up the ranks to become an Aethermaster! .
Forum Thread: AERENA – Masters Edition (by Cliffhanger Games)
---
All White
iTunes Description
All white, guys. Touch the grey box to make it white. But watch out, when you touch a grey box, the color (black or white) of any colored boxes which near the grey box will turn around! You make the grey boxes all white, you are all right!

Over 100 puzzles, more are coming, challenge yourself and your friends.
Forum Thread: All White! (By chun yin Tsang)
---
BalloonTurer
iTunes Description
BalloonTurer is a delightful puzzle based game with super immersive challenges that will keep you playing for hours, it's like food for the brain, but wait! there's a twist…

Those pesky spikey balloons will do their best to stop you, they are like ants on sugar, you'll have to overcome them with skill, wit and if that fails try brute force, a hit here a canon ball there and they go 'pop'.

Evident or not, every little decision you make could mean success or failure in the level (or the next, or the next after that). Be sure to use all resources to your advantage, plan well, strategise (even while you sleep) and then conquer. Enjoy!
Forum Thread: BalloonTurer (By obioma okehie)
---
Barrel Buster
iTunes Description
Bust the barrels before they bop you on the brain case! You are Busta the breakdancing badass hell-bent on bustin' barrels. Karate is your style of choice. Straight up, no frills. Kick, punch and destroy an onslaught of falling barrels before they mess up your day and your Jordans.
Forum Thread: Barrel Buster (By DreamWalk)
---
Bird Assassin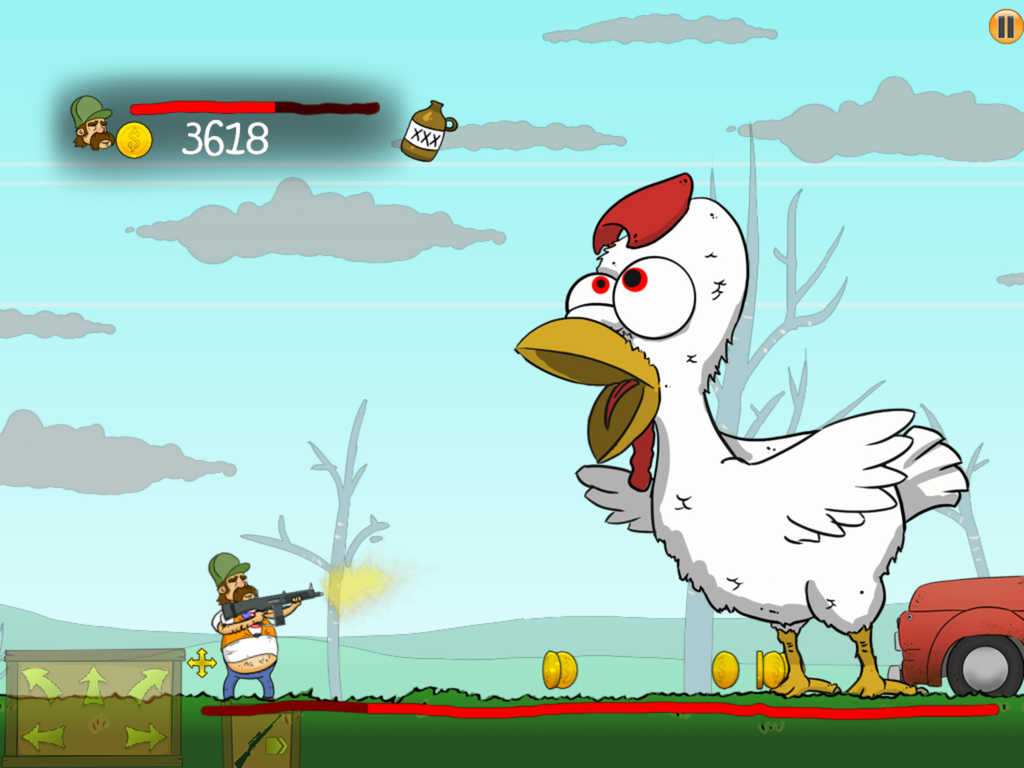 iTunes Description
Birds murdered your Pa! His final wishes are for vengeance.
Take your Pa's rifle and kill as many birds as you can to avenge his death. Battle a variety of enemies and bosses on your quest to kill the bird that murdered your Pa.

Visit GunMart between levels to upgrade your guns. Purchase an Auto shotgun to kill multiple birds with one shot, or use the MiniGun to concentrate fire on a single bird.
Forum Thread: Bird Assassin (by Social Loner Studio)
---
Bob's Space Adventure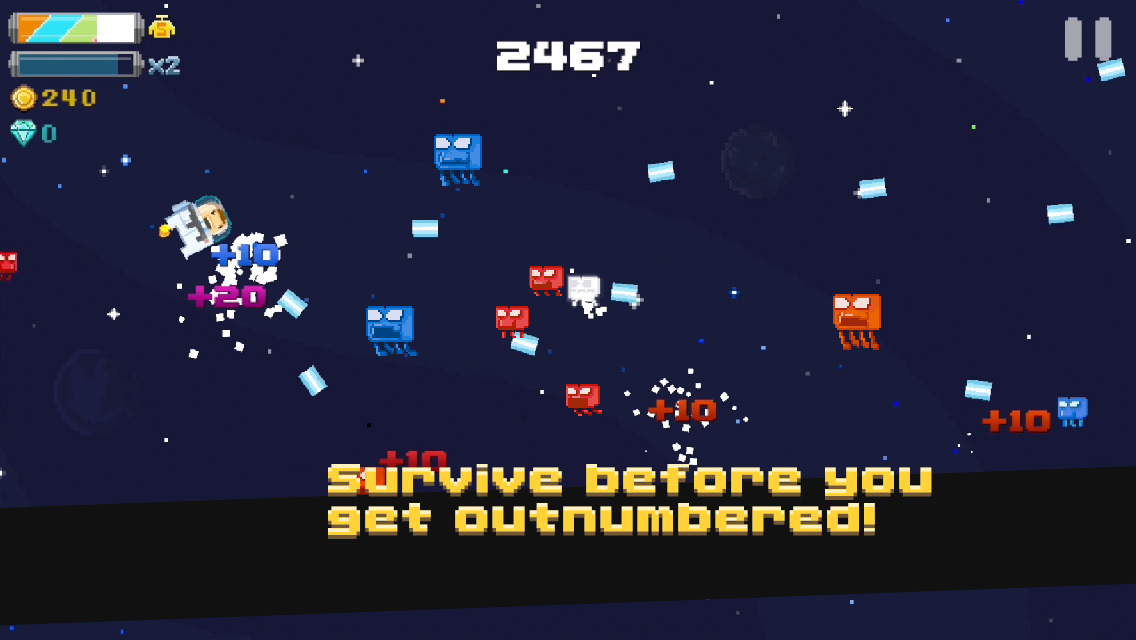 iTunes Description
In this free mobile game you take control of Bob, a janitor from a local space station near earth. One day he accidentally gets sucked into a black hole that transfers him to parts of the universe that are still undiscovered by mankind!

Survive, before the enemies outnumber you!
Luckily for you, your space suit is equipped with a fuel tank that has a lot of special abilities!

Upgrade, power-up and explore the infinite universe and join our championship in 2015!
Forum Thread: Bob's Space Adventure (by Red Magnet Store)
---
Bounce
iTunes Description
Bounce is officially here. Battle friends for the high score in this never-ending game of grabbing power-ups, taking down enemies and climbing to the top.

Simply touch the left or right side of the screen to move your character and break the green lines to increase your score. May the person who breaks the most lines win.
Forum Thread: Bounce (by Ketchapp)
---
Dreamslide Plus
iTunes Description
Dreamslide Plus is a unique game that mixes line drawing and physics. Draw lines to help Little John slide to the end of the level. Collect stars and items for speed and bonus points. The game is meant to be challenging, so don't give up easily!
Forum Thread: Dreamslide Plus (By Guilherme Alves)
---
Extreme Unicorn Bacon Space Fighter X 3000 Unlimited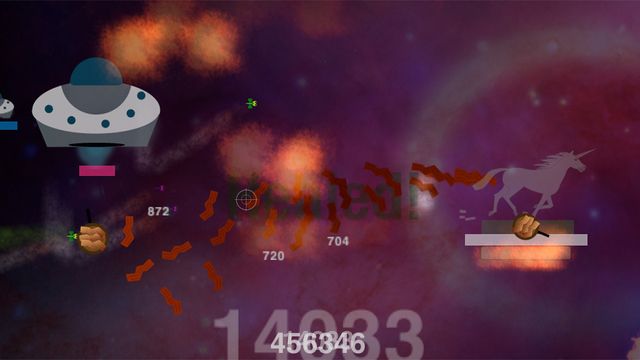 iTunes Description
Touch the screen to shoot! Shoot aliens with Bacon!

In this 2D Shooter Game the player takes the role of a unicorn flying through space, while firing bacon strips at attacking aliens. Compare the score with your friends and become the best Unicorn Bacon Space Fighter in the world.
Forum Thread: Extreme Unicorn Bacon Space Fighter X 3000 Unlimited (by Kevin Glaap)
---
Grudgeball: Enter the Chaosphere – Regular Show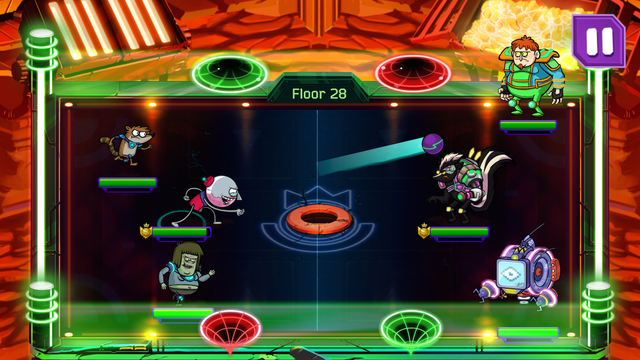 iTunes Description
Jump into the explosive action of the future's most extreme sport. Join Mordecai, Rigby and the rest of the Regular Show gang in Grudgeball: Enter the Chaosphere!

In the far future, high intensity Grudgeball is the most popular and dangerous sport in the world. Choose your team and go 3-on-3 against your opponents in a battle for supremacy. Shoot, block, counter-attack and unleash super moves in your quest to be the best.

Tackle level after level in your journey to unravel the mysteries of the Chaosphere and rescue Pops. Discover arena mods like speed walls, rebound barriers, multicannons, dimensional portals and more that totally switch up the way you play.
Forum Thread: Grudgeball: Enter the Chaosphere – Regular Show (by Turner Broadcasting System)
---
Happy Pet Story
iTunes Description
Have a great time in Happy Pet Story! Play dress up with your virtual pet, decorate your house, and play exciting mini games! Immerse yourself into a town full of good humor and happy animal pals, and create a unique dream home out of your imaginations! This game is available offline.

Raise your very own virtual pet in your pocket! Take care of your adorable baby or play mini games together! With hundreds of items to collect and tons of cute outfits and fashion accessories, you'll be spoilt for choice!

Stroll along the street lined with cute and colorful shops or simply chill in the cafe! Invite your friends to your town and show off your impressive home-decorating skills. You can also visit other townies to see if they are as cool and creative as you are. Build friendships and interact with your neighbors through hilarious dialogues, and help them out with daily requests in exchange for exciting rewards.
Forum Thread: Happy Pet Story: Virtual Pet Game (By Happy Labs Pte Ltd)
---
Imps in Tokyo
iTunes Description
Lead the mischievous Dreamcatchers on their mission in Tokyo in this beautiful handcrafted indie arcade/adventure game. Help them to save Dreams, use their unique powers to fight Mr. Cornelious, stop his diabolic plan (of course) and save… KITTENS! You also save kittens! Ahhh, we should've started with this!

Fly through skies of Tokyo with a pack of Imps and explore diverse gameplay scenarios, complete various tasks, meet powerful allies and punch terrifying enemies in order to save them. Sounds confusing huh? Don't worry, it'll all get clear. You just have to follow an amusing comic driven story, full of magic, humour and nostalgia.

Imps In Tokyo contains an intense story mode delivering a full and carefully crafted experience, packed with unique game mechanics. There is also a SECRET ARCADE MINI-GAME starring your favourite kittens! Wait… so it's like a game within a game?! YES! All this topped with beautiful illustrations and music. Begin your adventure now!
Forum Thread: Imps in Tokyo (by We Are Vigilantes)
---
iO – A Physics Platformer
iTunes Description
A physics platformer about size, speed and momentum unlike anything you've ever seen before!

Grow, shrink, roll, leap and climb in this unique puzzler featuring over 150 challenging mazes one-of-a-kind gameplay that includes portals, inverted gravity, vehicles and more! Share your times with friends on the global leaderboards and become a time/space legend!
Forum Thread: iO – A Physics Platformer (by BluBox)
---
Jolly Jam
iTunes Description
A fresh puzzle game that will surely make you jolly! Prince Jam needs YOU to help save Princess Honey and the Jelly Kingdom. Download and play today for free!

Defeat the evil Boss and his wicked, cute minions through hundreds of levels of fruit-filled goodness. Do you have what it takes to save Princess Honey and become the ultimate Jam Master in this jolly adventure?
Forum Thread: Jolly Jam (by Rovio Stars)
---
Mecha Showdown
iTunes Description
Transform into a giant mech of destruction and battle deadly extraterrestrial kaiju monsters to save our planet! Play this FREE turn-based fighting game in which you take control of elite war robots to defend the Earth from alien invaders.

Under attack by alien monsters! All the world's nations are united in the Planetary Council to defend the world against enormous alien aggressors. Countries including the USA, UK, South Korea, Russia, Germany, China, Japan, France, and Brazil join forces as they deploy the last hope of planet Earth: high-powered giant machines of destruction converted into the ultimate defenders. Will the alliance of nations and the might of their mechs prevail against the extraterrestrial threat? Play solo or against friends!
Forum Thread: Mecha Showdown (by TurnOut Ventures)
---
Monkey King Escape
iTunes Description
Watch out, here comes the Monkey King!
Play as the legendary Monkey King and evade capture from the almighty Jade Emperor of Heavenly Kingdom!

Angered by the Jade Emperor's refusal to grant him an honorable place among the gods, the Monkey King gobbled down the precious Peaches of Immortality he was assigned to protect.
Only YOU can help him navigate the treacherous Heavenly Garden with the Emperor's armies hot on his furry heels!
Forum Thread: Monkey King Escape (by Ubisoft)
---
Moto Joe
iTunes Description
Tap, jump, dodge and perform stunts in this extreme casual game that is sure to get your daily dose of cray cray.

Get Moto Joe Completely Free today!
Forum Thread: Moto Joe (by Harsh Rajat)
---
Pancake – The Game
iTunes Description
Flip the pancake as many times as you can!
One-button-action at its finest.

Throw the pancake!
Catch the pancake!
Throw the pancake!
Catch the pancake!
No seriously, that's basically all you can do.
Forum Thread: Pancake – The Game (By Philipp Stollenmayer)
---
Quopples
iTunes Description
Quopples is a social, hyper-fast, turn-based matching game, where you need wit and speed to blast your way to victory. Challenge your friends for a fun game of Quopples and get tapping to switch tiles around the board.

• Create combinations of 4 to blast them clear of the board
• Create chain reactions and supercharged explosions to send your score sky-high
• Work quickly because the qlock is ticking!
• Add tiles, Add time, Bomb, Shuffle and Free Move tools
• Clear the board completely to earn a huge bonus

Then it's over to your friend to try to better your score. It's simple enough to play with anyone and quick enough to play in your lunch break! Not mastered it yet? Play a Single Player round to hone your skills…
Forum Thread: Quopples (by Monkeybin)
---
Swap Heroes 2
iTunes Description
Swap Heroes 2 is a casual turn-based strategy adventure. Form a group of valiant heroes and guide them in battle through a wide variety of quests and locations as you venture toward a final showdown with the feared Shadow Knight!

Features:
– Easy to learn turn-based gameplay.
– Form a party from 8 unique heroes.
– Guide your party through 10 new locations.
– Battle against over 30 types of challenging enemies.
– Earn star points with victories that can be used to equip powerful upgrades.
– Unlock a variety of levels, modes, and heroes as you complete quests.
– Compete for high scores in the all new endless mode!
– Game Center leaderboard and achievements included.
Forum Thread: Swap Heroes 2 (by Christopher Savory)
---
Switch & Drop
iTunes Description
Switch, drop and match colors to clear the blocks in this new kind of puzzle game. Matching falling rows to clear as many colored blocks as you can.

Simple swipe controls allow you to change the order of blocks before they fall into place and create Special Blocks by matching four or more blocks of the same color.

Switch & Drop is easy to pick-up but hard to master as you go for the high score against increasingly challenging odds in a variety of exciting game modes in over 100 levels.
Forum Thread: Switch & Drop (by Chillingo)
---
Timelines: Assault On America
iTunes Description
Timelines: Assault on America is a fictional WWII Real Time Strategy (RTS) game that asks the question; "What if Germany invaded the United States?"

Timelines is a fictional WWII Real Time Strategy (RTS) Strategy game that takes place on American soil. Designed for tablet play with brilliant high quality graphics.
Forum Thread: Timelines: Assault On America (by Strategy First)
---
World Zombination
iTunes Description
Take control of a massive zombie horde and destroy the world. Or help the last surviving humans make their stand and defend it. The choice is yours in this epic massively multiplayer online game!

As the zombies, attack cities around the world, spawn hundreds of zombie drones, and mutate them into powerful special zombies in a real-time strategy game. If you choose the humans, strategically place your units around the cities, defend the citizens and buildings, and mow down incoming zombies in a new take on tower defense.

Both sides acquire new units, train and level them to make them more powerful, and play with (and against!) friends and thousands of other players for control of the world!
Forum Thread: World Zombination – (by Proletariat Inc.)