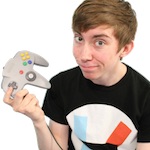 We live in strange times. Joystiq is closing up shop, and YouTubers are rising to power, with folks like PewDiePie often the subject of mind-blowing statistics often revolving around the fact that more people are watching his videos than network news channels these days. The closest thing in the iOS world to PewDiePie is Lonnie, who just crossed 400,000 YouTube subscribers exclusively publishing videos of iPhone games.
Last week we posted about Rovio soft launching Angry Birds Stella POP! and Angry Birds Fight! on the App Store, if you're curious what both games look like in action, Lonnie has you covered:
If you like Lonnie's stuff, you should subscribe to his channel, or just keep an eye on TouchArcade, we'll be posting more of it.