I've run out of fingers and toes to keep track of all the Plague Inc. ($0.99) updates, as today the tenth major update for the game has been released. The update includes two brand new scenarios, one about the upcoming Christmas holiday and one which uses portals. For the holiday one, called Santa's Little Helper, the setup is that the government has banned holidays, laughter and celebrations. Basically, fun and happiness is now against the law. This pisses off a lot of people, including Santa Clause and the Neurax Worm, who form an unlikely alliance and work to infect the world with happiness again. The worm even renamed himself the Neurax Miracle for this mission! I love the whole idea of Plague Inc.–infecting the world with killer diseases and eradicating humanity–being flipped on its head in this scenario.
The next new scenario is the Teleportation scenario. Here, teleportation technology has been discovered, allowing humans to instantly travel between countries. This can allow for interesting ways to infect new countries with your disease, but it can also lead to quicker responses for those looking to combat the plague.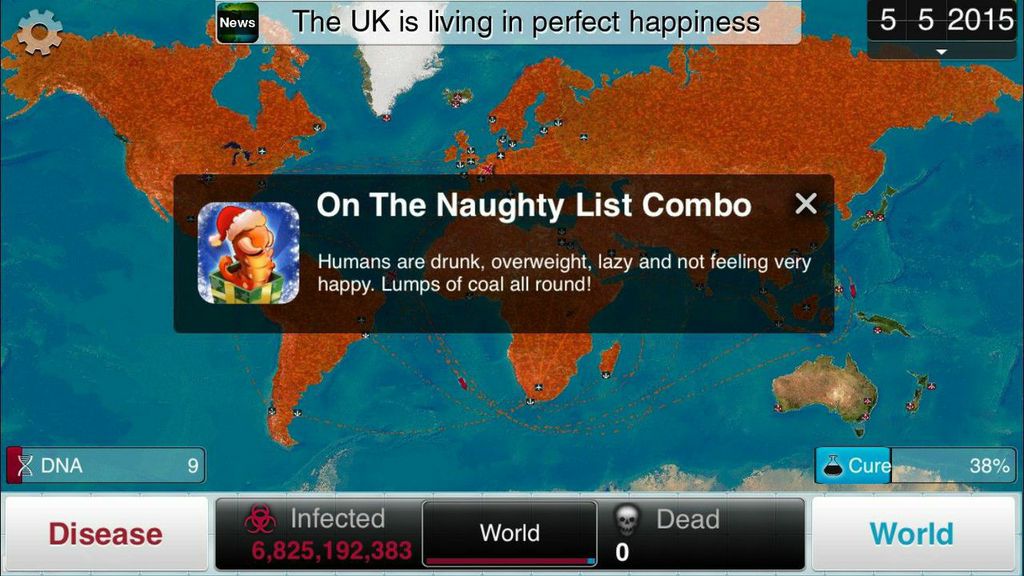 In addition to the two new scenarios, developer Ndemic has adjusted many of the core disease types as well as the human AI based on player feedback to provide a smoother and more challenging experience trying to infect the world with disease. They've also improved the initial country selection, added achievements for the Simian Flu, and added a new Progress screen so you can see all sorts of cool stats about your Plague Inc. career. I've said many times before how Plague Inc. is one of the best dollars you can spend in the App Store, and with all the additional content that's been added to the game over the past two-plus years, this is a strategy game that could easily last you until the end of time. Or at least until humanity is wiped out by a deadly disease.