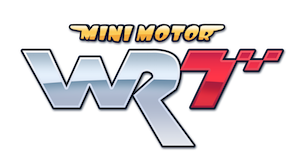 Back in December of 2011, The Binary Mill released a slick top-down racer called Mini Motor Racing ($2.99). It featured great visuals, a ton of cars to unlock and upgrade, plenty of tracks to race on, and a full single-player campaign to play through. We liked it a lot in our review, and that was even before it received online multiplayer in an update. It wasn't perfect, but it was fun, and Mini Motor Racing has always stood out as one of my favorite iOS racers. This week The Binary Mill has announced a follow-up to their 2011 hit called Mini Motor Racing WRT.
The "WRT" in Mini Motor Racing WRT stands for World Racing Tournament, and punctuates the fleshed-out career mode in this new entry that sees you building a fleet of high-performance vehicles and a racing team to compete for the championship. There's an added social component which allows players to form Race Clubs with friends and compete against other clubs online. Mini Motor Racing WRT will also feature licensed vehicles from Nissan, KIA, and Choro-Q, the latter of which is the brand name of those "Penny Racers" which the vehicles in the Mini Motor Racing series resemble. Check out the trailer.
To celebrate the announcement of Mini Motor Racing WRT, The Binary Mill has dropped the price of both the iPhone and iPad versions of the original game to free until this Friday, so players can jump in and practice their racing skills in anticipation of the sequel launching. Mini Motor Racing WRT is planned for release sometime this month as a free to play game, so once it drops we'll be sure to give you a heads up.