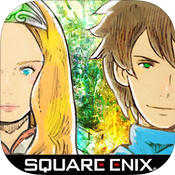 Prolific RPG creators Square Enix and Mediatonic, developers of Amateur Surgeon 3 (Free) and the recent remake of the pigeon-dating sim Hatoful Boyfriend, have announced Heavenstrike Rivals, an upcoming strategy-RPG coming soon to iOS, and currently available in a soft launch in Canada and Australia. The game has players commanding a team of heroes into battle on 7×3 grid, summoning heroes from their deck, and sending them across the battlefield to attack the enemy hero.
While the game definitely recalls Hero Academy (Free) in terms of its setup, this is a bit easier to get into, as units feature simple HP/damage indicators, much like Hearthstone (Free) cards. As well, units will travel forward automatically, but before each turn, it's possible to shift their lanes to change where they're attacking. Units can level up and get better stats over time, with a number of different classes to use.
The game boasts character design from Final Fantasy Tactics Advance's Ryoma Ito, and music from Ryo Yamazaki. There's over 200 units, a singleplayer campaign, and PVP multiplayer. The game is currently available in Australia and Canada, and you can chat about the game with other early players on our forums here.