In December of last year, developer Infinite Dreams announced they'd be remaking their classic scrolling shooter Sky Force for modern touch devices. Being a huge fan of both the original Sky Force and its sequel Sky Force Reloaded, I was really excited for the news. However, the purist in me wasn't sure how I'd feel about new graphics, and I was leery at the prospect of the game being free to play. Luckily, when Sky Force 2014 (Free) launched in June my fears were put to rest, as the game was absolutely fantastic. The new visuals were incredibly impressive while still retaining the style of the original, and the free to play system built into the game was one of the best I've ever seen, allowing you to play completely for free if you choose or buy permanent IAP to turn the game into a true "premium" experience.
With its extensive upgrade system and different levels of difficult, I've been practically glued to Sky Force 2014 for months. Infinite Dreams keeps on adding content too, with a new Stage 8, new tournament levels, and a card-based perk system being added in the months since release. Today yet another update has arrived, this time adding in a brand new Stage 9 level. Here's a screen shot of the new level.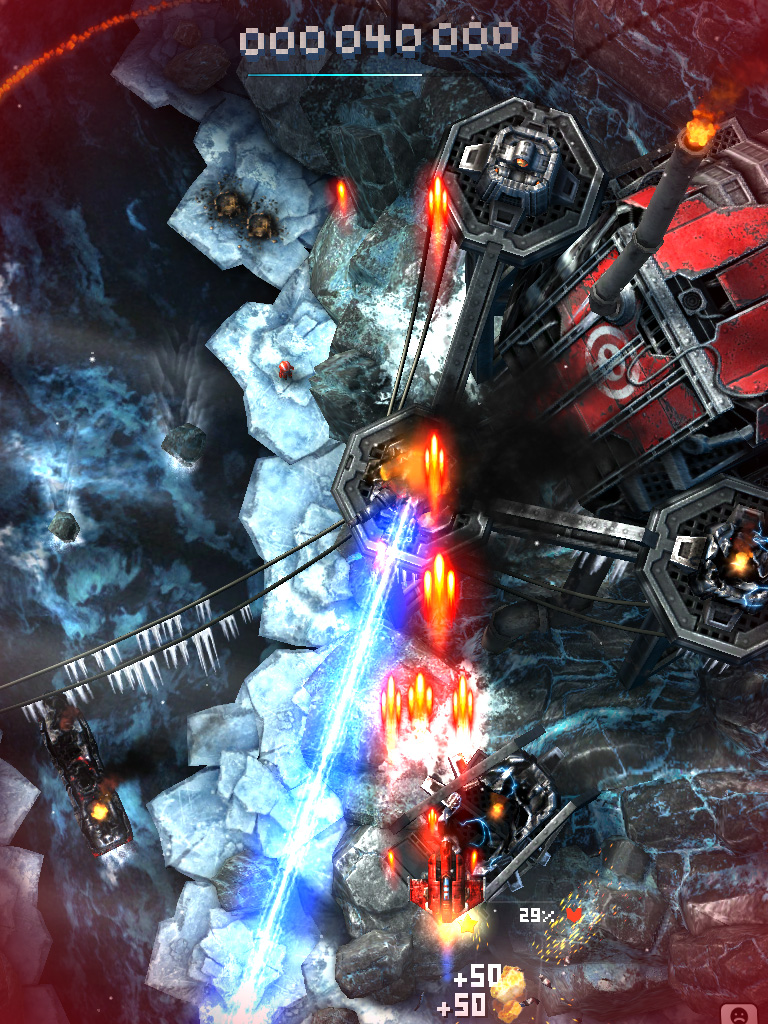 As fantastic as Sky Force 2014 is, one complaint many players have had is that the drop rate for the perk cards is far too low. Well, originally it was far too high, and some people collected every card in the game in a matter of just a few days. A later update lowered the drop rate, which has made collecting all the cards much more difficult. Infinite Dreams had envisioned the card collecting as a long term thing for the game, and they've reiterated in our forums that the card rate (at least as of this latest update) has not been increased. However, they do note that the drop rate is higher on later levels and on higher difficulties, which is handy to know.
At any rate, Sky Force 2014 is in my opinion the best vertical shooter on the App Store, and even if you choose to play completely for free it should give you hours, days and months of enjoyment. Be sure to update and check out the new Stage 9, and try not to throw your device against the wall as you battle against the challenging new boss.