Snake is a timeless game. It was one of the first experiences I had on a portable device, and despite the fact that there was just one level (a giant square box), it provided endless hours of entertainment. It was a much simpler time, and that time is over. In the current era of gaming, it's expected that a snake game would have a load of bells and whistles, lest it fall short of providing something you haven't seen a million times in the past 20 years. The Jake and Finn skinned Treasure Fetch – Adventure Time ($2.99) differentiates itself somewhat, but falls into the same few trappings as the snake genre along the way.
Your job is to go from level to level doing what the duo does best — collecting treasure. This time around you'll accomplish that by riding Jake, who functions as a snake-like entity that grows every time he eats an apple. You'll basically need to get all the treasure chests in a stage to unlock the next level, but a "challenge" system gates your progress, preventing you from just breezing through.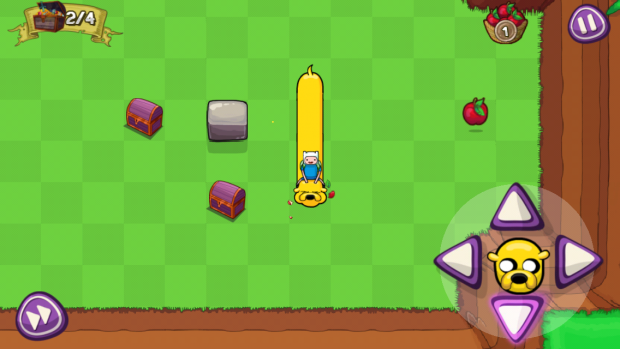 The short of it is that you'll need to complete a certain amount of special tasks before you unlock more of the map. In addition to getting every chest, you also need to do up to three challenges per stage, things like "eat [x] amount of apples" or "complete the stage while sprinting the entire time." This is a pretty standard concept, but the only odd design choice is that Treasure Fetch requires you to beat the level before you can even complete or view each challenge.
It's a weird choice, because not only are some challenges impossible to complete without repeating a level multiple times, but you can't even attempt them the first time around. It's completely doable if you have the fortitude for it, it just makes things a bit more repetitive when you're doing the same stage over and over just for the sake of progress. The game should have had a way to display challenges from the get-go, and synced them better so that you can do all of them with one amazing run.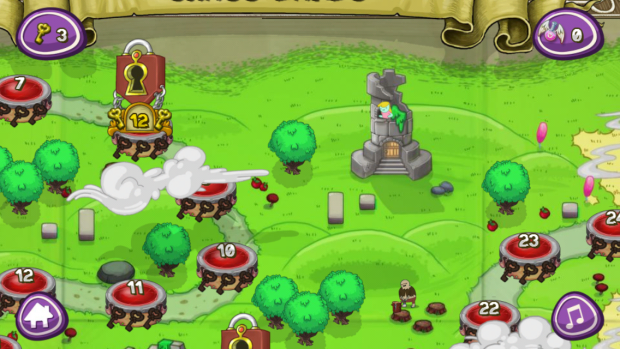 Having said that, each level has its own unique feel and is fun in its own way. There are a decent amount of themes and varations to keep you guessing, and it's fun to wander around during some challenges to try to find unique ways to complete them. You'll do that by way of two control schemes — a virtual d-pad and a swiping system. The d-pad isn't particularly responsive to use and requires a decent amount of effort to get used to, but swiping is pretty spot-on due to the "queuing" concept. Basically, you can queue up multiple moves by swiping ahead of time, making up for the inaccuracy of the d-pad. It also takes some getting used to but is much more natural on a touch device.
Along with paying the base price for Treasure Fetch, there are also in-app-purchases available that thankfully aren't too abrasive. After entering the shop you'll have the chance to buy two items — keys, and potions. The former are for opening up doors, eschewing the game's challenges for instant access to new worlds and levels. The latter are a less enticing buy, allowing you to resurrect yourself after hitting a wall or obstacle.
For the most part, you can ignore the IAP. Potions are a rather useless item since most of the game's stages are 30 seconds long at best, effectively turning them into a non-issue. You can also earn a potion by collecting 200 apples anyway. The game is also balanced so that you don't need to buy keys, though some of the tougher challenges may push you over the edge. Still, you're getting the complete game for your purchase.
Treasure Fetch – Adventure Time has a great art style going for it and some interesting arenas, but the gameplay isn't nearly as fetching as you'd expect it to be. If you've ever played a snake game at any point in your life and are quasi-interested in giving it a go again, by all means check out Treasure Fetch, as it delivers on that front. But as it stands, the repetitive formula is still present, and even Jake and Finn can't hide that fact.