The idea behind the TouchArcade Game of the Week is that every Friday afternoon we post the one game that came out this week that we think is worth giving a special nod to. Now, before anyone goes over-thinking this, it doesn't necessarily mean our Game of the Week pick is the highest scoring game in a review, the game with the best graphics, or really any other quantifiable "best" thing. Instead, it's more just us picking out the single game out of the week's releases that we think is the most noteworthy, surprising, interesting, or really any other hard to describe quality that makes it worth having if you were just going to pick up one.
These picks might be controversial, and that's OK. If you disagree with what we've chosen, let's try to use the comments of these articles to have conversations about what game is your game of the week and why.
Without further ado…
Turbo Dismount
It's no secret that I'm a huge fan of Stair Dismount, Secret Exit's, err, human injury simulator I guess you could call it, and this week saw the release of their follow-up title Turbo Dismount (Free). It retains the same cringe-worthy moments of faux pain and injury that its predecessor Stair Dismount was famous for, but takes things to the next level with an incredible amount of variety.
Rather than pushing a humanoid dummy down mostly stationary obstacles, Turbo Dismount puts that dummy (named Mr. Dismount) into a number of different types of vehicles. Each vehicle has its own shape and behaviors, and each will give you wildly different results. Also, the levels in Turbo Dismount are much more dynamic this time around, with more moving objects like other vehicles as well as semi-customizable areas where you can place objects like ramps and brick walls. Overall, Turbo Dismount takes everything I enjoyed about Stair Dismount and makes it bigger and better, while still remaining different enough that I'll want to keep both games around.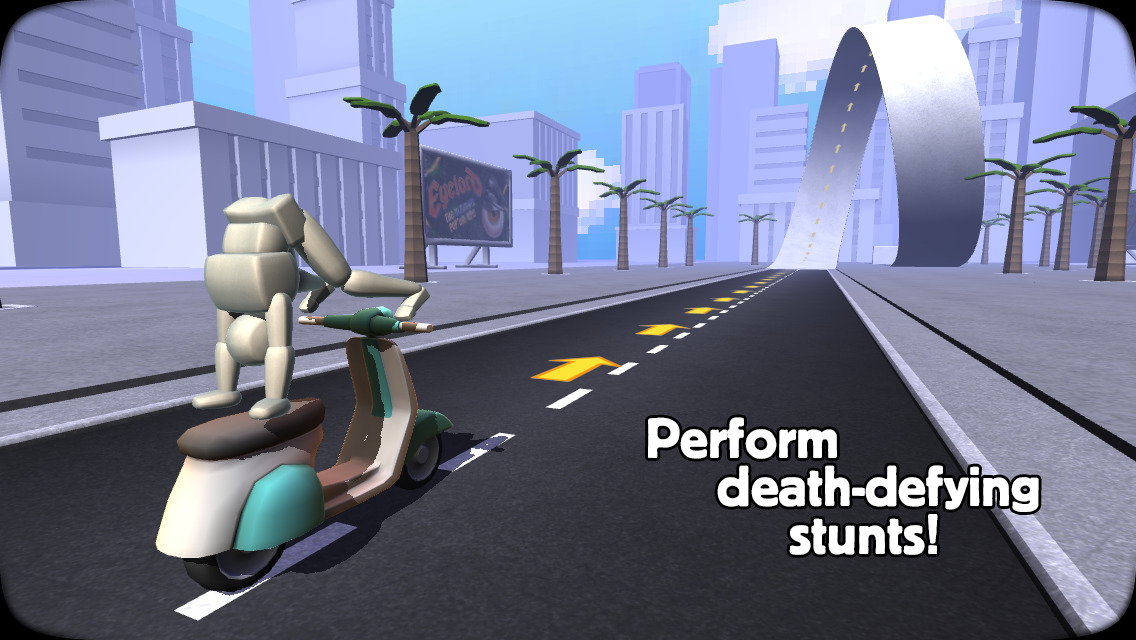 But I'm not here to tell you Turbo Dismount is a great game (it is), but rather talk about how much I appreciate its pay model. Yes, I'm praising a pay model. Turbo Dismount is a free to play game, but not the typical type that are despised by many. It's more of a shareware style free game. For your initial free download, you're given free reign to play three of the game's levels and use three of the game's vehicles to your heart's content: no timers or other silly limitations interfere. The worst part about being a completely free player of Turbo Dismount is you'll be subjected to very infrequent ads.
Then, as a way to pay for the game if you enjoy it, Turbo Dismount offers several different types of level and vehicle packs, all available for 99¢ apiece. Or, if you KNOW you like the game and definitely want everything it offers, you can "unlock" all IAP content for a one-time price of $5.99. The coolest part about all this is that the full unlock price is adaptive. So, if you initially like the game but aren't totally convinced on unlocking everything, but you DO want to see a bit more of it by buying an IAP pack or two, if you later decide to go for the full unlock the price for it will reflect the money that you've already spent on IAP packs.
It's a very fair payment system that should appease all walks of gamers. Like playing for free and don't mind the occasional ad? Want to buy just a taste of additional content or stagger the purchasing of all additional content over a period of time? Want to just get straight to the point and buy everything all at once? Turbo Dismount has you covered.
Incidentally, this isn't the first time a payment system like this has been used, as developer Strange Flavour used a similar system which they call their "Play Nice System" in their game Any Landing, and we actually picked that game as Game of the Week when it released back in February for similar reasons. Hopefully, more and more developers will be willing to use this type of pay model that serves all types of gamer tastes. And as for Turbo Dismount, the initial free download is well worth checking out if you're into over-the-top physics simulators.