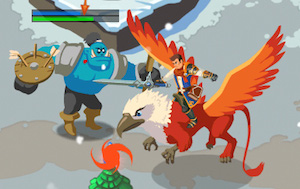 Back at GDC 2013, I sat down with FDG Entertainment to check out their upcoming tower defense title Crystal Siege, and it looked really good. Whereas many tower defense games task you with setting up your defenses and then just sitting back and watching as the creeps roll in, Crystal Siege is going for a more active approach. You control a main character while the creeps are attacking which you can jet around the map and help out as needed, and there are also several types of environmental traps you can trigger to help take out the bad guys. One of the things I dislike about tower defense games is passively watching as the action happens, so those types of hands-on elements are really appealing to me.
Unfortunately, as great as Crystal Siege was looking last year, it basically fell off the radar since then. I'd think about it from time to time and figured it might have just been one of those projects that for whatever reason wasn't going to be finished. Thankfully, that's not the case, as FDG has reached out today to let me know that Crystal Siege is still very much alive, and it's even very close to being finished (it just took a lot longer than they'd hoped). Here is a brand new 30 second trailer.
The plan is to get Crystal Siege out the door for the iPad sometime in Q4 of this year. Following that, FDG will be working on adjusting the game so it works well on the iPhone (I imagine it will be especially killer on the big iPhone 6 Plus screen) and once that part is complete they'll be spending time porting the game to Android, Mac and Windows PC. The price for Crystal Siege will be $4.99. In the meantime, head on over to our forums for some discussion and lots more information on the game during the past two years of its development.