Good news for everyone anticipating the MOGA Rebel, the full-size Bluetooth MFi gamepad, as a release date has been announced, and it's perfect timing with the iPhone 6 models coming out: September 17th, next Wednesday, for $79.99. As one of the first Xbox-style MFi gamepads that will be available to the public, this should be an intriguing controller for those who want a Bluetooth gamepad but don't like the small size of the SteelSeries Stratus.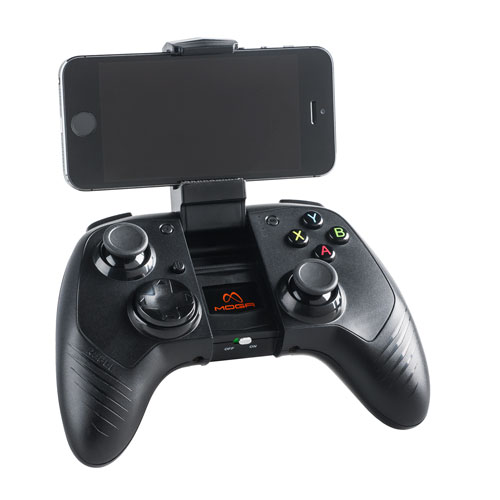 The MOGA Rebel connects via Bluetooth, and uses an extendable clip in the middle of controller to hold the iPhone or iPod touch as necessary. The arm will extend out to 3.75 inches, which is more than enough for the iPhone 6 Plus. Otherwie, the controller appears to be quite similar to the MOGA Pro Power for Android, minus the circular d-pad and the face button colorings. The MOGA Pro Power is a bit of a heavy controller, but the MOGA Rebel uses a smaller battery, as it won't have a power output to recharge the iPhone or iPod touch, so weight shouldn't be an issue.
The MOGA store is taking preorders for the Rebel, but we'll likely find out soon if you can pick one up with your new iPhone on the 17th at an Apple Store or similar retailer. Even if you were burned by the MOGA Ace, the Rebel is worth keeping in mind – MOGA's full-size Andorid gamepads are some of the best available, and this could be one of the best options out there when all is said and done.