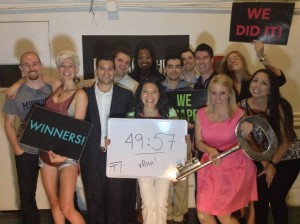 There's a stupid amount of escape the room type games on the App Store. If you haven't played one, they're basically bite sized point and click adventure games with the main goal being, obviously, escaping from a room. Most of the time the solution is very obscure, requiring you to search for objects, combine them, use them on different things to get different objects, and so on.
Well, our fearless leader Arn stumbled across something really awesome on the internet today. It's called Escape The Room NYC and it's these exact kind of games turned in to a real-life puzzle. They've got five different venues, ranging from a creepy apartment to a spy agency themed one, to a Victorian home mystery setting. Each game takes an hour, for between 8 and 12 players depending on the scenario, for $28 a pop. Their Facebook is full of photos of teams who either did (or didn't) solve the puzzles.
I asked Jared what some of the best escape the room type games on the App Store are to include with this, but he brings up a good point: Saying "What's the best escape the room game?" is a lot like asking "What's the best Slender Man game?" There's so many, and everyone has their own favorite, that it's impossible to even tell. I like Factory 96 (Free), but, that's just because its production value are (or were) a little better than the storm of escape the room games that hit the App Store in the early days.
So, if you live in NYC, would you ever go to a real-world escape the room? I think it sounds awesome. Additionally, for people looking to get in to virtual escaping of rooms, leave a comment and let us know your favorite one on the App Store.