Since the expansion was originally hinted at, Hearthstone (Free) players everywhere have been speculating how much the expansion was going to cost. Well, Blizzard just gave us our answer. First off, players who participate in the launch event which will last around a month following the release of the expansion will gain access to the first wing, the Arachnid Quarter. After that, the rest of the wings can be purchased for 700 in-game gold each, or $6.99 in real money.
Here's how it all breaks down: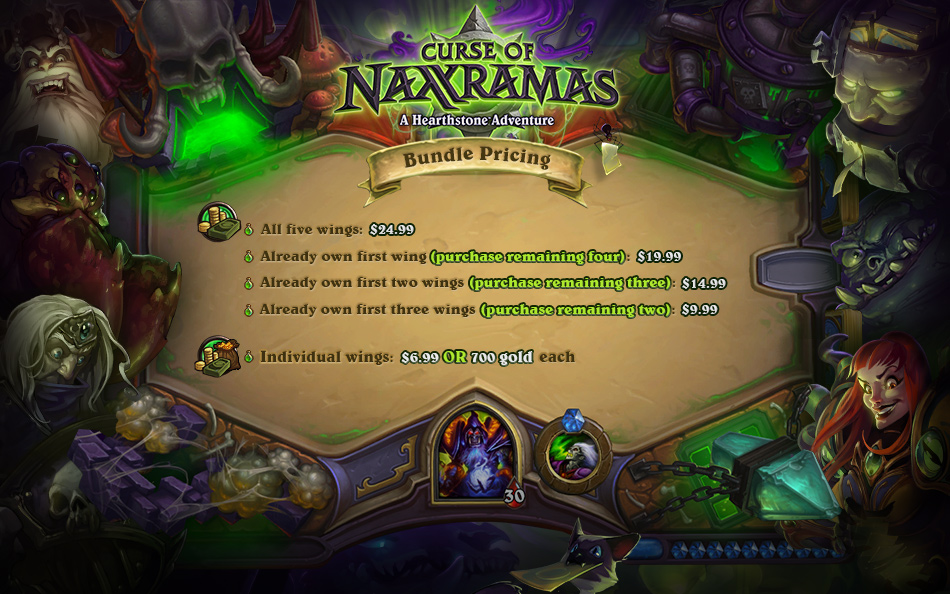 So, it's kind of neat, in that the more you buy with in-game gold the cheaper the rest of the content gets if you opt to spend some real-world money. Also, there's a Heroic mode, like all World of Warcraft raids:
Once you've defeated all of the bosses within any given wing for the first time, you'll unlock the Heroic mode of that wing. Heroic mode bosses are significantly more difficult than their normal versions, and they will prove to be a challenge for even the most veteran Hearthstone players. Defeating all of the bosses in Naxxramas on Heroic mode will unlock a new card back for your collection.
Still no exact date, of course, but something tells me if Blizzard is discussing these kind of details, it can't be that far off.