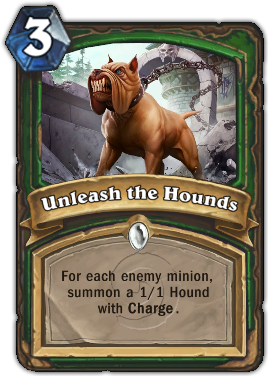 If you troll the Blizzard forums, you'd know earlier in the week rumblings started regarding an incoming nerf for the Unleash the Hounds card which you can see here to the right. If you've been playing ranked Hearthstone recently, you likely know Unleash the Hounds hunter decks all too well.
If not, the whole thing hinged on a very annoying combo that was really powerful for the mana required to have it go off. Essentially, a hunter would wait until you had some minions out then play Starving Buzzard and Unleash the Hounds. This gives them as many minions as you have, and card draw for that many minions.
At that point, there's tons of options for crazy tricks. They could toss out a Scavenging Hyena and sacrifice their hounds to your minions to make the hyena ridiculously huge. Also, alternatively, or in addition to, they could drop one (or more) Timber Wolf cards to buff all the hounds up, or get lucky with an Animal Companion and randomly summon Leokk for the same effect. Either way, it was nuts.
The reason the combo works so well is that it forces you to play hyper conservatively against hunters as soon as you reached turn four (or turn three if they have the coin) as the card draw alone was so powerful. Since Hearthstone is a game that's about summoning and playing minions, actively not summoning minions to avoid any kind of profitable unleashing of hounds wasn't much fun. So, Blizzard nerfed the combo a bit by increasing the mana cost of Unleash the Hounds by one, which gives players who are facing hunter one more turn before things get crazy.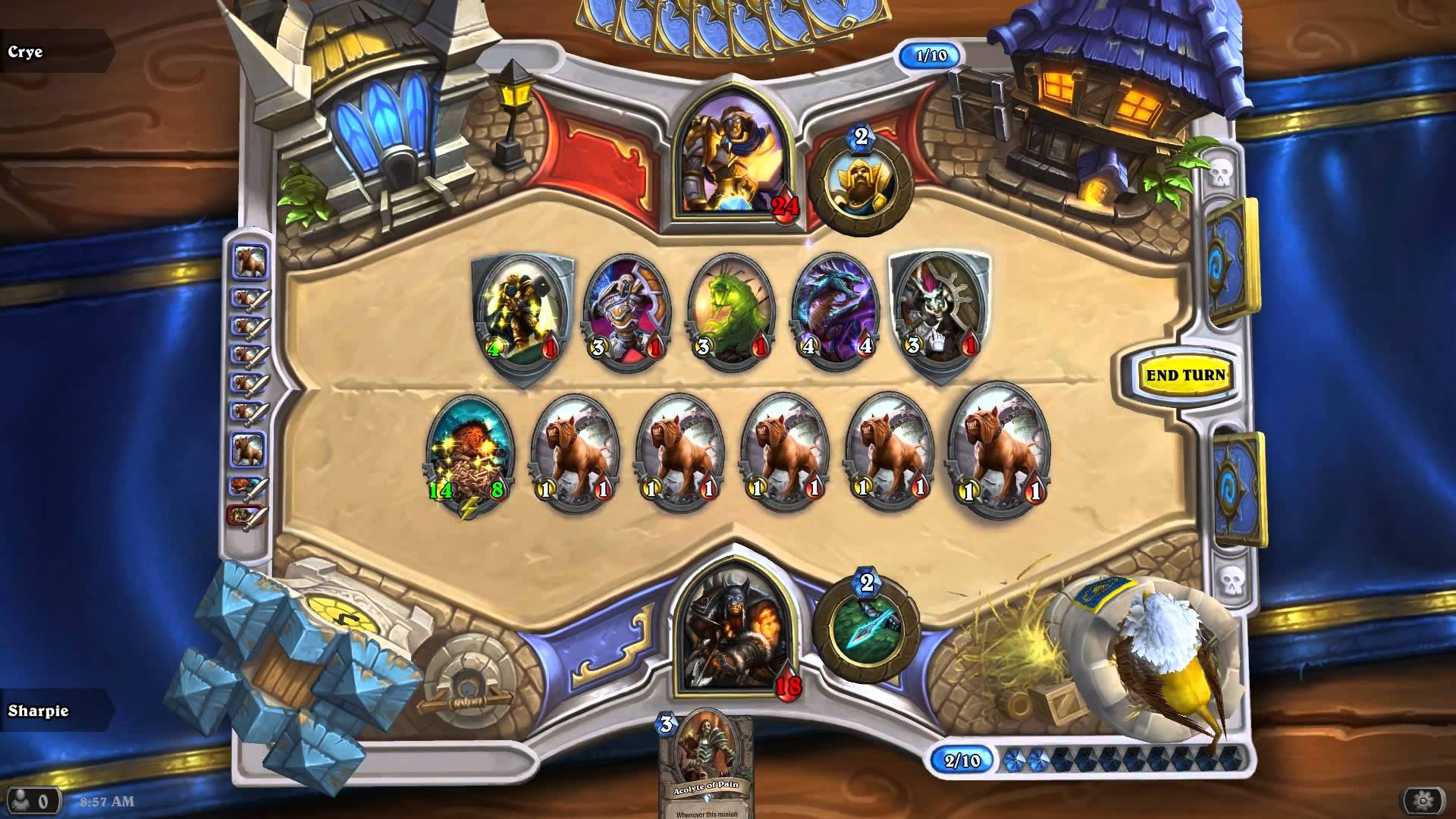 Whether it makes much of a difference remains to be seen, as the combo is arguably just as good late game when you've got all sorts of mana to spare to play the cards you're getting off the crazy card draw. I'm just glad something is being done about it, as the metagame for those starting playing ranked was basically "How do I play around Unleash the Hounds" as the deck is/was so powerful and cost almost nothing to build.
Anyway, also in this new update is some stability fixes where Hearthstone was crashing when you played multi-ability druid cards, chat bubble positioning, and a tweak that changes where the larger versions of cards are displayed in relation to where your finger is on the iPad-specific side of things. Also they fixed that weird problem where returning minions to your opponent's minion to their hand would leave the card back just sort of hanging out in the play field. Overall a solid update you should grab right away if you're playing Hearthstone on your iPad.